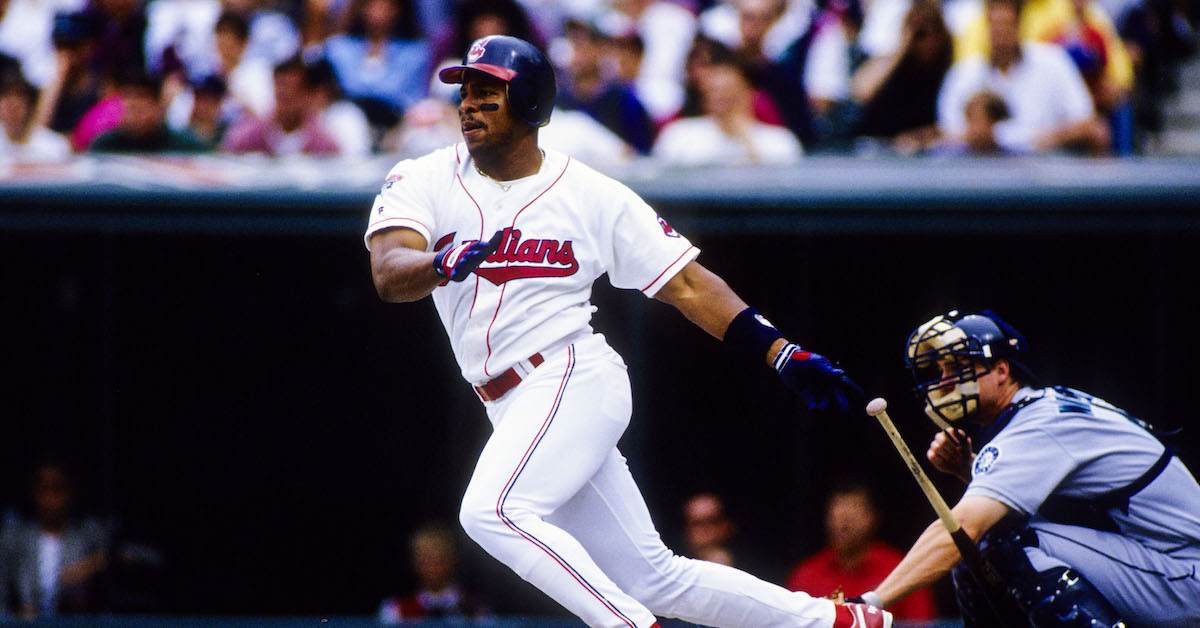 The following article is part of my ongoing look at the candidates on the 2023 Contemporary Baseball Era Committee ballot. For a detailed introduction to this year's ballot, use the tool above. An introduction to JAWS can be found here.
Albert Belle was baseball's most notorious bad boy in the 1990s, and he developed into one of the game's elite sluggers. He flat out terrorized pitchers — and was no picnic for many of those around him — for a decade before a degenerative hip condition forced his retirement at age 34. Even at the height of an offense-heavy era, his numbers are something to behold.
So, too, are stories of Belle's temper. A 1996 Sports Illustrated cover story, "He Thrives on Anger" — a title taken from a quote by Cleveland clubhouse attendant Frank Mancini, one of Belle's closest friends — detailed his throwing baseballs at a photographer, hurling epithets at a broadcaster, and chasing teenagers who had egged his house in his Ford Explorer. While Belle overcame early-career problems with alcohol to flourish in the majors, his actions once he did rarely cast his as a feel-good story. Had the behavior that incurred multiple fines and suspensions — not to mention a 1998 domestic battery complaint that was later dropped — occurred two decades later, he could have received even heavier punishment that might have altered his career path.
His talent was undeniable. The 6-foot-2, 225-pound slugger was a must-watch at the plate. Wrote ESPN's Ray Ratto:
[H]is swing was a thing of uncontrolled glorious fury, matched by only a very few in the modern era. There was no elegance in Belle's game — only cyclonic fury. Balls didn't leave his bat, they fled it. For those whose enjoyment of baseball is more visceral than statistical, Belle's swing was something to behold.
During the 1991-99 span, Belle hit a combined .300/.377/.582 for a 150 OPS+ (eighth in the majors) with 350 homers (third behind Mark McGwire and Ken Griffey Jr.) while making five All-Star teams and finishing in the top three in MVP voting three times. Four times, he slugged over .600, going as high as .714 in the strike-abbreviated 1994 season, second behind future teammate Frank Thomas at .729. The following year, he walloped 50 homers, something only two other players (George Foster in 1977 and Cecil Fielder in '90) had done since 1965 — and he did it in a 144-game schedule. His 1994 and '95 seasons made him central to the resurgence of Cleveland's franchise. After helping Cleveland to the 1995 AL pennant and another division title in '96, Belle signed not one but two contracts that made him the game's highest-paid player, first a five-year, $55 million deal with the White Sox, and then, after exercising an opt-out two years later, a five-year, $65 million deal with the Orioles. He lasted just two seasons in Baltimore before his hip problem sidelined him and ultimately brought his career to a close.
With just 10 full seasons and fragments of two others, Belle finished with career totals too low for BBWAA voters to take seriously, and it didn't help his cause that he was anything but a joy to cover. He debuted with 7.7% in 2006, then slipped off the ballot after the next year. While he appeared on the Today's Game ballot in both 2017 and '19, he didn't break out of the "five-or-fewer" votes group either time. Combine that with his litany of misbehavior, and it's fair to wonder why his candidacy is under consideration again when his space on the ballot could be occupied by a stronger candidate with a full career and a more positive reputation, such as Dwight Evans or Lou Whitaker.
2023 Contemporary Baseball Candidate: Albert Belle
| Player | Career WAR | Peak WAR | JAWS |
| --- | --- | --- | --- |
| Albet Belle | 40.1 | 36.0 | 38.1 |
| Avg. HOF LF | 65.2 | 41.6 | 53.4 |
| H | HR | AVG/OBP/SLG | OPS+ |
| 1726 | 381 | .295/.369/.564 | 144 |
SOURCE: Baseball-Reference
Albert Jojuan Belle was born on August 25, 1966 in Shreveport, Louisiana, the fraternal twin of brother Terry and the son of two educators. His mother, Carrie, was a math teacher while his father, Albert Sr., taught and coached high school football. Growing up in a middle class section of Shreveport, he was Joey Belle, an Eagle Scout and a National Honor Society member as well as an all-state ballplayer at Huntington High School, where he would graduate sixth in a class of 266, one spot behind his brother.
The twins both headed to Louisiana State University to play baseball, where Joey set school career marks for home runs, total bases, and RBI, but along the way, his behavior grew erratic and violent. "You talk to some college teammates, and a reporter who knew Belle when he was an amiable college freshman, a pleasant college sophomore and a tense, uptight college junior he no longer recognized," wrote the Washington Post's Jennifer Frey in a 1996 profile for which Belle, typically, refused to talk to her. Those who knew him told Frey that as the 1987 amateur draft approached and the pressure mounted, he grew more volatile.
Belle's college career ended during the 1987 Southeastern Conference tournament, when he became the target of racist epithets from an opposing fan seated on the outfield berm behind him. Belle charged up the hill after the man and had to be restrained by teammates, umpires, and security personnel. Belle's angry reaction to the taunting was understandable, but when LSU coach Skip Bertman later pulled him for failing to run out a hit that he believed would be a home run, it was not the first time he was benched for misconduct — throwing bats and helmets, not running hard, abusing umpires. Because he refused to apologize to his teammates, Belle was suspended him from the team, and missed the College World Series. His draft stock fell; Braves general manager Bobby Cox threatened to fire his farm director if he picked him. Cleveland chose him in the second round with the 47th overall pick, and signed him for an $80,000 bonus. Based on his talent, Belle probably lost at least $40,000 for falling out of the first round, and perhaps more — which only further fueled his anger.
Belle began his professional career at A-level Kinston of the Carolina League, and hit well enough at every stop that he reached the majors just over two years after being drafted, debuting on July 15, 1989 with an RBI single off the Rangers' Nolan Ryan in his first plate appearance. Four days later, the 22-year-old right fielder hit his first homer, off the Twins' Randy St. Claire. He spent the rest of the season in the majors, but struggled, hitting .225/.269/.394 (85 OPS+) with seven homers in 234 PA. Over the winter, at the team's direction, he saw a psychiatrist to help deal with his issues controlling his temper.
Though he began the 1990 season in the majors, Belle logged just 25 PA in four weeks before being sent to Triple-A Colorado Springs. He drew a five-game suspension from the team on June 7 after throwing a ball into the stands in anger and destroying a clubhouse sink following a bad night at the plate. It was at that point the organization learned that he was battling a drinking problem. He spent 10 weeks undergoing counseling for alcoholism and anger management at the Cleveland Clinic. Upon emerging, he expressed his desire to go by Albert Belle, and made a statement: "While in the clinic, I discovered that I have had problems with concentration, motivation, attitude and temper. I have found a new way of life through the clinic's program and a 12-step recovery plan."
Belle made the team out of spring training in 1991, and homered off the Royals' Bret Saberhagen on Opening Day, kicking off a 28-homer, 134 OPS+ season that secured his spot in the majors, albeit for a 57-105 team. Over the next few seasons, he emerged as a star, and the centerpiece of a Cleveland powerhouse that included Kenny Lofton, Manny Ramirez, and Jim Thome. He finished among the top five in homers annually from 1992–94 (with totals in the 34–38 range), leading the AL in RBI in '93 (129), and making the AL All-Star team in both '93 and '94.
Even so, Belle couldn't maintain his self-control, or stay out of trouble. In 1991, he fired a baseball into the chest of a fan who shouted, "Hey, Joey! Keg party at my house after the game!" at him at Municipal Stadium, earning a week-long suspension. In each of the next two years, he served three-game suspensions for charging the mound after being hit by a pitch. In 1994, he drew a 10-game suspension (later reduced to seven) for using a corked bat, but only after teammate Jason Grimsley crawled through a false ceiling to steal the offending lumber from the umpires' dressing room. There was more to come.
In 1995, Belle hit .317/.401/.690, leading the AL in slugging percentage, homers (50) and RBI (126) while ranking third in both OPS+ (177) and WAR (7.0). Most notably, he became the first (and to date the only) player to pair 50 homers with at least 50 doubles in the same season (52, to be exact). He lost out to Mo Vaughn (39 homers, 144 OPS+, 4.3 WAR) in a squeaker of an AL MVP vote, which the Orlando Sentinel's L.C. Johnson later wrote "was a direct response to the times he responded with unkind words and actions to the media types who vote on such awards." Nonetheless, Belle helped Cleveland reach the postseason and win the pennant that year, both for the first time since 1954. He homered off the Braves' Steve Avery and Greg Maddux in Games Four and Five in the World Series, but his team fell in six games nonetheless.
Belle's performance was overshadowed by his highest-profile outburst to date. He was fined $50,000 — the largest fine in baseball history to that point — and ordered to undergo intensive anger-control counseling after screaming profanities at NBC reporter Hannah Storm, who was in the Cleveland dugout interviewing Lofton. He showed no remorse for the incident, telling the News-Herald of Willoughby, Ohio in a rare Q&A that winter, "I didn't even know it was Hannah Storm. I thought it was Lesley Visser. I wish it was Lesley Visser, because I don't like her anyway."
Shortly after Cleveland's loss, Belle made headlines again. On Halloween, a group of teenage trick-or-treaters came by, and upon being informed by Belle's visiting father that there was no candy, egged the house. Via Sports Illustrated's Michael Bamberger, "Belle called the police and said, in a tape-recorded conversation, 'You better get somebody over here, because if I find one of them, I'll kill them.' Belle then ran the teenagers off his property in his Ford Explorer. Later he was found guilty of reckless operation of a motor vehicle on private property and fined $100." Via Frey, the finding was because he bumped one of the teens with his truck.
It was Bamberger who wrote the "He Thrives on Anger" profile for the May 6 edition of SI. Within, he noted that Belle pointed out that he did not instigate several of the aforementioned incidents, but even so, he told the reporter, "Sports Illustrated can kiss my black ass," when asked for an interview. During the photography for the piece, Belle threw two baseballs at photographer Tony Tomsic, one of which cut him as he protected his face, prompting an investigation by AL president Gene Budig, who ordered he undergo "immediate counseling" or face suspension. On May 31, 1996, Belle leveled a forearm at Brewers second baseman Fernando Vina while breaking up a double play, which led to a brawl and a five-game suspension.
Despite Belle's ongoing misanthropy, his teammates and executives stood up for him, expressing admiration for his work ethic and his clubhouse presence; he was the team's most popular player in terms of merchandise sales. "People in Cleveland don't care about his national image," general manager John Hart told Frey. "They love the guy."
Amid the turmoil, Belle put together another monster season at the plate in 1996, with 48 homers, a 158 OPS+, 5.7 WAR, a league-high 148 RBI, and his third straight top-three MVP finish. He rejected a five-year, $38 million extension offer and reached free agency, where the rival White Sox landed him with a five-year, $55 million contract that briefly made him the majors' highest-paid player. He slumped to 30 homers, a 116 OPS+, and 1.5 WAR in his first year on the South Side before rebounding to 49 homers, 152 RBI, league highs in slugging and OPS+ (.655 and 172, respectively), and a career-best 7.1 WAR in 1998.
After five straight All-Star appearances, Belle was left off the 1998 team by his former manager, Mike Hargrove. The 1997 All-Star Game had been played at Jacobs Field, where Belle was booed during introductions for defecting to a division rival, and reportedly told manager Joe Torre not to use him. "He was chosen for the All-Star Game last year, and he didn't participate in anything," Hargrove told Sports Illustrated. "I'm not going to waste a spot on somebody who doesn't want to play."
Belle used the snub as motivation, homering 10 times in his first 10 games after the break. Shortly after that binge, however, he was arrested at the home of an ex-girlfriend for allegedly hitting her and ripping the phone from the wall as she tried to call the police. He was charged with domestic battery, criminal damage to property and interfering with a report of domestic battery. He denied the allegations, and was released on $3,000 bond. In October, the case was dropped after Belle agreed to pay for damages to the woman's apartment and to drop a counter-complaint of telephone harassment.
At the time, Major League Baseball did not have a domestic violence policy in place, but today, even beyond the legal proceedings such a matter would have likely led to a league investigation, and perhaps a suspension that could have affected his next payday. Via a contract clause guaranteeing he would remain one of the game's three highest-paid players, Belle opted out following the 1998 season, when the White Sox refused to give him a raise. He signed a five-year, $65 million deal with the Orioles, again making him the highest-paid player.
He wasn't long for Charm City. After an underwhelming inaugural season in 1999, Belle was hampered by inflammation in his hip the following year. He played through the condition while attempting to conceal it from the media until being forced to the disabled list in September.
The following spring, Belle's doctors and the Orioles concluded that his severe degenerative arthritis rendered him "totally disabled and unable to perform as a major-league baseball player," a finding with which the 34-year-old Belle concurred. He could not officially retire without forfeiting the $39 million of the remaining salary owed to him, of which 70% was covered by insurance, but he never played again, leaving his October 1, 2000 home run off the Yankees' Denny Neagle the final plate appearance of his career.
…
Had Belle remained healthy, he may well have put the finishing touches on a career that would have drawn him consideration for Cooperstown even while age and defensive shortcomings sent him down the DH path. He certainly had the talent to reach 500 home runs and, unlike many of his power-hitting contemporaries, was never credibly linked to performance-enhancing drugs. As it is, Belle fell short of 2,000 hits, significant because neither the writers nor the various committees of voters elected a player from the post-1960 era below that line until the Golden Days Era Committee tabbed Tony Oliva (1,917 hits, nearly 200 more than Belle) last December. Oliva is additionally the only post-expansion Hall of Fame position player with fewer than 7,000 plate appearances, but even his 6,880 are about 200 more more than Belle.
Belle ranked in the AL's top five in WAR three times and cracked the top 10 an additional time during the 1994-98 span, but lousy defense (-63 runs, with three years of double-digit negatives) and adjustment for the high offensive levels of the day take some of the starch out of his advanced stats. It's understandable that one might compare Belle to Dick Allen in terms of his heavy hitting, his nearly career-long immersion in controversy, his problems with alcohol, and his early exit from the majors, but the comparison doesn't really hold up upon closer scrutiny. Many of Allen's difficulties can be traced to the racism and discrimination he encountered in the minors and in Philadelphia, where his own team — the NL's last to integrate — grossly mishandled him. The only notable incident of violence attached to Allen on or off the field was one where teammate Frank Thomas was the aggressor, taunting him; in response, Allen punched him and was hit in the shoulder by a bat. Sticking to the numbers, Belle's 144 OPS+ pales next to Allen's 156 in 639 more plate appearances, and his 40.1 career WAR is 18.6 less than Allen. He ranks 40th among left fielders, below all but one non-Negro Leagues Hall of Fame left fielder, Chick Hafey.
Belle's 36.0 peak WAR is nearly a win per year short of the Hall standard among left fielders, ranking 29th at the position, ahead of just four out of 20 Hall of Famers. He's below Jim Rice (36.4), not to mention Foster (36.8), Roy White (37.0), and Lance Berkman (39.2). He's 41st in JAWS among left fielders, ahead of only Hafey.
Unsurprisingly, Belle didn't amass much support for the Hall among BBWAA voters. He received 7.7% of the vote in 2006, enough to stick around for a second year on the ballot, but fell off after receiving 3.5% in his second go-around. He was among the group of 2017 Today's Game candidates who received "fewer than five votes," the Hall's intentionally vague reporting for candidates to avoid embarrassment, and the same thing happened two years later.
On the basis of the voting history and his career numbers, I don't see where Belle merits a third look, and upon closer investigation of the numerous ugly incidents that surround his career — many of which I'd never explored in my previous coverage of his candidacy — I'm even less clear why he's crowding another candidate off the ballot. The Hall of Fame is no church, and Belle would hardly be alone among the misanthropes if he were elected. But if it's already patently obvious that he's not getting elected, why are we even doing this?