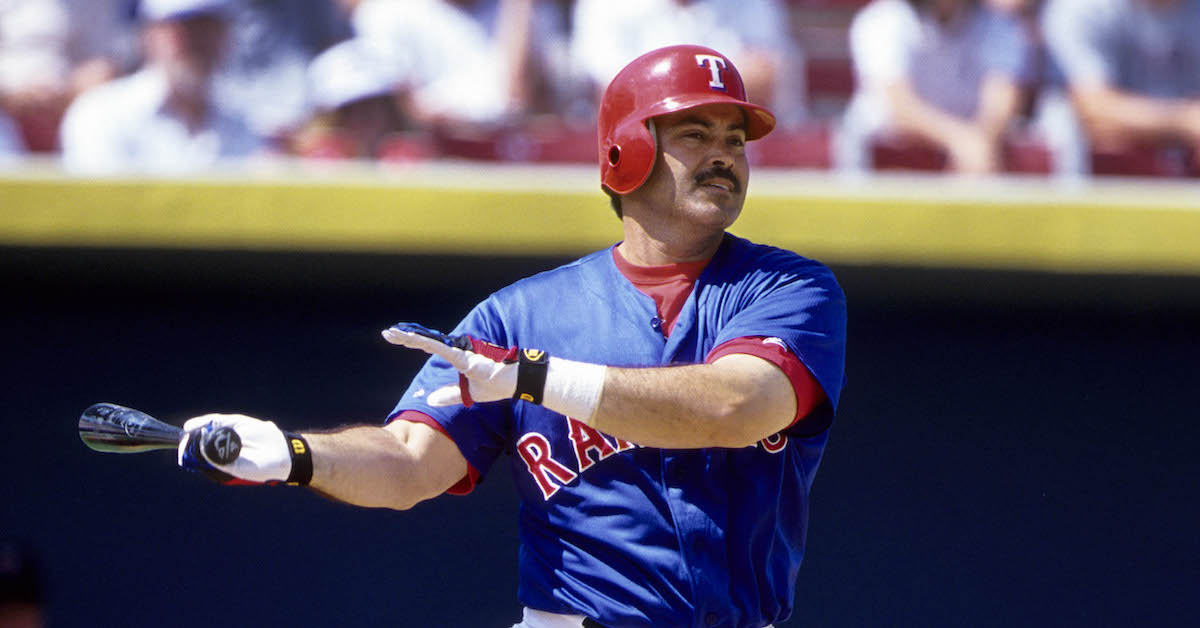 The following article is part of my ongoing look at the candidates on the 2023 Contemporary Baseball Era Committee ballot. Originally written for the 2013 election at SI.com, it has been expanded and updated. For a detailed introduction to this year's ballot, use the tool above. An introduction to JAWS can be found here.
On July 15, 2005, Rafael Palmeiro became the 26th player to collect his 3,000 hit, and joined Hank Aaron, Willie Mays, and Eddie Murray as the only players to attain both that milestone and 500 home runs. Even for a player who didn't get as much recognition as his heavy-hitting peers in the All-Star, MVP, and postseason departments, and who had been viewed more as a compiler who benefited from playing in hitter-friendly ballparks than as a bona fide superstar, the 40-year-old slugger appeared to have secured a spot in the Hall of Fame.
Less than three weeks later, on August 1, 2005, Major League Baseball suspended Palmeiro for 10 days for testing positive for Winstrol (stanozolol), a banned anabolic steroid. Just five players had been suspended before him, none of whom was anything close to a star. For Palmeiro the suspension was all the more humbling because four and a half months earlier, he had wagged his finger in front of Congress while adamantly denying that he used performance-enhancing drugs. For as brief as his suspension was — first-offense penalties would increase to 50 games the following season — it all but ended the debate about Palmeiro's Hall-worthiness. His career didn't even outlast the debate; upon returning, Palmeiro played in just seven more games, struggling while enduring a persistent chorus of boos. He didn't even finish out the season.
Palmeiro wasn't the first PED-linked star to land on the BBWAA ballot — that distinction belonged to Mark McGwire — but he was the first to do so after being suspended. The voters were unsparing, giving him just 11% of the vote in 2011, and while his share rose to 12.6% the next year, the handwriting was on the wall. As the ballot grew more crowded over the next two years, with the arrivals of Barry Bonds, Roger Clemens, Craig Biggio, Mike Piazza, Curt Schilling, and Sammy Sosa in 2013, and then Tom Glavine, Greg Maddux, and Frank Thomas in '14, Palmeiro was lost in the shuffle. He faded to 8.8% in 2014, then 4.4% the next year, bumping him off the ballot. He's rarely been heard from since, though he did surface a couple of times to play on independent league teams with his son, Patrick Palmeiro, most recently in 2018.
Palmeiro's presence on this ballot is puzzling, even given that he's got the numbers for the Hall. The fact that McGwire, who was never suspended, got the cold shoulder from the 2017 Today's Game panel without testing positive, and that Bonds and Clemens are also on here without testing positive but with superior credentials as players, suggests a very low likelihood that the voters will tab a lesser player who was suspended. More likely, Palmeiro is here mainly as ballast, a candidate easily overlooked so as to focus voters' attentions elsewhere. It seems probable that such a result will only reinforce the Hall and the Historical Overview Committee that builds the ballot burying him in oblivion, though if that means that Dwight Evans and Lou Whitaker — both of whom were widely expected to be included in this year's slate after solid debuts on the 2020 Modern Baseball ballot — it's tough to complain.
2023 Contemporary Baseball Candidate: Rafael Palmeiro
| Player | Career WAR | Peak WAR | JAWS |
| --- | --- | --- | --- |
| Rafael Palmeiro | 71.9 | 38.9 | 55.4 |
| Avg. HOF 1B | 65.5 | 42.1 | 53.8 |
| H | HR | AVG/OBP/SLG | OPS+ |
| 3020 | 569 | .288/.371/.515 | 132 |
SOURCE: Baseball-Reference
Born in Havana, Cuba on September 24, 1964, Palmeiro emigrated to the U.S. with his parents in 1971, when he was six years old; his father, José Palmeiro, had been an outstanding center fielder on a top Cuban amateur team in his own day. The family settled in Miami, and five or six days a week, José came home from his construction job and took his youngest three sons — the oldest, José Jr., had remained in Cuba to serve in the military — to one of the local diamonds for batting practice and grounders. As a child, Palmeiro learned to filter his father's negative criticism, understanding how to separate the message to work harder and strive for improvement, from the delivery.
After starring at Jackson High School in Miami, Palmeiro was chosen in the eighth round of the 1982 draft by the Mets, but he bypassed the chance to sign in favor of accepting a baseball scholarship from Mississippi State University. At MSU, he starred alongside fellow future major leaguer Will Clark, becoming a three-time All-American and the first Triple Crown winner in Southeastern Conference history in 1984. In 2019, the pair were honored with statues in front of Dudy Noble Field.
The two teammates were chosen in the first round of the 1985 draft — Clark second overall by the Giants and Palmeiro 22nd by the Cubs. That same round was headed by future Orioles teammate B.J. Surhoff, and it also produced Barry Larkin (fourth, to the Reds) and Bonds (sixth, to the Pirates). Just 15 months later, and 16 days before his 22nd birthday, Palmeiro debuted in the majors, singling off the Phillies' Tom Hume on September 8, 1986. The next day, he hit a three-run homer off Kevin Gross.
Palmeiro hit .247/.295/.425 in a 22-game cup of coffee, and after beginning the 1987 season at Triple-A Peoria, he was in the majors for good by mid-June. He hit .276/.336/.543 with 14 homers in 84 games as a rookie, then earned All-Star honors and finished second in the NL batting title race in 1988 while hitting a relatively thin .307/.349/.436 with just eight homers. The Cubs had Leon Durham and then Mark Grace at first base during those seasons, so Palmeiro played primarily in left field. After the 1988 season, he was dealt to the Rangers in a nine-player trade that also included Jamie Moyer heading to Texas and Mitch Williams to Chicago.
Palmeiro emerged as a minor star in Texas, leading the American League with 191 hits in 1990 and earning All-Star honors for the second time in '91, when he hit .322/.389/.532 with 203 hits, a league-leading 49 doubles and 26 homers; his 155 OPS+ ranked fifth in the AL, his 5.8 WAR ninth. He set a career high with 37 homers in 1993, hitting .295/.371/.554 and ranking fourth in WAR (6.9) and sixth in OPS+ (150). The Rangers finished above .500 in four of his five years with the team, but they never won more than 86 games or finished higher than second in the seven-team AL West.
Palmeiro parlayed that big season into a five-year, $30.35 million deal with the Orioles, but not without some drama that involved his former college teammate. Though he wanted to return to Texas, Palmeiro turned down the team's initial offer of five years and $26 million and entered free agency. The Rangers turned to Clark, who had reached free agency after his impressive eight-year run with the Giants; he agreed to a five-year, $30 million deal. "Palmeiro chose not to come off his original offer one penny; in fact, he went up," said Rangers president Tom Schieffer while noting that he had been the team's first choice for a left-handed power hitter.
Palmeiro was stung, particularly by the fact that his former teammate replaced him. "That's Will," he told the Fort Worth Star-Telegram. "That's the way he is. He's got no class. Friendship didn't matter to him. He was looking out for himself. I don't think much of Will. He's a low-life."
Palmeiro publicly apologized to Clark the next day, and about three weeks later signed with the Orioles, becoming the marquee addition of new owner Peter Angelos in his quest to build a winner to fit the team's new Camden Yards ballpark. The move brought him to the team he used to watch train in Miami, and reunited him with manager Johnny Oates, who had coached him with the Cubs.
Over the next five years, Palmeiro hit a combined .292/.371/.545 (134 OPS+) while averaging 36 homers and 4.7 WAR despite the 1994-95 strike. His 39-homer, .289/.381/.546 showing in 1996 helped the Orioles reach the playoffs for the first time since '83. He homered in three consecutive postseason games, and got on base in all five plate appearances in the infamous Jeffrey Maier game against the Yankees in the ALCS opener, but he hit a lopsided .206/.317/.500 in 41 plate appearances during the playoffs overall as Baltimore fell short of the World Series.
Palmeiro fell off somewhat the next year (.254/.329/.485 with 38 homers), but did win a Gold Glove for his play at first base, which rated at 10 runs above average according to Total Zone. While the O's made it back to the playoffs again with a star-studded lineup that also included future Hall of Famers Murray, Roberto Alomar, Harold Baines, and Cal Ripken Jr., they again couldn't get to the World Series.
After a strong walk year in 1998 during which he tallied 6.3 WAR (seventh in the league), 43 homers (sixth, and a career high) and a second Gold Glove, Palmeiro returned to Texas via a five-year, $45 million contract. He turned down a $50 million offer in order to be closer to his family, and again was reunited with Oates, who had been fired by the Orioles after the '94 season. In the hitter-friendly Ballpark at Arlington, he set career highs in all three slash stats (.324/.420/.630) in 1999 as well as homers (47) and RBIs (148) — the last three figures all ranked second in the league — while helping the Rangers to their third division title. He finished fifth in the MVP balloting, his highest showing ever, and won one of the most dubious Gold Gloves in history in a season where he played just 28 games in the field, spending most of his time DHing.
Palmeiro hit .284/.390/.566 (140 OPS+) and averaged 43 homers during his five-season stint in Texas; his total of 214 dingers during that span were surpassed only by Sosa, Bonds, Alex Rodriguez and Jim Thome. Between the high-scoring era, the hitter-friendly environment, and his increasing amount of time at DH, his total of 20.9 WAR during that stretch (4.2 per year) ranked 35th among position players — good but not as valuable as his raw numbers would suggest. On May 11, 2003 he hit his 500th homer off Cleveland's Dave Elder, becoming the 19th player to reach that plateau.
Palmeiro turned 39 at the end of that season, and after entering the free agent market yet again, decided to return to Baltimore to chase 3,000 hits. Whether due to age or environment, his power dissipated; he declined from 38 homers and a .508 slugging percentage in his final year in Texas to 23 and .436 with the Orioles in 2004.
Prior to the 2005 season, Palmeiro was among the former teammates named as a steroid user by Jose Canseco in his tell-all book, Juiced. Canseco claimed that during his 1992-94 stint with the Rangers, he had not only introduced Palmeiro, Juan Gonzalez and Ivan Rodriguez to steroids, but to have personally injected them as well. Palmeiro denied the assertion via a statement: "At no point in my career have I ever used steroids, let alone any substance banned by Major League Baseball. As I have never had a personal relationship with Canseco, any suggestion that he taught me anything, about steroid use or otherwise, is ludicrous." In March, both Canseco and Palmeiro were among the major leaguers subpoenaed to testify under oath in front of the House of Representatives Government Reform Committee regarding the spread of steroids in baseball. Palmeiro was blunt in his testimony. "I have never used steroids. Period," he said, punctuating his denial by wagging his finger at the panel.
That image was still burned into the collective consciousness when Palmeiro collected his 3,000th hit, a double off Seattle's Joel Pineiro, on July 15. Just over two weeks later, all hell broke loose when MLB announced that he had tested positive for a banned substance. Palmeiro claimed to have not taken the drug intentionally and received a 10-day ban, the penalty in place at the time for first offenders. A celebration in honor of his milestone hit was canceled, and when he returned from his suspension, he was showered by so many boos that he took to wearing earplugs. That state of affairs didn't last long. After collecting just two hits in 29 plate appearances over a two-week span, he left the team and never played in the majors again. In September, the Associated Press reported that he had been sent home by the Orioles after implicating teammate Miguel Tejada as having provided him with an allegedly tainted B-12 supplement, both before MLB's Health Policy Advisory Committee and a Congressional perjury investigation.
Palmeiro was not prosecuted any further, but he remained haunted by the way his career ended, and continued to contend that the offending substance came from a tainted B-12 vial. He came and went on the writers' ballot, and while he gave up on hopes of reaching the Hall of Fame, he shifted towards an attempt to salvage his reputation by staging an unlikely comeback. In 2015, at the age of 50, he made a one-game cameo with the independent Sugar Land Skeeters of the Atlantic League, for whom his son Patrick — who was born in 1990, drafted by the Pirates in 2009, and spent 2012-14 in the White Sox system following college — was playing; he went 2-for-4 with a walk and an RBI.
In December 2017, Palmeiro told The Athletic's Ken Rosenthal that he was planning another comeback with the intention of returning to the majors. "Maybe 12 years later, if I can come back and prove I don't need anything as an older player with an older body, then people might think, OK, maybe he didn't do anything intentionally," he said.
Though he was in better physical shape than in 2015, a return to the majors proved to be a pipe dream, but Palmeiro did rejoin his older son (his younger son, Preston, was born in 1995, drafted by the Orioles in the seventh round in 2016 and spent '22 with the Angels' Double-A Rocket City affiliate) as a member of the independent Cleburne Railroaders of the American Association. This time, in his age-53 season (!), he played 31 games and hit .301/.424/.495 with six homers. His May 21 homer made him the oldest professional player to homer, while on July 13, he and his son both homered (the latter twice).
53-year-old Rafael Palmeiro's still got some dingers left in him ? pic.twitter.com/ts1fU6mkeh

— SportsDay Rangers (@dmn_rangers) May 22, 2018
Alas, knee problems that resulted in surgery limited his play, and while he intended to continue the following year, both he and Patrick were released in the spring.
…
Setting the steroid saga aside for the moment, Palmeiro's dual milestones suggest he belong in Cooperstown. Save for the banned-for-life Pete Rose, every player who reached the 3,000 hit mark prior to Palmeiro was elected to to the Hall on his first try, though since then, Biggio needed three tries, and Rodriguez came nowhere near election (34.3%) in his ballot debut last year. Meanwhile, all of the previous members of the 500 home run club save for McGwire were elected to the Hall of Fame as well, though it took four ballots for Harmon Killebrew to gain entry and five for Eddie Mathews. Since then, six other PED-linked players (Bonds, Sosa, Gary Sheffield, Manny Ramirez, and Rodriguez) have failed to gain entry, with Thomas, Thome, and David Ortiz the only ones to make it.
The common knock against Palmeiro — that he racked up his numbers under extremely favorable conditions and was never considered a star — doesn't entirely hold up under scrutiny. His total of four All-Star appearances is indeed low for a potential Hall of Famer, but he received MVP votes in 10 seasons, and while he cracked the top 10 in those votes just three times, that still means he was considered among the league's best hitters in half of the seasons he played. He scores 178 on the Bill James Hall of Fame Monitor metric, which measures how likely (not how deserving) a player is to be elected, with 100 rating as "a good possibility" and 130 "a virtual cinch." For what it's worth, Palmeiro didn't derive a great advantage from his home parks, hitting .285/.375/.527 in Chicago, Texas and Baltimore, and .291/.366/.502 elsewhere, a fairly typical split.
Of course, we'll never know the extent to which PEDs affected Palmeiro's performance, and we don't even know for how long he was using them. He wasn't setting the world ablaze during the season in which he tested positive, and we don't know whether he used the drugs during his prime — a time when offense was at its highest point in decades, and PED use was on the rise as well — or simply made a mistake as his career was waning. Was he caught red-handed after years of relying upon the drugs? Was he set up by a teammate? We don't know and I'm not sure we ever will. That said, I don't think it's going too far out on a limb to suggest that even knowing those answers isn't likely to get Palmeiro into Cooperstown, and that he will instead remain a cautionary tale.