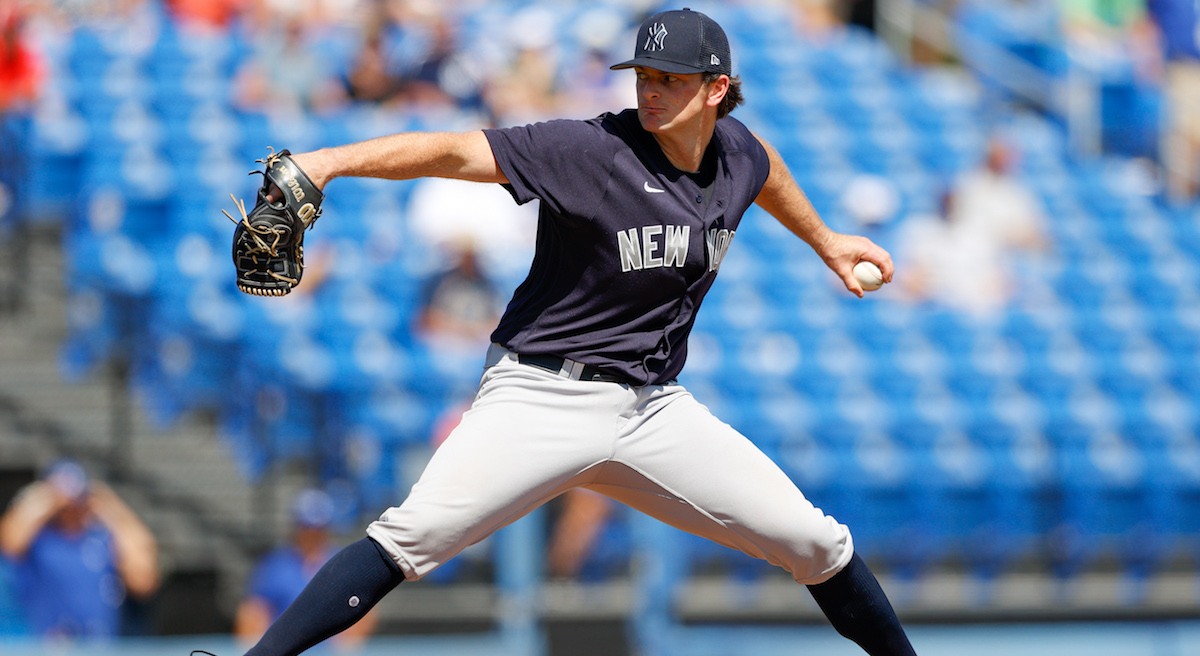 Tuesday's 40-man roster deadline led to the usual squall of transaction activity, with teams turning over portions of their rosters in an effort to make room for the incoming crop of young rookies. Often, teams with an overflow of viable big leaguers will try to get back what they can for some of those players via trade, but because we're talking about guys straddling the line between major league viability and Triple-A, those trades tend not to be big enough to warrant an entire post. Over the next few days, I'll endeavor to cover and analyze the moves made by each team, division by division. Readers can view this as the start of list season, as the players covered in this miniseries tend to be prospects who will get big league time in the next year. I'll spend more time discussing players who I think need scouting updates or who I haven't written about in the past. If you want additional detail on some of the more famous names you find below, pop over to The Board for a more thorough report. The Future Value grades littered throughout these posts may be different than those on the 2022 in-season prospect lists on The Board to reflect my updated opinions, and may be subject to change during the offseason.
Baltimore Orioles
Current 40-man Count: 39
Added Prospects: SP Grayson Rodriguez (60 FV), SS Joey Ortiz (50 FV), SP Seth Johnson (40+ FV), SP Drew Rom (40 FV), MIRP Noah Denoyer (35+ FV)
External Additions: CF Daz Cameron (waivers from Detroit), C Mark Kolozsvary (35+ FV, waivers from Reds)
In addition to free agent departures (Rougned Odor and Jesús Aguilar to name a few), the Orioles primed space on their 40-man roster by outrighting several fringe big leaguers, and opened Tuesday morning with just 34 players on their 40-man. They've had an especially high rate of turnover at catcher over the last few weeks, as they let Robinson Chirinos walk in free agency, outrighted Cam Gallagher and Anthony Bemboom off the roster, claimed both Aramis Garcia and Mark Kolozsvary off waivers from the Reds, and then outrighted Garcia. I have Kolozsvary, who is still prospect-eligible, evaluated as a third catcher on the 40-man.
Mike Elias also scooped up old buddy Daz Cameron, who replaces Yusniel Diaz on the 40-man. Daz has been in "prospect limbo" for about a year, as he graduated from rookie status in 2021 but still spent most of this season in the minors. The 40 FV (a fifth outfielder eval) and tool grades assigned to him at that time still hold (you can see those on his player page), making Daz a defensive upgrade to Diaz (who was outrighted off the roster) and a L/R fit with a couple other Orioles outfielders (Kyle Stowers, Cedric Mullins, maybe some Terrin Vavra). Cameron is out of options while Ryan McKenna (who I preferred to Cameron as a prospect by the time he graduated) is not, so barring further moves I assume Daz is more likely to break camp with the big club at this point.
Grayson Rodriguez is among the best pitching prospects in baseball and the timing of his addition opens the door for him to seize a rotation spot as the Orioles break camp. Joey Ortiz is a top 100 prospect (seventh in the organization, 81st overall) thanks to his defense and contact ability (he had an 89% in-zone contact rate in 2022), and now he's around in the event Jorge Mateo turns into a pumpkin. He projects to be more of a solid everyday option than a star. Lefty Drew Rom, a 2018 high school draftee, has long been a pitching prospect of note due to his fastball's shape and angle, as well as its spin relative to its velocity and Rom's command of it. While he's gone from sitting 86-88 mph to sitting 90-92 in pro ball, things seemed to plateau in 2022 as he spent his second consecutive year in that velocity band. He had been a 40+ FV prospect in the hopes that the upward trend in velocity would continue, but he's more of a 40 FV type (fifth starter) if you think (as I now do) that this is all the fastball he'll have. He's a fine up/down starter option for now. Finally, Fall Leaguer Noah Denoyer was added. He has a breaker-heavy approach to pitching, making early-count use of both his curveball and slider before reaching back to surprise hitters with his 93-95 mph fastball. The angle on his fastball appears to make it very hittable in the strike zone, so he has to pitch backwards like this. He projects as a four-pitch multi-inning reliever.
Baltimore had three injured pitchers who might have warranted protection: Seth Johnson, Kyle Brnovich, and Zach Peek. Johnson, the only one of the trio added, was acquired from the Rays as part of the Trey Mancini three-teamer and was a Top 100 prospect before his unfortunately timed elbow injury, which required Tommy John in August and will cost him just about all of 2023. He has two plus or better pitches in his mid-90s fastball (sitting 94-97 prior to injury) and mid-80s slider, but Johnson might end up in the bullpen due to his command. Teams could theoretically draft a 2023 rehabber and put them on the 60-day IL at their earliest opportunity, like the Pirates did with José Soriano a few years ago, and it's clear the Orioles felt this was a possibility for Johnson if left unprotected.
Peek (who has elite breaking ball spin rates) and Brnovich (who has a double knuckle curveball that was dubbed "The Alien" while he was at Elon) both came over from the Angels in the Dylan Bundy trade, and both had TJ this year (Brnovich in April, Peek in August) ahead of their otherwise likely 40-man additions. Brnovich may be back at some point in the second half of 2023, while the timing of Peek's surgery will likely keep him out of meaningful action until 2024.
Boston Red Sox
Current 40-man Count: 40
Added Prospects: CF Ceddanne Rafaela (45+ FV), SP Brandon Walter (45+ FV), OF Wilyer Abreu (40 FV), MIF David Hamilton (40 FV), 2B/3B/LF Enmanuel Valdez (40 FV), SP Chris Murphy (35+ FV)
External Additions: None
The Red Sox entered Tuesday with 37 players on their 40-man and about a dozen intriguing players who are Rule 5 eligible this winter if not added. They had to clear space by designating catcher Caleb Hamilton and reliever Jake Reed for assignment. Some of the prospects were easy to put on the back-burner for this exercise. It didn't make sense to add infielders Brainer Bonaci and Eddinson Paulino, or righties Noah Song and Wikelman Gonzalez, good long-term prospects though they might be. Both A-ball 20-year olds — Bonaci and Paulino — are interesting long-term, but they currently reside at too great a distance from the big leagues, and the track record of hitting prospects who have been asked to make huge, multi-level leaps via the Rule 5 has not been good. You can include center fielder Gilberto Jimenez in this group, too. He's a year older and a level ahead of the other two, but at this point his production is much more important than his physical tools, and in part because of some of the poorer plate discipline in baseball, that hasn't been there.
Song, a first round talent whose draft status was clouded by a looming Naval commitment, hasn't pitched in meaningful games since the 2019 Premier12 Tournament, where he sat 94-97. Based on his personhood and the individualistic nature of pitching, it's feasible he has thrown enough on his own to have retained something approaching his peak level of stuff, and that once the military allows him to return to pro baseball (there no updates on this front — I asked scouts who I know cover the Red Sox for intel on this today and have nothing new), he'll move through the minors quickly. But in the Rule 5, a permanent active roster spot is at stake, and I don't think any team is using one on Song given the situation.
Could a team pop Gonzalez in the Rule 5? He turns 21 just before next season, he's thrown just 17 innings above Low-A, and he struggled with walks throughout much of 2022. If forced to keep him on the active roster all year, there wouldn't be a great way to give him an innings bump that might help set him up for a starter's slate of innings in 2024. I theorized this year that part of why we have so few Latin American starters in the majors might be due to dynamics created by the Rule 5 process, and Boston avoids that fate here. It feels unlikely that Gonzalez will both be selected and stick on another roster all season.
I was a tad surprised that Thad Ward wasn't added. He looked good in the Arizona Fall League, locating 92-94 mph fastballs while mixing in two above-average breaking balls: a cutter and a slurve, which was plus. He looks like a possible bulk relief fit right now. He might be tough for another team to take in the Rule 5 because of the innings increase he'd have to endure by working on the big league roster all season.
Let's get into who they did add. Lefty Brandon Walter, if healthy, is likely to make an impact on the Red Sox staff right away. He dominated Double-A despite a drastic reduction in velocity compared to 2021 (he lost about three ticks off his fastball, sitting 90-91), relying on his plus-plus slider, plus changeup, and the command he wields over his entire repertoire. Lefty Chris Murphy has below-average command of four average pitches, looking like a five-and-dive spot starter who'll trend into an multi-inning reliever as his options dwindle.
Several days before the deadline, the Red Sox added bat-first (arguably bat-only) prospect Enmanuel Valdez, who came over from Houston in the Christian Vazquez trade. Valdez has played a combination of 2B/3B/LF the last two seasons (mostly second base with Boston after the trade and 2B/LF for Toros del Este in LIDOM). In my opinion, he lacks the actions, arm strength and accuracy to play a big league infield spot regularly, but his bat (above-average game power and about average contact and plate discipline, albeit with some vulnerability to high fastballs clouding my confidence about all of this translating against big league pitching) is better than some of the bench/Worcester hitters currently rostered on Boston's 40-man. Also from the Vazquez trade, outfielder Wilyer Abreu was added after wrapping up a rough six weeks (on paper) in the Fall League. He is a surprisingly competent center field defender for a player his size, he has a good idea of the strike zone and above-average playable power, but he also has a clear hole in his swing at the top of the zone. David Hamilton, another trade acquisition, is a 70-grade runner who swiped 70 bases in 2022. He's a viable defensive middle infielder (a better second base fit due to arm strength) with enough feel for contact to play a bench infield and pinch runner role. All three are 1-WAR role-playing types.
Of the hitters added to the Red Sox 40-man, Ceddanne Rafaela has the most upside, a Gold Glove-caliber center field defender with all-fields power. Though he has experience all over the diamond, he's such a good center field defender that I anticipate it will become his permanent position. Whether or not he gets to the power against big league pitching will depend on whether his reckless approach gets reigned in as he matures. If it does, he'll be a star.
New York Yankees
Current 40-man Count: 38
Added Prospects: SP Randy Vasquez (40+ FV), SP Jhony Brito (40+ FV), MIRP Matt Krook (35+ FV), SIRP Jimmy Cordero (no longer a rookie)
External Additions: None
The Yankees entered Tuesday with 37 of their 40 roster spots occupied, having already added three pitchers to the roster from within. 28-year-old lefty Matt Krook is the most famous of those. A 2013 first round pick of the Marlins out of high school, Miami flunked Krook's post draft physical and he ended up at Oregon, where he struggled with walks. The Giants took him in the fourth round in 2016 and traded him to the Rays as part of the Evan Longoria deal after the 2017 season. He spent the next several years doing a mix of starting and reliving while with Tampa Bay, again struggling with walks and declining velocity (mid-90s at peak, upper-80s more recently) while still showing big sinking action on his fastball and break on his slider. The Yankees made him a minor league Rule 5 pick in 2020 and returned Krook exclusively to the rotation. While his command is still well below average, the length and depth of his slider makes it a plus pitch, and his upper-80s fastball sinks enough to keep it off barrels and generate a ton of groundballs (55% GB% overall for Krook in 2022); both pitches are aided by his funky delivery. He doesn't have the command I'd ideally want out of a spot starter or multi-inning reliever, but his stuff is a great fit in either of those roles, especially the latter. He seems likely to begin 2022 as an optionable starter but could move into a bulk middle inning role throughout the year.
Jimmy Cordero (formerly of the White Sox) had Tommy John in March of 2021 and signed a minor league pact with the Yankees the following winter. He returned, and despite poor surface-level stats at Triple-A Scranton, his stuff was intact. He sat 94-97 and topped out at 99 this year, and looks like you're standard, contemporary mid-90s/plus slider middle-inning option. Jhony Brito, who will be 25 in February, began 2022 at Double-A Somerset and finished it at Scranton, posting a combined 2.96 ERA between the two levels in 112 innings. Brito enjoyed a two-tick velo bump in 2022, with his fastball now averaging just south of 95 mph in the 92-96 mph range. In spite of his long arm action, Brito throws a ton of strikes and has an above-average power-sink changeup in the 85-89 mph range, which he turns over from a tilted-out, high arm slot, à la Michael Wacha. Neither of his two breaking balls is especially nasty, but Brito commands both his curveball and cutter/slider to his glove side with consistency, which should enable him to work hitters who struggle to identify those pitches. Aside from Yoendrys Gómez, Brito has the best long-term prospects as a starter among the Yankees 40-man occupants who don't project for the Opening Day rotation. However, after he posted his second consecutive year with a walk rate under 10%, Randy Vasquez is making a strong argument to project as a starter despite his long, violent arm action.
Tampa Bay Rays
Current 40-man Count: 40
Added Prospects: 3B Curtis Mead (55 FV), SP Taj Bradley (55 FV), SS Greg Jones (50 FV), INF Osleivis Basabe (40+ FV), SIRP Colby White (40+)
External Additions: OF Tristan Peters (40 FV), MIRP Alfredo Zarraga (35+ FV), SP Marcus Johnson (35+ FV), SIRP Jack Hartman (HM), SP Santiago Suarez (HM) (none added to the 40-man)
The Rays had activity in the week leading up to the roster deadline, outrighting the oft-injured Nick Anderson and Brendan McKay, as well as up/down reliever Jimmy Yacabonis. They also traded first baseman Ji-Man Choi to Pittsburgh for Jack Hartman, the Pirates' fourth round pick from the 2020 draft. Hartman is a converted infielder who pitched in relief for two collegiate seasons and lost the 2021 slate to Tommy John. While extremely wild in his 2022 18-inning debut jaunt, Hartman was sitting 95 and flashing a plus breaking ball. Viewed in light of his inexperience as a pitcher, he may just be scratching the surface and is an interesting dev project for the Rays. It was the first of many "kick the can down the road" trades made with little leverage because of Tampa's roster overage.
Even with these moves, the Rays entered roster deadline day painted into a corner due to the depth of their farm system. With 39 players already on the 40-man, top prospects Taj Bradley and Curtis Mead would need to be added. Upper-level middle infielders Xavier Edwards, Brett Wisely, Ronny Simon, and Osleivis Basabe were also strong candidates, while Greg Jones is as talented as anyone in that group but coming off a tough season. Early in the day, they sent the extremely versatile Miles Mastrobuoni to the Cubs in exchange for pitching prospect Alfredo Zarraga. The 21-year-old Zarraga also threw fewer than 20 innings all year, but he sat 94-96 with bat-missing uphill angle when active. His arm action funnels him toward the bullpen. The Rays traded Edwards (along with JT Chargois, clearing another spot) to Miami for pitching prospects Marcus Johnson and Santago Suarez. Johnson was Miami's fourth rounder this year, out of Duke. He has an XL starter's frame at a lanky 6-foot-6, and while his changeup and slider are both capable of missing bats, his low-90s fastball has downhill angle that tends to run into barrels. He's a long-term backend type whose ceiling will be dictated by what Johnson and the Rays can do to help his fastball utility. Suarez is a 17-year-old righty from the DSL. He has a projectable frame, a good-looking delivery, and has already touched 95.
Tampa Bay also sent Wisely to the Giants for outfielder Tristan Peters, who has now been traded twice in a matter of months. The Giants acquired Peters, a seventh rounder in 2021, from Milwaukee for Trevor Rosenthal at the 2022 trade deadline. Peters is a contact-oriented corner outfield prospect with great feel for the barrel. He's still just 22 and his ceiling will be dictated by how much stronger he can get. He's tracking like a corner platoon bat with a plus hit tool.
After DFA'ing Ryan Yarbrough, outfielder Bligh Madris, and conversion arm Javy Guerra (an interesting target for other orgs), the Rays had enough 40-man space to add Bradley, Mead, power reliever Colby White (who fastball has huge vertical break), the risky Jones, and Basabe, leaving Simon and a host of outfield prospects (Kameron Misner, Heriberto Hernandez, Diego Infante) exposed. Jones is very likely to spend a developmental year on the 40-man, and Basasbe probably is, too, considering the middle infield depth in front of him. Misner, Hernandez, and Infante are all Rule 5 eligible players of note. Of that group, I think Infante is the most likely to be taken based on scout chatter from last offseason, when he was eligible but we had no draft.
Toronto Blue Jays
Current 40-man Count: 40
Added Prospects: 3B Orelvis Martinez (50 FV), Addison Barger (40+ FV), 1B/OF Spencer Horwitz (40 FV), Yosver Zulueta (40 FV), OF Nathan Lukes (35+ FV)
External Additions: None
Toronto only had one open roster spot at the start of business hours on Tuesday, even after outrighting Casey Lawrence off the roster and losing Tayler Saucedo to the Mets via waivers. The Jays added 28-year-old outfielder Nathan Lukes to their 40-man well before the deadline. He signed a minor league deal with Toronto prior to the 2022 season and had a bit of a power breakout in his third year at Triple-A, setting a career-high in homers (11), walk rate (9.7%), and steals (20), all by comfortable margins relative to his career norms. There isn't anything about Lukes' batted ball data to suggest he's made changes that led to this uptick, nor is there anything in the visual evaluation of his swing compared to 2021. Even if the power uptick isn't necessarily real, Lukes does have lovely feel for contact. He's tough to make swing and miss in the zone (83% Z-Contact% in 2022, 80% overall contact%) and is adept at letting pitches on the outer third travel deep into the hitting zone before Lukes swats them down the third base line for doubles. While he isn't a true burner, Lukes is a passable center field defender. With George Springer's injury history and Bradley Zimmer's shaky hit tool, Lukes was their best internal depth option. Toronto ended up designating Zimmer and Raimel Tapia for assignment to clear space for other players, mostly hitters.
Those hitters are 1B/LF Spencer Horwitz, shortstop Addison Barger, and third baseman Orelvis Martinez. The 25-year-old Horwitz is the most consistent and stable offensive prospect of that group. He is a career .290/.390/.453 hitter in the minors and has a great-looking swing that produces all-fields spray. He is without prototypical power for a 1B/LF but Horwitz is a great fit with Lourdes Gurriel Jr. in left field and could find himself in a platoon relatively quickly, especially with Teoscar Hernández now gone. Barger and Martinez each have huge bat speed but hack away at pitches they should take. Both are risky prospects with big ceilings who I think are likely to spend a developmental year on the 40-man rather than play a big league role in 2023.
The Allen Córdoba rule applies to both third baseman Alex De Jesus (acquired at the trade deadline from the Dodgers) and outfielder Gabriel Martinez, two young hitters with exciting tools and long-term upside. Neither is a surprising omission as both would be tough for a rival team to roster all year.
Futures Game representative Yosver Zulueta became extremely wild down the stretch and it felt as though it might cost him a spot, but he was added. He strikes me as an eventual reliever due to his lack of feel for location. He has many pitches and survives by bullying hitters with sheer power rather than consistent execution. Even though pitchers added to the 40-man tend to get some big league time the following year due to injuries ahead of them, I only see such a debut for Zulueta if he's coming out of the bullpen.
Will Toronto lose anyone in the Rule 5? Righty Troy Watson has missed most of the last two years with injury, and the combination of that and the lost 2020 season has limited him to just 32 regular season innings since '19. He was sent to the Fall League, where he sat 94-97 out of the bullpen with two potentially good breaking balls: an upper-80s slider/cutter (the movement is short, but it looks like it has sink and cut rather than just lateral action) and a hammer curveball in the low-80s. In my looks, his command was as raw as you would expect from someone who has barely pitched for three years. He's an interesting lightning-in-a-bottle pick. Pitchability righty Nick Fraze has plus command, his slider has big length, and his changeup has bat-missing finish, but he sits just 89. I like him as a spot starter but he isn't the sort that tends to be taken in the Rule 5. Sneaky fastball guy Joey Murray had Tommy John in May.