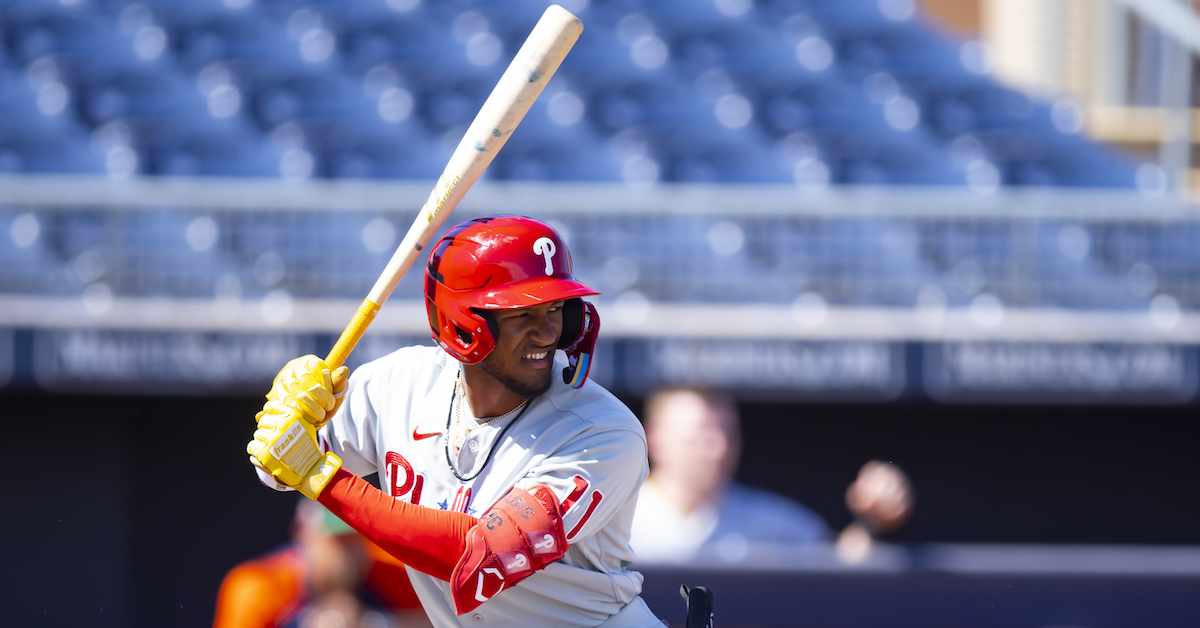 Tuesday's 40-man roster deadline led to the usual squall of transaction activity, with teams turning over portions of their rosters in an effort to make room for the incoming crop of young rookies. Often, teams with an overflow of viable big leaguers will try to get back what they can for some of those players via trade, but because we're talking about guys straddling the line between major league viability and Triple-A, those trades tend not to be big enough to warrant an entire post. Over the next few days, I'll endeavor to cover and analyze the moves made by each team, division by division. Readers can view this as the start of list season, as the players covered in this miniseries tend to be prospects who will get big league time in the next year. I'll spend more time discussing players who I think need scouting updates or who I haven't written about in the past. If you want additional detail on some of the more famous names you find below, pop over to The Board for a more thorough report.
The Future Value grades littered throughout these posts may be different than those on the 2022 in-season prospect lists on The Board to reflect my updated opinions, and may be subject to change during the offseason. New to my thinking on this subject and wondering what the FVs mean? Here's a quick rundown. Note that because we're talking about close-to-the-majors prospects across this entire exercise, the time and risk component is less present here and these FVs are what I think the players are right now.
Atlanta Braves
Current 40-man Count: 40
Added Prospects: SP Roddery Munoz (40+ FV), SS Braden Shewmake (40 FV), SP Darius Vines (35+ FV)
External Additions: MIRP Dennis Santana, SP Kolby Allard, SIRP Nick Anderson
Projecting Atlanta's behavior for this exercise is a bit different than it is most other teams because while most teams' prospects track through the minors at a pace more consistent with their chalk 40-man timeline, the Braves promote players as soon as they consider them ready to help the big club. This was the case with their fantastic 2022 rookie contingent. Any players who emerge and excel in 2023 the same way Michael Harris II, Spencer Strider, and Vaughn Grissom did this season won't have to occupy a 40-man spot until the Braves think they're ready. As such, they didn't have to preemptively add them to the 40-man this offseason; it will just happen next summer. So while players like Luke Waddell and Jared Shuster are perhaps on pace for a 2023 debut based on their rate of promotion, they're not relevant for this exercise.
Does Grissom rocketing past older infielders, most notably Braden Shewmake, give us an indication of what the Braves think of those passed-over players? I think it's fair to infer that the Braves don't consider Shewmake an impact guy, and therefore not a "must-add." However, if the Braves don't re-sign nor find an outside replacement for Dansby Swanson and Grissom becomes the likely starting shortstop, perhaps Shewmake will become more desirable to roster as a utility infielder than Orlando Arcia. Arcia's power makes him a more dangerous hitter than Shewmake, but Shewmake's handedness is a better fit as a foil to Grissom, and he is the better defensive shortstop at this point. If the gap between what Arcia is set to make in 2023 ($1.3 million) and what Shew would make in his first major league season is somehow meaningful to the Braves, perhaps they'll search for a taker for Arcia this offseason and let Shewmake play a glove-first utility role. Shewmake tore his PCL in August, which complicates matters. Atlanta could use the middle infield depth, especially if they don't retain or replace Swanson. Cade Bunnell merits a mention here, too, because he has rare power (approaching plus raw) for a lefty-hitting infielder, but his arm strength isn't a realistic fit at shortstop, and he might not hit enough to get to any of that power, as he's incredibly whiff-prone. Cody Milligan, who'll be 24 next year, has above-average bat-to-ball skills and plate discipline, and plays a middling but potentially valuable 2B/CF combo. He might eventually be a nice bench piece, but his lack of power and Atlanta's incumbents at those positions made him an unlikely 40-man add this offseason.
The acquisition of Sam Hilliard created a bit of a bench outfield logjam. With Harris and Ronald Acuña Jr. Sharpie'd into the everyday center and right field roles, it left Eddie Rosario, Guillermo Heredia, Marcell Ozuna, and whichever catcher doesn't start on a given day jammed into the left field and DH spots. None of Hilliard, Rosario (who had a rough 2022), or Heredia (a clubhouse glue guy who was reduced to a pinch-runner and corner defensive replacement with Harris around) have options left, so something had to give from that group and Heredia was DFA'd. The Hilliard move also made it unlikely the Braves would roster young Brandol Mezquita, who is more of a fair, long-term prospect than one who needs to be 40-man'd immediately.
Let's talk about the pitching. I've written this before, but it bears repeating: even when the Braves pitching prospects project as long-term relievers, they tend to let them percolate as optionable starters until those option years are spent. Except for Kolby Allard and Kyle Muller, the group Jason Martinez and Jon Becker currently have projected to Gwinnett to start next year all have at least two options left. Prior to the deadline, I thought the Braves may have enough internal starter depth to opt not to roster changeup-heavy depth starter types Darius Vines and Allan Winans (a 2021 minor league Rule 5 pick), who both look like viable spot starters in the event of injuries but not must-adds. Vines was added and Winans wasn't. Roddery Munoz, however, they had to add. The 22-year-old righty held mid-to-upper-90s velo across 100 innings in 2022, sitting 95-98 in his final outing. His upper-80s slider, which Munoz can land in the zone or use as a chase pitch, is comfortably plus. He has a longer arm action and has been a middling strike-thrower so far, so he may ultimately be a reliever, but the way the Braves tend to handle young starters means that won't happen for a while even if it's true. I do think a team would have happily popped Munoz in the Rule 5 Draft and deployed him as a reliever in 2023, anticipating a velo bump out of the bullpen.
Roddery's twin brother, Rolddy Munoz, also has mid-90s arm strength and a firm slider, but he's a level below his brother and has already been relegated to full-time relief and is much less likely to be taken. Lefty Lisandro Santos, 24, had a ridiculous strikeout rate at High-A even though he lost two ticks off his fastball (sitting 94.5 mph) compared to 2021 (sitting 96.5 mph), though his cutter/slider is quite nasty. He's a 30-grade athlete who I think will end up in up/down relief eventually, and he's still a considerable distance from the bigs for a 24-year-old.
More bullpen thoughts: 23-year-old prospect Victor Vodnik has projected as an on-roster middle reliever in the past, but injury and walks plagued his 2022 and he looks more like an up/down, low-leverage option now. His arm strength (sitting 94-97) was fine late in the year when he returned from the IL. 24-year-old Double-A reliever Justin Yeager had a two-tick velo bump this year and now sits 96 with a two-plane, upper-80s slider. His command also slides him into an up/down area.
Miami Marlins
Current 40-man Count: 40
Added Prospects: MIRP George Soriano (40 FV), SIRP Josh Simpson (40 FV), MIRP Eli Villalobos (40 FV), SIRP Sean Reynolds (35+ FV)
External Additions: 2B Xavier Edwards (50 FV), OF Reminton Batista (HM), SIRP JT Chargois
The Marlins had a full 40-man entering deadline day even though they had already lost some players to waivers: contact-oriented outfielder Luke Williams to the Dodgers, rehabbing lefty Sean Guenther to the Tigers, and reliever Cole Sulser, whom Miami traded two prospects for in April, to the Diamondbacks. They also traded third catcher Payton Henry and designated five more players for assignment on Tuesday: infielder José Devers, first baseman Lewin Díaz, and pitchers Elieser Hernandez, Jeff Brigham, and Nick Neidert. Devers is now 23 and hasn't shown enough progress on offense to approach middle infield statistical baselines. Díaz (a plus defender who still needs to rake to fit at first, and my favorite of the group) hasn't hit in two extended big league trials and is now 25. Both have been chase-prone.
Adding Xavier Edwards and JT Chargois provides a direct upgrade to Devers at second base and at one of the bullpen spots. It comes at a medium long-term cost as recent draftee Marcus Johnson and DSL pitcher Santiago Suarez were traded to Tampa to acquire them (check out the AL East analysis for more on them). Is Edwards still a 50 FV (i.e. a top 100 type of prospect)? It's close. Tools-wise, he compares closely to Adam Frazier, who has hovered around the 1-to-2 WAR range (basically a 45) with a couple of peak years above that during his six-year window. If Edwards isn't up this year, he'll likely replace Joey Wendle in 2024.
Let's talk about Miami's pitching. Pitchers George Soriano, Eli Villalobos, Sean Reynolds and Josh Simpson were added to the 40-man. Reynolds, 25, is a conversion arm with impact fastball potential if he can command it to the top of the zone more consistently, and he's new enough to pitching that it might yet happen. Simpson is a slam dunk middle inning lefty with an upshot mid-90s fastball and plus curveball. Soriano moved to the bullpen about a month into 2022 and his fastball velocity finally took a leap, up three ticks into the 95-96 range, touching 100. He was at times used in multi-inning stints, but I'm not sure the repertoire depth or command is there for that in the big leagues, though the fallback is that of a good fastball/slider single-inning guy. Villalobos has a riding mid-90s fastball with enough action to generate in-zone whiffs despite its downhill plane, but his money pitch is a plus upper-80s splitter that Villalobos uses against both lefties and righties. His curveball has depth thanks to Villalobos' vertical arm slot and he, like Soriano, has a shot to work four-to-six outs at a time in the big leagues.
Even though they've dealt with the attrition and regression that commonly impacts at least a few of any given team's exciting young arms (Edward Cabrera's injuries, Sixto Sánchez's injuries and conditioning, Trevor Rogers sophomore dip, etc.), the Marlins still have a very good rotation locked in place for the medium term, with several prospects who are near-ready (most notably Eury Pérez) but who don't need to occupy a 40-man spot this offseason. As such, it was tough for fringe-y starter prospects to crack the 40-man this week. His delivery is quite violent, but righty M.D. Johnson had a strong season at High-A Beloit, posting a sub-4.00 ERA and FIP across 20 starts while exhibiting a much lower walk rate than his first two years in pro ball. His breaking ball is plus, the rest of the operation is average or below (Johnson sits 90-91), and a team would have to bet that Johnson's strike-throwing has permanently improved to consider him in the Rule 5. He was below the line for me, but Johnson has at least entered the conversation. Sinker/slider lefty Zach King garnered spot starter projection on last year's Marlins list and he's still in that bucket, but his poor second half at Double-A likely nixed his chances of being added to the 40-man this offseason. Luis Palacios, 22, had incredibly low walk rates in the low minors, and his changeup is plus, but his lack of other stuff began to be an issue as the Marlins rightly promoted him across three levels last year to stress test his upper-80s fastball.
Of the relievers not added, I could maybe see Anthony Maldonado (who sits 94 with vulnerable downhill plane, but has a plus-plus slider) being of interest in the Rule 5. Other names of note include 22-year-old righty Jorge Mercedes, who sat 94-97 in my Fall League looks with no feel for location and a 40-grade breaking ball. He and Jefry Yan (who has a better breaking ball) are in the same fringe 40-man boat due to their lack of control. Mercedes hadn't thrown a pro pitch until this year and Yan was signed out of a recreational men's league, so these snapshots of their prospectdom actually shed favorable light on the org's scouting and development even though they're not slam dunk big leaguers. Zack Leban, 26, spent most of 2022 at Double-A, where he K'd more than a hitter per inning. His drop-and-drive delivery aids his otherwise pedestrian fastball and he'll flash a plus slider on occasion. He might be an up/down middle-inning guy.
Osiris Johnson has huge bat speed, but he swings excessively and is a slow-burning, developmental prospect at this point. Griffin Conine has 70 power but his contact rate in 2022 was 60%, which would easily be the lowest in the majors among 2022 qualified hitters. At this point, he's also a one-tool flier who seems destined for pro ball in Asia. While Troy Johnston doesn't have the power typical of a first baseman, he's otherwise a well-rounded hitter and performed at every minor league level until a rough final month in Jacksonville, his first taste of Triple-A. He's probably not an impact player, but I think he's an above-replacement stopgap. It's tough to Rule 5 a guy whose immediate role would be that of a contact-oriented bench bat.
Finally, the Marlins made a trade for DSL outfielder Reminton Batista when they sent Payton Henry (Miami currently has just two catchers on their 40-man) back to the Brewers (who drafted Henry and traded him to Miami). I don't have any in-person notes on Batista, who was not at Brewers instructs. I have some sourced DSL TrackMan data that indicates his high-end exit velocities are high for a hitter his age, and that he has some underlying swing-and-miss red flags.
New York Mets
Current 40-man Count: 32
Added Prospects: None
External Additions: SIRP Stephen Ridings (40+ FV, waiver claim from Yankees), SIRP Tayler Saucedo (waiver claim from the Blue Jays)
The Mets had eight open spots exiting Tuesday's deadline, only netting late-blooming reliever Stephen Ridings, whose fastball velocity climbed four ticks after he joined the Yankees, and Tayler Saucedo off waivers. Ridings missed most of 2022 with a shoulder impingement, only returning for a rehab assignment in September, when he threw two innings. Pre-injury, he looked like he had grown into a third bullpen banana on a contender. Saucedo is currently the only lefty on the Mets 40-man, a funky low-ish slot southpaw with a low-90s sinker and above-average slider.
Aside from maybe soon-to-be 27-year-old Jake Mangum, a major league-ready fifth outfielder prospect with a plus hit tool undermined by poor plate discipline, there weren't obvious candidates to protect here. It's possible a team will think enough of catcher Nick Meyer's arm strength and contact skills to draft him as their backup. Lefty Josh Walker was injured for most of the season and picked up innings in the Fall League, where he was 91-94 with extreme downhill angle. Built like a construction crane at 6-foot-6, Walker's slider lacks big movement but it's tough to discern from his heater and is aided by the downhill angle his size creates, giving it artificial but effective two-plane movement. He has the stuff to be the second lefty in a bullpen right now.
Obviously at least a few of the Mets' open 40-man spots are earmarked for starting pitching added from outside the org. They have just six potential starters on the 40-man right now, and I think it'd be ideal for starters three-through-five on the current RosterResource projection to be pushed down the depth chart by those additions, to serve as depth throughout the year.
Philadelphia Phillies
Current 40-man Count: 37
Added Prospects: CF Johan Rojas (45+ FV)
External Additions: SIRP Andrew Vasquez and MIRP Luis Ortiz (waiver claims from the Giants)
The defending National League champions outrighted several pitchers (and utilityman Yairo Munoz) off the roster about a week before the deadline, and only added center fielder Johan Rojas on deadline day. The Phillies 40-man doesn't have starting pitching depth beyond the three starters who carried the load during the postseason — Ranger Suárez, Zack Wheeler, and Aaron Nola — but they effectively have near-ready depth in prospects Griff McGarry, Andrew Painter and Mick Abel. Those guys don't technically have to be put on the 40-man until after the 2024 season at the earliest, but all of them are likely to be part of the big league staff at some point in 2023.
Waiver claims Andrew Vasquez and Luis Ortiz provide bullpen depth. Vasquez and his extremely odd delivery seem to be of particular interest to many teams, as he's been passed around five different organizations over the last three years. If spring training were tomorrow, he and Cristopher Sánchez would compete to be the second lefty out of the big league bullpen; both are out of options. Ortiz, a former Top 100 prospect, still throws hard (sitting 94-96 in 2022) and has a good slider, while a fair curveball rounds out his repertoire.
Rojas is an elite athlete who has incredible speed and range in center field. Even though his downward-cutting swing makes it hard for him to hit for power in games, it's not as though Brandon Marsh has performed like anything more than a glove-first center fielder during his early big league career. At some point in 2023, Rojas' defense may be better than Marsh's, and the two might either platoon or, if Marsh shows no offensive improvement, Rojas may get some big league run. If Rojas' swing ever starts to evolve in a way that incorporates more lift, he's going to explode. The underlying feel for contact and bat speed are both there. Of course, that's been true for the last couple of years.
Are there any vulnerable Rule 5 options here? 22-year-old righty Cristian Hernandez looked good in the Fall League. His velocity was creeping into the mid-90s, sitting 92-93 later in outings. All of his secondaries flash plus movement, and the proprietary metrics that evaluate stuff that I've sourced while lining the intel coffers for list season like his pitches, too. Individually, though, none of his pitches induce a high rate of swing-and-miss or chase. Perhaps there's something about his delivery that's easy to time, or hitters see the ball well out of his hand, but it's surprising he didn't miss more bats at High-A during the regular season. If a team thinks there's an easy way to remedy this, he'd make for an interesting Rule 5 pick to pitch in a low-leverage long relief role initially. Lefty Erik Miller can miss bats with all three of his pitches, but his lack of control is probably a barrier between him and a consistent big league roster spot in 2023.
It's feasible that a rebuilding team blown away by what 6-foot-8 outfielder Carlos De La Cruz is capable of at his size will take him with the hope that he'll continue to gain control of his body as he enters his mid-20s and shore up the strikeout issues that made him tough to roster at this time. De La Cruz is freaky. He's a remarkable center field defender for his size, and might end up with 70-grade power depending on how his frame develops, but the track record of players who strike out as often as he has in the mid-minors is not very good.
Washington Nationals
Current 40-man Count: 40
Added Prospects: OF Jeremy De La Rosa (45 FV), SP Jake Irvin (45 FV), 3B Jake Alu (40 FV), SP Jackson Rutledge (40+ FV), SIRP Jose A. Ferrer (40 FV), SIRP Matt Cronin (35+ FV)
External Additions: Ildemaro Vargas
As I wrote on the Washington list during the last cycle, the Nationals tend to promote their prospects at a glacial pace and often have them repeat levels, sometimes in ways that defy logic when viewed from outside the org. While we don't know what's happening inside locker rooms or what developmental checkpoints the Nationals may require in order to promote their players, it has created a situation in which three of the prospects Washington added to their 40-man have basically no experience above A-ball. This is more palatable because they're in the relatively early stages of a rebuild. They're not going to narrowly miss the playoffs because 22-year-old Jose A. Ferrer has pitched just 7.2 innings above A-ball and may not be ready to contribute to a winning big league cause next year, for instance. And the bottom-of-the-roster guys they lose because they're forced to play with roster spots are fringe players on a bad team, unlikely to be core members of the next good Nats squad. While I'm sometimes confused by what's going on in this org, this particular version of it hasn't had any immediate consequences that I can identify.
Still just 20-years old, Jeremy De La Rosa will spend at least one year on the 40-man without any hope of sniffing the big leagues, assuming he heads to High-A to start 2023. De La Rosa repeated Low-A to start 2022 and was promoted for the last month of the season. He remains a high-variance, power-over-hit corner outfield prospect with a prototypical right field toolset. Ferrer has a mid-90s fastball and plus, upper-80s changeup. His short stride and even shorter arm action make his delivery kind of funky, and it's feasible he could be up late in 2023 despite his level of experience. Jackson Rutledge rounds out the group elevated to the 40-man directly from A-ball, as he made all 20 of his 2022 starts at Low-A. It was a positive just for Rutledge to stay healthy throughout a whole season, which he did while holding 93-96 and an above-average slider throughout. He's on track to work about 120 innings in 2023, which might tee him up for a big league rotation spot in 2024.
The others are likely to see some amount of big league time in 2023. Pitchability righty Jake Irvin has plus command of three or four pitches; it's unclear if he has two distinct breaking balls or if he's just manipulating the shape of one. His fastball has above-average velocity and is tough to get on top of, he command the breakers to his glove side consistently, and I like his long-term changeup prospects based on his arm action and feel to pitch. He's crept up from "low-ceiling backend type" to "mid-rotation innings eater." The short-levered Jake Alu had walk and power upticks in 2022, swatting a career-high 20 homers and walking nearly twice as often as his career norm. Even if that's a small sample blip and due for a regression, there are still hitterish elements here. Alu can put the barrel on pitches all over the zone, he pokes stuff on the outer third to left field and can double into the gap that way, and he has enough raw power to be dangerous when he opens his hips to turn on inside pitches. Without big power, Alu isn't a fit as an everyday third baseman; instead, he could be a good part-time role player at a couple of different spots. Despite sitting 90-92, reliever Matt Cronin's fastball has missed minor league bats because of its shape and angle. He deployed it 80% of the time in 2022. Because I'm not entirely confident a fastball that slow will play when used this often, I see him more as an up/down type.
The delivery of Nationals lefty relief prospect, Jose Ferrer, added to the 40-man roster this week. pic.twitter.com/iE1CZBZDCu

— FanGraphs Prospects (@FG_Prospects) November 17, 2022