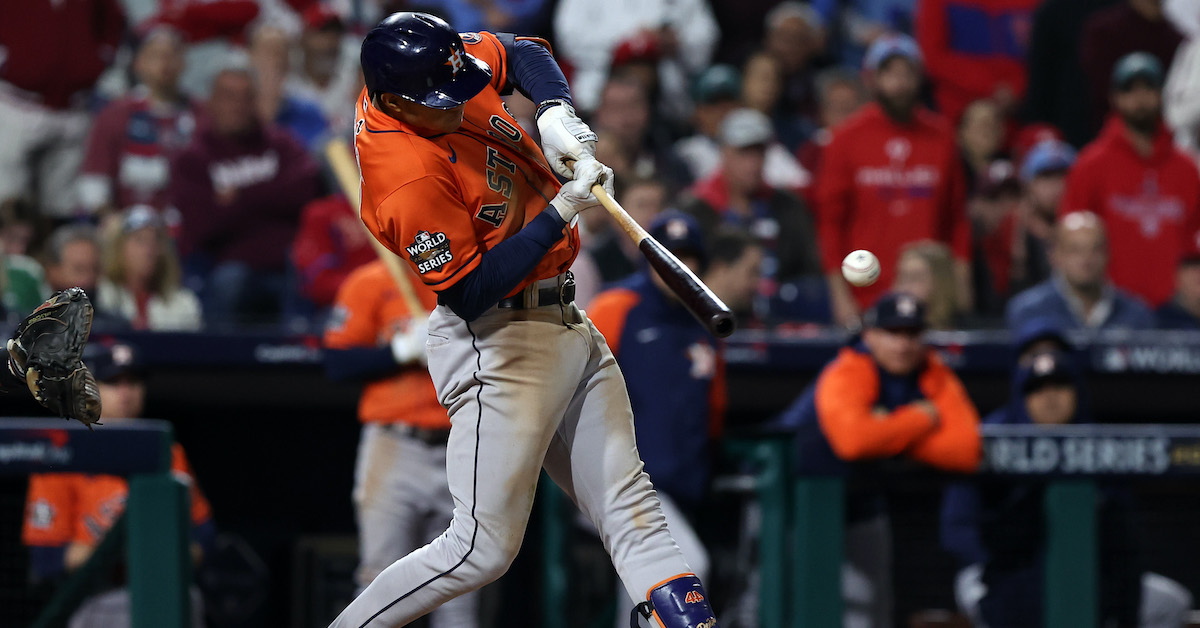 Aaron Nola had a rotten first start of the World Series. He gave up five runs before he finished three innings, and while the Phillies bailed him out en route to a 6–5 win, that game surely left him with a bad taste in his mouth. When he took the ball again for Game 4, he was likely hoping to change the story once and for all.
He had a plan, too. In Game 1, Nola had gotten beaten in a silly way. He came out pumping fastballs, and the Astros were only too happy to feast. They collected six hits; five, including a three-run home run by Kyle Tucker, came on fastballs. Time after time, he threw a perfectly serviceable fastball up there, and the Astros pounced on it. Some were blooped. Some were smashed. Nearly none were missed; the Astros swung at 16 fastballs and came up empty exactly once.
That's hardly surprising. The Astros were one of the best teams at hitting fastballs this year. They were the best, period, on fastballs below 95 mph. Even with playoff adrenaline, that's where Nola lives. It's a bad recipe against such a fearsome offensive team; if you can't make the Astros swing and miss, you're going to have a long night — or a short night, measured in innings.
In Game 4, Houston came out swinging yet again. Nola threw nine fastballs in the first inning, and the Astros swung at six. They missed exactly one: the first pitch of the game to Jose Altuve. Nola started Tucker with two straight fastballs in the second inning, and he was on them both times. Something had to change.
Something did change. To that point in the game, Nola had thrown 11 fastballs. He threw only 12 more for the duration of his night. From then on out, it was all curveballs, all the time. He threw 26 of them in all, 39% of the pitches he threw in the game. In the 208 starts he's made in the majors between the regular season and playoffs, he's only thrown his curve more frequently 13 times, and only once since 2019. This is extremely out of character — and it was also necessary.
Nola didn't abandon the fastball completely, and that was mostly to his detriment. In the third inning, the Astros swung at one fastball, resulting in a 98-mph line out. In the fourth, they swung at three: foul ball, 91-mph line out, 108-mph line out that was more ballistic missile than batted ball. If Nola needed an explanation for why he shouldn't throw fastballs, the Astros were only too happy to help.
Despite that rude welcome, he made it through the fourth inning without surrendering a run. Why? Those fastballs were basically the only ones he threw. While he spun in curve after curve, the Astros continued to look to do damage on fastballs. He racked up three swinging strikeouts with his curveball and one with his cutter, his only strikeouts all game. He induced weak contact low in the zone, too. Sure, Tucker blasted a curveball to right for a double in the second inning, but with the Astros up there swinging, Nola's secondary-dominant plan looked like it just might work.
It wasn't pretty. It wasn't the way you'd draw it up at home. Through four innings, though, Nola was matching Cristian Javier out for out. He allowed four hits and an absolute ton of loud contact — all those smashed line drive outs on the fastball felt like impending disasters off the bat — but held Houston to 1-for-6 with runners on base and recorded a huge strikeout with a runner on third and one out to keep the game scoreless.
By the fifth inning, Nola was headed into his third trip through the order. The Phillies could use an inning or two more from him; the next day's game was sure to be a drain on the bullpen given the way the starting pitching lined up. An ill omen greeted him. His first curveball of the inning was a lollipop, the slowest and with the most break of any pitch he threw all night. Chas McCormick was waiting for just that:
That ball didn't leave the infield, but it was hit hard and on a line. Statcast gave it a .670 expected batting average, and Bryson Stott had no play whatsoever there. You'd need peak Andrelton Simmons, or perhaps Nolan Arenado playing in a shift, to have any shot at throwing McCormick out.
Fine, one piece of good contact on the curveball isn't the end of the world. Altuve was up next, and Nola had something different in mind. He had missed a fastball on the first pitch of the game and has looked beatable high in the zone all series. Nola threw another one by him — his second swinging strike on a fastball all night — for strike one. He tried again on strike two, but this time missed well inside. That wouldn't be a problem, except that Altuve stands so far back that inside looks like middle-middle to him:
That set up the biggest showdown of the night. Jeremy Peña was up next, and if he reached safely, Nola was done for the night. No more messing around with fastballs; Peña is a great fastball hitter anyway, and would surely be up there looking to drive something after seeing Altuve mash a fastball one pitch prior.
True to form, Peña came out swinging:
That was a perfect pitch from Nola, in my estimation. If Peña were trying to swing at a fastball, he'd likely swing over the curveball. If he took, the pitch was in the strike zone. It's a clever pitch selection, and it got the result the Phillies were hoping for. Naturally, it was time to go back to the well:
Hey, found money! I have no clue what Peña was thinking there, but usually the benefit of a bunt attempt is that you can easily pull back if the pitch isn't to your liking. That pitch was out of the strike zone, but Peña got his bat on it anyway. Now Nola had him 0–2. You won't believe what pitch he chose next:
That's a solid take by Peña. I don't think that pitch really troubled him. His brief lunge looks more to me like timing the pitch than trying to hold back a swing. Maybe he would have swung if it had started on more of a plane with the strike zone, but it looked away the whole time, and quite low to boot.
On 1–2, Nola tried something new. He'd been throwing curveballs and trawling the low outside corner, with mixed success. That last take implied that Peña had curveball on the brain, which makes sense; Nola had been getting devoured on fastballs all day, and Peña struck out swinging on curveballs in both of his previous at-bats. What about a changeup?
Yeah, no shot. That wasn't particularly close to the strike zone, and Peña wasn't particularly close to swinging at it. Nola does throw a fair number of right-right changeups, and the Phillies clearly like that pitch against Peña. In their five previous confrontations in this series, Nola had already thrown eight changeups; he'd thrown four to all other Astros righties combined. This time, though, Peña was up to the challenge.
That set up a 2–2 pitch for the ages, and a wonderful mind game between the two of them. Nola had written off his fastball against Peña with good reason. There was little chance of throwing it by him with two strikes, and Peña is a great fastball hitter. Clearly, then, Nola had to throw a curveball.
But wait! Peña knows that he himself is a good fastball hitter, and that Nola wouldn't challenge him with a fastball. He'd be sitting on something slow, probably a curveball given Nola's strengths. Clearly, then, Nola couldn't throw a curveball.
But wait! Peña understands that as well. It's logical for him to be sitting on a curveball, which means that Nola must assume he's sitting on a curveball. Therefore, Nola will surely throw him a fastball. Following that logic, Peña will sit fastball. Clearly, then, Nola had to throw a curveball.
But wait! Peña knows that Nola knows that… well, you get the idea. The Sicilian way of thinking loops endlessly on itself. You could sit up there all day flipping back and forth between options. In the end, Nola went with the curveball:
Ah, well. Peña saw that pitch out of his hand, recognized it as a strike all the way, and tattooed it to left at 106 mph. That wasn't an emergency swing, starting fastball and adjusting to something slower and lower. He was looking for it all the way, got what he wanted, and didn't mess up.
Nola came so close! He realized he couldn't throw fastballs to the Astros, put his fastball in his back pocket, and nearly got away with it. In his 208 major league starts, he's never thrown a lower rate of fastballs than he did Wednesday night. For four innings, his emergency adjustment kept the Phillies in the game. In that fateful fifth, though, Houston's wunderkind shortstop rose to the challenge. Nola's plan was great. Peña's execution was better.
Nola left the game after that hit. All three baserunners scored, as well as two more that inning to boot. The Astros never scored again. They never needed to. Sometimes little moments, little collisions of strategy and counter-strategy, make all the difference.