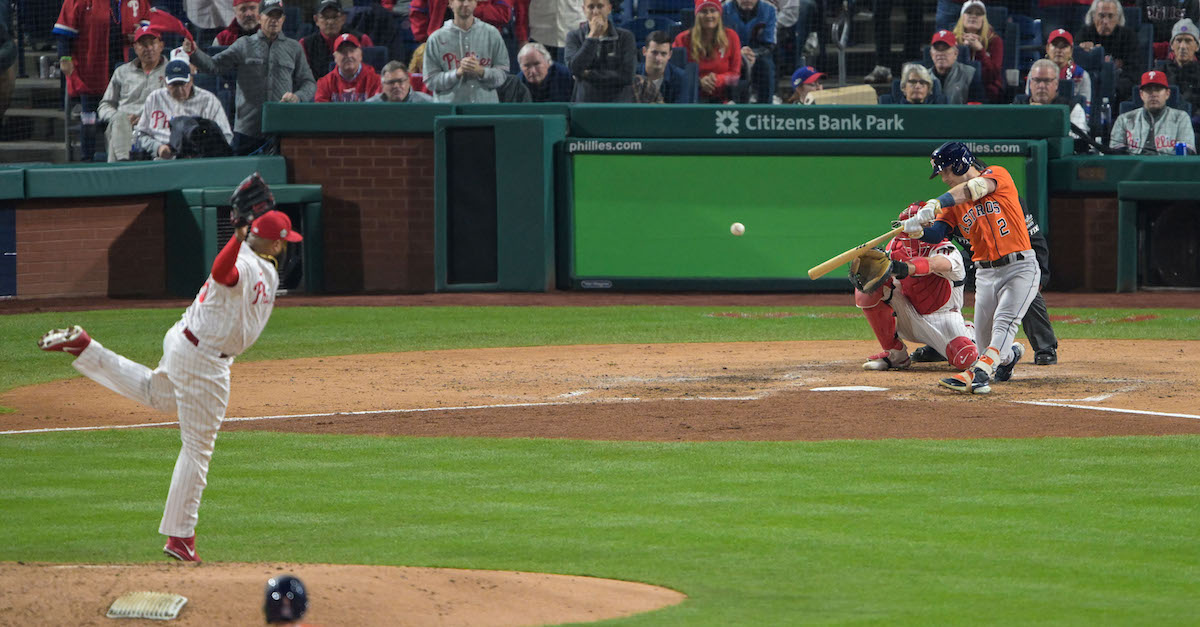 Blame Mike Petriello. I don't think that anyone is actually wondering whether you should, as a fan of the batting team, root for a double play. You shouldn't! Don't do it. Don't even think about doing it. But after it came up on last night's Game 4 broadcast, I thought I'd at least quickly go over why this is a bad idea that you shouldn't consider.
Let's set the stage. In the top of the fifth inning, Alex Bregman stood at the plate with the bases loaded and nobody out. The Astros already led 1-0 and were looking for more. Bregman was in an 0-2 hole against José Alvarado. Naturally (well, maybe), it's time to talk about whether you should be rooting for a double play if you're pulling for the Astros.
Q: Should you prefer a double play here if you're Houston?
No.
Q: Are you sure? It would put the Astros up 2-0, which is a lot of runs.
Yes, I'm sure.
Q: How likely are the Astros to win if Bregman strikes out?
I used our WPA Inquirer to look up an estimated winning percentage for the Astros with the bases juiced, a one run lead, and one out in the top of the fifth. They stood to win 73.9% of the time.
Q: How about if he hits into a double play?
If it's a 6-4-3 double play that scores a run and leaves a runner on third, they're 74.7% likely to win. If the double play erases the runner on third instead, it's 74.3%. Given where the infield was playing, I don't think a home-to-first double play was very likely. In fact, I think the 6-4-3 type was the only real consideration.
Q: Hey! They're gaining win probability by hitting into a double play, aren't they?
That wasn't really a question. In any case, sure, if Bregman had only two options – double play or strikeout – he'd prefer to hit into a double play. Baseball has all kinds of outcomes, though! Some of them even let you reach base. Those are a lot better than hitting into a double play.
In his career, Bregman hits .215/.268/.375 after 0-2 counts. He strikes out 32.5% of the time, which is notably not 100%. He's also a fly ball hitter after 0-2, because he's a fly ball hitter all the dang time. He has a 34.7% groundball rate when he puts the ball into play after 0-2 counts, right in line with his overall mark.
Alvarado is quite good when he gets ahead 0-2, which does matter. Let's give him a ton of the benefit of the doubt and say that Bregman will strike out 50% of the time, while only reaching base 10% of the time. That's a goofy assumption, to be clear – that's a lower OBP than Alvarado has allowed on 0-2 in his career and far lower than the major league average. Bregman is an elite contact hitter, and he had the platoon advantage. The real number is probably at least double that, but I'm trying to be charitable here.
Let's break it down like this: 50% strikeouts, 10% one-base singles, 15% groundouts, and 25% outs in the air. With Jose Altuve on third base, let's say 60% of those fly balls score runs. We'll even make all the groundouts double plays.
Using those same WPA Inquirer numbers, the Astros were 87.1% likely to win if Bregman reached safely while scoring only one runner, whether by walk, hit by pitch, or single. They were 78.3% likely to win if he hit a sacrifice fly without advancing the runner on second. Sum it all up, and account for the fact that a fly ball that doesn't score anyone is the same as a strikeout, and that gets Houston's win percentage to 76%. That's meaningfully better than the chances of winning after they hit into a double play.
If we make some more reasonable assumptions, this falls apart even further. Let's say Bregman reaches base 15% of the time, still far lower than a reasonable estimate but at least less punitive towards him. Let's also say that he hits a double or two-base single once in a while, and that only 85% of his groundouts are double plays instead of 100%. That's another goofy assumption – when Bregman has grounded out in a double play situation (runner on first, less than two outs), the defense has turned a double play 40.2% of the time in his career.
With these still-goofy numbers, we're up to 76.9%. That's a lot better than hitting into a double play. If I used my actual baseline assumptions instead of stacking the deck in favor of the strange assertion that Houston fans should be rooting for a double play, I get a 78% chance of Houston winning with Bregman down in the count 0-2.
Q: That's a lot of numbers. Give it to me in one word. Should Houston fans have been rooting for a run-scoring double play?
No.