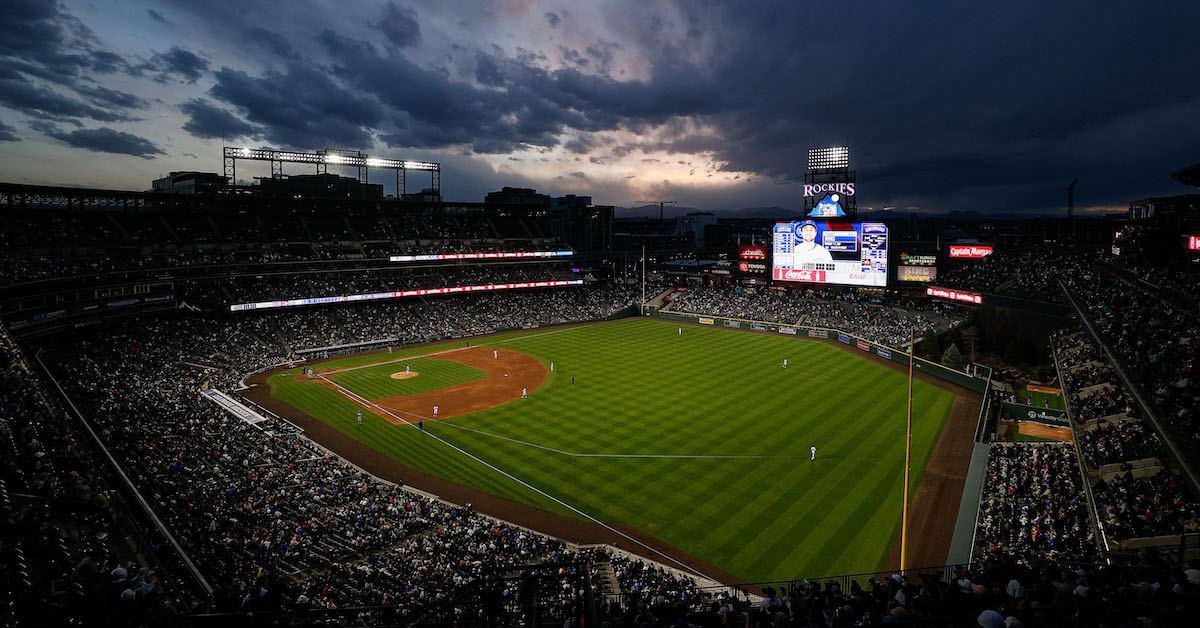 Hensley Meulens wants Rockies hitters to mash. What he doesn't want from them is an undisciplined two-strike approach. As much as "Bam-Bam" believes in damage, he's a proponent of putting balls in play when the pitcher is in the driver's seat. Colorado's new hitting coach accentuated both aspects when I asked him about his philosophy during December's Winter Meetings.
"Have a plan, get a good pitch, and take your A-swing," said Meulens, who a month earlier had replaced Dave Magadan in the role. "That's before two strikes. A lot of at-bats get to two strikes, but I want us to be able to do damage before we get to two strikes. Once you do get to two strikes, you need to find a way to keep the line moving."
Meulens went on to say that while many hitters can make that adjustment — Barry Bonds having choked up on the bat is an example — there are others who can't. One is a slugger he worked with while serving as an assistant hitting coach with the New York Yankees.
"Certain hitters, you can't change anything," said Meulens. "They've got one swing. I coached Joey Gallo this past year. As much as you try to give Joey Gallo a two-strike approach, he's got the one swing. He goes for the downs. That's why he's been in the big leagues, but if a player has the ability to keep an at-bat going and be productive with two strikes by making a little adjustment, I'm all for it. If they can't do that, you have to live with what they bring. That's how baseball works."
Meulen cited Yonathan Daza as a Rockies hitter for whom a two-strike adjustment isn't needed. Making consistent contact comes naturally for the 29-year-old outfielder, a .301 hitter last year with a 14.2% strikeout rate. With others, Meulens found himself more hands-on with this spring. One was Ryan McMahon, who slammed 20 home runs last year but also struck out 158 times. Another was top prospect Ezequiel Tovar, who got a cup of coffee in September at the tender age of 21. There are, according to Meulens, currently no Gallo clones on Colorado's roster.
An improved approach on two-strike counts isn't the only point of focus for the hitting coach. So is chasing, which frequently leads to two-strike counts. For much that reason, Bam Bam is a believer in the art of the art of stopping.
"Basically, what I have them concentrating on… my focus is on stopping," he explained. "That's for most of the guys when they get to two strikes. If you commit too soon, you're going to swing, even when it's not a strike anymore. You need the ability to stop. That's on any pitch. You stop more than you swing in any given game. I want them to think 'swing' on every pitch until it's a ball, and then I want them to stop. Chasing is what happens when you can't stop."
Then there are the tools that can help players improve. When I talked to the 55-year-old Curaçao native at the Winter Meetings, he told me that he finds a lot of value in state-of-the-art technology — something he had ample access to in New York, whereas his new employer has had some catching up to do. A particular item was high on his wish list: He asked GM Bill Schmidt if the club could purchase an iPitch, and on his recommendation, Colorado did just that.
"It's a tool that I feel is important," Meulens told me this spring. "They already had the spin-ball machines here, but the iPitch is more precise with the shape of the pitch — the exact shape from the guy who is pitching. You put the data in your tablet, from a site like Savant or TruMedia, and it creates that shape. The machine works with the tablet.
"We do still need a table for it, so we can have the exact release point of whomever is pitching," he added. "We just [ordered] one, and I had it sent to Denver so that it can be ready for us when we get home. Right now it's just a generic height and can't be raised or lowered. For instance, the pitcher we're facing later today has a really high release point — he's tall and over the top — and we can't create that right now. We'll be able to once the season starts, though."
The extent to which an iPitch, paired with Meulens' philosophies and teaching skills, will help Rockies hitters mash and make solid contact with two strikes remains to be seen. Ditto how much they're able to master the art of stopping.