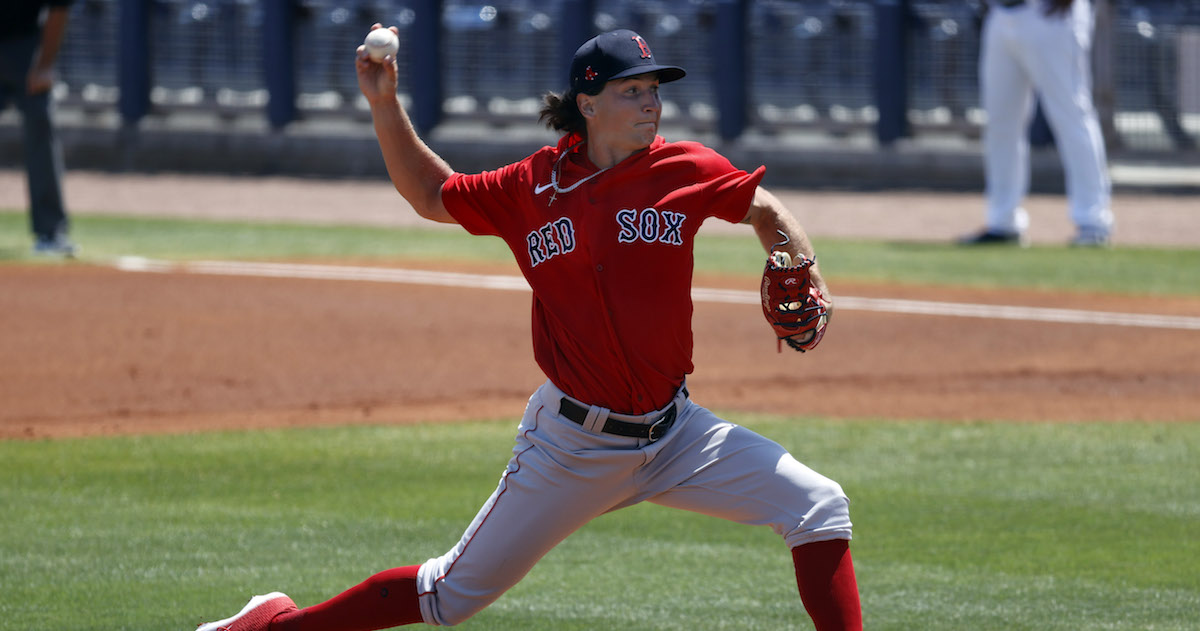 Thad Ward should be of interest to several teams come next month's Rule 5 draft. Currently no. 15 on our Boston Red Sox prospect rankings with a 40+ FV, the 25-year-old right-hander wasn't added to the club's 40-man roster — a decision that left Eric Longenhagen "a tad surprised." Our lead prospect analyst explained that Ward "looked good in the Arizona Fall League, locating 92-94 mph fastballs while mixing in two above-average breaking balls… [and] looks like a possible bulk relief fit right now."
Three years ago, Ward looked to be well on his way to securing a spot in Boston's starting rotation. When he was featured at FanGraphs in October 2019, the 2018 fifth-rounder out of the University of South Florida had recently been honored as the organization's Minor League Pitcher of the Year. According to then-Red Sox pitching analyst Brian Bannister, Ward was in possession of "a Chris Sale slider."
But fate had its say. The 2020 minor league season was canceled due to the pandemic, and the following year, Ward underwent Tommy John surgery after making just two starts with Double-A Portland. By the time he returned to action this past July, he had essentially missed two-plus seasons. But while taking the mound again didn't feel akin to jumping back on a bicycle for the righty, he did pitch well. In 51-and-a-third innings spread across four levels, Ward fanned 66 batters and allowed just 40 hits while logging a 2.88 ERA.
Ward discussed his comeback, including how his stuff compares to what it was pre-injury, during his stint in the Arizona Fall League.
———
David Laurila: You came back from Tommy John this year. Are you the same pitcher now that you were before going under the knife?
Thad Ward: "In some ways, yes. In some ways, no. I've matured a lot in terms of stuff I can't control. I don't get as upset over mistakes. That's not to say my competitive edge has gone away, it's more that I feel I'm channeling it in a better direction."
Laurila: In which ways weren't you channeling it well?
Ward: "Before, I was guilty of — this is going to sound weird — being too intense in what I was doing. How intense I was would sometimes alter the way I was thinking. I would get mad at umpires. I would get mad at balls falling in when they weren't hit well. Basically, things not going my way… not to the point where it would take me out of my game plan, but enough that it would annoy me.
"Now, after being around for a little while, I've developed a better understanding that things aren't always going to go according to plan. Things are going to happen. We're going to get bad calls behind the plate, bad calls in the field, balls that shouldn't be hits are going to be hits. So, there has been a lot of maturity and growing up over the past couple years."
Laurila: Did having baseball taken away from you factor into that?
Ward: "I think so. It kind of reminded me that baseball is temporary. As much as it's our career, and as much as we want to stay in it forever, sometimes we don't get to control when we leave the game. That understanding has helped me become a lot more gracious with my mistakes, and a lot more patient with myself.
"I want to make it to the big leagues, and try to stay for as long as I can, but at some point, it will no longer be possible for me to play the game. I'm trying to freeze that timeline for as long as possible."
Laurila: You got back on the mound in July. Was it just like riding a bicycle?
Ward: "It was July 1, in the Complex League, and while I would love to say it was just like riding a bike, it did feel different. There's that competitive edge you're so used to having, and when you don't have it for a long period of time, you have to get that feeling back. The adrenaline pumping — all of that stuff you hadn't felt in so long — you have to adjust back to. It took me a little while. It also took a little while to get back to really feeling my pitches. Ultimately, I was able to finally get readjusted to everything and feel like myself again."
Laurila: How does your stuff compare to what it was pre-injury?
Ward: "In terms of the data analytics and whatnot, the stuff is pretty much the same, if not maybe a tick better. In terms of how everything feels… I feel a lot better about how I can use my stuff now."
Laurila: In what way is your stuff maybe a tick better?
Ward: "I'd say it's more that my command has improved; I'm able to get into more advantage counts and put pressure on the hitter. In terms of movement profiles, it's about the same as what it was."
Laurila: Is the improved command due to improved mechanics, or has there actually been more of a mental adjustment?
Ward: "I think it's combination of both. I took the Tommy John as kind of a blessing in disguise. I had a lot of inefficiencies in my delivery, in my mechanics, that we were able to sit there and harp on for a long period of time without really throwing a baseball. When I got back to actually pitching again, I was able to move a lot more cleanly through the delivery, which allowed me to be in the zone more often. There wasn't as much of a struggle to try to get guys to swing-and-miss out of the zone, because I didn't have to be out of the zone. I was commanding pitches better than I had previously."
Laurila: What is your repertoire right now?
Ward: "Two-seam, four-seam, cutter, slider, curve, change. My best pitch is probably still my slider. I don't think that will surprise a lot of people. There are some pitches that just feel natural — some guys have a natural feel for their changeup, some guys carry their fastball really well — and for me, the slider has always been a pitch that comes naturally."
Laurila: The movement profile on your slider is…
Ward: "It's a horizontal sweep. There's not much downward action — it's more side-to-side, almost straight across — so you could probably define it as a sweeper. And again, the slider is a pitch that's just always come naturally to me. I don't think anything will ever change that. It's just who I am. That's what I do."