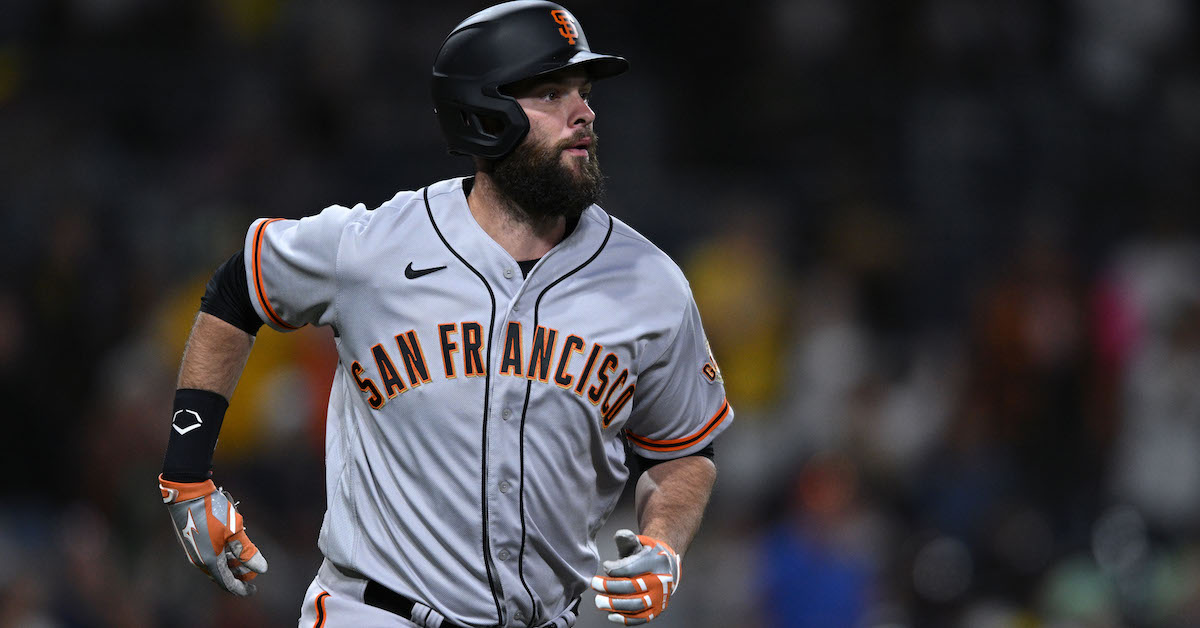 While the Carlos Correa negotiations remain in a deadlock, the Blue Jays made (some) headlines yesterday by inking Brandon Belt to a one-year deal worth $9.6 million, per multiple sources. Belt, a longtime fixture of the Giants' offense, is expected to play first base and serve as Toronto's designated hitter. That means he'll be sharing time with Vladimir Guerrero Jr. as well as Danny Jansen and Alejandro Kirk, who'll likely take turns DH'ing to minimize their grueling workload as catchers.
At first, that arrangement doesn't make immediate sense. What Guerrero, Jansen, and Kirk share in common besides their hatred of incoming baseballs is right-handedness, and righty batters are usually worse against righty pitchers. You might have reasoned that the Jays recruited the lefty-hitting Belt to shore up this particular weakness. But so far in their careers, the aforementioned trio hasn't shown much of a vulnerability against same-handed pitching. Check out these splits:
Career Platoon Splits (wRC+)
| Player | vs. RHP | vs. LHP |
| --- | --- | --- |
| Vladimir Guerrero Jr. | 140 | 115 |
| Danny Jansen | 105 | 83 |
| Alejandro Kirk | 124 | 126 |
So why did the Jays go out of their way to sign Belt? Some potential answers: It's good to have diversity in a lineup; the Jays needed hitting depth; and Belt, regardless of handedness, is an intriguing rebound candidate. But I have another theory! The main reason why same-handed pitcher-batter matchups tend to end in embarrassment for the batter is because breaking balls are good — almost too good, as the league-wide imbalance between pitchers and batters demonstrates. Or just ask Max Scherzer, who throws his slider exclusively against right-handed hitters and eats them alive. It's getting more and more important that teams are able to weather such breaking ball barrages.
The Blue Jays are, and project to be, a great fastball-hitting team. But they're not as great of a breaking- or offspeed-hitting team. That's true of most other teams, though that doesn't mean it's not a flaw. If anything, mastery of all three pitch types would present a significant advantage over the rest of the competition. One Brandon Belt won't provide the Blue Jays a multi-win leg up, but consider his damage against breaking balls from righty pitchers since 2020, along with that of his new teammates:
Where Brandon Belt Stands Out
| Player | Batted Balls | wOBAcon |
| --- | --- | --- |
| Brandon Belt | 68 | .621 |
| Vladimir Guerrero Jr. | 287 | .440 |
| Danny Jansen | 103 | .379 |
| Alejandro Kirk | 144 | .314 |
Those aren't bad marks from Guerrero, Jansen, and Kirk — they are good hitters, after all — but Belt has been just so tremendously good at pummeling breaking balls. Sure, the odds that he repeats his out-of-nowhere 2020–21 resurgence are infinitesimal. But even if you isolate 2022, a year in which he dealt with injuries and generally fell back down to Earth, he still recorded a .435 wOBAcon versus righty breaking balls. That bests any of Jansen and Kirk's individual marks, albeit in a limited sample. The bottom line is that Belt, for his entire career, has feasted on specific types of pitches that gave the Blue Jays minor troubles. He isn't a hitter who happens to hit left-handed; he's a left-handed hitter who can fill a valuable niche for a lineup.
What's more, the Blue Jays won't have to jump through multiple hoops, figuring out how they can best use Belt without exposing him to left-handed pitching. That might have been the case if he were more of a well-rounded hitter with no obvious strength. But the slider-spamming, platoon-split-prone relievers appear almost exclusively in later innings, when the Blue Jays can summon forth Belt and not sacrifice much in the way of lineup construction. And this doesn't mean much, but for fun, I looked up his track record as a pinch hitter: a 128 wRC+ in 104 plate appearances, which is pretty good! Factor in the pinch-hit penalty, and you could say he has been decently clutch throughout his career. Again, that doesn't say anything about how he'll perform as a pinch hitter in 2023, but I mean, don't tell me you can't imagine him doing something like this in a packed Rogers Center:
Oft-injured as of recent years and in the "Wheeeeeee!" segment of a rollercoaster-shaped aging curve, Belt didn't exactly attract much attention on the market. We watched as "safer" first basemen like José Abreu and Josh Bell signed early on in free agency, more or less guaranteed a full season's worth of playing time. Maybe this sort of limited role isn't what Belt had in mind, and he might have spent the winter in search of better offers. But you can see why he and the Blue Jays came to a nice little agreement. The Jays aren't betting on him returning to form or even staying healthy for an entire season. They don't need to! They seem content with tasking him with one role, and that's hitting the snot out of right-handed breaking balls. The worst-case scenario is that he is too debilitated to accomplish even that, in which case the Blue Jays still don't lose much; their offense would still remain one of the best in the league, and rightfully so.
From Belt's perspective, perhaps there's now less pressure to perform, to hold the fort at first for a team whose fans haven't always been appreciative of him. Now he's secured a part-time role, about to receive darn good compensation for his services. Technically, you could argue that the Blue Jays forked over too much, but I'm not going to go down that route. It's a bit like claiming that a team is overpaying a LOOGY (RIP, by the way) because he only faces a handful of batters. Of course he does; that's the entire point of his job! I'm not sure what the Blue Jays have in store for Belt, but based on everything, it's likely they'll appoint him as their resident righty and pinch-hit specialist in a league where breaking balls are becoming increasingly common. Solid decision if you ask me.