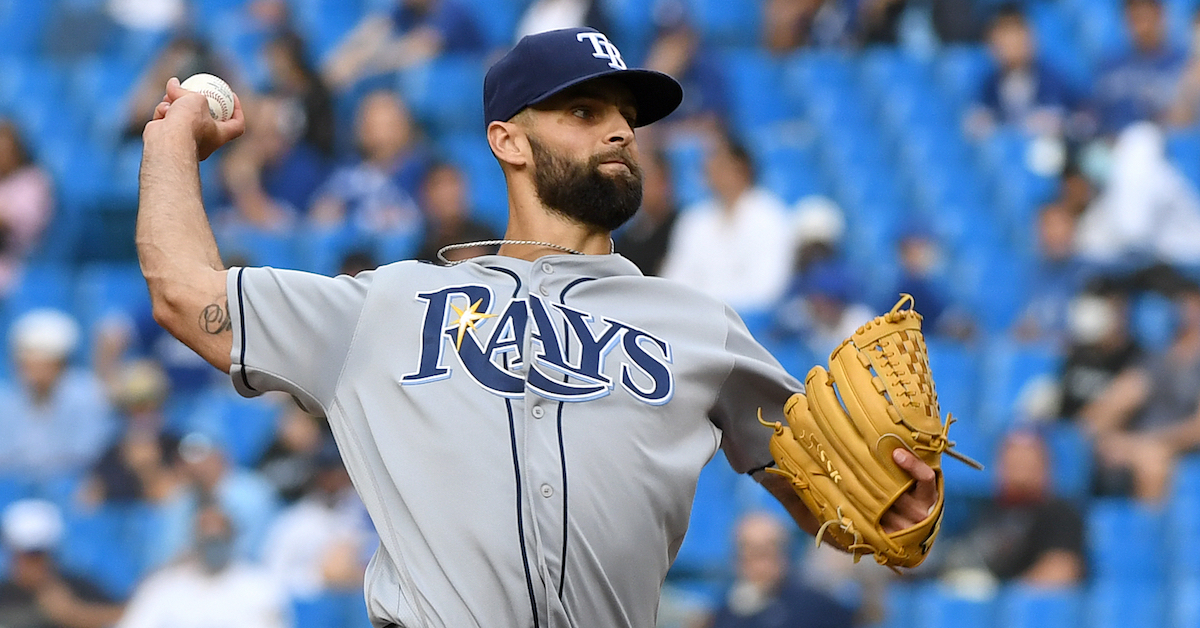 Nick Anderson has had a hell of a baseball career. If you haven't already heard his story, allow me to enlighten you. Anderson played Division II baseball for three years at St. Cloud State University in Minnesota before transferring to an NAIA school, Mayville State University, for his senior year. Despite being drafted by the Brewers in the 32nd round of the 2012 draft, he opted to play independent league baseball for three years. From 2015-18, he made his way up the Twins' minor league ladder, then was traded to the Marlins that winter. Finally, he made his major league debut as a 28-year-old in 2019. His career had already been a wild ride.
Is it surprising that a player like Anderson found himself on the Tampa Bay Rays? It shouldn't be! They saw something in him, as they often do, and acquired him and Trevor Richards at the 2019 trade deadline while trading away a talented prospect in Jesús Sánchez and another reliever in Ryne Stanek. Anderson's performance in the first half of the season had been impressive, but upon his arrival in Tampa in August, he got even better. In 21.1 innings, he struck out 52.6% of the batters he faced, only surrendered five runs, and pitched to a 1.62 FIP. That's pure dominance.
Anderson saw similar success in the shortened 2020 season, posting a 1.35 FIP in 16.1 innings. But since then, he has only thrown six big league innings due to a partially torn UCL in 2021 and then a bumpy recovery in the minors this season after opting for a UCL brace procedure rather than Tommy John surgery. On top of that, he dealt with plantar fasciitis. If you ever experienced that, you know that it feels like the bottom of your foot is ripping in half every time you take a step. Anyways, Anderson has gotten another opportunity, this time with the Atlanta Braves.
Right-handed reliever Nick Anderson and the Atlanta Braves are in agreement on a major league contract, sources tell ESPN. The 32-year-old Anderson is on a split deal that will pay $875,000 if he's in the big leagues and $180,000 in the minors. He spent four years with Tampa Bay.

— Jeff Passan (@JeffPassan) November 11, 2022
If he does indeed end up with the big league club, he'll have the chance to re-establish himself as one of the more lethal relievers in the game. How likely he is to do so, however, is unclear. Historically, the road back from a torn or partially torn UCL without receiving Tommy John surgery hasn't been a great one. That doesn't mean Anderson won't buck the trend, but it does leave me skeptical that he can return to his previous form.
If there is a path back to success, it will need to include recovering his four-seam fastball's shape and maybe a tick of velocity. Anderson's mechanics fluctuated as he dealt with injuries, and it led to him releasing the baseball differently than he did during his dominant 2019-20 stretch. Below is a table of the qualities that changed between 2019 and '21, and the resulting performance:
Nick Anderson Four-Seam Release
| Year | Vertical Release Point | Horizontal Release Point | Extension | wOBA | RV/100 |
| --- | --- | --- | --- | --- | --- |
| 2019 | 6.56 | -0.7 | 5.9 | .331 | -0.4 |
| 2020 | 6.36 | -0.68 | 6.4 | .139 | -3.6 |
| 2021 | 6.65 | -0.82 | 5.9 | .418 | 0.4 |
SOURCE: Baseball Savant
Anderson's fastball was at its best when he was getting an additional half inch of extension and releasing from a lower arm slot. That isn't all that surprising. He doesn't have overwhelming spin or velocity, so having a release point that gave him a flatter entry into the zone was crucial for his success. Being a 6-foot-4 person with a loopy arm swing made Anderson tough to read and allowed his fastball to play up when he was able to drive his release further toward home plate. Because of the drop in his release and extension, he also lost ride on his fastball. Basically, it all fell apart.
Now, he's left in a tough situation. Did his increase in extension cause his elbow issues, or did the elbow issues come first and lead to his fastball shape and movement deteriorating due to a suboptimal mechanical change? It's impossible to say exactly, but what we can do is look at his mechanics and try to point to specific movements other than the arm swing itself that can explain the drop in release point and extension. I'll start with two videos from 2020. The first is from August 7, and the second is from August 12:
Next, let's look at two videos from 2021. The first is from September 19, and the second is from September 26:
To me, it doesn't even require slow motion video to see what changed in Anderson's mechanics. His shin angle is almost dead at 90 degrees (perpendicular to the ground) in 2020. That is a perfect starting point to keep your lower half anchored in the ground while creating hip and shoulder separation. He is then able to strongly plant in the ground and get to full knee extension right when he releases the ball. The stronger your base, the more control you have in your hips as you rotate down the mound. You can't get down the mound into a low release point without holding your base well. If you don't, it'll look something like Anderson's struggles in 2021.
During his brief 2021 stint, Anderson couldn't find steady mechanics. I watched all of his appearances, and whether it was in the setup of the hands or the feet, they all had something slightly different. On September 19, he used a more aggressive leg kick, which led to him getting down the mound too quickly. Because of that, he reached full front knee extension earlier than in 2020. This led to him releasing the ball higher and earlier. It was a decent location, but that doesn't mean the process was optimal.
He must have felt something was off because a week later he changed his hand setup, but it didn't do him any good. The two things that are telling to me were his reciprocal movement to releasing the ball, and his upper back posture. In 2020, he had a controlled kickback that went right back through the center of his body as he stood on one leg after delivering the pitch while swinging his right foot around. In 2021, he delivered the ball with his upper back bending a bit too much (you can see it on the ripples of his jersey across his name), which led to his arm and right leg kicking up and back instead of towards his center of mass.
Again, it's hard to say exactly why these changes occurred, but regardless of the cause, it's clear Anderson was compensating. If he can return to something closer to his 2020 mechanics, then perhaps he can better optimize his fastball shape to once again play with his curveball and be a productive pitcher for the Braves. The one thing I still worry about is whether the mechanics that gave him better extension and release were unsustainable for his body. If that's the case, it might be unrealistic to expect the velocity, mechanics, and shape to all return without re-injury. I know I've caveated this multiple times, but there is reason to believe Anderson is a resilient fella. After all, he has overcome the odds time and again during his career. Why should he stop now?