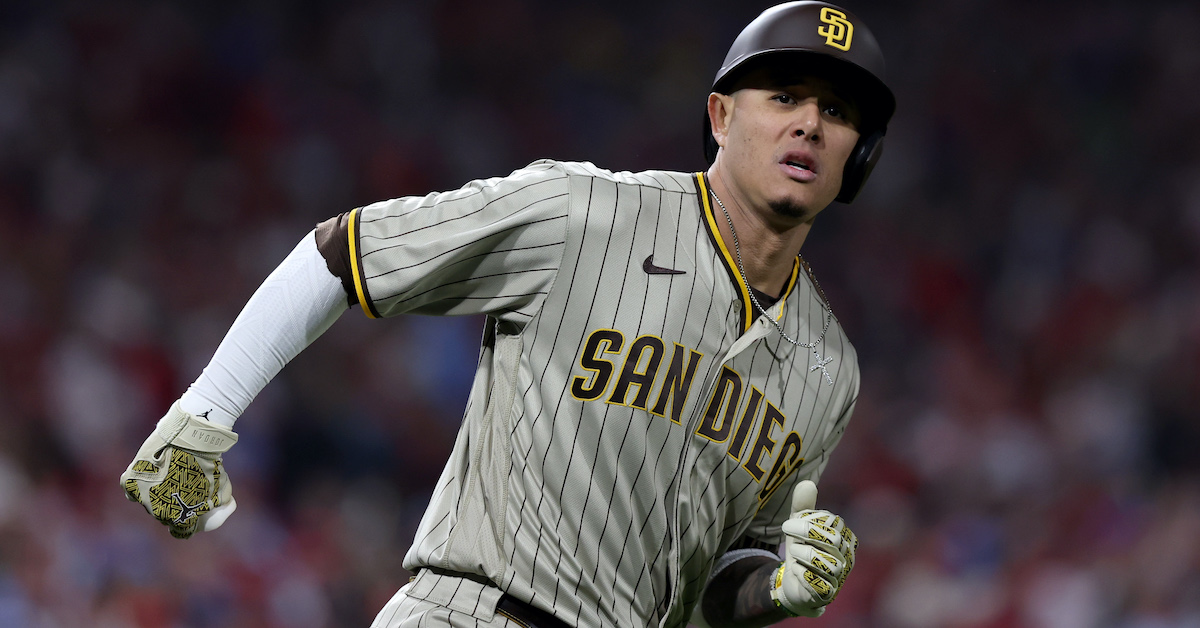 As announced on Monday, the MVP finalists for the 2022 season are Aaron Judge, Shohei Ohtani, and Yordan Alvarez in the American League, and Manny Machado, Nolan Arenado, and Paul Goldschmidt in the National League. If you check the FanGraphs leaderboards as regularly as I do, that list might sound familiar; not only are those the top three vote-getters for MVP in each league, but they also happen to be the top three players by WAR as well.
That's not entirely surprising. Since 2008, every position player to have won the MVP finished among the top three in his league in WAR (Legacy WAR, to be specific). There's nothing wrong with this per se, since the entire purpose of WAR is to measure player value. Still, it's a little on the nose to see the finalists line up so perfectly with our leaderboards this year, especially in the NL, where the top eight position players all finished within a single win of one another.
The golden rule about WAR is that it works as an estimate, not an exact measurement of value. You can't differentiate one player from another using a few decimal points. That means Wins Above Replacement should serve as a jumping-off point for MVP voting rather than a deciding factor. Sure, in some cases, it can be both, like this year's AL race. You don't really need to look beyond WAR to know Judge is the deserving winner; he's so far ahead of the pack that it isn't even a question. In the NL, on the other hand, all WAR can do is point us in the right direction.
Now, I'm not trying to claim the MVP voters who picked Machado, Arenado, and Goldschmidt cast their ballots based on WAR and WAR alone. There's no way to know that. Nor I am saying their decisions were wrong, necessarily. Those three finalists are all perfectly justifiable MVP choices. But the fact that the top three finishers in MVP voting were also the top three finishers in WAR still gives me a bit of an uneasy feeling. It makes me concerned about voters relying too heavily on WAR, or at least appearing to do so.
Maybe it's too soon to worry about something like this. After all, we only just got MVP voters to stop handing out the award based on batting average, RBIs, and team success. Besides, if voters are going to rely too heavily on one statistic, isn't WAR the best one they can pick? My concern, however, is that it's bad for WAR (and for all advanced metrics) when it looks like prominent writers are using it as the be-all and end-all. It fuels the number one argument used against WAR, which is that it tries to boil everything about baseball down into one unassailable statistic. Anyone truly familiar with WAR will tell you that's not the case, and if you're reading this, I probably don't have to convince you any further. Nonetheless, there are plenty of people who hold this belief and who repudiate all advanced metrics as a result. To that end, you can see why I find it a little distressing that the top three players in WAR finished top three in MVP voting in a year when there were so many worthy candidates to choose from, each with a unique and interesting case of their own.
Beyond that, the MVP finalists this year make me worried about WAR biasing voters, consciously or not. I know that isn't entirely fair to Machado, Arenado, and Goldschmidt to suggest they're only the MVP finalists because of WAR's undue influence. That being said, I can't shake the feeling that Freddie Freeman and Mookie Betts were just a couple tenths of a win away from being named finalists themselves.
Perhaps you've heard of a psychological phenomenon called choice overload. This concept, sometimes also known as choice paralysis or the paradox of choice, describes the feeling of being overwhelmed when faced with too many options. A surplus of choices can lead to stress and mental exhaustion, therefore making it significantly harder to come to a final decision. The most common example involves a restaurant menu; in theory, patrons will have a harder time ordering if the menu is too extensive. The same concept can be applied to this year's NL MVP race. The sheer number of worthy contenders must have made it challenging for voters to decide amongst them. Remember: eight different position players finished within 1.0 WAR of one another atop our leaderboards, an exceedingly rare occurrence. In fact, this is the first full season in recent memory in which eight players finished so close to the top spot:
Players Within 1.0 WAR of WAR Leader
| Year | AL | NL |
| --- | --- | --- |
| 2022 | 1 | 8 |
| 2021 | 4 | 4 |
| 2020* | 5 | 11 |
| 2019 | 3 | 4 |
| 2018 | 2 | 1 |
| 2017 | 2 | 5 |
| 2016 | 1 | 2 |
| 2015 | 2 | 1 |
| 2014 | 1 | 3 |
| 2013 | 1 | 3 |
| 2012 | 1 | 1 |
| 2011 | 1 | 1 |
| 2010 | 3 | 7 |
| 2009 | 2 | 2 |
| 2008 | 3 | 5 |
L-WAR used for all seasons before 2022.
*Shortened season.
In other words, since the days when FanGraphs WAR first became a major indicator of MVP voting results, there has never been a leaderboard quite this congested at the top. In 2022, any voters using WAR to identify the top tier of players were left with more choices this season than ever before. And what do people do when faced with choice overload? The same thing they do in any cognitively-taxing situation: they rely more heavily on heuristic techniques and preconceived biases. In particular, it's quite common to see people use the "default heuristic", which means selecting the default option regardless of what might have been their preference were they presented with fewer choices. This doesn't map onto MVP voting perfectly, since there's no default option pre-selected on the ballots. There is, however, one name that appears as the default no. 1 when you visit the 2022 NL Batting Leaders tab: Manny Machado, the WAR leader.
Studies have also shown people are far more likely to eliminate options quickly when faced with choice overload. This helps reduce the number of choices, but it comes at a cost. Those options that are quickly eliminated tend to be removed using less information and without careful consideration. With that in mind, you could imagine an MVP voter swiftly paring down the list of candidates using WAR and then making a thoughtful decision out of the remaining two or three names. In theory, this is exactly how WAR should be used — to separate players into groups based on their approximate value — but that strategy falls apart when there are so many good choices.
Thus, choice overload does a pretty good job of explaining why NL MVP voters might have defaulted to relying on one metric this season, even if they knew better than to do so. I can't say for sure that's what happened this season, but it certainly could have been the case, and it certainly could happen in future years as well. No matter how much we emphasize the fact that WAR is not a precise measurement, the exact order of the WAR leaderboard will always have the power to bias those who look at it.
It's wonderful how many great seasons we saw in the NL this year and how many players have a case to be named MVP. Such a close race between so many contenders compels us to look beyond the go-to methods we might normally rely on to pick a winner. It allows us to think about how we measure value. It's a chance to get creative. So while it's already too late, let me make a retroactive plea to the voters: don't succumb to choice overload. Don't fall back on the "default" option. If you think Machado, Arenado, or Goldschmidt is the deserving NL MVP, that's fantastic. But please, make sure you fully and completely consider all the options before you come to your decision. This year's jam-packed NL MVP race may feel like a burden, but I promise you it's a gift. Cast your ballots accordingly.