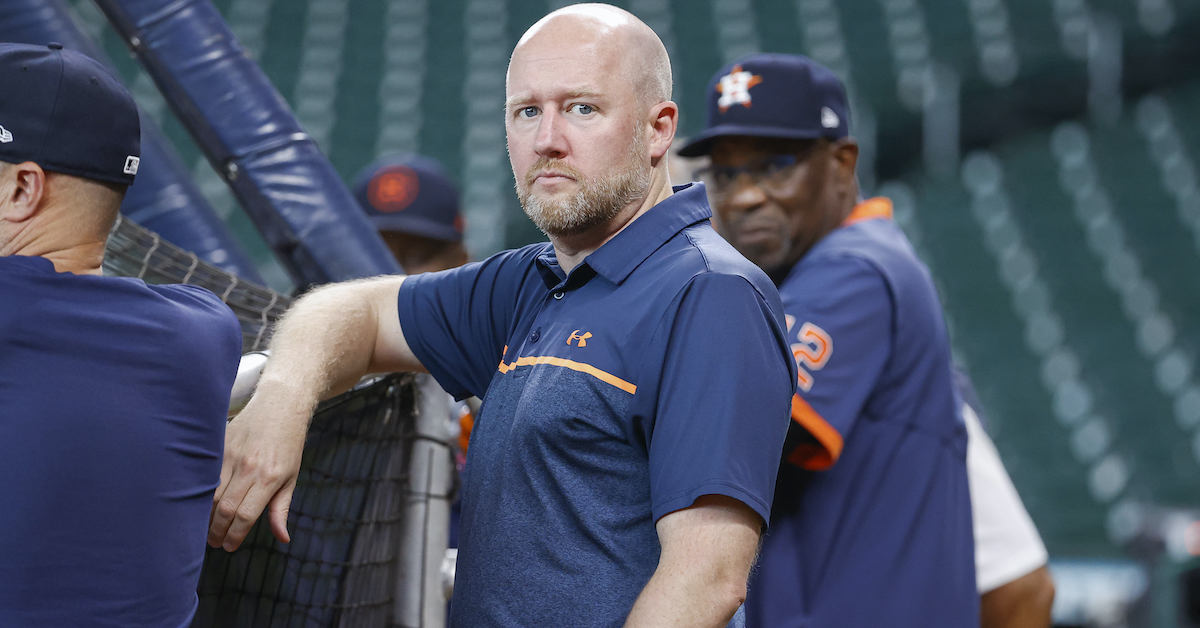 It wasn't hard to see this coming. Despite taking over their jobs in the wake of the team's sign-stealing scandal and leading the Astros to the AL's best record since then, with a 2020 trip to the ALCS, a '21 pennant and '22 World Series win to boot, general manager James Click and manager Dusty Baker were both working without contracts beyond this season. Normally, such successful leaders are offered extensions well before their deals expire, but Astros owner Jim Crane refused the courtesy, sending both into the postseason as lame ducks. Both Click's three-year deal and Baker's one-year deal officially expired on October 31, before the final out of the team's World Series triumph. Amid the celebration, Crane said he'd address the matter the following week, and while Baker agreed to return via a one-year deal, Click rejected a one-year offer, ending his tenure atop Houston's front office.
Frankly, under such circumstances, a single-year offer is an insult, particularly for an organization's highest-ranking baseball official, the person who is supposed to be the architect of the team. At this point in his storied career, the 73-year-old Baker may be fine with going year to year, but Crane had to know that the 44-year-old Click, who spent 14 years in the Rays' front office but had never served as a GM before being hired in February 2020, would decline such an offer. With no current GM openings, the parting of the ways may mean that Click spends part or all of 2023 as some team's special advisor or vice president, not unlike what Alex Anthopoulos did with the Dodgers between his runs as general manager with the Blue Jays and Braves. It does seem likely that by this time next year, Click will get to execute his vision via the security of a long-term deal.
Click inherited a roster that had been put together by predecessor Jeff Luhnow, who was suspended for a year by Rob Manfred as well as fired by Crane when the commissioner issued his report detailing the Astros' illegal sign-stealing activities in January 2020. Maintaining and augmenting that roster over the past three seasons was no small task given the departures of stars Gerrit Cole, George Springer, and Carlos Correa via free agency. While Click was able to do so largely with players who entered the organization on Luhnow's watch, it still takes the right judgment to decide that rookie Jeremy Peña, with zero major league experience, was ready to fill Correa's shoes as of Opening Day, or that Framber Valdez. Cristian Javier, and Luis Garcia could replace the likes of Zack Greinke and Wade Miley. That Click did so with Crane — a demanding boss whose background is with his air-freight logistics business, not in a baseball front office — nosing his way into the operations side post-Luhnow shouldn't be held against him.
In terms of additions from outside the organization, nowhere did Click leave his stamp on the team more than in the bullpen, where the additions of Ryne Stanek, Héctor Neris, and Rafael Montero helped to create a unit that pitched to an 0.83 ERA in 54.1 innings during this past postseason. Stanek, who pitched for the Rays during Click's tenure as vice president of baseball operations, was signed as a free agent in January 2021; Montero was a deadline acquisition in July of that year; and Neris was signed last December.
Click's 2022 deadline acquisitions — lefty reliever Will Smith, catcher Christian Vazquez, and DH/OF/1B Trey Mancini — largely underperformed after being acquired. Smith didn't even make the postseason roster until the World Series, and he never pitched. Vazquez made the most of his modest postseason playing time (three starts and three late-game entries), hitting a two-run single that broke open Game 3 of the ALCS against the Yankees, then catching the first combined no-hitter in World Series history in Game 4 as well as the clinching Game 6, where he additionally drove in the Astros' final run off Seranthony Domínguez. Mancini continued his post-trade struggles, going 1-for-21 at the plate in the postseason, but he made a key defensive play in Game 5 of the World Series, diving to stop a hot Kyle Schwarber grounder down the first base line to secure the final out of the eighth inning of a 3–1 game with runners on first and third, saving at least one run and perhaps two.
Again, there were hints that this separation was coming. In September, Crane told Houston sportscaster Mark Berman that he would address the contracts of both Baker and Click at the end of the season, saying, "We don't want any distractions right now," as though such distractions weren't of his own making. Prior to the World Series, The Athletic's Ken Rosenthal described Crane and Click as having "stylistic clashes," including "disagreements about the size of the baseball operations staff and concern from Click about other voices in the organization influencing the owner."
Earlier this week, ESPN's Jeff Passan reported that Click had a deadline deal in place to acquire slugging catcher Willson Contreras in exchange for José Urquidy, but that Crane nixed the deal because Baker felt the young righty was one of the Astros' best pitchers to that point. It wouldn't have been a painless move given that Urquidy had three years of club control remaining, while Contreras was a pending free agent, but it's the kind of win-now trade that's common for a contender. For Crane to turn that down and then create the impression that Click wasn't aggressive enough for his taste seems off, to say the least.
That Click was headed out seemed all the more likely when he was kept out of the loop regarding Wednesday's press conference to announce Baker's return. Normally, it's the GM who hires the manager, but Baker's hiring was done by Crane even before Click was hired. From the General Managers' Meetings in Las Vegas, Click said that he and Crane were still in discussion over his own return but that he hoped it work out. At the presser, Crane voiced a similar sentiment, and Baker said of Click, "We've accomplished some good things together in a short period of time. And so people always looking for if there's some conflict or not getting along or whatever, but that's not the case."
There's almost certainly more to the story than has been reported, but what's done is done, and where the Astros go from here is a big question mark. It's possible that the one-year offer to Click was because Crane had his eye on pursuing David Stearns, who was an assistant GM under Luhnow from 2012 to '15 before leaving to become the general manager and then president of baseball operations for the Brewers. Stearns stepped aside from that role last month, citing a need for relief from the all-consuming role in favor of "taking a deep breath." He's remaining with the team in an advisory capacity, as he's under contract through 2023. It appears unlikely that Brewers owner Mark Attanasio would let Stearns interview for the job while still under contract; he declined a request for the Mets to interview him last year for the GM job that went to Billy Eppler.
USA Today's Bob Nightengale reported that Crane "privately interviewed several candidates to replace Click last winter in which they would work under Click for one year, and then likely assume the GM duties. Click instead was permitted to hire his own assistants." One of those assistants, Scott Powers, was fired on Friday according to Passan.
Crane, who has done his best to dodge accountability for the toxic culture that permeated the Astros' front office during Luhnow's reign, will find somebody to step in, just as he found Baker and Click while the team became Public Enemy Number One. Given the stars on the roster and the resources at hand, the job has obvious appeal, but whoever takes it will have to know that even winning it all may not be enough for the guy writing the checks.