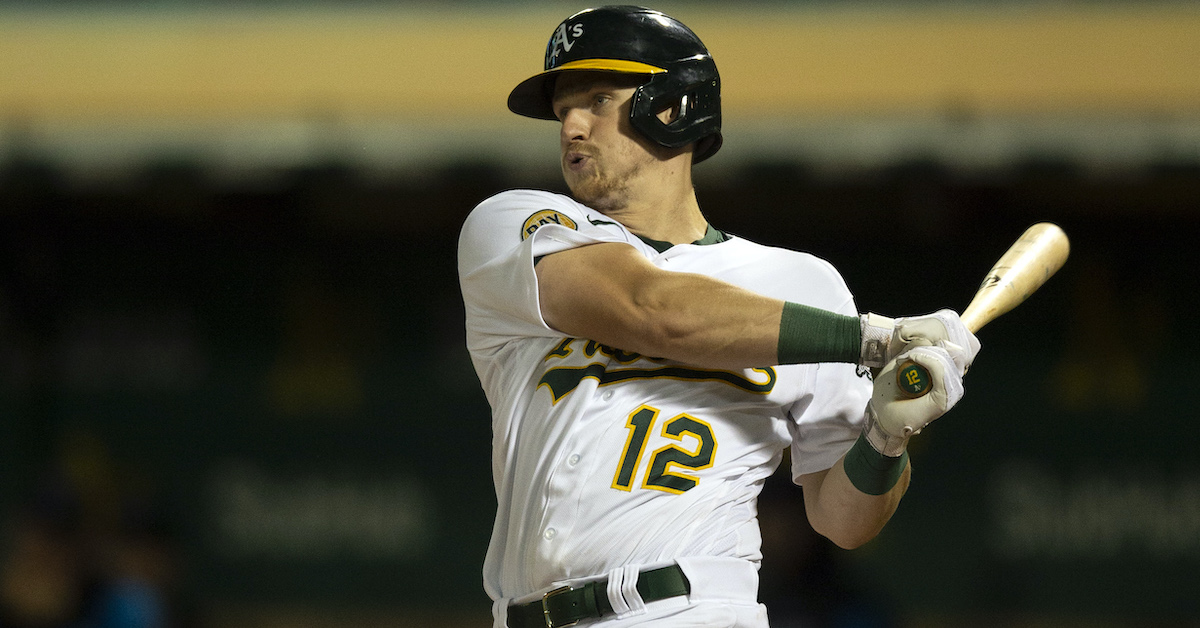 It can be difficult to find the thing you didn't realize you needed until you didn't have it when it counted, or to offload it when you realized you had more of it than you could use. That thing, in this case: production from the catcher position.
Catchers are unlike infielders or outfielders, in that you can only one can play at a time. Or rather, two catchers can play at once, if one slides over to first base or DH, in which case the thing that makes them so special — the ability to slap on some plastic padding and soak up foul tips and 58-foot curveballs five nights a week — essentially goes to waste.
Consider Oakland's situation; after developing Sean Murphy into one of the top catchers in the game, the A's landed former top-10 pick Shea Langeliers in the Matt Olson trade. Langeliers reached the majors this year and hit fairly well, but not so well that he's an ideal DH, which is where he made most of his starts on account of being blocked by Murphy.
Or how about the Blue Jays, who have not one but three starter-quality catchers? Alejandro Kirk emerged as a star in 2022, and Danny Jansen put up 2.6 WAR and a 140 wRC+ in just 72 games. That left Gabriel Moreno, one of the top prospects in baseball, even more blocked than Langeliers when he emerged as big league-ready late this season.
It makes sense, therefore, that trade rumors swirl around both Oakland and Toronto, as both teams could stand to cash in their surfeit of backstops for help elsewhere.
Murphy, 28, is entering his first arbitration year and is under team control through 2025. Last season, he was one of three catchers, along with Adley Rutschman and J.T. Realmuto, to top 5.0 WAR, and he was among the best in the game both offensively and defensively. He's Oakland's best catcher — probably Oakland's best player at any position. Given that he's in his prime and under team control, it wouldn't make much sense to trade him… unless the A's didn't look like they were going to be competitive anytime soon, which, yeah.
If Langeliers ever gets as good as Murphy was last year, that'd be a pleasant surprise. But he's under team control for another six seasons and, at age 24, probably fits Oakland's timeline better. Particularly if the A's can get a haul in return for their no. 1 backstop.
For Toronto, Jansen is the obvious choice to be dealt. He's the oldest of the three, the most expensive, and has the fewest years of team control remaining. Dealing either a top-five global prospect (Moreno) or a 24-year-old All-Star (Kirk) would constitute a blockbuster trade by definition; Jansen is an enticing player for any potential trade partner, but by virtue of his never having been a full-time starter, he wouldn't be so expensive as to be borderline untradeable.
The obvious question now is: Where might they go?
You know what this calls for? A table. Here's every team that would reasonably want to contend in 2023 that's set at catcher:
Contenders That Are Set at Catcher
I think you could make an argument that the Yankees would want to upgrade on or at least supplement Trevino. The Braves, given how good both d'Arnaud and Contreras were last year, conversely could deal from a position of strength, but d'Arnaud has never played more than 112 games nor batted more than 426 times in a season, so it seems reasonable to keep the current tandem arrangement going.
Contender(ish) Teams That Probably Won't Trade for a Catcher
Within this bucket we have the Rays, who should be a contender and should want to improve at catcher, but spending to acquire an arbitration-eligible upgrade in his late 20s seems like the exact opposite of their style. The Giants and Mets weren't great behind the plate in 2022 but have a lot invested in a young player there — Bart and Álvarez, respectively. Then there are the Rangers and Marlins, or the "God only knows what their deal is" category, and the Angels, who sit at the intersection of the Giants-Mets group and the Rangers-Marlins group. Moving on.
Contenders Teams That Ought To Upgrade at Catcher
When I thought about potential destinations for Murphy or Jansen, Cleveland was the most obvious landing point. The Guardians won the AL Central despite getting a wRC+ of just 55 from their catchers, mostly the tandem of Maile and Austin Hedges. Both are good defenders, but with Hedges bound for free agency, this is an obvious opportunity for the Guardians to improve. We know they already sniffed around Murphy at the trade deadline, but Naylor — coincidentally the younger brother of Josh Naylor — might have impressed enough in the minors to get the first crack at the everyday job. Hitting .263/.392/.496 as a 22-year-old backstop in Double and Triple-A is a pretty good audition.
Houston's top returning catcher, Maldonado, is beloved by pitchers. But he's 36 years old, hasn't hit .200 or better since 2020, and is coming off of surgery to repair a sports hernia. The Astros almost landed Willson Contreras at the deadline before settling on Christian Vazquez and should be in the market for a starting backstop, either in free agency or in trade. Given that José Urquidy was reportedly in the Contreras deal before it went south, the Astros would appear open to shifting big league-ready pitching help back to Oakland or Toronto in exchange for a starting catcher.
The Vazquez trade also opened up a vacancy behind the plate in Boston; the Brewers (Omar Narváez), Twins (Gary Sanchez), and Cardinals (Molina) are also looking thin at catcher after losing their incumbent starters to free agency or retirement. The Padres' catchers are fine, but Nola's throwing can be a liability, and if we know anything about A.J. Preller, it's that he's always chasing even marginal upgrades. Don't be surprised if you return from the office today to discover that your couch is gone in exchange for two armchairs and a houseplant to be named later as compensation.
The most notable name from this list, and the most recent team to be linked to Murphy specifically, is the White Sox. Chicago's return to relevancy in the past few years comes on the heels of acquiring, among other players, Grandal. The 34-year-old former Miami Hurricane has been maligned through much of his career (unfairly, in my view) for perceived defensive deficiencies and a low batting average. These flaws are real, but he's always compensated for them with exceptional framing, an elite walk rate, and plus power.
Last season, Grandal never got right after offseason knee surgery, and those qualities deserted him; he hit just .202/.301/.269 and posted the first sub-replacement level season of his career. Given his age and his impending free agency, maybe it does make sense for the White Sox to find a supplement or a replacement. But on the other hand, Grandal is owed $18.25 million this year, there's a clear explanation for his struggles, and the White Sox have other glaring deficiencies; finding at least one legitimate corner outfielder would be my no. 1 priority if I were Rick Hahn. Would Chicago really want to pay dearly in prospects for a player Grandal might render redundant?
But hey, that's not Oakland's problem. The A's have the best catcher in a seller's market at the position; at least one team, whether it's the White Sox or someone else, will probably make them an enticing offer.
var SERVER_DATA = Object.assign(SERVER_DATA || {});