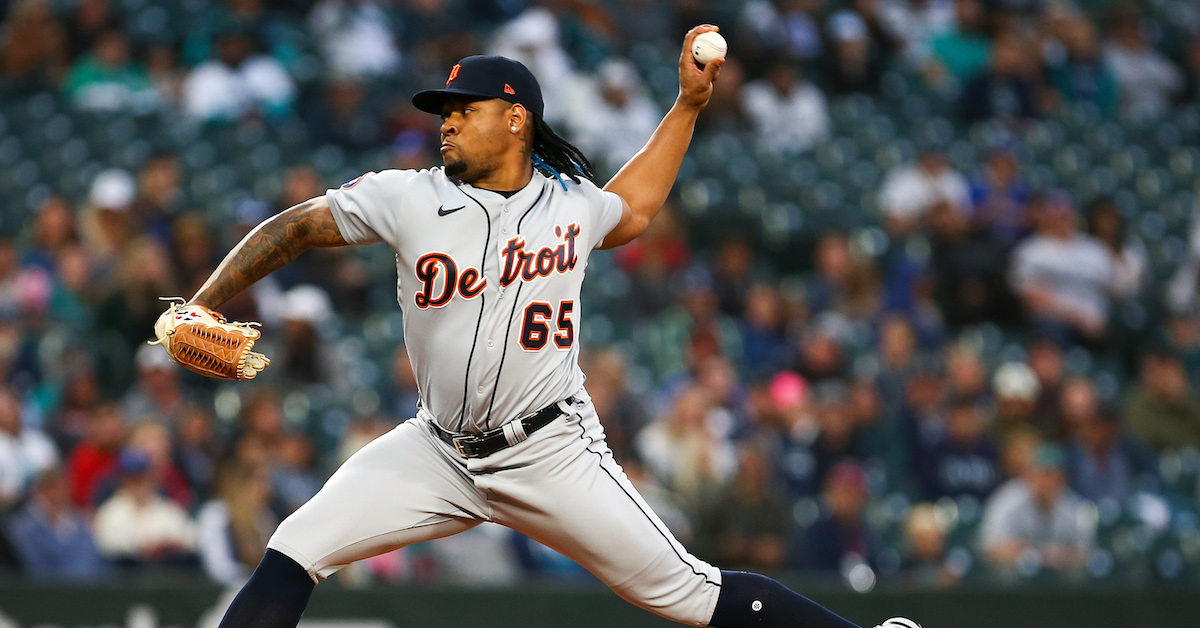 The Philadelphia Phillies were busy last week. They added high-profile veteran flamethrower Craig Kimbrel to the bullpen while DFA'ing former high-dollar international signee Francisco Morales to make room for him, then capped things off with a five-player trade with the Detroit Tigers headlined by two-time All Star reliever Gregory Soto. The deal involves several moving parts, both in the trade itself and in terms of what it means for the Tigers' and Phillies' roster and lineup construction in the upcoming season. The entire trade is:
Philadelphia receives:
RP Gregory Soto and 2B Kody Clemens
Detroit receives:
OF/1B Matt Vierling, MIF Nick Maton, C Donny Sands
The Phillies now have the majors' two hardest-throwing left-handed pitchers in Soto and José Alvarado, and three of the top 40 regardless of handedness when you include Seranthony Domínguez. Alvarado and Domínguez handled high-leverage duty for the Phillies during the 2022 playoffs, with experienced veteran David Robertson playing the "closer" role in the event that both had already thrown, or if either was unavailable. Now Kimbrel and Soto, both with closer experience, appear poised to fall into high-octane versions of that role, and that extends to Soto's assumed role as the second lefty in Philly's bullpen, a part occupied last year by Brad Hand.
Adding Kimbrel and Soto makes Philadelphia's bullpen more volatile while mitigating risk at the same time. All of Alvarado, Soto, and Kimbrel go through phases where they can't find the plate at all, and Domínguez has had a myriad of injuries. This contingent is as unstable as it is talented, but having four of them around helps ensure that a couple of them will likely be healthy and reliable enough at any given time for Rob Thomson to pick up the phone with confidence. Soto is arguably the most frustrating and least battle-tested among them, an All-Star each of the last two seasons, at least in part, because Detroit hasn't had superior alternatives. He's walked at least five hitters per nine in each of his big league seasons, which was in the bottom 10 of qualified relievers in 2022 and is bottom 10 among qualified relievers since Soto debuted back in 2019. This has long been part of Soto's scouting report, and it was such a problem when he was a prospect that I projected him as more of an up/down reliever than a late-inning stalwart, which underrated his stuff's quality but speaks to the ongoing severity of his control issues.
Soto's stuff is indeed fantastic. Even though his upper-90s fastball has never missed bats at the rate you'd expect it to, it showed some developmental progress in 2022, leaning into some of Soto's natural mechanical strengths. He has an incredibly powerful lower half, and his huge stride down the mound combined with his low-ish slot creates a shallow, almost uphill approach angle on his fastball. As if to better equip Soto's fastball to miss bats at the letters, he started to incorporate more four-seam fastballs into what had been sinker-heavy approach. There's still a distinctly shaped sinker in there, it's just evenly mixed with a truer fastball. Perhaps a second season with this approach will yield more consistent results. The Phillies will have to pay for his accrued saves in arbitration and control Soto's rights for another three seasons.
The rest of this trade is about fit and opportunity. With Trea Turner coming aboard in free agency and Bryson Stott and Edmundo Sosa already in place as a left/right pairing at second base, middle infielder Nick Maton (who has just one option year left) was squeezed out of a role. He's spent the last two seasons shuttling back and forth between Triple-A Lehigh Valley and the big club, and in 2022 he finally began to produce power in games. He doesn't have big raw pop, but Maton's approach and the lift in his swing allow him to get to the power he does have in games. The quality of his contact is very good when he makes it and will give him the ability to hit dozens of doubles if he ever has a full season's worth of plate appearances. He isn't quite the defender that Sosa is, and he doesn't have the same well-rounded offensive ceiling as Stott, but Maton's ability to play all over the infield (including a viable shortstop) and hit a ton of doubles should make him a useful utility man in Detroit, where he becomes the second or third best infield defender on the 40-man depending on how you feel about Zack Short.
Maton is a slightly different flavor of Kody Clemens, who is also a power-over-hit infielder, though the contrast is sharper with Clemens than it is for Maton, and Clemens is a worse defender, probably more a 1B/2B than a true utility infielder. Clemens could be a potent, lefty-hitting bench weapon for the Phillies. He's not as powerful and dangerous as Darick Hall, but he provides some amount of defensive flexibility whereas Hall does not.
The Phillies went out of their way to trade for catcher Donny Sands (and Nick Nelson) in a four-player deal with the Yankees last offseason. He was part of a four-man catching contingent on the Phillies 40-man in 2022, a group that included Garrett Stubbs (who would win the backup job and hold it all year) and young Rafael Marchan. (Of course, J.T. Realmuto played in 140 games last season and the Phillies barely needed anyone else.) Now, after dealing with a few injuries in 2022, Sands is back on the move and part of a crowded field of new applicants in Detroit. To incumbents Eric Haase and Jake Rogers, the Tigers have added Sands, Mario Feliciano (a prominent former high school draftee of the Brewers) and NRI Andrew Knapp (another former Phillie), while prospect Dillon Dingler has now played a full season at Double-A. Sands, now 26, was drafted out of an Arizona high school in 2015 and finally made his big league debut in 2022. He catches from a very high crouch, which impacts how well he receives and frames low pitches, but he has an average arm and does enough to be considered a viable defensive catcher. Sands has been dinged up a lot and has only caught more than 50 games in a single season once, and because he's deep into his 20s, you have to take his offensive performance with a grain of salt, but he has the offensive skill set of a quality backup catcher.
Perhaps most significantly, the final piece coming back to Detroit is Matt Vierling, who has seen time at both corner infield spots and all three outfield positions, most competently playing center field as the short end of a platoon with Brandon Marsh at the end of 2022. The Phillies may have sold low on Vierling, whose .327 xwOBA was about 40 points above his actual wOBA. He damages lefty pitching and is especially adept at barreling down-and-in offerings, which could make him an interesting matchup for a subset of righty pitchers whose stuff finishes down there. He'll pair nicely with Akil Baddoo or both Meadows boys (Austin and Parker) while also providing some defensive versatility, though you don't want Vierling playing the infield if you can help it.
This group of role players helps put some better secondary pieces in place for the Tigers, who still need their lauded young prospects to become stars amid these role-playing planets if the team is actually going to climb the AL Central standings in 2023.