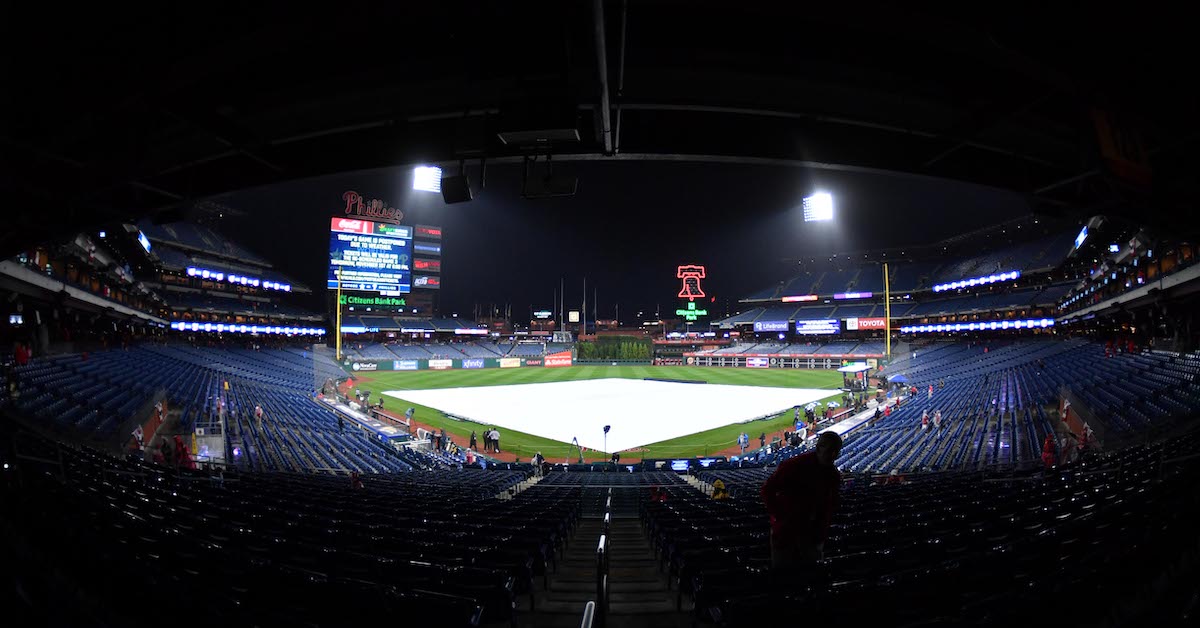 All day, the weather radar predicted that the skies would open at a particularly inconvenient time for the Phillies and Astros. While MLB waited as long as it could to see if the wind shifted, by 7 p.m. local time, it was clear the weather would not cooperate. (Rain in late October in the Mid-Atlantic region? Whoever could have foreseen such a thing?) As such, Game 3 of the World Series has been postponed 24 hours, with better weather ahead; the nighttime forecasts for Tuesday, Wednesday, and Thursday are for clear skies and temperatures in the 50s and 60s. Ideal Fall Classic weather, in other words.
Game 3 of the #WorldSeries has officially been postponed. Here is an updated look at the Series schedule:
– Game 3: Tuesday
– Game 4: Wednesday
– Game 5: Thursday
– Travel Day: Friday
– Game 6 (If Necessary): Saturday
– Game 7 (If Necessary): Sunday pic.twitter.com/a61nzKUBM5

— FOX Sports: MLB (@MLBONFOX) October 31, 2022
Moreover, if neither team sweeps all three games in Philadelphia, the scheduled off day between Games 5 and 6 will remain intact. That pushes a potential Game 6 to Saturday night and Game 7 to Sunday.
The most interesting questions left to be answered have to do with Fox's broadcasting schedule, as local affiliates in both Philadelphia and Houston were slated to simulcast Thursday evening's Eagles-Texans game on what was supposed to be an off day. Otherwise, the extra off day should have some interesting effects on both team's pitching schedules.
On the original schedule, the Astros had planned to throw Lance McCullers Jr. in Game 3, Cristian Javier in Game 4, and return to Game 1 starter Justin Verlander in Game 5. And based on Dusty Baker's comments after the rainout was announced, that remains the plan.
Baker has a pretty settled rotation, and the extra day of rest ought to benefit every starter, especially Verlander. The two-time Cy Young winner is 39 years old, an age at which people of most professions would take an extra rest if the opportunity arose. He also struggled in the fourth and fifth innings of Game 1; a two-out rally in the fourth brought eight Phillies to the plate and forced him to throw 31 pitches, the last 23 of them with a runner on base. Even after 90 pitches, Verlander looked tired. He should be sharper on five days' rest than four, and nothing prevents Baker from bringing him back in Game 4 should circumstances change.
The Astros' entire bullpen also gets an extra day of rest, which should benefit Houston's top two relievers. Closer Ryan Pressly threw 15 pitches in Game 1 and 18 in Game 2 and probably would've been good to go on one day's rest given that workload, perhaps in all three games. But Rafael Montero, who threw a tidy eight-pitch inning in Game 1, came back the next night to throw 33 pitches. That includes the weird and long top of the eighth that featured Kyle Schwarber's near-home run. Montero might have been diminished on one day's rest, but will almost certainly be at full strength after two.
But while the Astros are playing the extra off day pretty straight, the Phillies are out to take full advantage. The Phillies' rotation this postseason is ideally set up as follows: Zack Wheeler, Aaron Nola, Ranger Suárez, then a bullpen game headed by a giant pitcher with long blonde hair who goes once through the order. (In the NLDS against Atlanta, that was Noah Syndergaard, and it worked out great. In the NLCS against San Diego, that was Bailey Falter, and it didn't.)
Rob Thomson swapped his two frontline starters for the World Series to give Wheeler, who made an extra start in the NLCS, an extra day of rest. And when Suárez was needed for three batters, Thomson decided to push him back a day, moving Syndergaard's start up to Game 3. (Rest is immaterial for Syndergaard, who hasn't pitched since Oct. 22, hasn't started since Oct. 15, and hasn't thrown more than 35 pitches in an appearance since Oct. 1.)
With the extra off day, Thomson is now starting Suárez and Nola on their originally scheduled days and moving Syndergaard back to Game 5. Nola remains on schedule, with four days off since his last start. Suárez will have had 10 days' rest since his last start, with two relief appearances totaling four outs and 13 pitches in between. The adjusted schedule also puts Suárez back on track to start a potential Game 7 on full rest. That could be huge for the Phillies as the other options for the highest-stakes game in franchise history — particularly with Syndergaard having started two days prior — would have been truly dire.
The extra day of rest doesn't affect the Phillies' bullpen that much. None of the seven full-time relievers Thomson has used so far pitched in both games in Houston, and none of the high-leverage guys threw in Game 2. Philadelphia's relievers would've been at full strength no matter what.
Thomson's plan hinges on Wheeler, and the decision to continue to hold him out until Game 6. Since returning from a minor forearm injury in late September, he hasn't thrown more than 96 pitches in a start. And as much his Cy Young case last year rested on the sheer volume of innings he threw, Thomson is managing his ace rather conservatively this postseason.
When Wheeler has mowed down opponents early in games, his fastball velocity has sat in the upper 90s; when it drops into the 95–96-mph range, usually after about six innings, Thomson pulls him. On Saturday, his fastball started in the mid-90s and dropped to 94 by the end of a start that lasted just 69 pitches. Not only did the Astros jump all over him at that velocity, but Wheeler also lost most of the velocity differentiation with his slider, which comes in around 91 mph and stayed there even on his worst start of the postseason.
Wheeler, who at 32 is himself getting up there by the standards of elite athletes, can use all the rest he can get. Just look at what he did against the Cardinals, Padres, and Braves compared to what the Astros did to him. Moreover, if the Phillies' path to a title involves winning a Wheeler start, it also probably involves winning two of the three games started by Suárez, Nola, and Syndergaard anyway. Since Wheeler is the Phillies pitcher most capable of stealing a game on his own, best to give him that start when he's as strong as possible.
The plans the two managers laid out on Monday night are only worth the paper they weren't written on. Both Baker and Thomson want to give their aces an extra day of rest. We'll see how committed they are to that plan if Game 3 goes south. If the Phillies win Game 3, will Baker bring Verlander back early to avoid an elimination game on the road? Or if the Astros take the first two games in Philadelphia, will Thomson really risk losing the World Series with Syndergaard and his middle relievers, while his Cy Young contender sits in the dugout and does crossword puzzles? I suspect not.