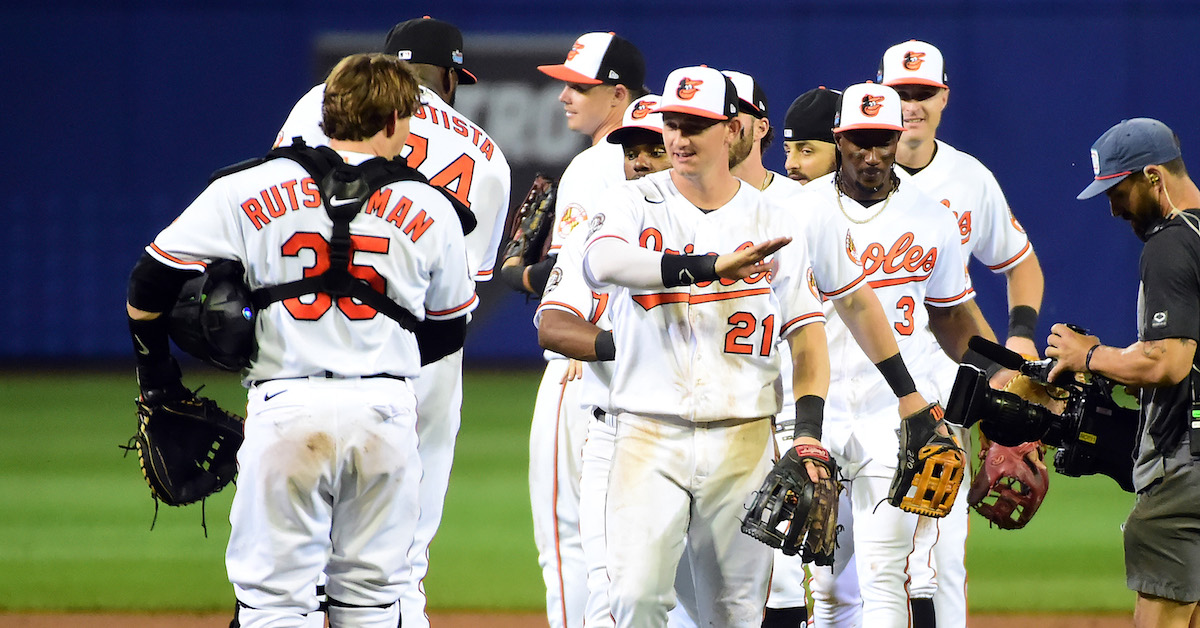 If you've been aware of either the Baltimore Orioles or FanGraphs Dot Com in the past nine months, you already know the two entities have not always played nice with one another. On the eve of the 2022 season, our playoff odds gave Baltimore just 0.1% chance of making the playoffs, meaning that out of 20,000 simulated universes, the Orioles would only reach the Wild Card round 20 times. (I've been to one of those universes. Chick-fil-A is open on Sundays, Ryan Reynolds owns Twitter, and the airlines never got deregulated. It's heaven.)
As late as September, when the Orioles had clearly surpassed any reasonable expectations and were still in the hunt, our playoff odds were still quite pessimistic relative to other projections systems. Sure enough, Baltimore finished 83-79, three games behind Tampa Bay. But for a team that hadn't finished at or above .500 since 2016 and hadn't even won 55 games in a full season since 2017, that's a good year. Something to build on, particularly considering the wellspring of young talent bubbling up from the minors like the Clampett family's oil well.
And yet the Orioles aren't exactly keeping the band together. After moving Jorge López and Trey Mancini at the trade deadline, the first week of the offseason proper has seen several more departures, including Robinson Chirinos, Rougned Odor, and Jordan Lyles. That's three starting position players (at least for part of the season), as well as Baltimore's leaders in saves and innings pitched.
The story of the Orioles goes like this: It's a small-market team whose regional appeal and multimedia value is curtailed further by the Nationals and to a lesser extent the Phillies. It's hard for such a team to compete under normal circumstances, even more so in a division that includes the American League's two blue blood franchises (the Yankees and Red Sox), another team from a huge market (the Blue Jays), and that group of weird sorcerers in St. Pete who can dip any right-handed pitcher in the Gulf of Mexico and add 5 mph to his fastball.
It's an old song, but even now, I find it quite sympathetic. The Orioles are in a tough situation, and many of their historical problems can be linked to the ill-fated decision to leave St. Louis in 1954. Put the O's in the AL Central and slide Cleveland or Detroit into the bear pit with the Yankees, and baseball history looks quite different.
But even if the odds are against you, you still have to try. In late 2018, the Orioles brought in former Astros assistant GM Mike Elias. There are worse ideas than turning things over to a cadet branch of the front office that has wrecked house in the AL for much of the past decade; certainly Milwaukee can have no complaints about David Stearns' tenure running the Brewers. Stearns secured the no. 1 seed in the National League in the third year of his tenure — one of six straight winning seasons and four straight playoff appearances — while Elias was barely scraping back to .500 by year four of his term.
And herein lies Baltimore's problem the past few years: Even as the luxury tax rises above $230 million, and the median team payroll tickles $150 million, the Orioles haven't spent nine figures a year on their big league roster since 2018:
Baltimore Orioles Spending 2019-22
| Year | Payroll | Rank | % of Tax* |
| --- | --- | --- | --- |
| 2022 | $63.4 M | 28th | 36.7% |
| 2021 | $59.1 M | 28th | 38.2% |
| 2020 | $23.5 M | 30th | 39.8% |
| 2019 | $82.8 M | 27th | 49.5% |
*incl. player benefits and other applicable costs
Last year, the Orioles ran a final major league payroll of $63 million, 28th in the majors. The Rays, who again finished just three games ahead of Baltimore and are the poster child for cutthroat frugality, outspent the O's by some $23 million. Stearns' Brewers — not the Mets or Yankees, but the Milwaukee freakin' Brewers — more than doubled the Orioles' payroll at $137 million.
Say what you will about Astros owner Jim Crane or Brewers owner Mark Attanasio, at least they've invested in the major league product enough to give their GMs a fighting chance. And at least they aren't fighting off lawsuits from their brothers over control of the team.
But there's a silver lining in the brutal tank job that Elias started his tenure with, and the Angelos family's total financial neglect of their franchise business. The Orioles have almost literally no financial commitments going forward.
Only one Oriole has a guaranteed 2023 contract: John Means, who's recovering from Tommy John surgery and will play a limited role at best in the coming season. The Orioles are currently in line to spend just $41 million in player payroll, which comes to about $60 million against the competitive balance tax once you factor in the various processing and handling fees. Obviously that will go up when they sign the odd free agent, but as it stands now, the Orioles are somewhere in the neighborhood of $173 million under the first competitive balance tax threshold.
The old saying about the Chinese words for "crisis" and "opportunity" being the same is apocryphal, but it's such a compelling idea you understand why people keep repeating it. If the Orioles keep running rock-bottom payrolls, it would constitute a crisis. But on the other hand, they have a team that almost made the playoffs last year, several excellent young players, and about as much room under the tax threshold as the Blue Jays spent in total last year.
So, just for fun, let's see what kind of roster we could build in free agency if the Orioles did decide to spend to the tax threshold. In other words, let's take the friendly bird on the O's cap and replace him with a beefy, muscular bird. (For clarity's sake, the likely real-world 2023 Orioles will be referred to henceforth as the Friendly Orioles, while the souped-up fantasy team I'm about to construct will be the Meaty Orioles.)
We'll start with the current roster and add as many free agents as $173 million will buy, using the MLB Trade Rumors estimated arbitration figures and Ben Clemens' free agent contract estimates as salary guidelines.
Now, I can hear the critics levying their objections already:
This is what the Rangers tried last offseason when they signed Corey Seager, Marcus Semien, and Jon Gray. They lost 94 games anyway.
Top free agents will never sign in Baltimore for market rate.
To which I say:
Last year's Orioles were way better than the 2021 Rangers.
Players will sign anywhere they can win and get paid.
This is my thought experiment, and if you don't like it you can get your own.
Here's what we're working with. The Meaty Orioles will have one debutant and two second-year players who have to be on the roster because they are the future of the franchise: Grayson Rodriguez, Adley Rutschman, and Gunnar Henderson. Then there are the likely holdovers from the older crop of Orioles players: Cedric Mullins, Anthony Santander, Ryan Mountcastle, Ramón Urías, Jorge Mateo, Austin Hays, Dean Kremer, Austin Voth, Félix Bautista, Cionel Pérez, and Dillon Tate.
I'm not sure how many of these guys will be serious contributors on the Meaty Orioles, but most of the players currently penciled into Baltimore's depth chart would at least be useful bench players on a $233 million roster.
That also provides a baseline shopping list: At least two corner outfield-first base-DH-type players, a middle infielder, and at least two starting pitchers. So what's out there on the open market?
Aaron Judge, OF
Ben's estimated AAV: $35 million
2023 Steamer projections: 665 PA, .275/.381/.547, 157 wRC+, 6.7 WAR
It's Aaron Judge. Let's not overthink this one.
Carlos Rodón, SP
Ben's estimated AAV: $24 million
2023 Steamer projections: 175 IP, 31.2 K%, 7.1 BB%, 3.18 ERA, 2.99 FIP, 4.5 WAR
Kodai Senga, SP
Ben's estimated AAV: $14 million
2023 ZiPS projections: 140 IP, 166 K, 54 BB, 3.54 ERA, 2.9 WAR
The next place to look at the top of the market is starting pitchers, where Ben predicts Jacob deGrom will make $47 million a year, Justin Verlander will make $40 million a year, and Carlos Rodón leads the next tier at $24 million a year. Given the number of holes left to fill, let's avoid the top two for the moment.
One key question to ask is how many starters the Orioles need. Rodriguez should be in the rotation for sure. Kremer was very good last year, as was Voth after Baltimore plucked him from the waiver wire, but neither put up big strikeout numbers. What this rotation needs is a potential no. 1 starter to ease the pressure on Rodriguez to provide all the upside. Rodón at $24 million AAV is a bargain for any team, and for the last spot in the rotation, I'll take Kodai Senga — the unknown is exciting. Of course Chris Bassitt, Tyler Anderson, and Nathan Eovaldi are all reasonable substitutes.
That's it on the pitching staff for now, though the Meaty Orioles might circle back for more arms if there's cash left over.
Even after signing Judge and two pitchers, the Meaty Orioles still have close to $100 million to play with. My original plan was to eschew the top of the shortstop market and retain Mateo as the starter at that position. Most of Mateo's value comes from his defense — Leo Morgenstern wrote recently about how Mateo should've been the AL Gold Glove winner at his position — so signing someone like Trea Turner or Carlos Correa would diminish either Mateo's value or the incoming infielder's. And while the top three shortstops all cost $30 million a year or more, which is a lot for a de facto second baseman, Jean Segura could provide excellent defense and a reliable bat at second base for less than half the price. That would free up plenty of money to chase another starter or a big corner bat.
It all comes down to what you want to do with the money. Turner ($32 million AAV) and Eovaldi ($17 million AAV) cost about $2 million less combined than Segura ($13 million) and Verlander ($40 million).
Let's go back to that one later. Maybe there's a way to fit both Turner and Verlander under the tax limit.
Brandon Nimmo, OF
Ben's estimated AAV: $22 million
2023 Steamer projections: 658 PA, .270/.369/.434, 131 wRC+, 4.4 WAR
The Meaty Orioles need another impact bat to slot into an outfield spot or first base, and apart from Judge, Brandon Nimmo is as close as you're going to get. Last week, I praised his game, calling him an ideal on-base guy, if not exactly a middle-of-the-order run producer. That's fine. Let him get on, and Judge, Rutschman, Henderson, and Santander can drive him in. Putting Nimmo first or second in the order would also allow Mullins to move out of the leadoff spot; I love Mullins' game but he has a .328 career OBP, including his top-10 MVP campaign in 2021. But that's OK — Mullins led off 141 times in 2022 for the Friendly Orioles, but he can hit lower in the order for the Meaty Orioles.
Brandon Drury, 1B/UTIL
Ben's estimated AAV: $9 million
2023 Steamer projections: 567 PA, .247/.302/.426, 105 wRC+, 1.7 WAR
I really wanted Anthony Rizzo, but those pinstripey jerks up north locked him up to a multi-year deal before the Meaty Orioles could get a bid in. With Rizzo off the board I considered about six different options for first base, from letting it ride with Mountcastle to bringing back Mancini to José Abreu to Josh Bell before settling on Brandon Drury. Drury isn't a traditional first baseman, and he can fill in at third to spell Henderson or open up at-bats for Mountcastle. He also hits lefties better than righties, with provides a bit of a hedge against Santander's sizable platoon split. This is a bit of a budget option, which is a tough pill to swallow for a club trying desperately to leave behind its days as a poverty franchise. But it's not an ideal free agent first base market.
Justin Verlander, SP
Ben's estimated AAV: $40 million
2023 Steamer projections: 182 IP, 26.6 K%, 5.1 BB%, 3.50 ERA, 3.42 FIP, 4.0 WAR
Trea Turner, 2B/SS
Ben's estimated AAV: $32 million
2023 Steamer projections: 679 PA, .285/.338/.446, 122 wRC+, 4.7 WAR
After all the time I spent weighing the merits of a Turner-Eovaldi combination versus Verlander-Segura, Rizzo re-signing with the Yankees made the decision pretty easy. I can see the merits of Verlander-Segura-Abreu over the option I went with, but Turner's the kind of superstar you can't just snap your fingers and reproduce. He'll be worth having to fudge it at first a little.
If the Meaty Orioles wanted, they could get very meaty indeed and go over the tax; the 26-man roster I assembled, plus ancillary costs and a few nominal raises for key pre-arb players, could add Verlander, Turner, and Abreu and still only exceed the tax threshold by a little more than $3 million.
But that wouldn't leave any room to upgrade the bench or bullpen, or to put money aside for mid-season upgrades. My personal viewpoint is that if Rutschman's behind the plate, you can live with Mark Kolozsvary or Anthony Bemboom as a backup, but reasonable hypothetical GMs can disagree.
Playing Turner at second is a bit unorthodox, but he and Mateo could become a truly exceptional defensive double play combination. He'd make a team that already had two 30-steal players last year (Mullins and Mateo) even more dangerous on the bases, and oh by the way, he'll hit about as well as any of the non-Judge options at first base, DH, or corner outfield. Plus it's nice to have the top two free agents, three of the top five, and five of the top nine. Turns out $173 million in space under the tax threshold goes a long way.
Here's where the Meaty Orioles stand at the end of their spending spree:
The 2023 Meaty Orioles
Position
Player
Salary
C
Adley Rutschman
$720,000
1B
Brandon Drury
$9,000,000
2B
Trea Turner
$32,000,000
SS
Jorge Mateo
$1,800,000
3B
Gunnar Henderson
$720,000
LF
Brandon Nimmo
$22,000,000
CF
Cedric Mullins II
$4,400,000
RF
Aaron Judge
$35,000,000
DH
Anthony Santander
$7,500,000
Bench
C2
Mark Kolozsvary
$720,000
INF
Ramón Urías
$750,000
OF
Austin Hays
$720,000
1B/DH
Ryan Mountcastle
$800,000
Pitchers
SP
Justin Verlander
$40,000,000
SP
Carlos Rodón
$24,000,000
SP
Kodai Senga
$14,000,000
SP
Dean Kremer
$800,000
SP
Grayson Rodriguez
$720,000
RP
Félix Bautista
$750,000
RP
Cionel Pérez
$750,000
RP
Dillon Tate
$1,500,000
RP
Austin Voth
$2,000,000
RP
Joey Krehbiel
$720,000
RP
Tyler Wells
$720,000
RP
Mike Baumann
$720,000
RP
DL Hall
$720,000
Other Costs
John Means (AAV)
$2,962,500
Non-40 Man Salaries
$2,500,000
Benefits
$16,500,000
Pre-Arb Bonus Payment
$1,666,667
TOTAL
$227,159,167
Here, the Meaty Orioles have a rotation with at least two legitimate no. 1 starters, and a lineup with a superstar hitter and only one below-average bat, plus almost $6 million in wiggle room to upgrade the bench and bullpen. I don't know if this team would win 105 games or anything, but it could absolutely compete with any team in the AL East, and that purportedly has been the goal all along.