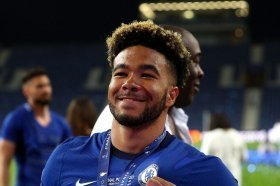 Chelsea defender

Reece James

remains hopeful of making the England squad for the upcoming World Cup in Qatar.

The right-back suffered a knee injury against AC Milan last month and it was initially predicted that his World Cup dreams were over.
James has been in a brace for the past two weeks and speaking to PA Sport, he is still optimistic of being picked by Gareth Southgate.
He said: "I need to keep working hard over the next few weeks and see where I am on call-up day. I will try and not rule myself out."
"It is still slow and in the early stages. I have been in rehabilitation for two weeks, so I am still taking it day-by-day."
Southgate will be picking his World Cup squad on November 10 and it is highly unlikely that James will be fit by then.
However, the Blues star will be hoping that Southgate backs him such that he can prove his fitness before the tournament.