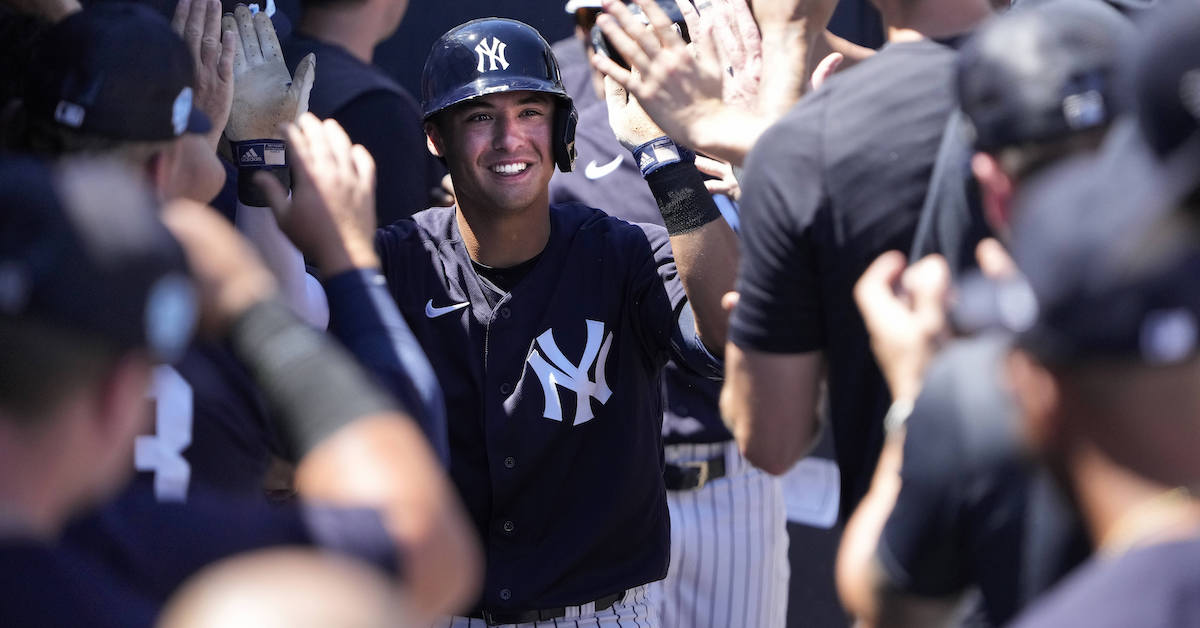 Do you want to see baseball's brightest young talents get a chance on the biggest stage? Do you want teams to care more about winning now than saving a few bucks six years down the road? If so, you probably had a good weekend. Anthony Volpe, 21 years old and the no. 11 prospect on the FanGraphs Top 100, has made the Yankees out of camp. Jordan Walker, 20 years old and the no. 12 prospect in baseball, has likewise made the Cardinals and will figure into an intriguing outfield rotation. Let us rejoice and be glad.
Jeff Passan summed up the news from the weekend thusly: "Service-time manipulation still exists. But new CBA rules that incentivize teams to start the year with top prospects are working."
Those rules, which came into force a year ago, reward teams that promote high-performing prospects early. The specific mechanism, which ties top-100 prospect lists and BBWAA award voting to cash bonuses for players and draft pick bonuses for teams, has its issues, but the intent is good. Service time manipulation is black-letter illegal under the CBA, but in practical terms it's been practically impossible to prove — so much so that executives can talk openly about doing it without fear of repercussion.
Absent enforcement of the actual rules, the new CBA aimed to move the incentives, which is what you do in a capitalist society; rather than using regulatory power to confront corporate malfeasance directly, you offer businesses incentives to play by the rules. So for every chorus of Yankee fans cheering on their young New Jersey-born shortstop, there are as many Mets fans whose hunger for Brett Baty has gone unsatiated. (To say nothing of delaying the inauguration of the Three Men and a Baty infield.) Walker breaking camp with the Cardinals? Good. Grayson Rodriguez being told he's not good enough to break into a rotation with Kyle Gibson as its no. 1 starter? Not so much.
So where do things stand generally? I went back and looked at the preseason top 100 prospect lists from each of the past four full seasons. I excluded 2020 because the season didn't start until July with truncated training camps and there was no minor league season at all, and once I got to 2019 I saw Luiz Gohara's name on the top 100 and decided that was a good place to stop.
From there, I listed all players in the top 50 who had not yet made their MLB debuts but were predicted to do so in that season. (This eliminates cases like Baty but makes the service time math much easier.) Were those players in the majors on Opening Day? And if not, where they in the majors by May 31? May is the service time manipulation sweet spot: late enough to have plausible deniability about the reason for the late call-up, still early enough to impact the bulk of the season.
2023 Top Prospects
*Predicted 2024 Debut
Right away, there are a couple edge cases. Painter could've broken camp with the Phillies if he'd stayed healthy, and O'Hoppe missed the list by one spot on the top 100 and eight days of service time. (If you need another reminder of how much injuries can delay a player's debut, look out for Brent Honeywell Jr.'s name a couple tables down.)
It's also worth remembering that not every predicted 2023 debutant is created equal; a year is a big target, from a temporal mechanics perspective, so a player who's legitimately far from MLB-ready in April could become so by August or September. Still, Volpe and Walker are huge headline names, but they stand alone.
Last year's class made a far more powerful case that service manipulation was on its way out; five top-50 prospects made their debuts in the first few days of the season, and Rutschman and Greene could well have been among them if not for injury. Rodríguez and Rutschman both won bonuses for their high finish in Rookie of the Year voting, and Rutschman was made whole by the new CBA awarding him a full season of service time for only 138 days in the majors.
Only one top-50 prospect made it to Opening Day in 2021, the last year of the old CBA. That probably has something to do with the old rule set and something to do with the fact that two-thirds of this prospect class said "Macbeth" in a theater while opening an umbrella on Friday the 13th.
If we're looking for a real historical turning point, 2019 is it. In a strong rookie class, four top-50 prospects with no major league experience made the roster out of camp. That spring, I wrote that the service time manipulation epidemic had reached an untenable level of brazenness. I was happy to be proved partially wrong when Tatis, Alonso, and Paddack made their respective teams out of camp to huge fanfare, even if Guerrero had to wait another month for his debut.
But the big number here is not that four top-50 prospects debuted in the first days of the 2019 season; it's that eight more followed them. That kind of separation hasn't been repeated in any subsequent season, and that's the key figure here. It's one thing for a rookie to need more time in the minors. It's another for a rookie to be ready and twiddle his thumbs in Triple-A for six weeks until the service time ticker drops under 172. Not only is it tantamount to wage theft, but it's also anti-competitive. Prospects should be promoted to the majors when they're ready — no earlier, no later.
Which brings up another point. In 2019, the top 50 contained not only 18 rookies predicted to debut that year, but also nine players who had already seen major league action and retained their rookie status. In 2023, there are 12 predicted debutants, including Volpe, against 13 players with MLB experience, including Kodai Senga. (If you don't count Senga as a prospect, O'Hoppe, with his eight days in the majors, is next in line at no. 51.) Of those 13, only Baty, Álvarez, and Peraza are currently bound for the minors. Maybe there's something in the water in New York.
It's not bulletproof evidence, but that would seem to indicate a shift in standard practice for MLB teams. Service time manipulation is still a problem, but not to the extent it was five years ago. There might not be a carrot you could dangle in front of the premier tightwad franchises in baseball that would get them to promote their top prospects early, but there's plenty of evidence that playing it down the middle, instead of trying to game the rules, has its advantages.
Surely neither the Mariners nor Astros regret calling up Rodríguez and Peña for Opening Day last season. Nor would the Mariners regret the extension they just gave Rodríguez to keep him in Seattle into the mid-2030s. And the pennies saved by ruthless salary-cutting measures can damage relationships with players, as evidenced by Kris Bryant's exit from Chicago or Corbin Burnes' blunt appraisal of his arbitration experience. Smarter teams are realizing that superstars are too rare a thing to screw around with.