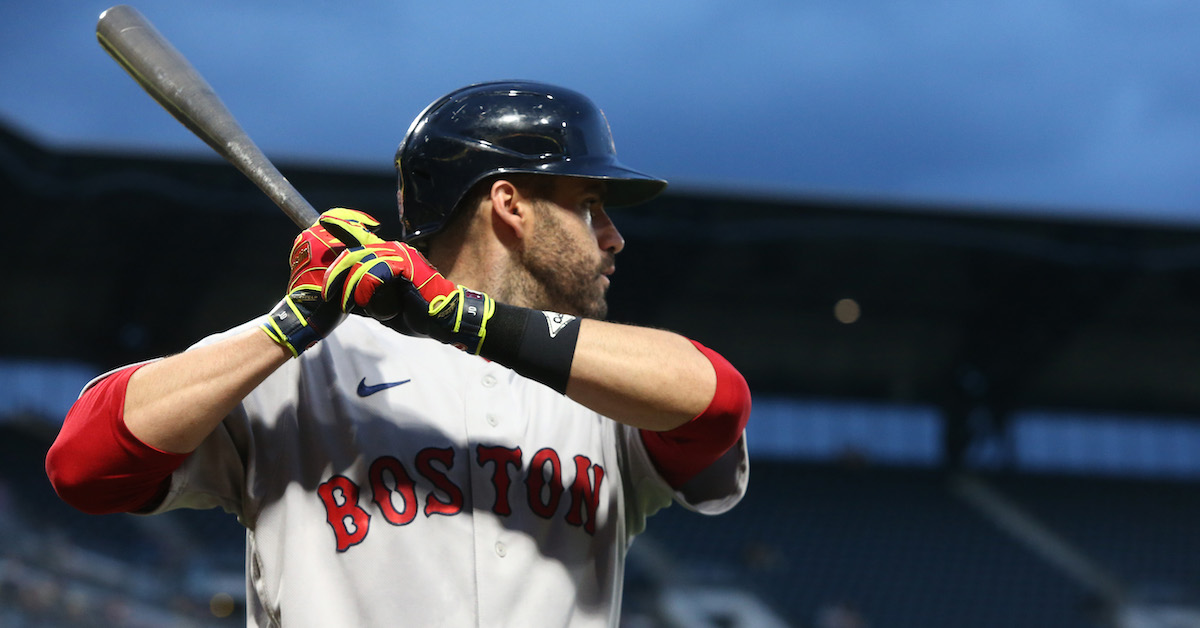 Like several other players from the 2018 World Series champion core of the Red Sox, J.D. Martinez has found himself wearing a different uniform in a new city. After finishing out his five-year contract with Boston, he has agreed to a one year, $10 million contract to be the Dodgers' designated hitter and reunite with his former hitting coach Robert Van Scoyoc. That name might not ring a bell to you, but Martinez's ascent as a hitter came after the work he did with Van Scoyoc before the 2014 season, when he officially broke out as a hitter with a 154 wRC+ with the Tigers. Martinez will also reunite with another teammate, Mookie Betts, whose work with Van Scoyoc led to a bit of a power breakout as well.
For Martinez, the reunion comes at a good time. After a big bounceback season in 2021 where he was hitting the ball consistently hard with a ton of success, his power took a significant step back. His hard-hit rate tailed off by about eight percentage points, his xwOBACON was his lowest in a full season with Boston, and he converted fewer of his fly balls into home runs. That amassed to a home run drop off from 28 to 16 despite only 38 fewer plate appearances. Martinez, being the extremely talented hitter he is, still put together a 119 wRC+, but that loss of thump at age 35 suggests that the downturn is coming. The hope for both him and the Dodgers is that some of that power and forceful impacting of the baseball can be recovered with Van Scoyoc.
The most glaring regression from 2021 to '22 was in damage done in the heart of the plate. Looking at Martinez's Statcast's Swing Take profile, you can zero in on the run values in each area of the strike zone for any given hitter. Typically, hitters of his ilk will crush mistakes in the heart of the zone. In the simplest way possible, that is what it takes to a be a good big league hitter; pitchers will make mistakes, and you need to make them hurt.
What makes you special is if you can do anything in addition to that. Robert Orr of Baseball Prospectus has an informative piece about that exact topic. Basically, both good and great hitters do damage in the heart of the plate, but the difference between the two is that additional skill of crushing bad pitches. Martinez can't expect to have sustained success if he is producing a -2 run value in the heart of the plate as he did in 2022. He needs to get closer to his +34 runs in 2021.
When breaking it down further between fastballs and breaking balls, we can get a little more insight into exactly what happened in the heart of the plate for Martinez. His swing rates stayed relatively the same on both pitch types, but the damage done on both varied; he was actually better on fastballs in the heart of the plate in 2022 (.442 wOBA) compared to 2021 (.390 wOBA) despite the overall downturn in production. Both those rates were well above the league average in each season.
The real issue here was only being pedestrian against breaking balls, with a .363 wOBA against them in the heart of the plate was only 15 points higher than the league average of .348. That was unlike Martinez; the path he creates with his swing is made to hit these pitches out of the park, or at least into the gaps. In four full seasons between 2017 and '21, he hit 29 home runs on breakers in the heart of the plate and had a .502 wOBA; in 2022, though, he went deep just twice, with near-average production. No hitter needs to be excellent against breaking balls overall, but if a pitcher leaves a cookie over the middle of the plate and you can't hit it, there is some cause for concern.
Will that be what Martinez works on? My guess: When he is in the cage, I think his focus will be on elongating his bat path further in front of the plate to pull breakers from left-center to the left field line, rather than strictly thinking about hitting breakers. There is a slight difference between the two.
Beyond that, it's fascinating to think about the impact Martinez could have on his teammates. If you haven't listened to him talk about hitting, then I strongly suggest you do. He is one of a handful of hitters in baseball who not only has an advanced level of understanding of swing mechanics, but can also communicate that understanding to others with words and visual assistance. That skill, while not seen in the box score, can make a huge difference when he has time to break down his video. But perhaps what is even more valuable about it is he can share his thoughts and knowledge with his teammates if they're open to hearing it. Some that come to mind who might benefit from Martinez's wisdom are Gavin Lux and Miguel Vargas. The former feels like he is close to a breakout, and the latter is a young, impressionable hitter looking for a shot to make him stick out among the rest of the Dodgers' depth options.
Martinez's approach to hitting is all about cleaning up bat path and swing mechanics rather than looking at a micro issue and trying to fix only that. By addressing the swing in general, those other problems should take of themselves. The good thing for him is that he is in the perfect place to do this now: with a team that gets hitting, and with the hitting coach who helped him dominate the AL East.