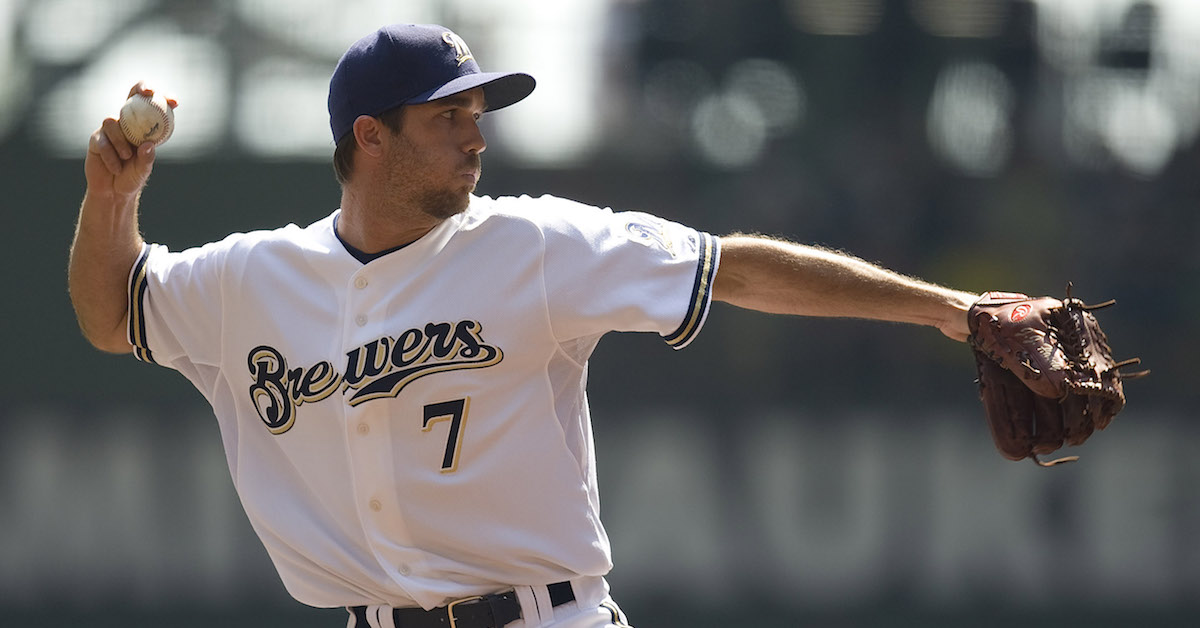 The following article is part of Jay Jaffe's ongoing look at the candidates on the BBWAA 2023 Hall of Fame ballot. For a detailed introduction to this year's ballot, and other candidates in the series, use the tool above; an introduction to JAWS can be found here. For a tentative schedule, and a chance to fill out a Hall of Fame ballot for our crowdsourcing project, see here. All WAR figures refer to the Baseball-Reference version unless otherwise indicated.
2023 BBWAA Candidate: J.J. Hardy
| Player | Pos | Career WAR | Peak WAR | JAWS | H | HR | SB | AVG/OBP/SLG | OPS+ |
| --- | --- | --- | --- | --- | --- | --- | --- | --- | --- |
| J.J. Hardy | SS | 28.1 | 24.0 | 26.0 | 1,488 | 188 | 8 | .256/.305/.408 | 91 |
SOURCE: Baseball-Reference
J.J. Hardy was one of a handful of high draft picks who helped to resuscitate the Brewers' competitive fortunes in the first decade of the new millennium. Though his on-base skills were comparatively limited during an era when they became so in vogue in the wake of Moneyball's popularity, his combination of power, a strong and accurate arm, and good range made him a valuable player if not a star. While he made just two All-Star teams, he won three Gold Gloves and had half a dozen seasons in the 3-4 WAR range.
Alas, even during his time in the minors, Hardy was particularly susceptible to injuries, and while he toughed some of them out — often to the detriment of his offense — and showed resilience in bouncing back, he averaged just 120 games a year over his 13-year career (2005-17). Like so many Brewers even during the best of times, he was traded as he became more expensive. In all, he helped three different teams to the playoffs a total of five times, and played a key role in ending the Orioles' long postseason drought just as he had with the Brewers.
James Jerry Hardy was born on August 19, 1982 in Tucson, Arizona, the second child of athletic parents who had starred at the University of Arizona. His father Mark Hardy was a professional tennis player who ranked as high as no. 270 in the world, while his mother Susie Shinn Hardy was a top amateur golfer who was a collegiate rival of future LPGA legends Nancy Lopez and Beth Daniel. While J.J. tried both of his parents' sports, he gravitated to baseball, applying the work ethic picked up from his parents. "I'd hit golf balls until my hands were blistered and bleeding," Susie told the Baltimore Sun in 2015. "That drive to get better? I think [J.J.] got that from me. He was the best player on almost every team he played for and, if he wasn't, he'd work hard until he was."
Hardy starred at Sabino High School, where he became one of the top players in Tucson prep history. As a sophomore in 1999, he hit .527 with 12 homers, believed to be a city record for underclassmen. As a junior, he played on the US Junior National team, which won a silver medal at the World Championships in Edmonton; among his teammates were Jeremy Bonderman, J.P. Howell, Joe Mauer, and Brian Wilson. As a senior, Hardy hit .455, stole 16 bases, struck out just three times in 117 at-bats, and went 4-1 with eight saves on the mound. As many as 40-45 scouts showed up to his opening game in 2001, the year that Baseball America named him the 15th-best high school prospect in the country.
Many teams preferred Hardy as a pitcher, but the Brewers drafted him as a shortstop in the second round in 2001 and signed him for a bonus of $735,000; their first round pick, righty Mike Jones, received a bonus of $2.075 million but never made it further than Triple-A due to injuries. Hardy began his professional career with the team's Rookie-level Ogden affiliate in 2001, but by the end of the following year he had reached Double-A Huntsville. He hit .279/.368/.428 with 12 homers in his return to Huntsville in 2003, which landed him spots in the Futures Game, on the Southern League All-Star team, and at no. 19 on Baseball America's Top 100 Prospects list; he drew raves for his makeup as well as his strong arm, surprising pop, and contact ability. Though he moved up to Triple-A Indianapolis for 2004, he tore his left labrum swinging during spring training, and played just 26 games before undergoing season-ending surgery.
Thankfully, the 22-year-old Hardy recovered to such an extent that he won the Brewers' starting shortstop job in the spring of 2005. On Opening Day, he went 1-for-4 with a two-run single off the Pirates' Rick White. He didn't hit much else in the early going, however, and was still batting just .187/.293/.267 with one homer at the All-Star break, but the Brewers saw enough to keep playing him, and a robust second half (.308/.363/.503 with eight homers) lifted his final line to .247/.327/.384 (86 OPS+). With his as-advertised defense (8 DRS), his season was worth 1.8 WAR, a respectable showing. The Brewers, whose lineup also featured second baseman Rickie Weeks Jr., a fellow 22-year-old rookie who was the number two pick of the 2003 draft, and occasionally included 21-year-old first baseman Prince Fielder, the seventh pick of the 2002 draft, finished at 81-81, their first time tasting .500 since 1992.
Hardy would help them get over that hump, but not in 2006. On May 16, in his 35th game of the season, he severely sprained his right ankle while sliding into home plate. He was originally expected to be out two weeks, but two months later underwent season-ending surgery, and the team sank to 75-87. Fortunately, for the second time in three years Hardy made a strong return from a lost season, playing in 151 games and hitting .277/.323/.463 with 26 homers, 9 DRS, and 3.2 WAR. He made his first All-Star team, and the Brewers, who not only now had the 23-year-old Fielder at first base but also 23-year-old Ryan Braun, the fifth pick of the 2005 draft, at third (though dreadful defense would soon force him to left field), won 83 games and finished second in the NL Central.
Everything came together for Hardy in 2008. He stayed healthy again, playing in 146 games, homering 24 times, and setting across-the-board career highs with a .283/.343/.478 line, a 115 OPS+, 13 DRS, and 4.8 WAR. The Brewers won 90 games, survived a 3-11 start to September that triggered the firing of manager Ned Yost, and claimed the NL Wild Card on the season's final day thanks in large part to a late-season collapse by the Mets and the midseason acquisition of CC Sabathia, who went the distance allowing one run (unearned) while making his third consecutive start on thee days of rest. With one out in the ninth, and the tying run at the plate, Derrek Lee hit a grounder to second base, where Ray Durham flipped to Hardy, who fired to Fielder, completing a 4-6-3 double play that gave the Brewers their first playoff berth since 1982 and just their second in franchise history.
Their postseason run didn't last long; the Brewers were beaten by the Phillies in a four-game Division Series, but Hardy went 6-for-14 overall, including 3-for-4 with an RBI single in the team's Game 3 victory. Unfortunately, he and the Brewers both flopped in 2009. As the team went 80-82, he hit just .229/.302/.357 (75 OPS+) and was even demoted to Triple-A Nashville in an early August shakeup, allowing Milwaukee to give Alcides Escobar, who had entered the year as Baseball America's no. 19 prospect, a trial. Hardy spent three weeks in Nashville and made just 11 starts upon returning in September. With Escobar hitting a superficially impressive .304/.333/.368, the handwriting was on the wall. In November, the team traded Hardy to the Twins in exchange for outfielder Carlos Gómez.
With Hardy in tow the Twins won their second AL Central title in a row, and Hardy enjoyed a modest rebound with the bat (.268/.320/.394, 96 OPS+), but a left wrist sprain and further complications limited him to 101 games. He went 1-for-10 as the team was swept by the Yankees in the Division Series for the second season in a row. In December 2010, Hardy — by now a pending free agent — was on the move again, dealt to the Orioles along with Brendan Harris in exchange for pitchers Jim Hoey and Brett Jacobson. Though an oblique strain limited him to 129 games, he hit .269/.310/.491 with 30 homers and 4.1 WAR. Just after the All-Star break, with the trade deadline looming, he agreed to a three-year, $22.5 million extension that included limited no-trade protection and some escalator clauses. Hardy cited the need for stability as one reason for signing, and even with the Orioles bound for 93 losses, he felt he was in a good place, telling reporters, "I like all the guys in this clubhouse. I like the coaching staff… I just think overall I've had a lot of fun here, and there's been years I didn't have a lot of fun playing."
Hardy and the Orioles would have a lot more fun in 2012. Boosted by a 29-9 record in one-run games (and 16-2 in extra-inning games), the team won 93 games and claimed a Wild Card berth, the Orioles' first playoff appearance since 1997. Hardy bashed 22 homers but persistent right shoulder soreness sank his slash line to .238/.282/.389. That said, a career-high 18 DRS boosted his WAR to 3.3, and he won the first of three straight Gold Gloves. With 19-year-old top prospect Manny Machado arriving in August, the left side of the Orioles' infield became one of the game's best on the defensive side.
In the AL Wild Card Game against the Rangers, Hardy came up big, going 2-for-5. He drove in the game's first run with a first-inning RBI single off Yu Darvish after Nate McLouth reached on an error and stole second. The Rangers tied the game in the top of the second inning, and the game remained tied until the sixth, when he hit a leadoff single off Darvish, took third on a Chris Davis single, and scored the go-ahead run on a sacrifice fly. The Orioles won 5-1, but fell to the Yankees in the Division Series, as Hardy went 3-for-22.
Hardy made his second All-Star team with a 25-homer, 99-OPS+, 3.6 WAR season in 2013, and maintained a 91 OPS and 3.1 WAR even while hitting just nine homers the following year, as the Orioles won 99 games and claimed their first AL East title since 1997. Hardy went 3-for-10 in a Division Series sweep of the Tigers, highlighted by a seventh-inning homer off Max Scherzer in the opener, an RBI single off Justin Verlander, and then an eighth-inning walk off Joakim Soria that led to him scoring the decisive run in Game 2.
On the eve of the 2014 ALCS, the Orioles announced that Hardy had agreed to another three-year extension, this one for $40 million. Alas, they were quickly swept out of the ALCS by the Royals, with Hardy going a quiet 3-for-15.
Unfortunately, Hardy's second extension from the Orioles didn't go as well as the first, largely due to injuries. He was solid in 2016 (.269/.309/.407, 91 OPS+, 2.1 WAR) despite missing 47 games with a hairline fracture in his left foot, caused when he fouled a ball off of it, but was below replacement level in the two surrounding campaigns. What was initially termed a left shoulder sprain delayed his 2015 season debut until May 7, and he set career lows in OPS+ (54, via a .219/.253/.311 line) and WAR (-0.3). Near the end of the season, he revealed he had been playing through another tear in his left labrum; he didn't undergo surgery, instead opting to strengthen the joint after the season, which was successful enough.
In 2017, Hardy missed half the season, from late June to early September, due to a right wrist fracture suffered when he was hit by a Lance Lynn fastball. He hit a thoroughly representative .259/.310/.444 in 27 PA upon returning, but still finished with a 56 OS+. At the end of the season, the Orioles declined his option, paying him a $2 million buyout, and while Hardy initially indicated a willingness to return for 2018, he instead opted to stay home with his family.
Hardy isn't going into the Hall of Fame, but on a ballot laden with shortstops, his defensive prowess is worth noting. His 84 fielding runs ranks 10th among shortstops since 1989, the year Omar Vizquel debuted in the majors; Vizquel is fifth with 129 runs, albeit in about 9,000 more innings than Hardy, while Jimmy Rollins is 33rd with 43 runs in about 6,000 more innings; both of those totals include pre-2003 estimates based on Total Zone. Hardy is sixth in DRS since the metric's introduction, where Rollins is 14th (50) and Vizquel 15th (48), though remember that's just from the last decade of his career; prorated to 1,350 innings (about 150 games), Hardy has the edge at 8.5 runs to Vizquel's 8.2 and Rollins' 3.7, though they all take a back seat to the likes of Andrelton Simmons (201 DRS, 26.2 per 1,350 innings), Brendan Ryan (101 DRS, 23.8 per 1,350 innings), and Adam Everett (119 DRS, 23.8 per 1,350 innings) on that basis. Still, it's in the field where Hardy — who never played a single inning at another position — left his mark as one of the era's best, and he'll be fondly recalled for his role in helping the Brewers and Orioles turn things around.