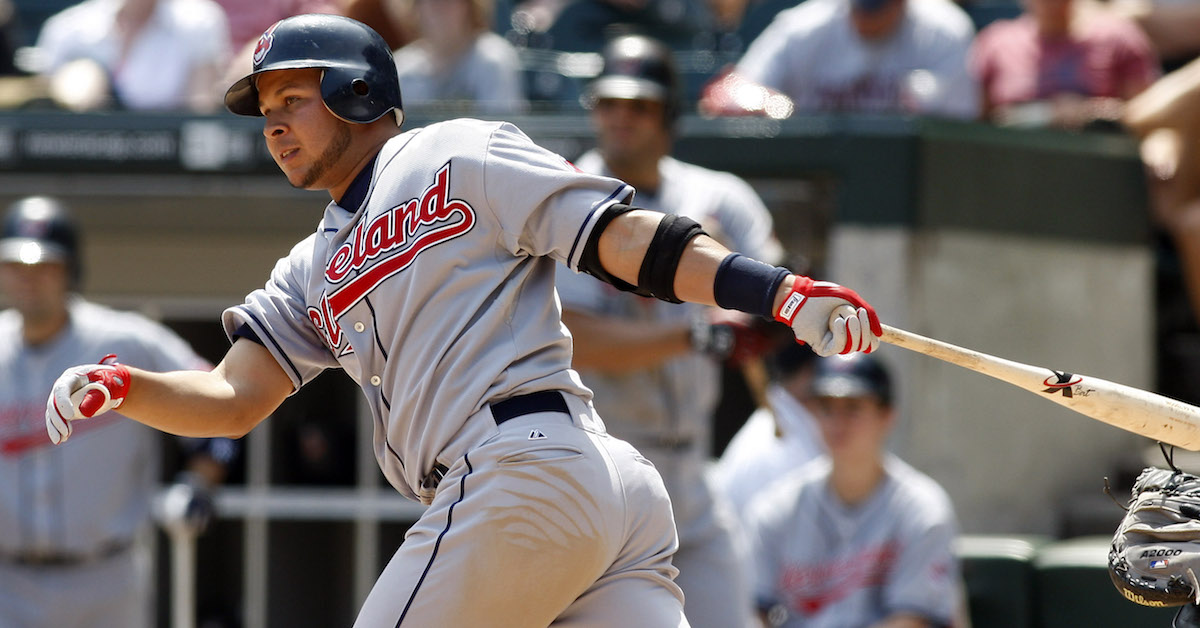 The following article is part of Jay Jaffe's ongoing look at the candidates on the BBWAA 2023 Hall of Fame ballot. For a detailed introduction to this year's ballot, and other candidates in the series, use the tool above; an introduction to JAWS can be found here. For a tentative schedule, and a chance to fill out a Hall of Fame ballot for our crowdsourcing project, see here. All WAR figures refer to the Baseball-Reference version unless otherwise indicated.
2023 BBWAA Candidate: Jhonny Peralta
| Player | Pos | Career WAR | Peak WAR | JAWS | H | HR | SB | AVG/OBP/SLG | OPS+ |
| --- | --- | --- | --- | --- | --- | --- | --- | --- | --- |
| Jhonny Peralta | SS | 30.4 | 26.5 | 28.5 | 1,761 | 202 | 17 | .267/.329/.423 | 102 |
SOURCE: Baseball-Reference
A bat-first shortstop with some pop and a first name that some writers interpreted as a typographical error, Jhonny Peralta spent 15 seasons in the majors (2003-17) while helping all three franchises he played for — Cleveland, Detroit and St. Louis — make the playoffs at least once. Though he struggled in his first exposure to the majors, he soon supplanted longtime fan favorite Omar Vizquel, impressing teammates and executives with his poise and establishing himself as part of a contending club's youthful core.
Peralta made three All-Star teams, all in his late 20s and early 30s, though his career was tarnished due to a 50-game suspension for receiving performance-enhancing drugs from Biogenesis, the Miami-based anti-aging clinic whose most famous baseball client, Alex Rodriguez, received a full-season suspension. That Peralta was able to return to the Tigers in time to participate in their 2013 playoff run, and that he signed the biggest contract of his career shortly afterwards, caused controversy within the game and played a part in increasing PED penalties — which might be the most lasting part of his legacy.
Jhonny Antonio Peralta was born May 28, 1982 in Santiago, Dominican Republic. Though some American sportswriters persisted in believing the rumors that his parents misspelled his name on his birth certificate, Peralta refuted that claim. In 2007, he quipped to the Santo Domingo Times that it was everyone else in the world that was spelling "Johnny" wrong, and indeed, Baseball Reference's database now includes 37 players named Jhonny, the vast majority of whom are from the Dominican Republic.
Cleveland scout Rene Gayo — who also signed such players as Willy Taveras, Danys Baez, Gregory Polanco, and Starling Marte, and would later be disciplined by Major League Baseball for accepting improper payments — signed the 17-year-old Peralta for an $18,000 bonus in 1999. He began his professional career in the Dominican Summer League that year, hitting a robust .303/.398/.514 and then moving stateside to A-level Columbus (Georgia) in 2000. He rose through the minors methodically, breaking out to hit .281/.343/.457 with 15 homers at Double-A Akron in 2002. His thick build (6-foot-2, 225 pounds) and fringy range kept him from being seen as a top prospect; Baseball America ranked him just 17th on the publication's team list heading into 2003.
Though he struggled at Triple-A Buffalo (.257/.310/.329) in early 2003, the 21-year-old Peralta was recalled in June when Vizquel, the team's regular shortstop since 1994, tore the meniscus of his right knee. Peralta debuted by striking out in his first plate appearance against the Padres' Matt Herges on June 12, 2003, and didn't get his first hit until three days later when he singled off the Dodgers' Hideo Nomo. With Vizquel re-tearing his meniscus while rehabbing, Peralta spent the rest of the season as Cleveland's shortstop, though he hit just .227/.295/.326 (67 OPS+). Still, general manager Mark Shapiro saw enough to attempt to trade the 36-year-old Vizquel to the Mariners that winter, though a failed physical quashed the deal, and he remained Cleveland's regular shortstop. Peralta shuffled off to Buffalo, where he won International League MVP honors by batting .326/.384/.493 with 15 homers; he played just eight games in the majors in 2004.
With Cleveland declining its end of Vizquel's mutual option after the season, Peralta took over and didn't disappoint, bating .292/.366/.520 with 24 homers, a 137 OPS+, and 5.1 WAR (second among AL shortstops behind Miguel Tejada) in 2005 while helping the team improve from 80 to 93 victories, two short of the Red Sox, who claimed the AL Wild Card spot. "Jhonny reminds me a lot of Derek Jeter," said closer Bob Wickman — just one of many who were impressed by Peralta's emergence — in midseason. "Jhonny Peralta right now has a chance to be that kind of guy. All respect to Derek Jeter, he's the best in the game. But Jhonny has that kind of talent." Wickman was hardly alone in mentioning the 22-year-old Peralta in the same breath as Jeter.
Peralta's 2005 performance led Cleveland to sign him to a five-year, $13 million extension in the spring of 2006, with Shaprio suggesting that the occasion "may be the best day of spring training thus far." He cited Peralta's unflappability in overcoming a slow start and in filling Vizquel's sizable shoes, adding, "He didn't blink and how he handled that move mentally drove our confidence in making this offer."
Peralta joined Victor Martinez, Travis Hafner, and CC Sabathia among the younger Cleveland players signed to extensions; two weeks later, Grady Sizemore would do so as well, and by season's end, so would Cliff Lee. Yet Peralta struggled to live up to expectations that he could serve as a franchise cornerstone. From 2006-09, he hit a combined .264/.328/.416 (96 OPS+) while averaging 17 homers, -5 DRS and 2.0 WAR; the run was bookended by two one-win seasons with an OPS+ in the mid-80s and two middle ones of 2.7 WAR (with a 101 OPS+) and 3.6 WAR (with a 113 OPS+). After his rough 2006, the New York Post's Joel Sherman identified Peralta as a key player in need of a rebound:
From 2005 to 2006, Peralta lost 178 OPS points and his fielding took a worse dive than his hitting. He had a late spurt in growing 1½ inches and never was comfortable with his new body… Peralta worked hard on his body in the offseason, and Shapiro said, "He is hungry. He has pride. He was embarrassed by last year. He committed to better work habits."
In 2007, Peralta helped Cleveland come within one win of a trip to the World Series, hitting a combined .333/.396/.595 during its postseason run, going 7-for-16 with four walks and three doubles against the Yankees in the Division Series. He had a huge 3-for-5 night in Game 2 of the ALCS against the Red Sox, with a single and a three-run homer off Curt Schilling, then added an RBI double off Jon Lester amid a seven-run (!) 11th inning. He doubled off Tim Wakefield and hit another three-run homer, this time off Manny Delcarmen, in the midst of another seven-run inning in Game 4. That pushed Cleveland's series lead to three games to one, but Peralta went just 1-for-10 over the remainder of the series as the team was steamrolled by a combined score of 30-5 in the three remaining games.
With 23-year-old Asdrúbal Cabrera on the rise, Peralta was nudged to third base, a position he'd played occasionally in the minors, in May 2009. He spent most of his remaining tenure in Cleveland there, but it wasn't long given that he was a pending free agent with a $7 million club option. After losing 97 games in 2009, Cleveland was on its way to a similarly grim year in '10 — and Peralta a reasonably representative one (.249/.311/.392, 93 OPS, 2.6 WAR) — when he was traded to division rival Detroit on July 28 in exchange for lefty pitching prospect Giovanni Soto, who would total just six major league appearances. The Tigers, who were just 51-48 at the time but were just four games out of first place in the AL Central, moved Peralta back to shortstop. While they fell out of the race and declined Peralta's option, just days later they inked him to a two-year, $11.25 million deal with a $6 million option for 2013.
Peralta rewarded the Tigers with his best season since 2005, hitting .299/.345/.478 (122 OPS+) with 21 homers and 3.7 WAR, a performance that earned him his first All-Star selection. The Tigers won 95 games and the AL Central flag, though Peralta hit just .220/273/.439 with two homers during the postseason as the team beat the Yankees in the Division Series but fell to the Rangers in the ALCS. They got to the World Series the next season even as Peralta slipped to an 84 OPS+ and 1.1 WAR; while his overall postseason performance (.260/.288/.460) was nothing to write home about, he again terrorized the Yankees, going 7-for-18 in the ALCS, capped by a two-homer Game 4 as the Tigers completed a sweep. Alas, Peralta's only hit in the World Series against the Giants was a two-run ninth-inning shot in Game 1, with the Tigers trailing 8-1; this time they were on the wrong end of a sweep.
Despite his subpar season, the Tigers picked up Peralta's option, but in February 2013, his name surfaced in the records of Anthony Bosch, the director of the Biogenesis wellness clinic that had become the target of an MLB investigation for distributing PEDs. Peralta denied using PEDs, and played well enough through the first half of the season to make the AL All-Star team again, but in August he was one of 12 players handed 50-game suspensions, with two others (Ryan Braun and Rodriguez) both receiving longer ones. While the hammer came down, Peralta, who was one of three 2013 All-Stars to get pinched (along with Nelson Cruz and Everth Cabrera), admitted via a statement, "In spring of 2012, I made a terrible mistake that I deeply regret… I take full responsibility for my actions, have no excuses for my lapse in judgment and I accept my suspension." More than a year after his name first surfaced, he told USA Today's Bob Nightengale that he had been careless taking supplements that contained banned substances that helped him lose weight during 2012 spring training.
The timing of MLB's discipline was such that the players receiving 50-game suspensions were able to return near the end of the season. That Peralta (and potentially Cruz) would do so for a playoff-bound team provoked some outcry. The Tigers, who had traded for José Iglesias to man shortstop in Peralta's absence, welcomed him back… as their left fielder. Peralta hit a sizzling .333/.353/.545 in the Division Series against the A's and the ALCS agains the Red Sox, highlighted by a three-run homer in ALDS Game 4 off Dan Straily and an RBI double off Lester that drove in the only run in the ALCS opener. The Tigers fell to the Red Sox nonetheless.
Despite his suspension, Peralta cashed in once he hit free agency via a four-year, $53 million deal with the Cardinals. Though Peralta was popular among his fellow players, the signing didn't sit well with some. "This is like if somebody was to rob a bank, eventually got caught, served five years in jail, got out, but still got to keep all the money," Jonny Gomes told Nightengale. "It's like, "No, no, you shouldn't be able to keep the money. You stole it!'"
"Nothing pisses me off more than guys that cheat and get raises for doing so," said pitcher David Aardsma on Twitter. Brad Ziegler, the Diamondbacks' player representative, voiced a similar sentiment and vowed that the union would pursue longer penalties. The following spring, MLB and the players union announced more stringent penalties for PED users. The ban for first-time offenders was increased from 50 games to 80, and additionally they would lose eligibility for that year's postseason. Both of those changes remain in effect today.
Amid the controversy, Peralta produced a career-best 5.8 WAR in 2014, hitting .263/.336/.443 (117 OPS+) with 21 homers and a career-best — and quite out of context — 15 DRS. He couldn't maintain that level; in fact, he swung to -14 DRS the following season despite again playing between third baseman Matt Carpenter and second baseman Kolten Wong. He made the NL All-Star team, but a dismal second half dropped his full-season OPS+ to 103. The Cardinals made the playoffs in both of those seasons, but Peralta went a combined 7-for-45 in three series, with two doubles and three RBIs between them.
The returns continued to diminish, and the Cardinals' depth made Peralta superfluous. A torn ligament in his left thumb required surgery in March 2016, so Peralta didn't debut until early June, by which point rookie Aledmys Díaz's presence bumped him to third base. Competing for time with Jedd Gyorko as well, and taking a trip back to the injured list after re-injuring his thumb, he played just 82 games overall, his WAR sinking to -0.3. In 2017, an upper respiratory infection and an allergic reaction to medication wiped out a strong spring training and cost Peralta a month. Soon after he returned, the slumping Cardinals decided that rookie Paul DeJong mandated space in their infield alongside Gyorko and Díaz, and they designated the 35-year-old Peralta for assignment with more than half of his $10 million salary still due.
Upon being released, Peralta caught on with the Red Sox, reuniting him with club president Dave Dombrowski, who had traded for him as the Tigers' general manager. He played just 10 games for their Triple-A Pawtucket affiliate before the Red Sox decided they were happier with their other options. They released him, and he never played again. It's fair to wonder if he'd have gotten another look if not for the suspension, but sometimes, that's just how it ends.