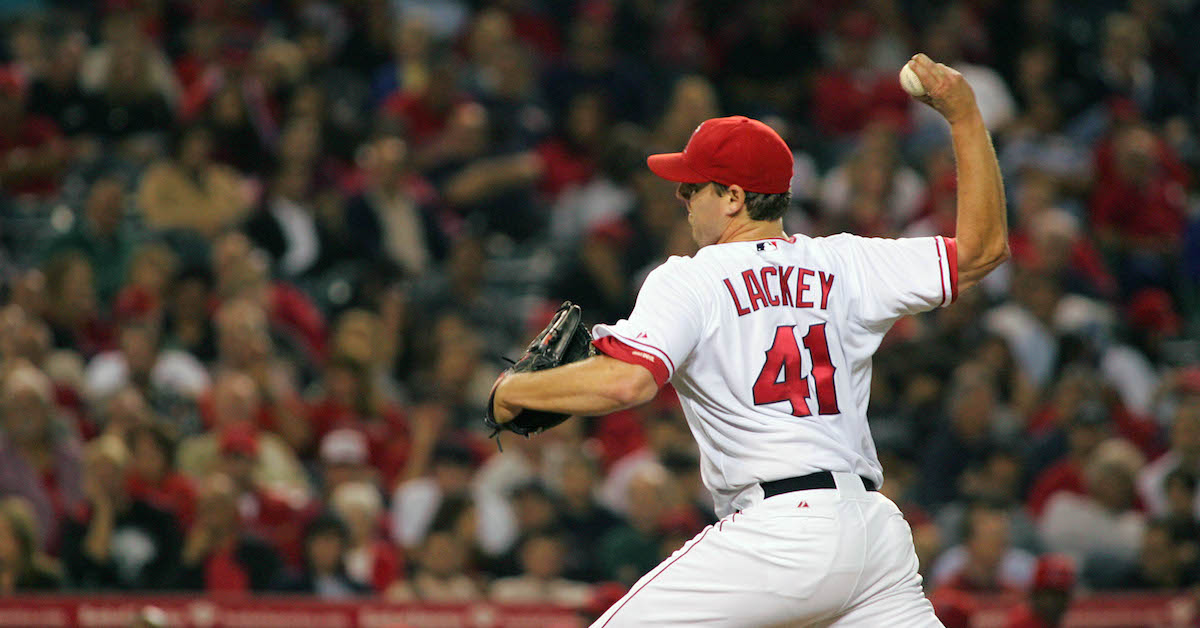 The following article is part of Jay Jaffe's ongoing look at the candidates on the BBWAA 2023 Hall of Fame ballot. For a detailed introduction to this year's ballot, and other candidates in the series, use the tool above; an introduction to JAWS can be found here. For a tentative schedule, and a chance to fill out a Hall of Fame ballot for our crowdsourcing project, see here. All WAR figures refer to the Baseball-Reference version unless otherwise indicated.
2022 BBWAA Candidate: John Lackey
| Pitcher | Career WAR | Peak WAR Adj. | S-JAWS | W-L | SO | ERA | ERA+ |
| --- | --- | --- | --- | --- | --- | --- | --- |
| John Lackey | 37.3 | 29.2 | 33.3 | 188-147 | 2,294 | 3.92 | 110 |
SOURCE: Baseball-Reference
Francisco Rodríguez wasn't the only rookie who played a key part as the Angels won their lone championship in 2002. John Lackey, a 24-year-old former second-round pick, had arrived in late June and spent the rest of the season in the rotation, then pitched credibly in a swingman role in the postseason. After the Angels rallied to overcome a 5-0 deficit and win Game 6 of the World Series, it was Lackey who got the call for Game 7, and he delivered, throwing five strong innings and departing with a 4-1 lead that the bullpen — Brendan Donnelly, Rodríguez, and Troy Percival — held. Lackey was the first rookie to win a Game 7 since the Pirates' Babe Adams in 1909.
That was the first of three times Lackey started for a World Series winner over the course of his 15 major league seasons, making him just the third pitcher ever to do so. He only made one All-Star team, but as a rotation regular for 10 teams that reached the playoffs, Lackey earned a reputation as a big-game pitcher. His 23 postseason starts are tied for seventh among Wild Card-era pitchers, and tied for fourth since the turn of the millennium; in the latter span, he's the only pitcher to start and win two World Series clinchers. In 134 postseason innings, he pitched to a 3.29 ERA, 0.63 runs per nine lower than his regular season mark. In the final start of his career, he pitched a gem to help the Cubs clinch the 2017 NL Central title.
Standing 6-foot-6 and 235 pounds, Lackey was an intimidating presence, even with a fastball that topped out in the low 90s. He was a fierce competitor but sometimes a polarizing figure, particularly for his mannerisms on the mound, which were sometimes interpreted as showing up his fielders. "Perhaps no man is more hated in the AL East — or more troubled," wrote Grantland's Chris Jones in 2011. That may have been over the top, but "a noted red-ass," to use the words of ESPN's Tim Keown? Surely.
Lackey was born on October 23, 1978 in Abilene, Texas. His father Derran Lackey played a key role in his baseball education, coaching him in Little League and then serving as the assistant coach at Abilene High School, where his son lettered in football and basketball — as a star quarterback and power forward, respectively — as well as baseball. As a power-hitting first baseman, he earned all-district honors twice and all-state honors once.
Pitching wasn't in the cards at that point. "Even though John was an all-state baseball player, he did not have the demeanor to pitch in high school," his father told the Los Angeles Times' Mike DiGiovanna in 2007. "He wasn't able to control his emotions… He wanted everything to be perfect. He was a little immature, like most kids. He didn't understand that if someone makes a mistake, you can't do anything about it."
"If you've seen Lackey react in disgust when a teammate doesn't make a play that could have been made, it's apparent he still struggles a bit in this area," continued DiGiovanna, who by then was writing about a pitcher at the peak of his career.
As a freshman first baseman at the University of Texas-Arlington, Lackey caught pitching coach Ron Liggett's attention when he threw a ball from the left field line over the right field fence, after which the coach put him on a bullpen mound and discovered he could throw 90 mph. After throwing 14 innings for UT-Arlington, he pitched in the Kansas Jayhawk Summer League, then transferred to Grayson County College, where he spent two years pitching and playing first base. In 1999 he hit .428 with 15 homers while going 10-3 with a 4.23 ERA on the mound. His two homers and seven RBIs helped Grayson win the 1999 Junior College World Series.
The Angels chose Lackey in the second round of the 1999 draft. He signed for a $470,000 bonus and began his career with Boise of the Pioneer League, where he struggled with his control, walking 5.5 per nine en route to a 4.98 ERA. He put it together the following year while climbing through three levels, going 15-9 with a 3.15 ERA and 6.6 K/9. His 2001 season was uneven, as he excelled at Double-A Arkansas but scuffled at Triple-A Salt Lake City, but after a strong 16-start run at SLC in '02 (8-2, 2.57 ERA, 7.3 K/9), the Angels called him up, soon making room in their rotation by sending Scott Schoeneweis to the bullpen.
Lackey's debut on June 24, 2002 was a homecoming, as he faced the Rangers in Arlington, throwing seven innings and allowing three runs while striking out six; unfortunately, his teammates only scored twice, so he lost. He got his first win six days later with a six-inning, one-run performance against the Dodgers in Anaheim, and in all went 9-4 with a 3.66 ERA (121 ERA+) in 108.1 innings, a showing that garnered him enough support to tie for fourth in the AL Rookie of the Year voting.
As the Angels' fourth starter behind Jarrod Washburn, Kevin Appier, and Ramon Ortiz, Lackey was limited to a relief duty in the Division Series against the Yankees, but he delivered three shutout innings after Ortiz was shelled in Game 3; the Angels came back from a 6-1 deficit to win. He followed that up by throwing seven shutout innings in Game 4 of the ALCS against the Twins. After two rough innings of relief work in an 11-10 Game 2 loss to the Giants, he went five innings and allowed three runs, getting a no-decision in a Game 4 loss that tied the series at 2-2. The Giants won Game 5 but the Angels rallied late to win Game 6, and then Lackey started Game 7, allowing just four hits, one walk and one run over the course of 20 hitters before handing the ball to manager Mike Scioscia.
That rookie success didn't entirely carry over, as Lackey posted a 4.65 ERA (95 ERA+) in 402.1 innings in 2003-04; the Angels slipped below .500 in the former year but won the AL West in the latter, though Lackey didn't get a start in the Division Series as the team was swept by the Red Sox. He broke out in 2005 thanks to an improved changeup and the addition of a cutter, going 14-5 with a 3.44 ERA (123 ERA+) and 4.3 WAR in 209 innings; his strikeout rate rose from 6.5 per nine to 8.6, he boosted his groundball rate, and allowed a league-low 0.56 homers per nine while helping the Angels to another AL West title. He made a pair of solid starts in the Division Series against the Yankees, lasting 5.2 innings in both Games 2 and 4, the second on three days of rest; the Angels lost that one but won Game 5 before falling to the White Sox in the ALCS, where Lackey was roughed up in Game 3.
Lackey showed that his breakout wasn't a fluke, posting a 134 ERA+ with 4.6 WAR in 2006 and a 150 ERA+ with 6.3 WAR in '07 while making 33 starts in each of those seasons. In 2007, his 3.01 ERA was tops in the league and his WAR third; he made his first All-Star team and placed third in the AL Cy Young balloting behind CC Sabathia and Josh Beckett. Triceps injuries prevented him from taking the mound until mid-May in both 2008 and '09, and his performance took a step back; for those two years, he posted a 117 ERA+ and 5.4 WAR in 339.2 innings. The Angels won three straight AL West titles from 2007-09, and Lackey was their Game 1 starter in all four postseason series they played, though they won only the '09 Division Series over the Red Sox, after he delivered 7.1 shutout innings in the opener. Lackey pitched to a 2.97 ERA in 39.1 innings across six postseason starts in those three years, but the Angels went 2-4, totaling just four runs in the four losses.
Lackey spent the 2006-09 span under a three-year, $17 million contract with a $9 million club option. He reached free agency as the top pitcher on the market (a step or two down from Sabathia and Cliff Lee, the top pitchers in the winters on either side of him), and landed a five-year, $82.5 million deal with the Red Sox, who outbid the Angels. Though he made 33 starts in 2010, his strikeout and walk rates took steps in the wrong direction, and he was cuffed for a 4.40 ERA (99 ERA+).
Lackey was even worse the next year, posting a 6.41 ERA in 28 starts under trying circumstances. His wife Krista was battling breast cancer, undergoing a double mastectomy in the spring and then beginning chemotherapy in June. The pitcher himself was sidelined by an elbow strain in mid-May, receiving a cortisone shot; shortly before that, in a rare bit of candor he told the Boston media, "Everything in my life pretty much sucks right now." Later in the year, he filed for divorce, saying in the filing that "the marriage has become insupportable because of discord or conflict of personalities."
Meanwhile, on the back of a 7-20 September, the Red Sox coughed up the AL East lead and then lost out on the Wild Card spot, which they could have secured by winning on the final day of the season. An in-depth report by the Boston Globe's Bob Hohler placed Lackey at the epicenter of the collapse alongside two of his rotation-mates:
With their team in peril and their manager losing his authority, three Red Sox pitchers last month were uniquely positioned to prevent the greatest September collapse in major league history. All the Sox needed was Josh Beckett, Jon Lester, and John Lackey to apply the skills and commitment that previously made them World Series champions.

Instead, Boston's three elite starters went soft, their pitching as anemic as their work ethic. The indifference of Beckett, Lester, and Lackey in a time of crisis can be seen in what team sources say became their habit of drinking beer, eating fast-food fried chicken, and playing video games in the clubhouse during games while their teammates tried to salvage a once-promising season.
As Hohler later detailed, the trio — whose behavior eroded Terry Francona's authority amid the manager's own marital and health problems, leading to his departure — went 2-7 with a 6.45 ERA in September as the team lost 11 of their 15 starts. Less than a month later, Lackey underwent Tommy John surgery, which cost him all of 2012 and, through a conditional clause in his contract, gave the team a minimum-salary club option for '15 due to his missing significant time with surgery for a pre-existing elbow injury.
Lackey gained a measure of redemption with a strong return in 2013, posting a 3.52 ERA in 189.1 innings and helping the Red Sox win 97 games and then the World Series, their third in a 10-season span. In four postseason starts and one relief appearance totaling 26 innings, the now 34-year-old righty posted a 2.77 ERA, highlighted by 6.2 innings of shutout work against the Tigers in a 1-0 win in Game 3 of the ALCS, and 6.2 innings of one-run ball against the Cardinals in Game 6 of the World Series, which proved to be the clincher.
Lackey is one of just 10 pitchers to start multiple World Series clinchers, and one of just two in the Divisional Era (since 1969):
Most World Series Clinchers Started
| Player | Teams | GS | Yrs | IP | ERA |
| --- | --- | --- | --- | --- | --- |
| Andy Pettitte | NYY | 3 | 1998, 2000, 2009 | 20.0 | 1.35 |
| Art Nehf | NYG | 2 | 1921, 1922 | 18.0 | 1.50 |
| Lefty Gomez | NYY | 2 | 1936, 1937 | 15.1 | 3.52 |
| Vic Raschi | NYY | 2 | 1949, 1951 | 12.2 | 4.26 |
| Whitey Ford | NYY | 2 | 1950, 1953 | 15.2 | 0.57 |
| Johnny Podres | LAD | 2 | 1955, 1959 | 12.1 | 2.19 |
| Ralph Terry | NYY | 2 | 1961, 1962 | 11.1 | 2.38 |
| Sandy Koufax | LAD | 2 | 1963, 1965 | 18.0 | 0.50 |
| Bob Gibson | STL | 2 | 1964, 1967 | 18.0 | 3.50 |
| John Lackey | LAA | 2 | 2002, 2013 | 11.2 | 1.54 |
SOURCE: Baseball-Reference
Lackey pitched similarly well for the Red Sox in 2014 as in '13, but with the team heading for a 91-loss season, he was dealt to the Cardinals along with a prospect in exchange for pitcher Joe Kelly and outfielder Allen Craig. Though he didn't pitch as well after the trade, Lackey made a strong start against the Dodgers in Game 3 of the Division Series, holding them to one run over seven innings. In 2015, at age 36, he put together one of his best seasons while helping the Cardinals to 100 wins and the NL Central title. His 2.77 ERA (142 ERA+), 218 innings, 175 strikeouts, and 5.8 WAR were all his best marks since 2007. He opened the Division Series by throwing seven shutout innings against the Cubs, allowing two hits; Chicago chased him after three innings in Game 4, however, ousting St. Louis.
Nearing completion of their long rebuilding project, and needing to round out their rotation after the retirement of Dan Haren, the Cubs signed Lackey to a two-year, $32 million deal, reuniting him not only with Lester but with club president Theo Epstein, who had signed him in Boston, and manager Joe Maddon, the Angels' bench coach for Lackey's first four seasons. After another solid season (3.35 ERA, 2.9 WAR), Lackey was kept on a short leash in the postseason, starting Game 4 of the Division Series against the Giants, the NLCS against the Dodgers, and the World Series against Cleveland. Only in the last of those did he complete five innings, but the Cubs wound up on the short end. Nonetheless, they won their first World Series since 1908, which again put Lackey in select company: only six pitchers have ever started for three World Series teams, and only three have won a championship with all three:
Started for Three Teams in World Series
Yellow = won World Series. * = won in 1913 and '23, lost in '14 and '22
Lackey spent one more season with Chicago, slipping slightly below league average but winning the aforementioned division clincher with a six-inning, two-hit, one-run win performance against the Cardinals. He moved to the bullpen for the playoffs, and made three appearances in the NLCS against the Dodgers, who steamrolled them in five games.
Lester had given Lackey something of a sendoff after Lackey's clinching start, telling reporters, "Here's to one hell of a career!" in reference to his friend and teammate's hints at retirement. "I think the world of him as a teammate, as a professional, as a grinder," said Epstein. "He's the one guy whose reputation inside the clubhouse and his reputation outside the clubhouse is the most divergent of anyone I've been around." Soon after the season, Lackey indicated an apparent change of heart by announcing his intent to pitch in 2018, but he rejected a minor league offer from the Diamondbacks, and perhaps other overtures as well. He never did pitch again.
With 188 wins, a 110 ERA+, and 37.3 WAR, Lackey's short of meriting serious Hall consideration, and I don't expect him to persist on the ballot à la Pettitte or Mark Buehrle. His case does bring to mind that of Morris, who won 254 games with a 105 ERA+ and 45.3 WAR in about a thousand more innings and made the Hall thanks to his own big-game reputation, assembled with multiple teams. There won't be any tooth-and-nail fight to get Lackey into Cooperstown (thankfully), but he certainly left his mark on 21st century baseball.