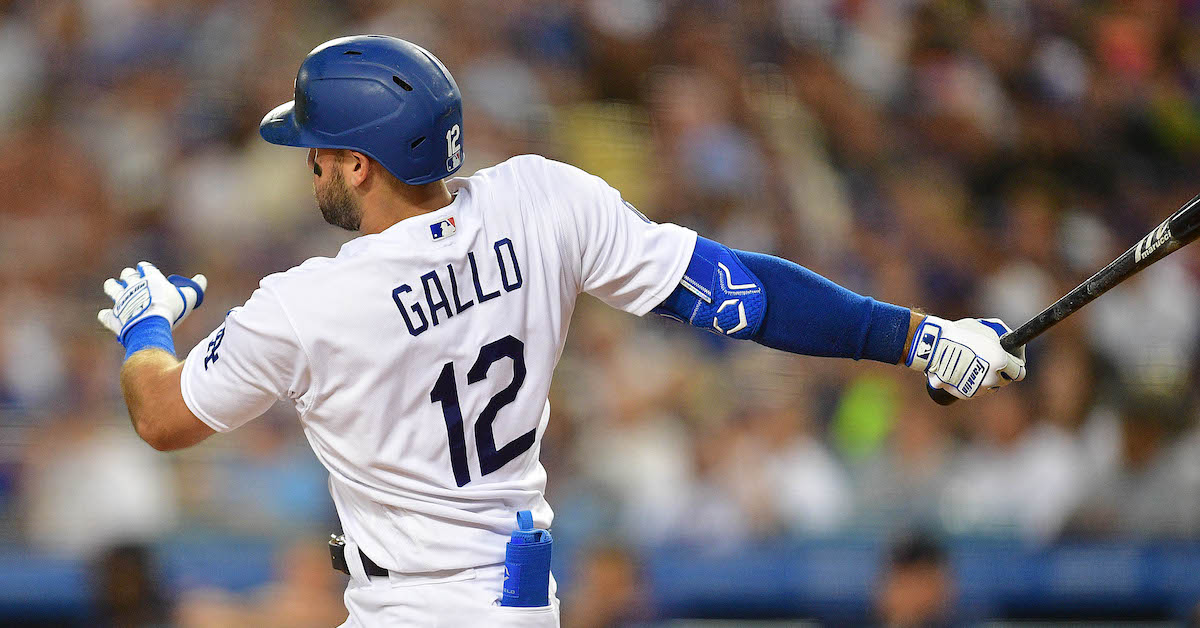 They say murderers always return to the scene of the crime. Joseph Nicholas Gallo, murderer of baseballs, is the latest. Gallo's one-year, $11 million deal with the Minnesota Twins brings the longtime Rangers slugger back to Target Field, site of the event that brought him to national baseball consciousness.
The weekend of the 2014 Futures Game, with the national scouting and media glitterati in attendance, Gallo put on a positively pyrotechnic batting practice display. For a good time, try Googling "Joey Gallo Truck Futures Game." Gallo hit 15 home runs in BP that afternoon, the most of all the prospects on show. Six of those dingers went to the upper deck in right center field, and the gigantic 20-year-old put another through the windshield of a pickup truck Chevrolet had parked on the right field concourse as part of a marketing display.
Then he backed it up in the game, taking Astros prospect Michael Feliz deep — at least 419 feet — for the eventual game-winning home run. Gallo took home MVP honors for himself.
Eight and a half years later, that story is more trivia than anything else. (But it's a fun story, so there's no harm in retelling it.) Back then, Gallo was bound for top-10 global prospect status based on three things: An excellent batting eye, as much left-handed power as you'll ever see, and the athleticism, hands and throwing arm to be a competent defender at third or a good one in an outfield corner. That despite being, at a sturdy 6-foot-5, a week's worth of buffet meals from growing as large as an NFL offensive tackle.
The question was whether he'd make enough contact for any of that to matter. And after eight seasons, 15.1 career WAR, 177 home runs, two Gold Gloves, and two All-Star appearances, I'm not sure Gallo has ever really answered that question. All we've known for sure about him is that he's extreme. Since 2000, 1,098 players have batted at least 1,000 times in the majors. Gallo has the 21st-highest walk rate, the second-highest strikeout rate (shout out Keon Broxton), the fifth-lowest batting average, and is tied for 11th in ISO with David Ortiz. He is the ultimate three-true-outcomes player.
Gallo derives so much value from his walks and power that he can be a legitimate All-Star-caliber player without hitting .200 or playing catcher. That's not an academic abstraction — Gallo literally posted a 4.2 WAR season and made the All-Star team while hitting .199/.351/.458 in 2021. That ability is not just unusual, it might actually be unique.
"But what happened after that?" I can hear a heavily Bronx-accented voice shouting from the gallery.
Well, Gallo was traded to New York at the 2021 deadline, at a point when the Yankees were trying to assemble the largest starting outfield ever conceived of by humankind. Unfortunately, someone replaced his bat with a hollowed-out bamboo shoot. Here's Gallo over the past two seasons, broken down by team:
Joey Gallo By Team, 2021-2022
| Team | G | AVG | OBP | SLG | BB% | K% | WAR |
| --- | --- | --- | --- | --- | --- | --- | --- |
| TEX | 95 | .223 | .379 | .490 | 19.1 | 32.2 | 3.7 |
| NYY | 140 | .159 | .291 | .368 | 15.4 | 38.7 | 0.8 |
| LAD | 44 | .162 | .277 | .393 | 11.7 | 41.6 | 0.3 |
At the risk of stating the obvious, Gallo is a star when he's hitting .220 with a 19% walk rate. He's an above-average regular when he's hitting .200 with a 15% walk rate. But when he's hitting .160 with a 12% walk rate, he isn't playable. It's amusing that he still posted positive WAR totals in both New York and Los Angeles, but it's almost beside the point. Hitting .162 with a 41.6% strikeout rate is an aesthetic party foul on the order of playing nothing but Elliott Smith at a wedding reception. It's just not the done thing.
The problem is not what happens when Gallo makes contact. This past season he posted a wOBACON of .407 and an xwOBACON of .427. That was good enough for 84th and 38th, respectively, among the 417 hitters with at least 150 balls in play. Gallo was in the 94th percentile in HardHit% and the 98th percentile in Barrel%.
The most troubling thing in Gallo's 2022 stats is the huge uptick in fastball chase rate. Gallo has always pounded the fastball, but this past year he went fishing for them at his highest rate in five years. His chase rate against all pitch types was up big time from 2021, though not necessarily compared to his career norms:
Joey Gallo Chase Rate By Pitch Group
| Year | Fastballs | Breaking | Offspeed |
| --- | --- | --- | --- |
| 2019 | 12.3 | 26.0 | 36.0 |
| 2020 | 14.6 | 18.4 | 35.1 |
| 2021 | 12.9 | 22.1 | 28.7 |
| 2022 | 21.2 | 30.1 | 37.0 |
SOURCE: Baseball Savant
Given how bad Gallo was in New York, and how much of a public beating he took as a result, you'd be surprised if he weren't getting a little antsy at the plate — pressing, seeing ghosts, whatever you want to call it. But combined with slight (and possibly random) downticks in his HR/FB% and maximum exit velo, maybe this is the very beginning of Gallo's bat speed starting to slip, and he's chasing more or swinging from his heels (insofar as he wasn't doing that already) in an attempt to get ahead of that.
And if you wanted to be particularly uncharitable, you'd notice that Gallo had an 85 wRC+ in 2022, a 95 wRC+ post-trade in '21, and an 86 wRC+ in '20. In other words, he's only been an above-average hitter for half a season since before the pandemic. And even that half a season was propped up by one monstrously good month: In June 2021, he hit .263/.434/.671 (a 191 wRC+) with 10 home runs in just 24 games. He was good in April, May, and July of that year, but more in line with his numbers in 2017 and '18.
So why would the Twins give that guy eight figures?
I have two theories. The first is that they saw their ZiPS projections post from a couple weeks ago, in which Dan Szymborski was far from bullish on Luis Arraez's long-term future, and decided to take action. Not because Gallo would replace Arraez, but because Gallo could carry Arraez around like Master Blaster, combining the two players' strengths and creating a hybrid that would hit like prime Barry Bonds.
The second is that this is the Cody Bellinger deal in miniature. (Perhaps the only thing miniature about either player.) This is an extremely short-term bet on a ludicrously gifted athlete, the likes of which you just can't ordinarily get in the trade market, and definitely not for what has now been established as slightly more than middle reliever money. When Gallo is at his best, he is a down-ballot MVP-type player; in addition to his excellent first half of 2021, he was on a six-win pace when injuries to his oblique and hamate bone cut his '19 campaign to just 70 games. And even when he's at his absolute platinum sombrero-wearing worst, he can still contribute defensively, draw a walk, and run into mistakes against right-handed pitching. The downside scenarios aren't as bad as that strikeout rate would lead one to believe.
And then there's the fact that MLB is banning the shift in 2023. There are three important caveats to remember: First, banning the shift would presumably help all left-handed power hitters, raising the standard by which Gallo would be judged. Second, given the limitations of the rule and the devilish cleverness of MLB front offices, I suspect the impact of banning the shift will be less than anticipated. Third, the shift does nothing to limit strikeouts.
With that said, it does prevent teams from running out the extreme defensive alignments that trouble Gallo: four-man outfields, or the second baseman playing in short right field like the strong safety in a Cover-1 Robber scheme from the NFL. Surely Gallo would get some benefit from playing against a more traditional defense.
Here are some numbers. Last season, 302 players put at least 100 balls into play against some kind of shift; of those, Gallo ranked 281st in wRC+. In 2021, when he was an All-Star, remember, he was 232nd out of 265 against some kind of shift with a wRC+ of 47.
How much does that matter? Well, last year, Gallo put 168 balls in play — not including his 19 home runs. Of those, 167 were into some kind of shift. Here's how that figure stacks up against the rest of his career since he became a full-time player in 2017:
Defensive Alignments vs. Joey Gallo
| Year | No Shift | Shift |
| --- | --- | --- |
| 2017 | 16 | 195 |
| 2018 | 5 | 248 |
| 2019 | 0 | 107 |
| 2020 | 1 | 103 |
| 2021 | 0 | 248 |
| 2022 | 1 | 167 |
Since the start of the 2019 season, 99.7% of Gallo's balls in play have come against the shift, which is such an extreme number I wonder if the two exceptions were coding errors of some kind. It's easy to see why one would think that mitigating the effects of such alignments would benefit Gallo.
And apparently $11 million is what it takes to find out these days. There are better uses for that money — I personally would've used it to fund part of the first year of a Carlos Correa extension — but there are certainly worse outlays. Gallo has performed at his peak within the past 18 months, after all, and that's more than one can say for Bellinger. When he's at his best, Gallo is capable of unusual feats, and makes no apologies for his extreme style of play. We should all hope to see him at his best again this coming season.