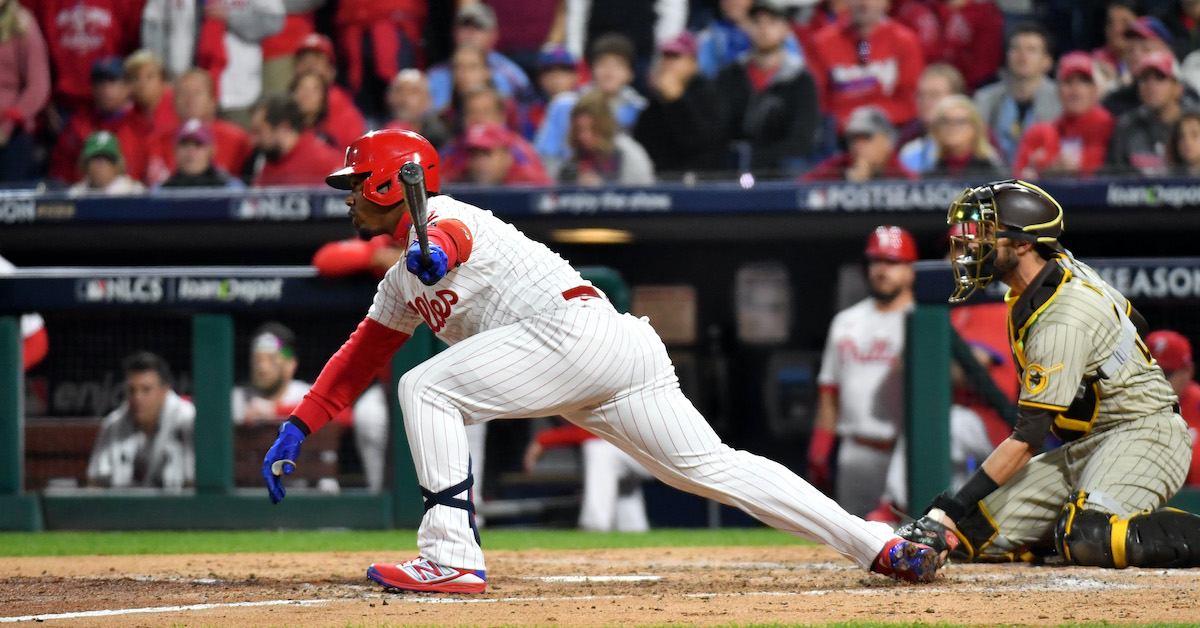 Jose Altuve takes off, running as fast as he can down the line. The throw is coming in faster, sailing toward the bag. You can tell it's going to be a close call, and indeed it is. The umpire extends his arms, signaling safe, and the crowd erupts into either emphatic cheers or cacophonous boos, depending on whether this hypothetical call takes place in Houston or Philadelphia. The whole play lasts only a few short seconds, but it's one of the most thrilling moments of the entire game.
What I am describing is an infield hit — one of the most overlooked plays in baseball. It's not surprising that home runs, extra-base hits and the like get a little more attention, especially since infield hits are just as often the result of poor defense or a lucky bounce as they are the result of true offensive skill. Yet as individual plays, infield singles are exactly what make baseball so exciting. There are few batted ball events as highly suspenseful as those in which an infield hit is possible. Those four to five seconds between the contact and the call can get your heart racing nearly as fast as the runner himself. Infield hits represent a true battle between batter, fielder, and even the field itself. On top of that, the ever-present possibility of an infield single is exactly what makes every routine ground ball worth watching.
This year, we have the privilege of watching two of the very best infield hitters in the game face off in the World Series. Altuve and Jean Segura are the active leaders in infield hits, the former with 247 and the latter right behind him with 244. They both passed Elvis Andrus on the active leaderboard this season, who himself reached the top of the leaderboard when Hunter Pence retired in 2020. FanGraphs began tracking infield hits in 2002, and in that time Segura and Altuve each rank among the top ten. Both just 32 years old, they have plenty of time to climb the ranks, too. Within a few years, they should find themselves second and third behind only infield hit god Ichiro Suzuki. Now if you don't mind, I'd like to a moment to appreciate how they both got here.
Infield Hit Leaders (since 2002)
| Player | Infield Hits | Plate Appearances |
| --- | --- | --- |
| Ichiro Suzuki | 551 | 9996 |
| Derek Jeter | 294 | 8351 |
| Carl Crawford | 272 | 7178 |
| Hunter Pence | 263 | 7006 |
| Jose Altuve | 247 | 6950 |
| Adrián Beltré | 245 | 7378 |
| Juan Pierre | 245 | 10212 |
| Jean Segura | 244 | 5611 |
| Luis Castillo | 243 | 5022 |
| Elvis Andrus | 239 | 8197 |
Altuve was an infield hit machine early in his career. In 2012, his first full season, he finished with 29 IFH, tied for fifth-most in baseball. The man he was tied with that season was Ichiro, a good sign of what was to come. From 2012 to '17, Altuve racked up a league-leading 167 IFH, an average of 29 per 162 games. He did so by making a high degree of contact with an above-average ground ball rate, and it helped that he came to the plate more than any hitter besides Robinson Canó. In addition, Altuve was able to convert his softly hit ground balls into infield hits more often than the average hitter because he hit so many of his soft grounders right into the dirt. Statcast data only goes back to 2015, but from '15 to '17, he hit 72 ground balls with an exit velocity below 80 mph and a launch angle below 30 degrees. Only two hitters in the league — Dee Strange-Gordon and Andrelton Simmons — hit more.
Altuve has hit fewer infield singles in recent years, recording a total of 74 since 2018. That still ranks among the top ten during that time, but it's a much slower pace than he was on earlier in his career. The biggest change seems to be that he's hitting fewer soft ground balls. Through 2017, 21.5% of his ground balls were softly hit (per Sports Info Solutions). Since then, only 17.5% of his ground balls have graded out as soft. His Hard% on ground balls has risen from 15.6% to 25.6%. When he has hit the ball softly, however, Altuve has actually converted more of his ground balls into infield hits over the past five seasons, perhaps because he has hit even more of those balls directly into the dirt. Since 2018, he has hit 109 grounders with an exit velocity below 80 mph and a launch angle below 30 degrees, and his average launch angle on softly hit ground balls has dropped by a couple degrees. Thus, he has continued to record plenty of infield hits despite his declining footspeed and his new power-focused approach.
Segura, for his part, has remained much more consistent with his infield knocks. After an incredible 2013 season in which he had 38 infield singles, he has averaged 28 per 162 games over the past nine seasons. It certainly helps that he has the picture perfect offensive profile with which to accrue such hits; he puts a ton of balls into play, and a ton of those balls are softly hit on the ground. Among the 232 active batters with at least 1,000 PA, Segura's 85.1% career contact rate ranks in the 91st percentile. His 21.3% soft contact rate (Soft%) ranks in the 95th percentile. His 55% ground ball rate ranks in the 98th percentile. Only one other active player, José Iglesias, has a contact rate of at least 85%, a soft contact rate of at least 20%, and a ground ball rate of at least 50%.
Segura is also surprisingly quick to first base, which has helped him earn extra hits. While he isn't the fastest pure runner, he is exceedingly quick to get of the box. This past season, for instance, his Baseball Savant sprint speed ranked in the 58th percentile, and his 90-foot sprint time ranked in the 61st percentile. His sprint time from home plate to first base, however, ranked in the 81st percentile. It's why he's involved in so many close plays at first base even though he doesn't seem all that fast.
Segura's other trick is that he hits the ball all over the field. In general, balls hit to the third-base side of the infield are far more likely to become infield hits. This makes a good deal of sense, because it takes significantly longer to throw the ball to first base from across the diamond. Yet Segura has a far lower pull rate on his soft ground balls than most of the right-handed infield hit greats. To make up for that, he has been far better than the average hitter at converting ground balls up the middle and ground balls to the first base side into hits. Take a look at his spray charts from this past season compared to Altuve's.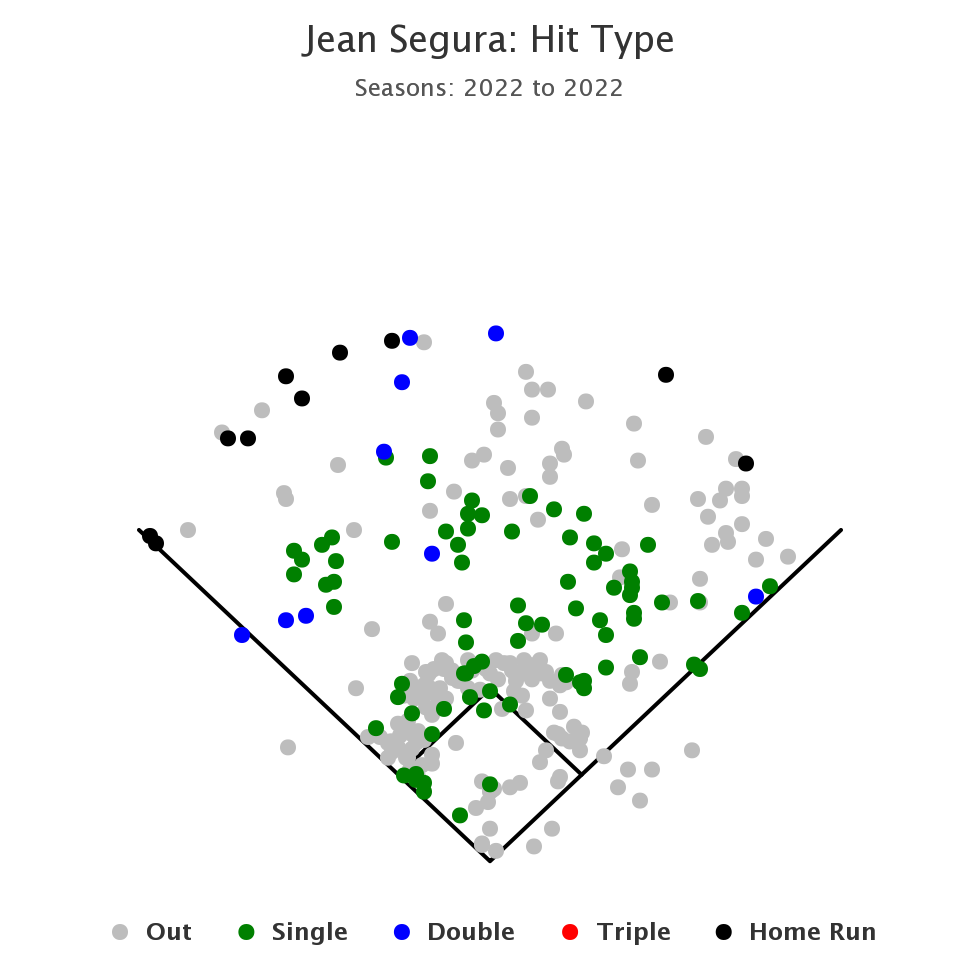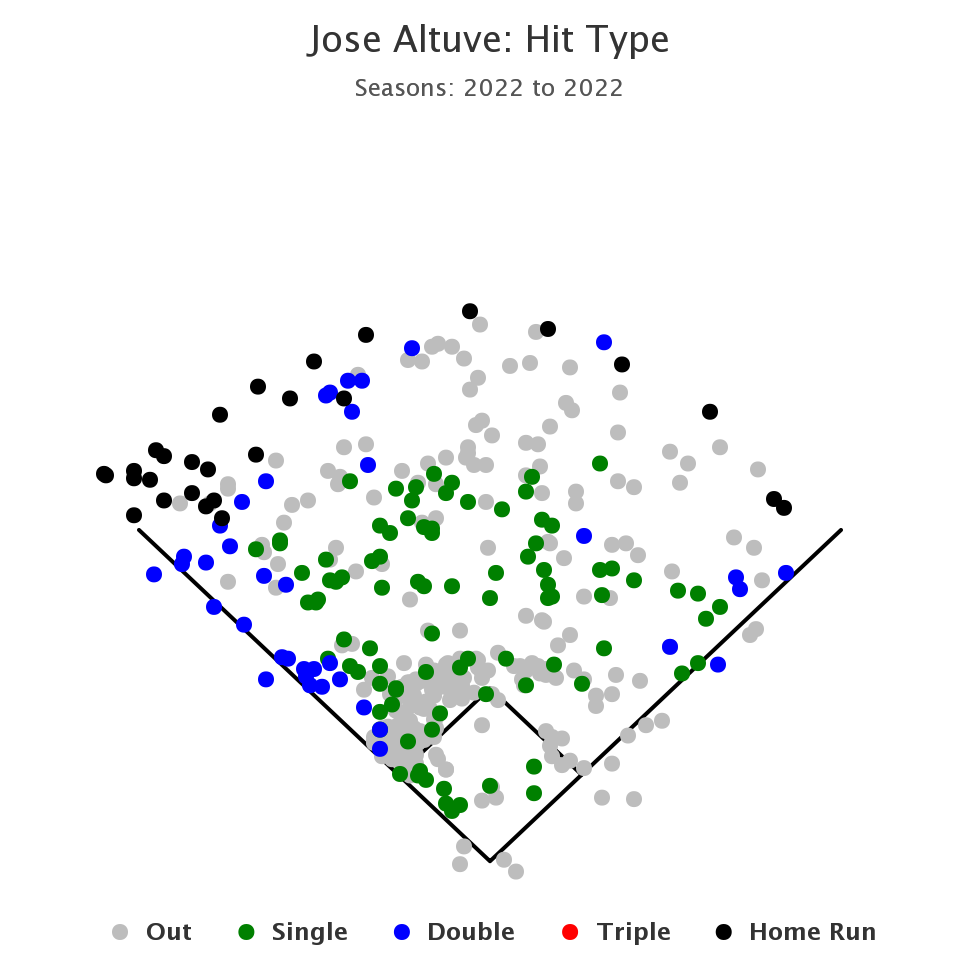 While Altuve is more likely to earn an infield hit by forcing the third baseman to make long throw, Segura seems to earn more of his by forcing the defense to run all over the infield. It's not the most common tactic for racking up infield hits, but it seems to work for Jean.
With their special combination of skills, Altuve and Segura have combined for nearly 500 infield hits in their careers. That's nearly 500 moments of heart-racing excitement, and simply put, I'm really excited for the chance to see another one of those moments in the World Series. There's no more hard-hitting analysis here, no big conclusion. Infield hits are fun, and players who get a lot of infield hits are fun. Sure, I'm looking forward to watching a World Series between two teams with dominant starting pitchers and big power bats, but I'm hoping we get at least a couple infield hits in there too.