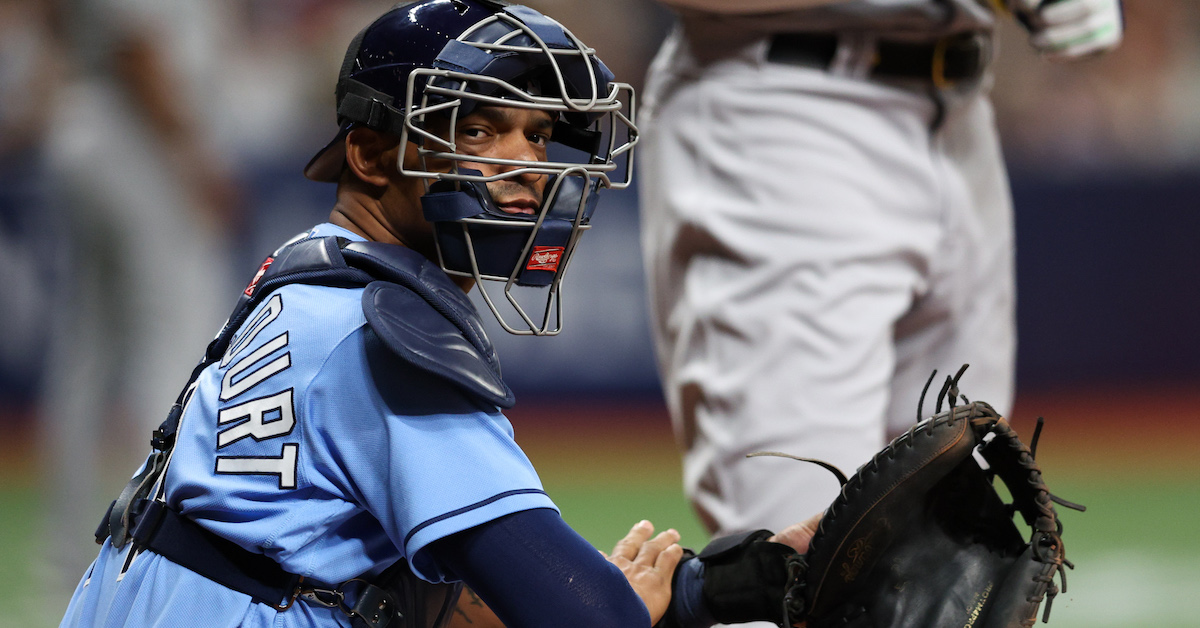 It's time to conclude the series on position player arm strength with the most impressive of them all: catchers. It was a joy covering infielders and outfielders, but it's time for backstops to have the spotlight. They might now throw quite as hard as their position player counterparts, but let's keep in mind that they do what they do out of a squat with no room for error. They can't bobble, hesitate, or mess up their footwork and need to receive the ball and deliver it to second base in less than two seconds.
Let's set some ground rules for the next iteration of this exercise. Baseball Savant sets their default minimum number of attempts to qualify on the pop time leaderboard at five, so we'll stick with that. There's thorough research that explains arm strength as the main component in pop time; because of this, I put strong value into it. Exchange speed still matters, but in this case, it's more interesting to see how a player moves his body to take advantage of his arm strength.
Anyway, after sorting through the top of the leaderboard, I searched for clips of plays where the catcher especially needed his arm or just made so perfect of a throw that I couldn't resist talking about it.
Christian Bethancourt (no. 1 overall, 88.3 mph)
There is a new king on top of the catcher arm strength throne, and his name is Christian Bethancourt. That's not too shocking; he threw in the mid-90s off the mound.
One thing about this particular caught stealing that I find very cool: we get to see how big of a jump Will Brennan got off Corey Kluber. With that jump and a 78-mph sweeper to handle, Bethancourt had no business making this play. The difference is how he perfectly cheats with a slight quarter turn of his torso as he's waiting for the pitch to come in. It's usually difficult to do this move in the heat of the game, but he knew it was the only chance he had to catch the runner.
Typically a catcher would let the ball travel further than this, but Bethancourt's loopy, pitcher-like arm swing means his low transfer is the most efficient for his body and mechanics. After the smooth transfer, he placed a seed right on top of the bag for Wander Franco. Impeccable mechanics with no room for error.
Jorge Alfaro (no. 2 overall, 88.2 mph)
I identify as a Jorge Alfaro super fan; I'm not sure there can be more of a fan of a catcher than I am of him. Ever since this play in 2018, I convinced myself he was the next coming of Ivan Rodriguez. That highlight and this hose of Nolan Arenado perfectly display how incredibly strong Alfaro's arm is.
Arenado's attempt to steal this base is borderline offensive. I don't care how big his jump was; he is too slow to make up for how fast the Padres' backstop can sling a ball to second base. Alfaro's fundamentals are traditional and sound. Because he has such a strong arm, all he has to do is align his feet with second base and let the arm do the rest. On a fastball in and off the plate, he lets the ball travel as deep as he can so he can have a seamless transfer. His delivery was right over the bag, with Robinson Canó providing one of his smooth-as-can-be tags.
J.T. Realmuto (no. 4 overall, 87.5 mph)
This might be the most impressive caught stealing I've ever seen. Pitches in this zone are usually a wash when a player has even a bad jump, but J.T. Realmuto is just different. No other catcher in baseball has posted a pop time under 1.87 since 2019. His top-tier arm strength and lightning fast exchange give him a significant edge over his peers.
On this particular play, Realmuto did something that I'm quite confident I have not seen since I started watching baseball. That he has the body awareness to move through his footwork without stepping on Stuart Fairchild is remarkable, but the ability to make a throw with absolutely no fear of smashing his hand on Fairchild's head is an even more remarkable display of proprioception. He stepped right around him while replacing his feet and delivered a strong throw while perfectly decelerating his arm swing to make sure he didn't put himself in harms way. You wouldn't expect this ball to get anywhere near the bag; somehow, Realmuto delivered a perfect throw and nailed the runner. Truly amazing.
Adley Rutschman (no. 8 overall, 86.3 mph)
If anybody coming for Realmuto's crown as the league's top backstop, it's Adley Rutschman. It wouldn't be right to have a post featuring catcher defense without him; he is a machine back there in every facet, including his rocket arm.
Isiah Kiner-Falefa had a really good jump on this steal attempt, having already covered over two strides before Joey Krehbiel got to his foot plant. Given Kiner-Falefa's 79th percentile sprint speed, Rutschman had to be perfect to nab him. He was indeed.
One thing that I noticed in this throw is that Rutschman's head perfectly locks in on his target after making his jab step. Call me crazy, but this is next-level focus. Like the other throws we've seen, this one soared right over the bag and took no effort on Rougned Odor's part.
Chuckie Robinson (no. 9 overall, 86.3 mph)
Right off the bat, you can see one key difference between Chuckie Robinson's setup and the other catchers featured in this piece. You don't always see it in today's game, but he sticks his rear end up high like you used to see from catchers in the 20th century. This type of setup is heavily dependent on one's hip mobility and flexibility; moving out of this position into a block or throw isn't easy, but Robinson shows that it's perfect for him.
Similar to the other throws we've seen, the odds were stacked against Robinson. Chase Anderson features a big leg kick and long arm swing. On top of that, he had to make a throw on a ball way out of the zone on his arm side. One interesting thing to see is that Robinson still steps back toward the midpoint of home plate; many catchers instead will move to where the ball is. Even so, he still made a perfect throw. That move is mostly preference, and clearly he likes to bring things back to the center and make a straight-on throw.
To me, the most impressive part of this play is the use of Robinson's glove side as an anchor off of which to throw. In my playing experience, this is something I often would neglect, and it would lead to me pulling my throws at times. By reaching out and controlling his center of mass, Robinson is able to make a strong, accurate throw while moving in hyper speed.
What a joy it was to appreciate these throws with you all. Catcher defense will never be talked about enough. Making these moves while enduring the literal pain of catching will always be impressive. As the incoming rule changes will likely put more of an emphasis on stolen bases, catcher arm strength should regain importance. I'm excited to see it happen.