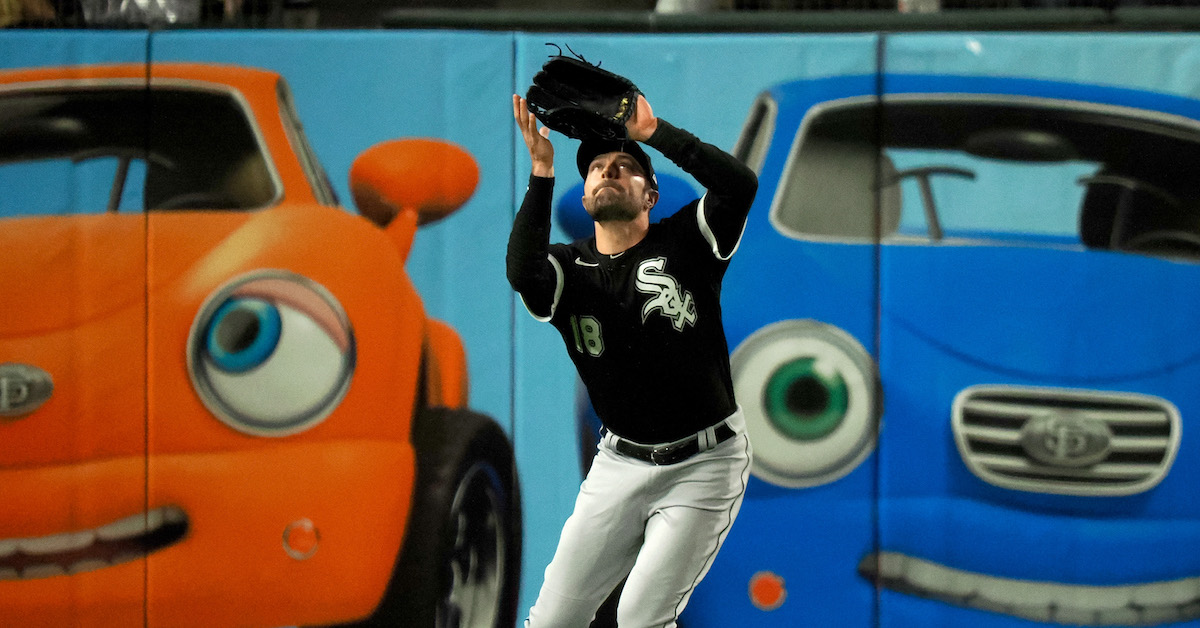 On Saturday, the Mariners were active. Most notably, they inked outfielder AJ Pollock to a one-year, $7 million contract, their largest guarantee of the offseason. Additionally, they swung their second trade with the Brewers this winter, acquiring reliever Justin Topa for fellow right-hander Joseph Hernandez.
While the M's have been busy all offseason, highlighted by three significant trades prior to this one, no one move stands out as the "splash" fans may have been hoping for in order to build on the team's drought-ending 2022 playoff run. Still, the club has added an estimated $23 million in payroll from a variety of sources, seeking to retool an already solid roster across multiple areas. Lately, left field and the bullpen have stood out as the largest holes, and Saturday's two transactions move the Mariners closer to filling them.
Let's start with left field and AJ Pollock. Last year, Mariners' outfielders put up a 111 wRC+, which tied for fifth-best. But their overall performance was dragged down by a middling five Outs Above Average (OAA) mark, which placed them 11th in the majors. This winter, the M's parted with Jesse Winker, their incumbent left fielder whose -10 OAA mark stood out as the sixth worst among all major league outfielders. Dealing him to the Brewers for Kolten Wong, Seattle also managed to shore up a second base need in the process — collectively, the M's put up the majors' third-worst WAR mark at the keystone last year — and the money just about evened out with the Brew Crew's help.
On the other side of the equation, Jarred Kelenic's playing time still stands to benefit the most from Winker's departure. While his highly touted bat has yet to breakout in the big leagues, his defense will almost certainly be an upgrade over Winker's, especially since Kelenic's OAA improved from -3 in 2021 to 1 last year in limited playing time. With his defense serving as a cushion, the Mariners may be looking to give Kelenic one last long look on the strong side of a platoon with Pollock before moving on. Worst case, Pollock can take over full-time if Kelenic stumbles.
On the surface, Pollock is the ideal candidate for this role; at this point in his career, he straddles the line between regular and platoon player. In a starting spot for the White Sox last year, Pollock put up a 92 wRC+, beneath which lay an extreme platoon split: the righty notched a 161 wRC+ against southpaws and stumbled to a 69 mark versus same-handed pitching. This 92-point difference was the fourth-highest among the 227 hitters who had at least 100 plate appearances against both righties and lefties last year. Yet over the course of his career, his splits have been more muted, with a 129 wRC+ against lefties and a 107 versus righties. As recently as 2021, he actually had reverse splits. Is there reason to think his splits will regress to his mean come the 2023 season? Or is the wider gulf here to stay?
Last year, Pollock had 394 plate appearances against righties, his most since 2015. Possibly by virtue of getting more looks at him than usual, northpaws were able to quickly zero-in on a newfound weakness: sliders. Righties threw him more sliders than ever, the first time in his career that their most frequent offering to him wasn't the four-seamer: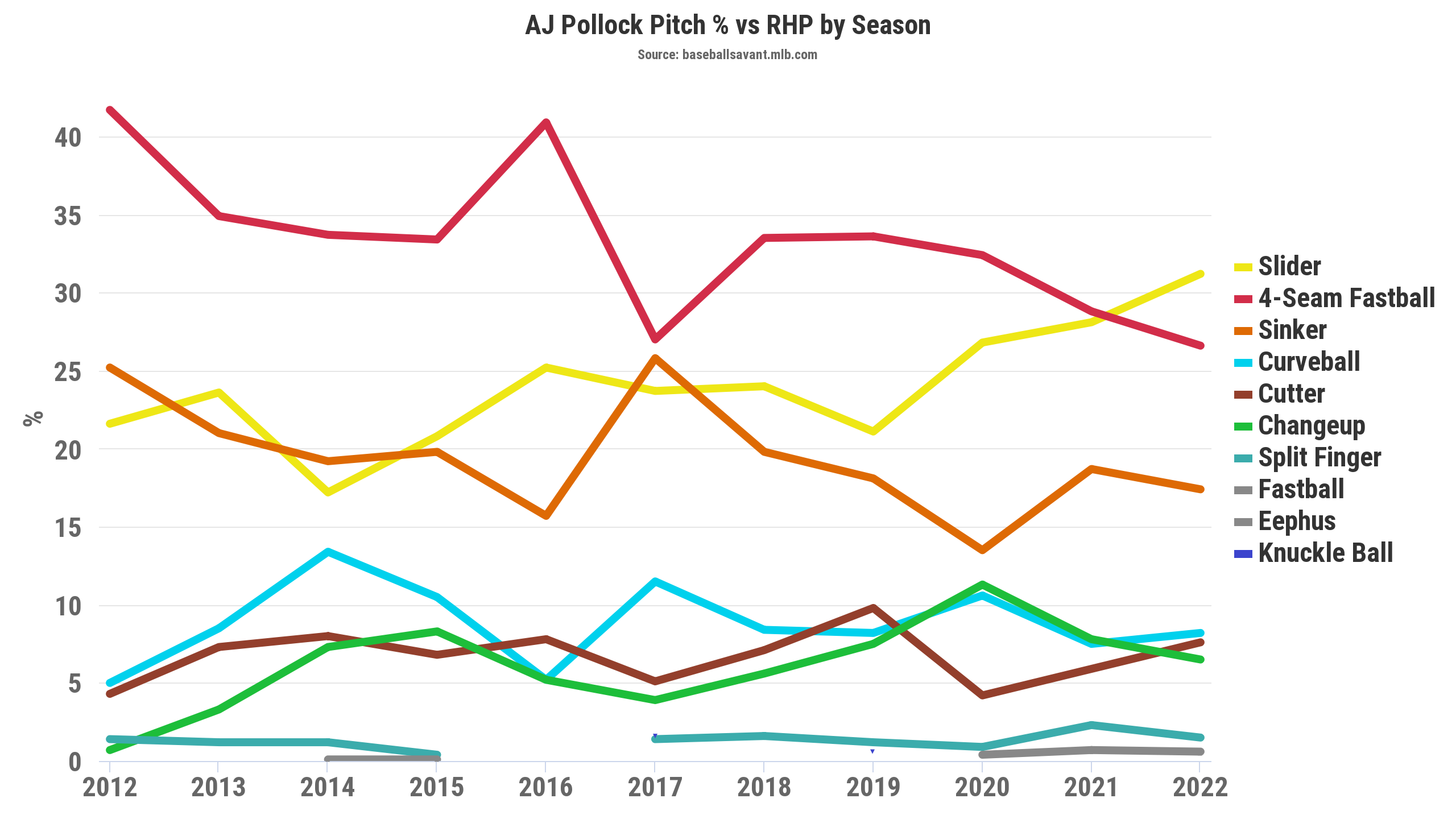 Pollock failed to adjust. He more than held his own against the frisbee in 2021, amassing a .368 wOBA, but saw that mark drop more than 100 points to .245 in 2022 despite the pitch's usage climbing 3.5%. Is this because, in moving from the NL West to the AL Central last year, he would go on to face more elite right-handed sliders? Well, in both 2021 and '22, he had to face exactly four top-25 right-handed sliders (by run value, min. 300 pitches) within his division. Further, on the team level, his divisional opponents fared marginally worse (mean rank of 19.5 out of 30) in right-handed slider run value in 2022 than his '21 divisional foes (mean 14.8). Overall, the sliders didn't behave much differently either:
AJ Pollack Vs. Righty Sliders
| Year | xMov | zMov | MPH | n |
| --- | --- | --- | --- | --- |
| 2021 | 0.53 | 0.12 | 85.03 | 276 |
| 2022 | 0.57 | 0.11 | 84.78 | 433 |
If anything, Pollock actually performed better against better sliders in 2021. It's more likely that, rather than the quality of the sliders changing significantly, it was Pollock who changed; in his age-34 season, father time started to creep up on him. It's encouraging that he posted a 117 wRC+ overall in the second half last year, but I wouldn't bet on a full-season rebound for the now 35-year-old.
Additionally, while he was able to appear in 138 games in 2022, that total marked the second-most of his career, with the most coming way back in 2015. A platoon role just might be the best way to keep him healthy and performing consistently; the starting left field job will certainly be Kelenic's to lose come spring training.
For all of 10 days, the starting spot in left wasn't the outfield corner up for grabs in Seattle. When longtime right fielder Mitch Haniger became a free agent on November 6, the Mariners began what would ultimately be a brief search for his replacement. On the 16th, they received Teoscar Hernández in exchange for hurlers Adam Macko and Erik Swanson.
When you don't have a ton of money to spread around to free agents, the trade market is the prime avenue for upgrades. When you don't have any top 100 prospects, you might have to trade major league talent to land an upgrade. This is the spot the Mariners found themselves in at the beginning of the offseason, and it's probably the reason they had to include Swanson in the deal for Hernández. Thus began the team's game of offseason whack-a-mole.
Tasked with replacing Swanson, whose 1.74 ERA and 1.84 FIP in relief placed ninth- and second-lowest respectively among the 144 relievers with at least 50 innings last year, the Mariners have turned to lower-key signings and now a trade. Their latest acquisition, Justin Topa, has two Tommy Johns in his past and has battled flexor tendon issues over the past two seasons. However, he returned in September 2022 and was sitting 94-97 mph again according to my colleague Eric Longenhagen's recent report. Though his velocity is down from his debut, Topa's power sinker is nothing to scoff at. Eric pegs him as a big league-caliber reliever when healthy, and Steamer agrees, projecting him for 48 innings of 3.90-ERA ball in 2023. Those numbers aren't quite Swansonian, but the Mariners still have Andrés Muñoz and Paul Sewald at the back of the 'pen, with a supporting cast that includes Diego Castillo and Matt Brash.
The Mariners have done what they can with their limited resources. It was worth sacrificing 1-1.5 reliever WAR in Swanson to land an above-average full-time right fielder; it was worth spending $7 million on AJ Pollock, who despite his age-related decline, should at the very least be good for some lefty mashing. They have parted with prospects — the lefty Macko (likely a 45+ Future Value in our next update) in the Hernández deal and the righty Hernandez (a 40 FV) for Topa — but they're both more in the "wait-and-see" than the "can't-miss" category. Even if they were can't-miss guys, last summer's trade for Luis Castillo shows that the Mariners' fanbase is hungry for playoff success even at the expense of talents like Noelvi Marte. And based on their savvy retooling, I think there's more playoff success to come next season.