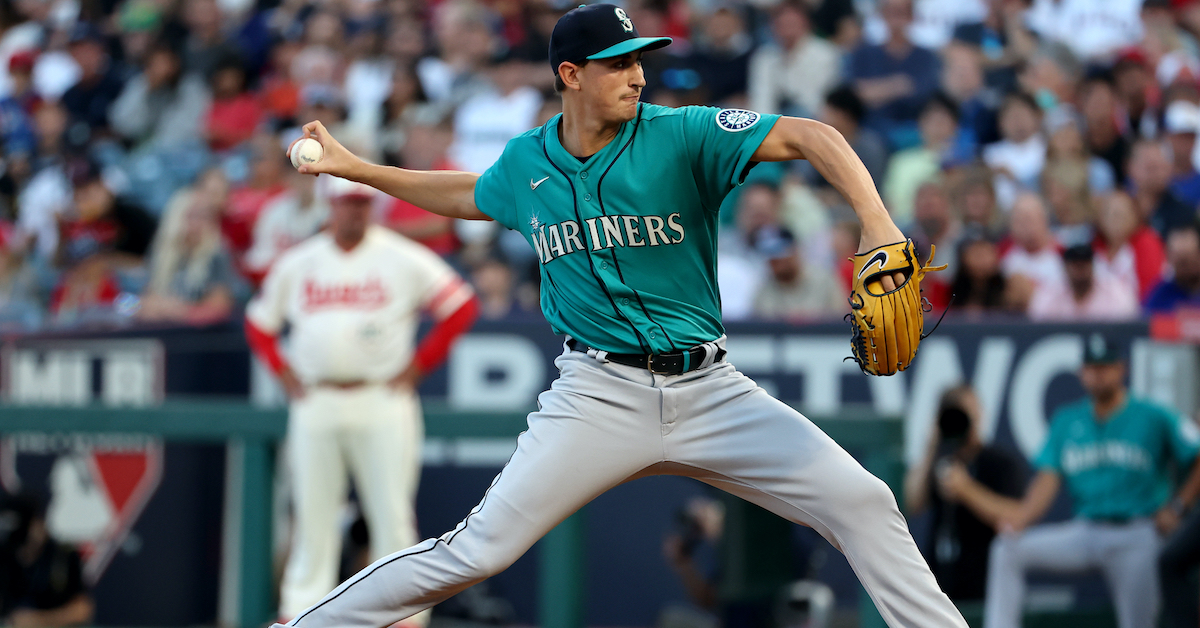 The Mariners don't necessarily have a specific model when it comes to drafting and developing pitchers. But they do favor certain traits, and a pair of talented young right-handers serve as prime examples. One of them is George Kirby, whose 3.0 WAR this season was tops among American League rookie hurlers. The other is a 2020 fifth-round pick who emerged as arguably the most promising arm in the system.
"Taylor Dollard was identified by our pitching strategists as an interesting mover," Mariners President of Baseball Operations Jerry Dipoto said of the 23-year-old right-hander. "We do movement assessments on draft-eligible pitchers, and from there we identify picks in the middle rounds that we think we can really do something with. Dollard was very high on our list that year."
Plus command was, and remains, the Cal-Poly product's primary selling point. Dollard waked just 2.2 batters per nine innings as a collegian, and this year, he issued 31 free passes in 144 innings with Double-A Arkansas. His other numbers were equally impressive: 106 hits, 131 strikeouts, and a 16–2 record with a 2.25 ERA. Buoyed by that performance, he climbed to No. 3 in our Mariners top prospect rankings.
Tom Allison, who at the time was Seattle's VP of Scouting, played a key role in bringing Dollard on board. According to Dipoto, the longtime scout and executive "had an itch" for the right-hander and was "probably the first one that rang the Taylor Dollard bell."
"Stuff-wise, he's got a pretty good slider and a very usable fastball," Dipoto told me during last week's GM Meetings. "He's 92–94 [mph] and the carry is average-ish, but he can dot it up. He can really locate. And along with the awesome command, he's got a ton of courage. Even on a day where he's off, he's going to fight you. He knows he's good."
Kirby is even better. Drafted 20th overall in 2019 out of Elon University, the 24-year-old right-hander is coming off of a rookie season where he posted a 3.39 ERA and a 2.99 FIP over 130 innings. Even stingier with walks than Dollard, he issued just 22 free passes while fanning 133 batters. That he had a higher strikeout rate against a higher level of competition is a testament to a more overpowering arsenal, which is what most differentiates him from his potential future teammate.
"Dollard is more of a pitchability/command guy, whereas George is those things with high-end power," Dipoto said. "Taylor is more the average-to-slight-plus weapons with an out-pitch slider. Pitching acumen is what really stands out as his best tool."
Pitching acumen is a trait that the Mariners look for in the draft. Whereas many organizations tend to prioritize plus raw stuff and from there endeavor to develop better pitchability and command, Seattle sees value in doing the opposite. The Guardians stand out in that respect, too. Shane Bieber and Aaron Civale are especially notable; they entered pro ball with a good feel for their craft, then proceeded to improve the quality of their offerings within an A-plus pitching development program.
"It's definitely an approach," said Dipoto. "It's part of what led us to George Kirby. He had very good stuff on draft day that turned into elite stuff once he got into our system. Our player development and pitching coaches deserve a ton of credit, but a lot of it is just George, with his curiosity and work ethic. That said, it was his pitchability, the command, the consistency, the quality of the delivery — again, we do the movement assessments — are the things we're looking for. We feel like we can take good stuff and turn it into great stuff. We feel like we can take average stuff and turn it into plus stuff. It's hard to look at a pitcher who only has stuff and say we're going to make him into 'a guy.'"
Guardians President of Baseball Operations Chris Antonetti was reticent to talk about his organization's approach when I broached the subject with him at the GM Meetings. Ditto my suggestion that, thanks to technological advancements and improved training practices, it is easier to improve stuff than it is to tune a pitcher's command.
Conversely, Dipoto pulled no punches when asked if he believes the latter to be true.
"Definitely," he replied. "The hardest thing with young pitchers with big arms is reining in command and developing consistency. But if you can take a guy with, on the 20-to-80 scale, 50 stuff, and he has 70 pitchability/command, and just turn the dial a half a degree… 55 stuff with 70 pitchability and command is awesome."