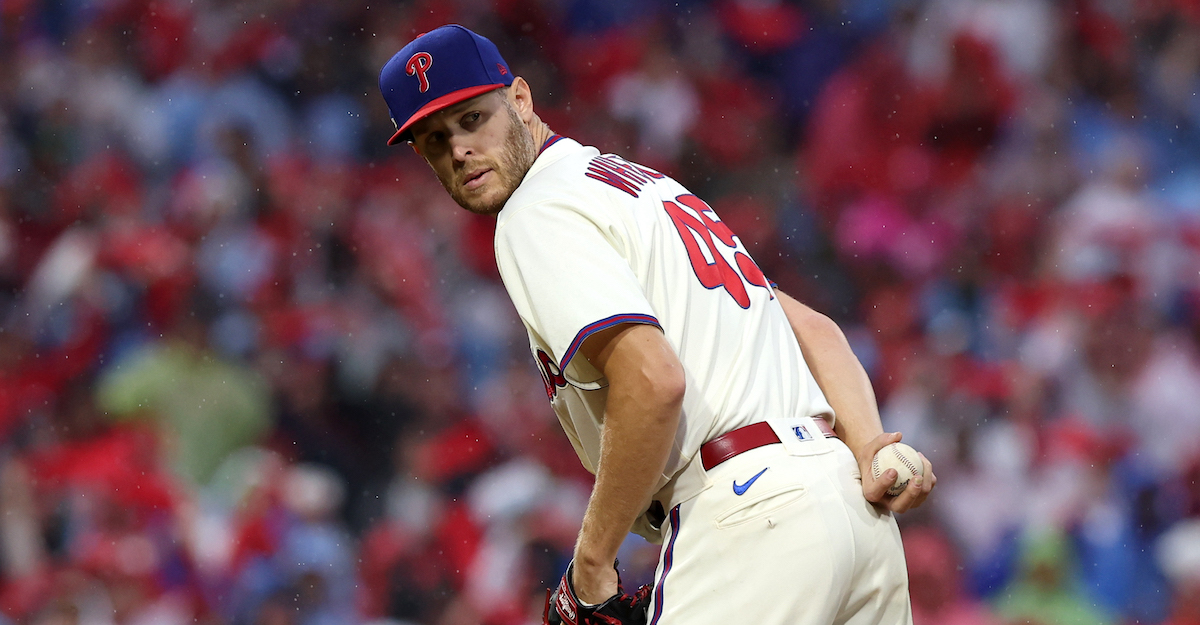 Every October, I eagerly await the latest installment of Jay Jaffe's series about the state of starting pitching in the playoffs (his look at relievers is also a highlight). Last year, that waiting was almost rubbernecking; I wanted to see how absurdly short the postseason starts had gotten, and I wasn't disappointed – thanks, opener Corey Knebel. This year, I was excited to see a rebound because I'm a sucker for playoff pitching duels. Again, I wasn't disappointed; as Jay noted, start length has exploded this year, to the highest mark since 2019 and second-highest since '16.
That tracks perfectly with my experience of this year's slate of games. Sure, there were some games like the deciding Padres/Phillies clash where neither starter escaped the first inning, but for the first time in ages, aces pitching into the seventh has felt more like the rule than the exception this year. Yu Darvish totaled 25 innings across four starts. Zack Wheeler has amassed 25.1 innings in four starts, and he's coming back for more. Framber Valdez and Joe Musgrove have each averaged more than six innings per start. Six is the new seven; in modern baseball, these qualify as workhorse performances.
You should read Jay's article if you haven't already. It's one of my favorite recurring features — it's that and my postseason managerial report cards, except with Jay's series, I get the great pleasure of reading instead of having to pore over every game log countless times myself. When you're done reading Jay, though, I have a treat: I got my hands on a database of postseason game logs, which means I can do some fun permutations and take a closer look at this season's postseason starters.
A quick aside: if you want to work for a baseball team, learn SQL. It's far from intimidating. I didn't get far past writing "Hello world" in college, and I haven't taken any boot camps or had intensive training since. I still learned the bare bones of SQL in a week, and every time I need to come up with some new way of sorting data, I Google it and spend five minutes learning a new skill that I can keep in my back pocket for future searches. It turns many seemingly difficult queries into simple ones; if you want to answer surface-level questions about a pile of data, learning SQL is the easiest way to do it. As a bonus, I'm nearly positive that all 30 teams have wonderful SQL databases you can play around with; I imagine that you'd be lost without it, in fact.
Anyway! David Appelman procured a database of postseason game logs, and I got to tinkering. Jay's article noted the rebound of postseason start length. That's undoubtedly true. What's also true is that the starters who have appeared in these playoffs went longer in their starts in the regular season than any recent cohort. Here's a table of postseason start length by year, as well as the weighted average start length of those same starters in the regular season. For example, Justin Verlander went 6.25 innings per start this year and has made two playoff starts, so I'd note two 6.25's. Wheeler has made four starts and averaged 5.88 innings per start in the regular season, so I'd note four 5.88's. Add them all up, divide, and you get the regular season implied innings per start:
Innings per Start, 2002-22 Playoffs
| Year | IP/GS | RS Implied IP/GS | Gap |
| --- | --- | --- | --- |
| 2002 | 5.31 | 6.27 | 0.96 |
| 2003 | 6.01 | 6.41 | 0.40 |
| 2004 | 5.30 | 6.19 | 0.89 |
| 2005 | 5.91 | 6.53 | 0.62 |
| 2006 | 5.70 | 6.05 | 0.35 |
| 2007 | 5.26 | 6.24 | 0.98 |
| 2008 | 5.49 | 6.23 | 0.74 |
| 2009 | 5.83 | 6.21 | 0.38 |
| 2010 | 6.01 | 6.43 | 0.42 |
| 2011 | 5.27 | 6.45 | 1.18 |
| 2012 | 5.68 | 6.29 | 0.61 |
| 2013 | 5.75 | 6.35 | 0.60 |
| 2014 | 5.56 | 6.33 | 0.77 |
| 2015 | 5.51 | 6.31 | 0.80 |
| 2016 | 5.11 | 6.23 | 1.12 |
| 2017 | 4.73 | 5.99 | 1.26 |
| 2018 | 4.68 | 5.66 | 0.98 |
| 2019 | 5.14 | 5.72 | 0.58 |
| 2020 | 4.40 | 5.08 | 0.68 |
| 2021 | 3.96 | 5.22 | 1.26 |
| 2022 | 5.02 | 5.82 | 0.80 |
I started in 2002 for two reasons: that's how far back my data goes, and it helps to illustrate that pitchers going shorter in the playoffs isn't a new phenomenon. In fact, this year's "gap" – the difference between what we'd expect playoff starters to throw if they hit their regular season numbers and what they actually threw – is bang on the 20-year average. Starters have always pitched fewer innings with greater intensity in the playoffs. That's logical; with more off days to rest bullpens, more starters pitching on three days' rest, and every rally feeling like a potential season-altering swing, managers expect less quantity and more quality from their starters.
In case you're not great at looking at monumentally large tables of similar numbers, here it is in graphical form: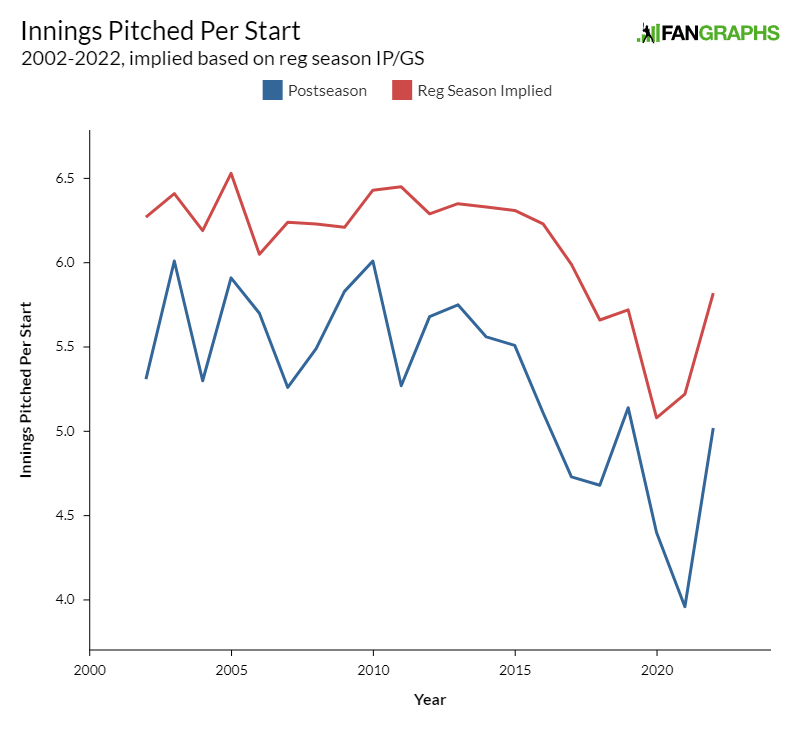 What's happening this year? We got the good starters, basically. You might think that would mean an absurdly low run-scoring environment; after all, it seems like this postseason has been particularly ace-heavy. You'd be wrong, though, after adjusting for the league. This season's playoff starters posted a weighted average 3.03 ERA in the regular season. That's the lowest number on record. Adjust for league-wide scoring environment, though, and that advantage disappears. Playoff starters this year compiled an ERA 1.02 runs lower than the major league average. Just last year, that gap was 1.27 runs, and it's been higher than a run every year since 2015. Every year, playoff starters are good, naturally enough.
What about openers? They've definitely screwed these charts up; the trend of going to a bullpen game or some variation thereof has gained steam in recent years. Thanks to a little database magic, though, I can simply snap my fingers and remove openers from the dataset. Let's look at these innings pitched per start numbers again, this time starting in 2015 and ignoring starts by any pitchers who averaged fewer than two innings per start in the regular season:
Innings per Start, 2015-22 Playoffs
| Year | Postseason | Reg Season Implied | Gap |
| --- | --- | --- | --- |
| 2015 | 5.51 | 6.31 | 0.80 |
| 2016 | 5.11 | 6.23 | 1.12 |
| 2017 | 4.73 | 5.99 | 1.26 |
| 2018 | 4.74 | 5.73 | 0.99 |
| 2019 | 5.24 | 5.84 | 0.60 |
| 2020 | 4.47 | 4.22 | -0.25 |
| 2021 | 4.22 | 5.59 | 1.37 |
| 2022 | 5.02 | 5.82 | 0.80 |
Note: Openers Removed
Now you can see a big difference between 2021 and '22; even if you strip out the Knebels of the world, last year's pitchers had unusually short stints. That's partially because they got beat up. Last year's starters, again excluding openers, posted the highest playoff RA9 since the notably wacky 2011 season. It's also because this year's playoff starters just displayed more stamina in the regular season. In other words, this year's playoffs have seen average scoring against starting pitchers who already went deep into games.
One takeaway that I have from all of this: we really are seeing amazing pitching this postseason, just like we do every year. This year's group had a 3.03 ERA, as I mentioned, but the last time we had a set of postseason starters post an aggregate regular season ERA above 3.50 was 2009. Teams have realized that they should put their very best foot forward in the playoffs; they're handing the ball to the best and brightest more often, even as they ask those pitchers to do less per game.
Another takeaway? There's a bit of a paradox at play here. Everyone in the playoffs is above average, a real-life Lake Wobegon effect. Playoff starters are really good every dang year. There's just one problem: playoff batters are also really good every dang year! That means that both batters and pitchers underperform their regular season numbers, on average; they're facing incredibly difficult competition in the aggregate.
Take this year's starters. That 3.03 ERA roughly splits the difference between Corbin Burnes and Darvish in 2022 numbers; imagine looking down a list of projected playoff starters and seeing every team starting one of those two in every single game. That's what it has worked out to. Those starters – again, those really good starters – have posted a 3.85 ERA in their playoff starts, more like 2022 Pablo López or Jameson Taillon. But hitters have the same problem; that's how you can end up with a postseason chock full of powerful offenses, yet with teams scoring only 3.64 runs per nine innings.
Starting pitchers are staying in longer, and that's great. Sadly, though, it's less a case of a rising tide lifting all boats and more a matter of having some really great individual performers. Adding a team with Wheeler and Aaron Nola to the playoffs boosts aggregate starter innings. Having the Rays depart after just two games boosts aggregate starter innings, too; other than Shane McClanahan, they don't exactly feature many starters who go late into games. Fans of long starting pitching outings have won a battle this year, but I don't think they've won the war. We'll have to see how next year looks before declaring victory.