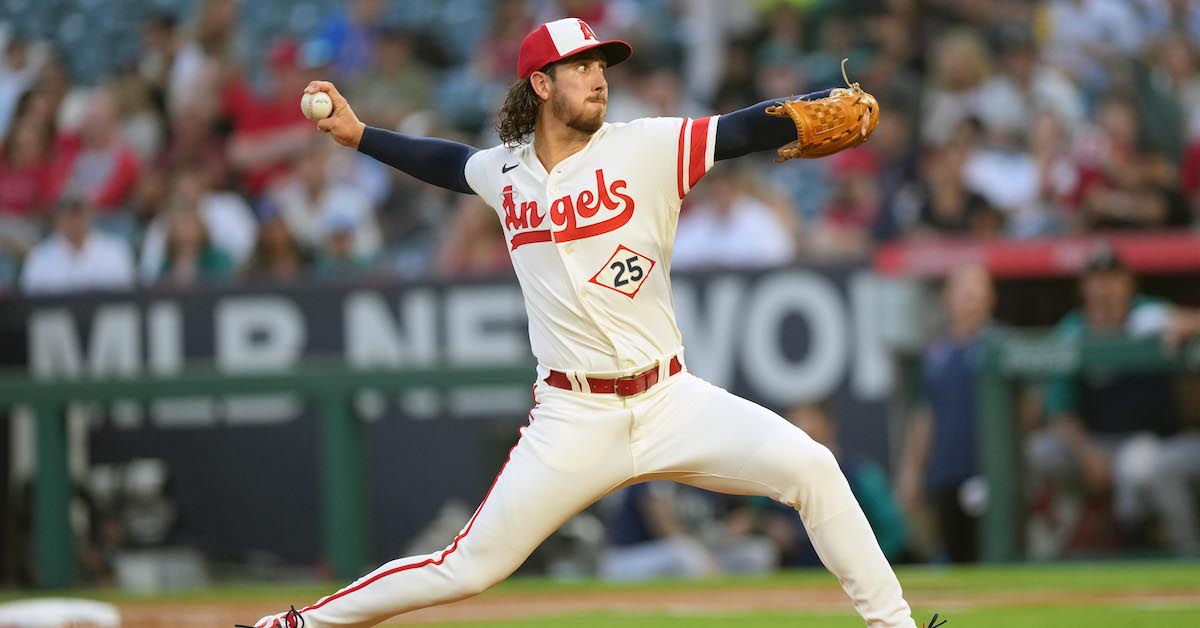 Stop me if you've heard this one before: the Detroit Tigers signed a veteran starting pitcher with (a) experience as a reliever and (b) a troubling injury history to a single-year deal worth (up to) $10 million. Two weeks after signing 31-year-old Matthew Boyd to such a contract, the Tigers came to terms with soon-to-be 31-year-old Michael Lorenzen on a similar deal. Lorenzen will make $8.5 million guaranteed, with the chance to earn an additional $1.5 million in performance incentives.
One year and $8.5 to $10 million is just what you'd expect for Lorenzen, who was worth 1.0 WAR last season and projects to be worth another 1.0 WAR (per Steamer) in 2023. When he was on the mound, he was a league-average starter in 2022, with a 4.24 ERA and a 4.31 FIP. Unfortunately, a shoulder strain kept him out for two months in the middle of the year. He has yet to prove he can last a full season in a starting role.
Lorenzen was a closer in college, but the Cincinnati Reds saw his potential as a starter and stretched him out as such. Then he struggled in the role in his rookie season, and after an elbow injury kept him out for much of his sophomore campaign, he returned to the bullpen. Not one to be easily discouraged, Lorenzen advertised his services as a starting pitcher when he reached free agency last winter. The Angels took him up on his offer and invited him to join their six-man rotation for the 2022 season. It was a good landing spot for a pitcher who had barely worked as a starter since 2015:
Michael Lorenzen's Workload 2015-21
| Season | Games | Games Starts | IP |
| --- | --- | --- | --- |
| 2015 | 27 | 21 | 113.1 |
| 2016 | 35 | 0 | 50.0 |
| 2017 | 70 | 0 | 83.0 |
| 2018 | 45 | 3 | 81.0 |
| 2019 | 73 | 0 | 83.1 |
| 2020 | 18 | 2 | 33.2 |
| 2021 | 27 | 0 | 29.0 |
The Angels did not, however, take Lorenzen up on his other offer: in addition to starting ballgames, he wanted regular plate appearances and reps in the outfield. He had not been a two-way player since 2019, when he played 89 innings in the outfield and hit .208/.283/.313. One might have thought the Angels were the perfect team to give him that opportunity, but in hindsight, it was a bit of a pipe dream. The Angels entered the season with a strong outfield alignment of Mike Trout, Taylor Ward, and Brandon Marsh, and they certainly didn't have any at-bats to spare at DH. By the time Trout was injured and Marsh was traded, Lorenzen was wasting away on the injured list.
As it turns out, focusing on one aspect of his game was the smartest choice for Lorenzen, and the man himself seems to agree. "Now that I am a starter, I'm pretty happy about that," he told the Orange County Register in April. "Of course, if they want me to hit, I'm willing to do it, but it's not something that I'm fighting for."
After years spent mainly in the bullpen, Lorenzen made 18 starts in 2022 and looked more than capable while doing so. By WAR, it was the second-best season of his career. Any time he might have spent training at the plate would only have taken away from time spent refining his pitch repertoire.
To that point, Lorenzen clearly put a great deal of work into his pitches this season. Back in April, Jake Mailhot wrote about Lorenzen's return to the starting rotation and how he was adjusting his repertoire to find success. Yet Lorenzen wasn't done making changes – not even close. His pitch mix morphed as the season continued, and many of the adjustments Jake wrote about completely disappeared. The sinker, Lorenzen's most-thrown pitch in April, became less and less of a factor. By the end of the year, he was using it only 8% of the time. His slider, meanwhile, lost about four inches of horizontal movement from April to September. The first clip here is from April 18, while the second is from September 9:
Lorenzen's primary pitches also changed throughout the year. From April to June, his go-to offering against left-handed batters was the four-seam fastball, but his changeup earned a bigger role as the year progressed. By September, he was throwing the change to lefties nearly half the time: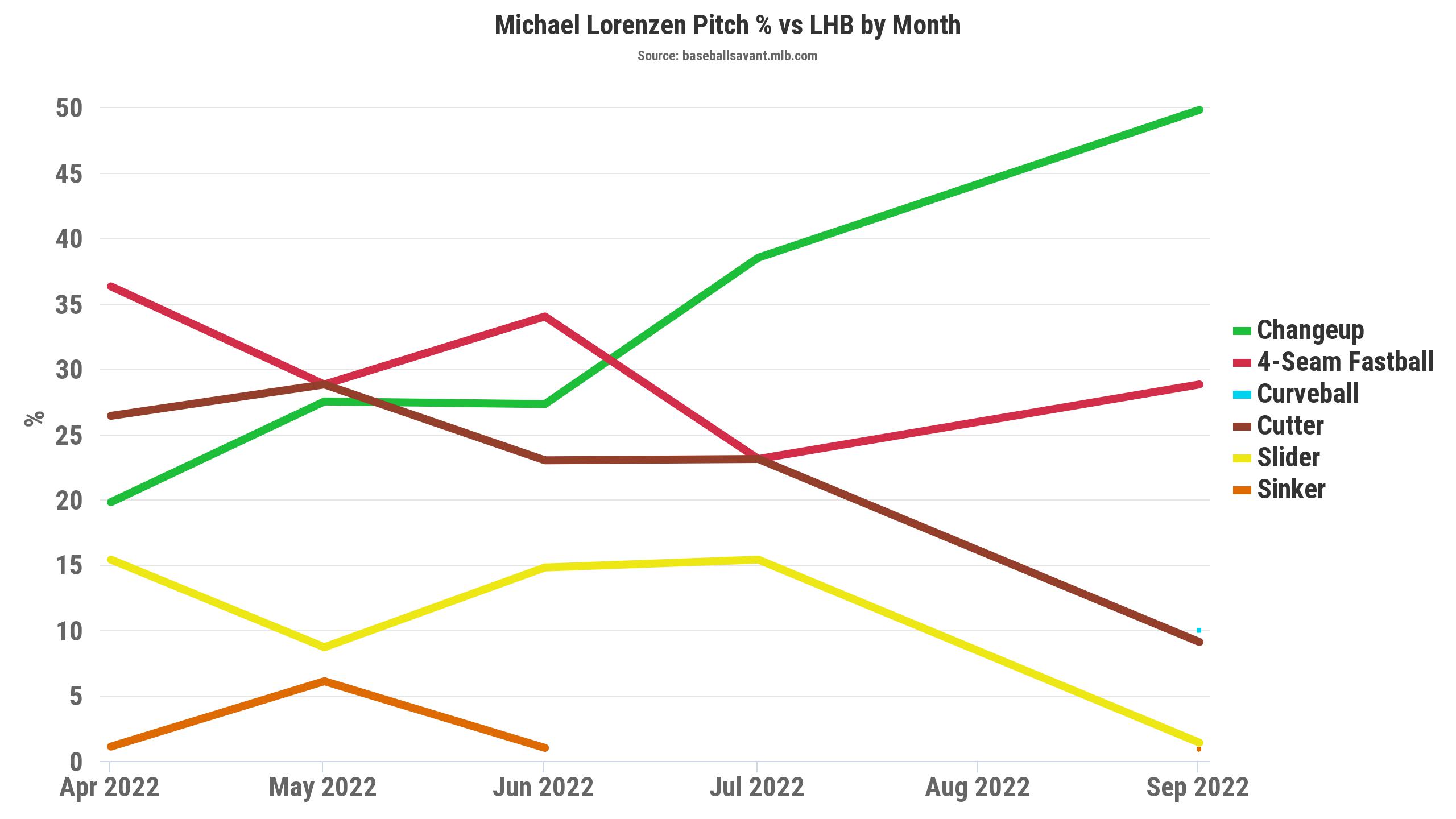 Similarly, his sinker was his primary pitch against righties early on, but his slider overtook it by season's end: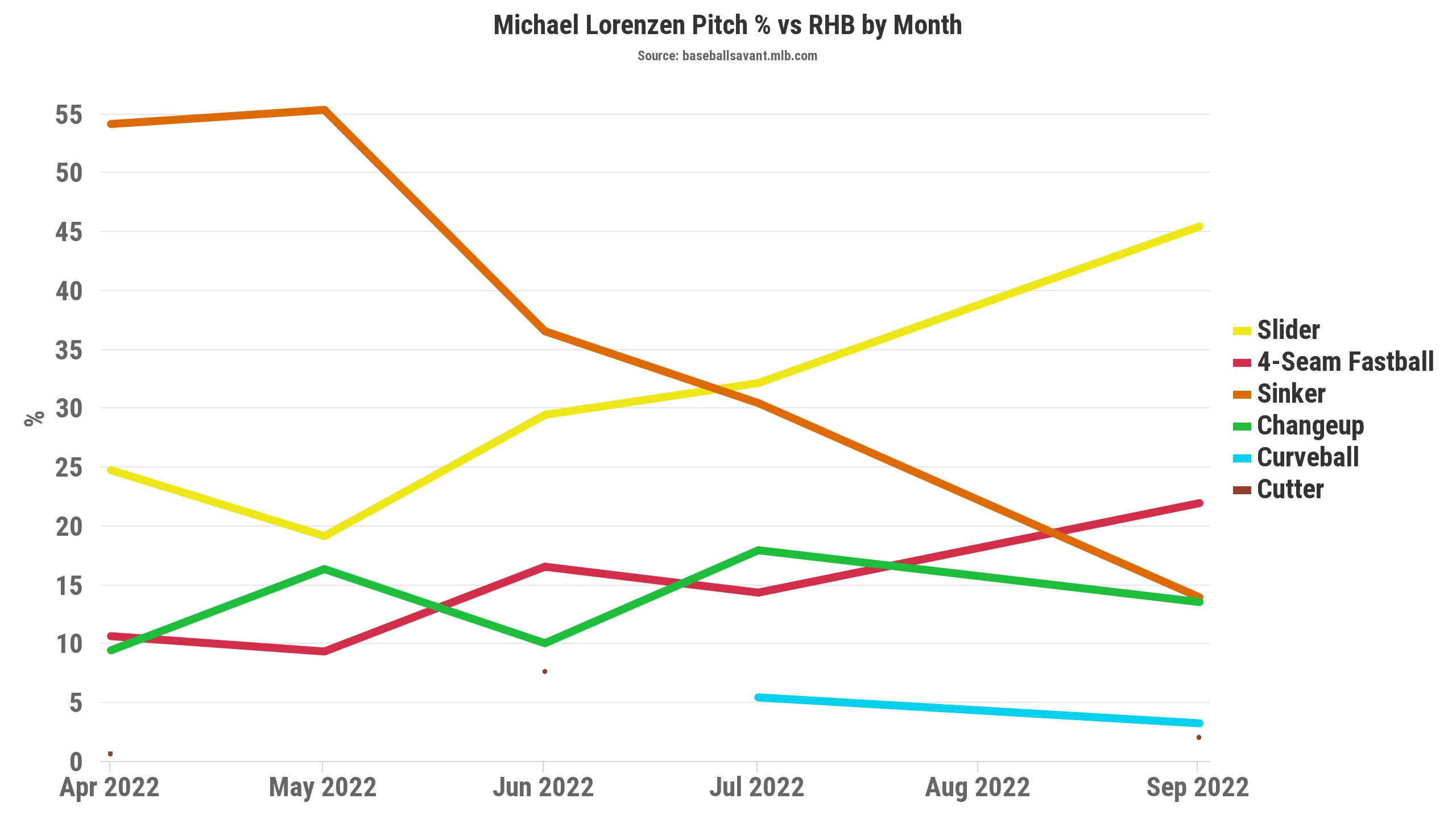 Lorenzen also vastly reduced his cutter usage and adding in a curveball. Until September, he had thrown just five curveballs all year. Over his final five starts, he threw 30. As for his individual pitches, Lorenzen added spin to every one of his offerings throughout the season, and he also started throwing a noticeably slower changeup. All this to say, late-season Lorenzen was a vastly different pitcher than his early-season counterpart. He changed his approach, and he had better outings as a result:
Michael Lorenzen by Month
| Months | GS | IP | K/BB | ERA | FIP | xFIP |
| --- | --- | --- | --- | --- | --- | --- |
| April-July | 13 | 71.0 | 1.83 | 4.94 | 4.46 | 4.42 |
| Sept/Oct | 5 | 26.2 | 2.14 | 2.36 | 3.90 | 3.60 |
Lorenzen did well to concentrate on his pitching in 2022. He saw especially positive results in September, and he'll look to build upon that success in a healthy 2023 season. It's probably best if he continues to resist the call of the bat – even if he has a much better chance of cracking the lineup with his new team. Lorenzen's career OPS (small sample size warning) is higher than the Steamer projections for half of Detroit's starting lineup:
Tigers Projected Lineup (and Michael Lorenzen)
*Career OPS
It's funny that I find myself advocating against Lorenzen, the two-way player. I promise I'm not anti-fun! In fact, I was inspired to write about him in the first place precisely because of his experience on both sides of the ball. A little part of me was hoping to find an argument that might compel him to pick up the bat once again. However, the more I learned about his 2022 season, the more invested I became in Lorenzen, the one-way player. He spent the year altering his approach and refining his individual pitches, and the season ended before we could tell if he found a pitch mix to stick with.
That being the case, I look forward to watching his development continue into 2023. With the Tigers, Lorenzen should have a low-stress environment to tinker, adjust, and grow as a starting pitcher. If he's happy with the approach he took in September, I'm interested to see how it plays out over a full season. And if he isn't done adjusting, I'm excited to keep up with whatever changes he makes next.