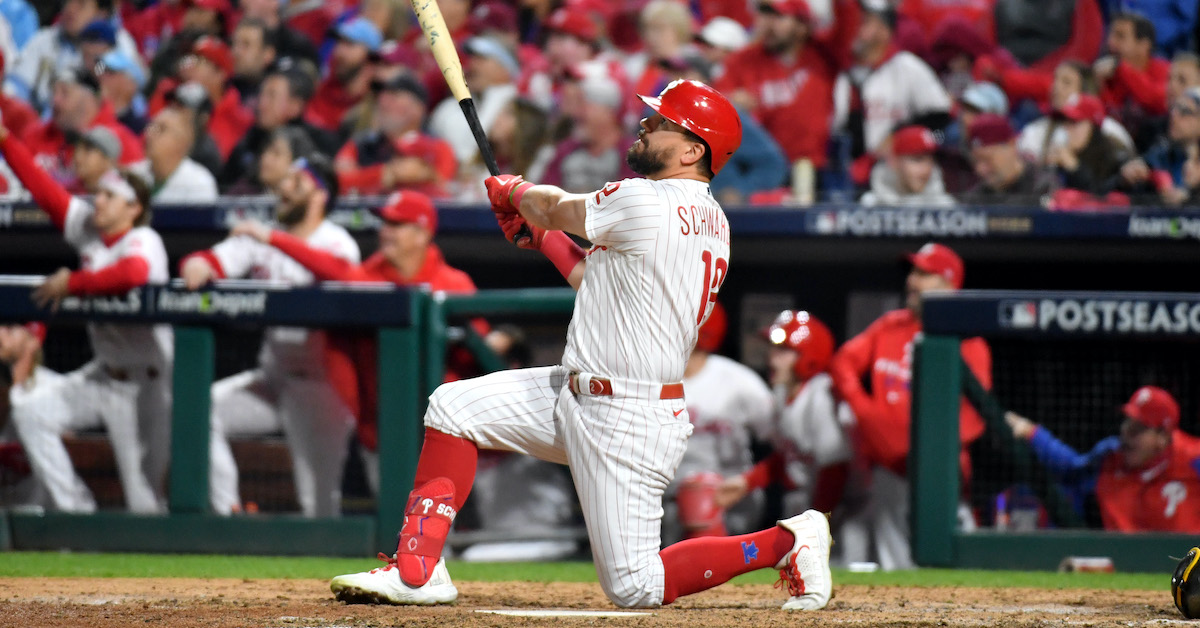 In this year's regular season, games took a pretty pronounced step away from three true outcomes hitting. Home runs dropped from 3.3% of plate appearances in 2021 to 2.9%, walks from 8.7% to 8.2%, and strikeouts — this one in part thanks to replacing nearly 5,000 pitcher plate appearances with designated hitters — fell from 23.2% to 22.4%. All told, the percentage of plate appearances winding up in one of these results dropped 1.7 percentage points, from 35.1% to 33.4% — the most profound drop since 1988.
There are a lot of theories as to why this could be happening, from the universal designated hitter to more changes in the balls to humidors, but the fact is, after this figure dropped nearly one percentage point from the pandemic-shortened 2020 season to '21, this year marks the second of a league-wide trend away from the trio. Which makes it all the more fun that when the Phillies and Astros take the field in Houston tonight for Game 1 of the World Series, it will be National League home run and strikeout champion Kyle Schwarber digging in to lead off the Fall Classic.
In his first season in Philadelphia this year, Schwarber was as much of a three true outcomes hitter as there was. No other player this season finished in the 90th percentile or above in home run rate and walk rate and in the bottom 10th in strikeout rate. That isn't to say there aren't other players in that mold; indeed, there are many. Giancarlo Stanton and Eugenio Suárez hit 31 home runs apiece and both finished in the bottom 10% in strikeout rate but landed in the second decile in walk rate. Max Muncy, who led off a World Series in 2018, leans pretty heavily in that direction. Matt Chapman, Daniel Vogelbach, and Joey Gallo all fit the bill to some degree, the latter most prototypically in previous seasons. But in 2022, nobody took it to the extreme that Schwarber did; he hit more home runs than anyone other than Aaron Judge, led the majors with 200 strikeouts, and finished sixth with 86 walks. While about a third of PA league-wide ended in one of the true outcomes, just about half — 49.6% — of Schwarber's did.
These types of hitters aren't the types you tend to see in the lead-off spot, and much has been written about the idea of power at the top. But Schwarber at the head of the lineup has become a familiar sight. It started in Chicago with Joe Maddon, who tried Schwarber at the top of the order to start the 2017 season after the World Series run, explaining, "If you don't want to pitch to him, then the guys coming up behind are really pretty interesting." Schwarber started slow that year, and the experiment was scrapped. But when Maddon went back to it two years later, he provided a bit of a power spark for the struggling Cubs, hitting 12 home runs, including five to lead off games, in his first 38 starts in the spot.
Last year, Nationals manager Dave Martinez moved Schwarber to the leadoff spot midseason, and the power stroke returned: 16 homers in 18 games, including seven to lead off the game. After he was dealt to Boston at last year's deadline, Alex Cora had Schwarber lead off in eight of 11 playoff games. After landing with the Phillies in free agency, Joe Girardi and then Rob Thomson have kept him in the top spot for the majority of the season and through the Phillies' three postseason series.
Over the last two seasons, despite the changes of scenery and lineup shuffling at the whims of four different managers, Schwarber seems to have developed even deeper into his identity as a hitter. A patient power hitter since his days as a Cubs prospect, he's being more selective now than he ever has, leading to more hard contact in the air and less on the ground. The result has been the strongest season of his career last year and a worthy follow-up in 2022, putting him in position to lead the Phillies (both literally and figuratively) into this World Series.
This regular season, Schwarber swung at just 40.3% of pitches, the lowest rate of his career and seventh-lowest in the majors, continuing a downward trend in the last three seasons. As a result, he watched more strikes go by than ever before in his career. But when he saw his pitch, he was able to get a hold of it more often than almost anybody else. In 2022, Schwarber set a career high with 76 barrels, 23 more than his previous career high in 2019, barrelling up 20.1% of his batted balls. Both the raw number and the rate were good for third in the majors, after Judge and Yordan Alvarez; no player other than those three recorded barrels in as many as 17% of their PA. Of Schwarber's balls in play, 54.4% were hard hit, and he finished the season with an average exit velocity of 93.3 mph, also third-best in the majors.
2022 Top Three in EV, Barrels, Barrel %, and Hard Hit %
| | Name | Team | EV | Barrels | Barrel% | HardHit% |
| --- | --- | --- | --- | --- | --- | --- |
| 1 | Aaron Judge | NYY | 95.8 | 106 | 26.2% | 60.9% |
| 2 | Yordan Alvarez | HOU | 95.2 | 78 | 21.0% | 59.8% |
| 3 | Kyle Schwarber | PHI | 93.3 | 76 | 20.1% | 54.4% |
While Schwarber got the barrel of the bat to the ball at career-best rates, he also put the ball in the air a ton this year — a quality with pros and cons. He led both leagues with fly balls accounting for 51.1% of his balls in play, and his 24.0% HR/FB rate ranked third behind — you guessed it — Judge and Alvarez. This marks a profound shift in Schwarber's batted ball profile even from last year; from 2021 to '22, his FB% increased from 40.1% to 51.1%, and his average launch angle from 15.4 degrees to 19.2. It has cost him in some ways; as a side effect, Schwarber has ended up with more air outs in 2022. In return, he set a career high in home runs, and 70 of his 126 hits (55.6%) have gone for extra bases, compared to 51 of 106 (48.1%) in 2021.
Schwarber's Batted Balls
| Season | Events | EV | LA | Barrel% | FB% | HR/FB |
| --- | --- | --- | --- | --- | --- | --- |
| 2015 | 156 | 91.9 | 15.5 | 12.2% | 42.3% | 24.2% |
| 2016 | 2 | 101.6 | 3.1 | 0.0% | 0.0% | 0.0% |
| 2017 | 272 | 89.6 | 18.6 | 14.3% | 46.5% | 24.0% |
| 2018 | 291 | 90.9 | 12.3 | 12.4% | 37.1% | 24.5% |
| 2019 | 379 | 93.5 | 15.5 | 14.0% | 42.2% | 24.1% |
| 2020 | 125 | 92.8 | 8.8 | 11.2% | 34.7% | 25.6% |
| 2021 | 274 | 92.3 | 15.4 | 17.5% | 40.9% | 28.6% |
| 2022 | 379 | 93.3 | 19.2 | 20.1% | 51.1% | 24.0% |
Look at the difference between his radial chart in 2021 and 2022: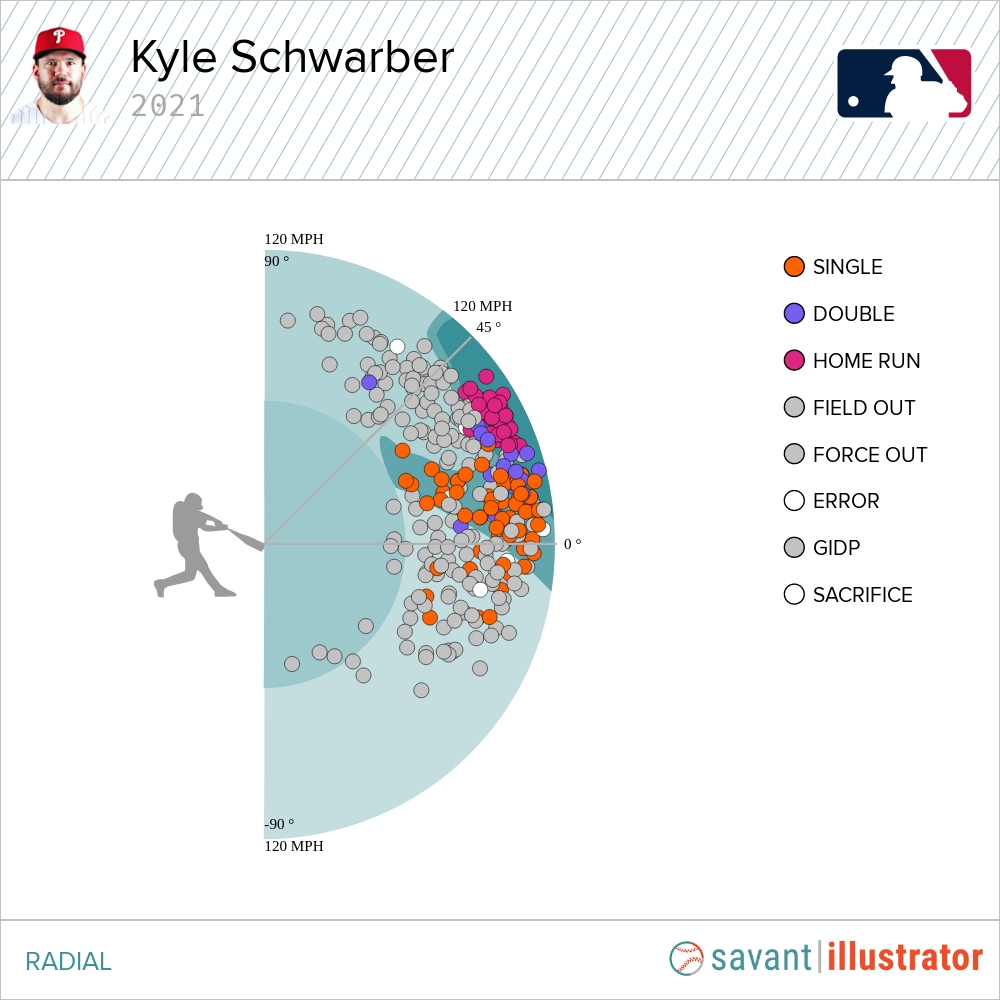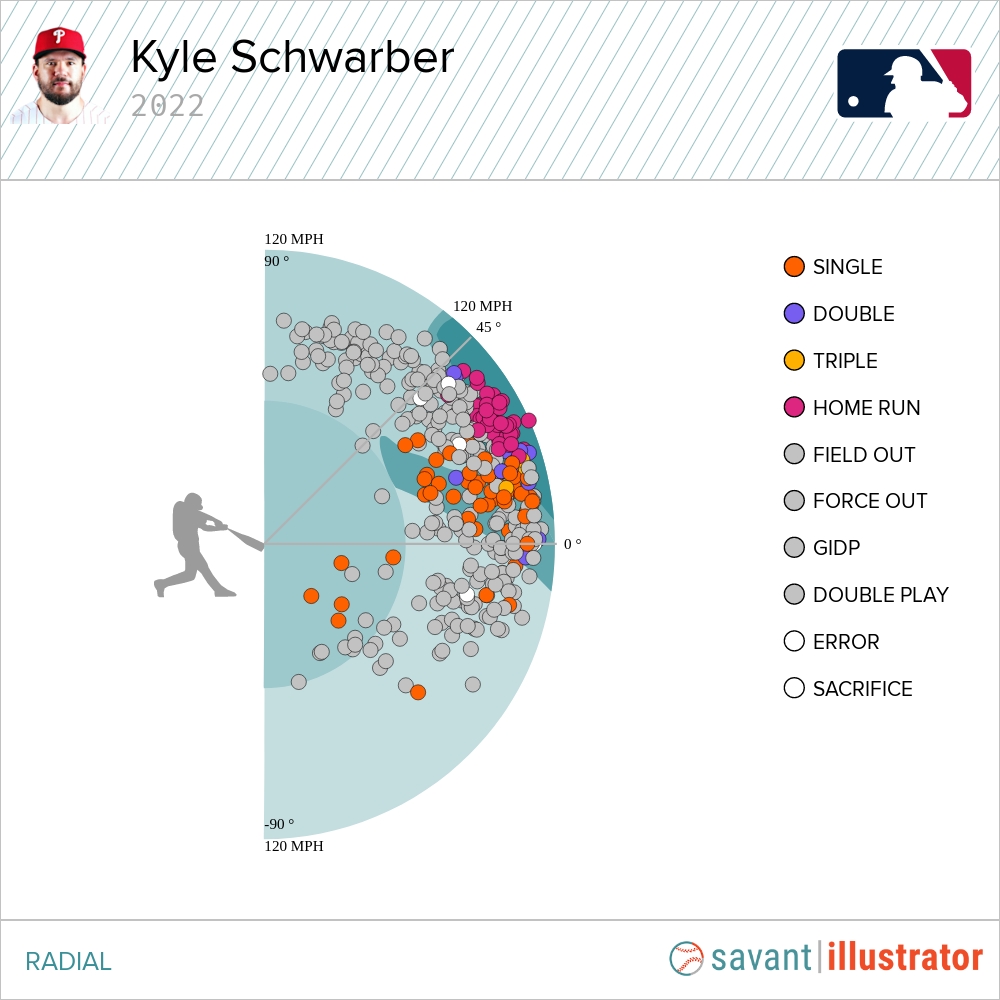 In 2021, more of Schwarber's batted balls were hit at lower launch angles, and far fewer met the criteria for a barrel. He did less damage on hard contact, but the trade-off was that more hits fell in; coupled with a lower strikeout rate, he was ultimately more productive in 2021, finishing with a 145 wRC+ to this year's 128. The ultimate version of Schwarber might be some combination of the last two seasons — the hard contact of 2022 with the extremity of the launch angle dialed back a bit — but the fact remains that over these two years, he has established himself as one of the game's most imposing three true outcomes sluggers.
Speaking of imposing, see that homer hovering just at the edge of the 120-mph radius in the 2022 radial? That's Schwarber's 488-foot NLCS Game 1 home run off Yu Darvish, the second-longest postseason homer of the Statcast era and one of three barreled home runs he hit in the NLCS.
Part of Schwarber's adjustment has been the ability to get balls lower in the strike zone elevated. Pitchers attack Schwarber low, particularly low and away, which earlier in his career meant driving balls into the ground. But in these last two years, especially in 2022, he has been able to get low strikes into the air and, in some cases, over the fence. This, too, comes with downsides; in order to reach for low pitches and the outer half of the plate, he has slightly compromised his control of the inner half of the strike zone and conceded a lot of pop-ups on pitches up and in.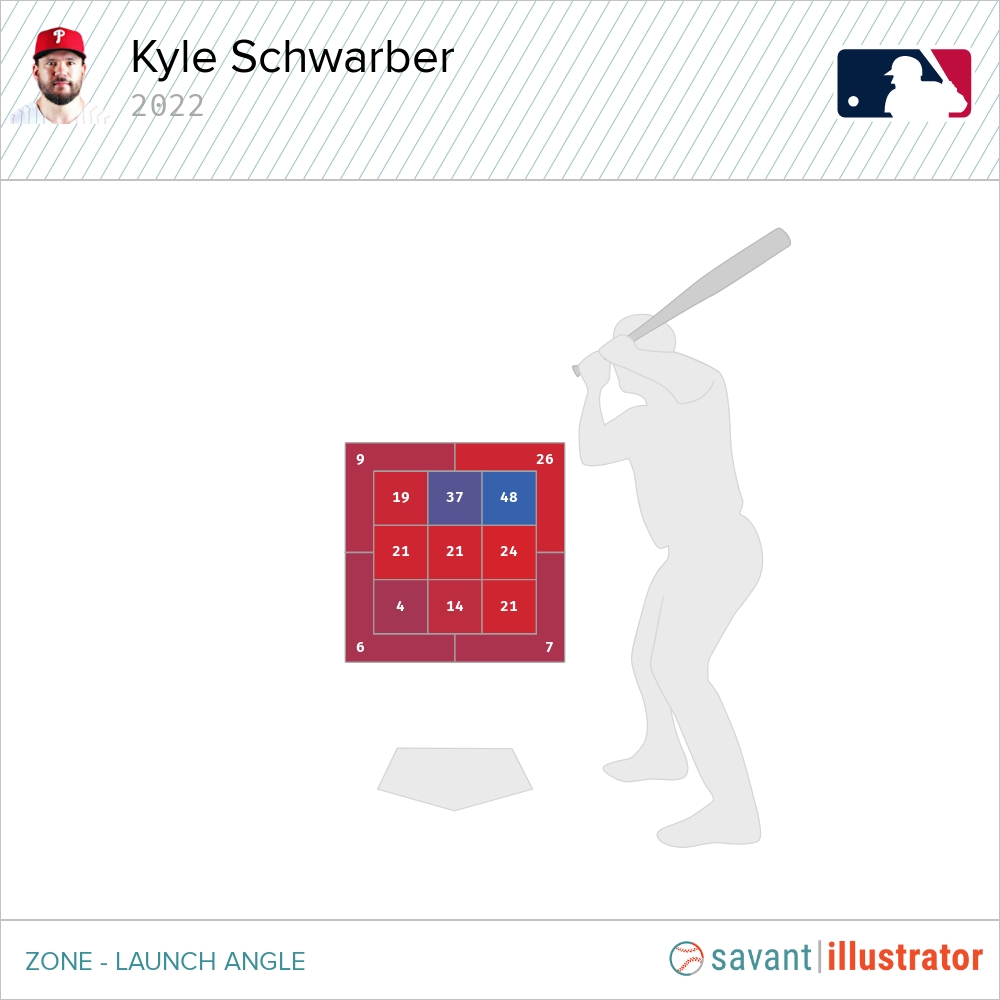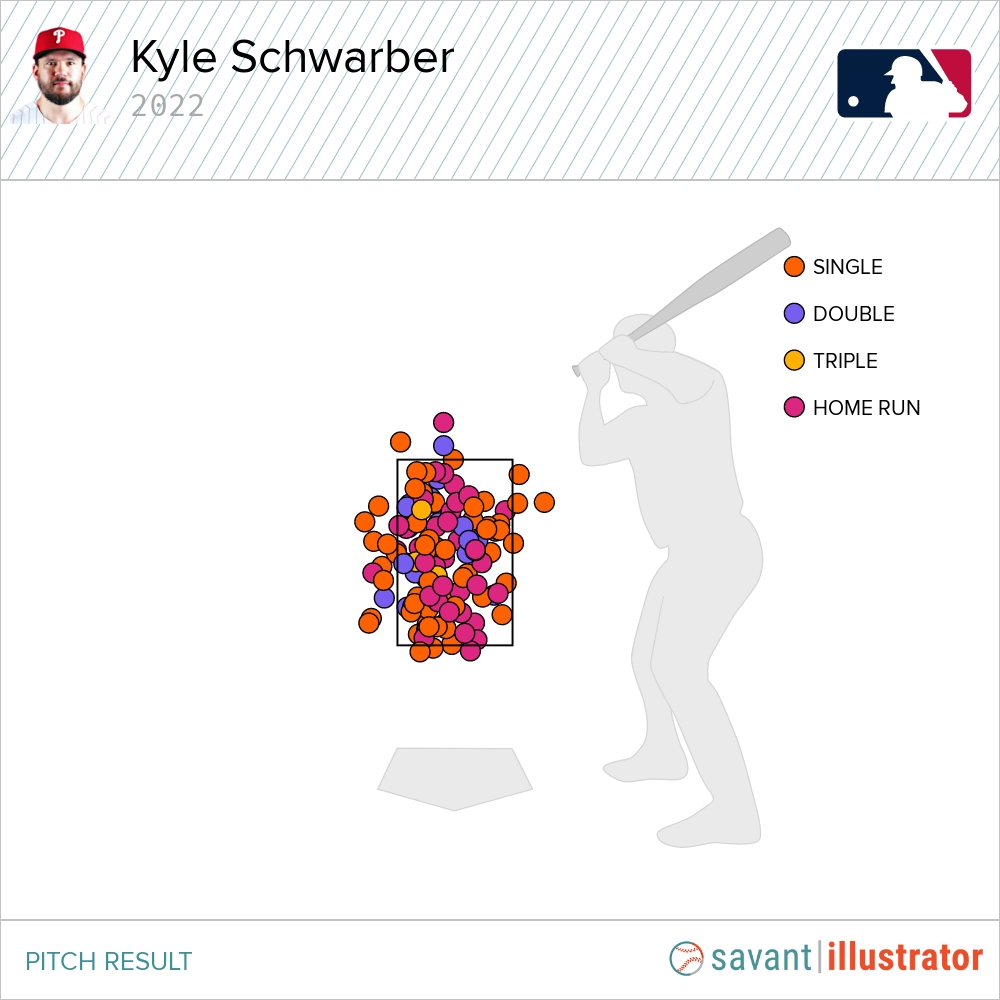 We saw this feature of his attack in the NLCS, where Schwarber went 6-for-15 with three home runs, two of which — including one off Joe Musgrove to lead off Game 3 of the NLCS — came off pitches in the low-and-away quadrant of the strike zone. And his patience has paid off, too, earning him nine walks in 48 plate appearances this postseason to give his team a .375 OBP from the leadoff spot (and he's stolen two bases while he's at it).
In his first year with the Phillies, the 29-year-old Schwarber has not only been one of the key pieces to their attack at the plate but also emerged as a bona fide leader in the clubhouse, and as one of two position players on the roster with World Series experience, his leadership is appreciated now more than ever. Three true outcomes hitter or not, there's nobody these Phillies would rather have leading them, metaphorically or otherwise, into the biggest series of their careers.