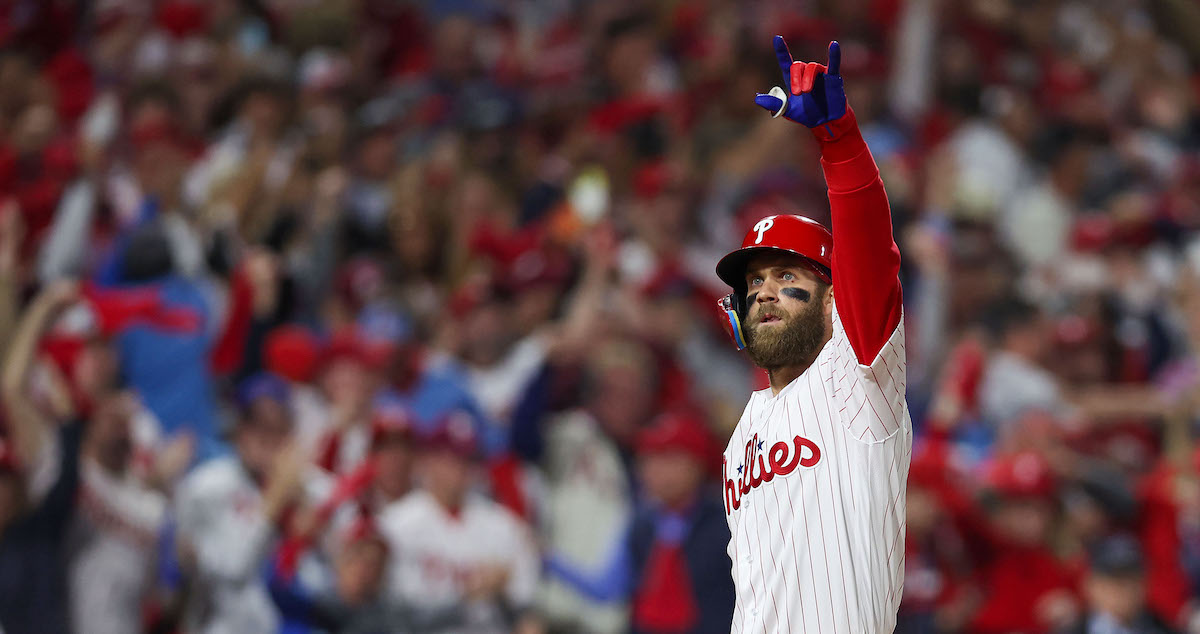 PHILADELPHIA – It's not just that Bryce Harper homered on the first pitch he saw in Game 3. For a first-pitch home run to put his team up in the first inning of his first career home World Series game — and a 402-foot bomb at that — it was a pretty casual event on Harper's end. Almost nonchalant. This is what he does:
But when he got back to the dugout, he shouted for Alec Bohm, the on-deck hitter, to come back to him. It was reminiscent of the famous shot of Carlos Correa and Alex Bregman chatting in the on-deck circle as the Astros teed off on Tyler Glasnow in Game 5 of the 2019 ALDS. Bohm led off the next inning and hit the first pitch he saw into the left field seats.
If you'd turned off the game then, you would've seen a representative sample of what turned into a 7-0 rout. The Astros couldn't get out of first gear against Ranger Suárez and the four relievers who followed him. And while Lance McCullers Jr. threw the kitchen sink at the Phillies, he got the sink, the faucet, and the backsplash kicked right back at him. Philadelphia managed six hits and a walk against the veteran right-hander, but five of those six hits were home runs and every single baserunner scored.
McCullers took such a drubbing — no starting pitcher had allowed seven earned runs in a World Series game since 2004, which is basically the neolithic age in baseball terms — the conversation turned quickly to whether he was tipping his pitches. He was giving up home runs more than 14 times as frequently as his career average. This shouldn't happen. Something had to be wrong.
McCullers rejected that interpretation. He said the Phillies just executed a good game plan against him. (Ken Rosenthal asked Bohm about his conversation with Harper in a mid-game interview, and the third baseman offered only a coy "That's between us," by way of insight.) Whatever was actually going on, McCullers got shelled across the board. He threw each of his five pitches at least six times, and four of them ended up being hit out of the park — only his cutter escaped unscathed.
McCullers got nine whiffs on 40 swings, which for one outing is within striking distance of his seasonal whiff rate (28.9%). But when the Phillies did make contact, they punished him. And he made mistakes — Harper's home run was a dead-center meatball, and Kyle Schwarber's 443-foot blast to the batter's eye caught plenty of the plate. So did the slider Rhys Hoskins yanked into the left field seats in the fifth.
Given the noise about potential pitch-tipping, the depth of the Astros' pitching staff — particularly coming off of two off days — and the stakes of the game, it's surprising that Dusty Baker left McCullers in long enough to get knocked around so badly. There's a reason it had been 18 years since a starter had been left in to surrender that many runs in a playoff game. But that discussion is merely a footnote, since the Astros' offense produced zilch all night, even against the squishier bits of the Phillies' bullpen.
Suárez was characteristically fantastic in his five innings of work. The levelheaded left-hander had a messy first postseason start in Game 1 of the Atlanta series, but got away with it thanks to good batted ball luck, a ton of run support, and the fact that Kyle Wright was even less sharp. But since then he's been exceptional in two starts and two critical high-leverage relief appearances. His first pitch of the night turned into a dangerous soft liner off the bat of Jose Altuve, which required Nick Castellanos' new signature move to dispose of:
After that, he attacked the zone, kept the Astros off-balance, and allowed little hard contact.
With a seven-run lead after five innings and with only 76 pitches on Suárez's arm, a case could've been made for Rob Thomson to ride his starter a bit longer. But Suárez, whose fastball usually sits around 93 mph, was living closer to 95; he might not have been pacing himself to throw much more than 70 pitches. And he seemed to tire in the fifth, allowing a hard-hit single to Martín Maldonado, as well as his only walk of the night.
Besides, by that point the game was already out of hand. Connor Brogdon, who pitched the sixth, and Andrew Bellatti, who pitched the ninth, have seen occasional medium-to-high-leverage work. But Nick Nelson and Kyle Gibson wouldn't even have gotten up to stretch had the game been close.
Heading into this series, I thought the Astros were heavy favorites based mostly on their superior pitching depth. After Seranthony Domínguez and José Alvarado, Philadelphia's bullpen isn't bad, but it gets thin a lot faster than Houston's does. Many, even most, modern postseason series are determined by how well a manager can hide his weaker pitchers or how well those pitchers can limit the damage. The Phillies won the pivotal NLCS Game 4 for this reason.
A 7-0 lead is a tough hole to dig out of, even for the Astros. But let's say Baker had pulled McCullers to limit the damage after two innings with the score 4-0? That's doable. The Astros overturned a four-run deficit in two innings in their very first playoff game. The Phillies have either blown a four-run lead or come back from being down four or more runs in three of their past six games. All the Astros had to do was hit the Phillies' middle relievers.
And they just didn't. Against Suárez, a very good starter on a hot streak, Houston managed four baserunners, no runs, and no extra-base hits in five innings. Against Brogdon, Gibson, Nelson, and Bellatti, they had four baserunners, no runs, and no extra-base hits in four innings. They batted three times with runners in scoring position, all with two outs in the inning, and went 0-for-3. It's hard to win under those circumstances. Even putting two or three runs on the board would've probably gotten Alvarado, Domínguez, or Zach Eflin into the game, weakening the Phillies for games to come. But the Astros couldn't even manage that.
So now, the Phillies have a 2-1 lead in the series, a fully rested bullpen, and home-field advantage in the two games they need to win to clinch the series. Let's say for the sake of argument that the morale component of this 7-0 trouncing has no tangible effect on either team going forward — even if that's the case, the past 36 hours could not have gone better for the Phillies.
This postseason, the Phillies have won every kind of game you could think of. Close ones, blowouts, pitchers' duels, slugfests, games that were over in minutes and games that went to extra innings. They're not playing or acting like a no. 6 seed. Perhaps that's because the one thing they haven't encountered yet is a decisive loss. They haven't been blown out yet and nobody's been able to beat them twice in a series, let alone twice in a row.
Maybe the Astros can still do that. But now they've been well and truly bloodied, and are running out of wiggle room. All the while, the Phillies keep getting stronger.