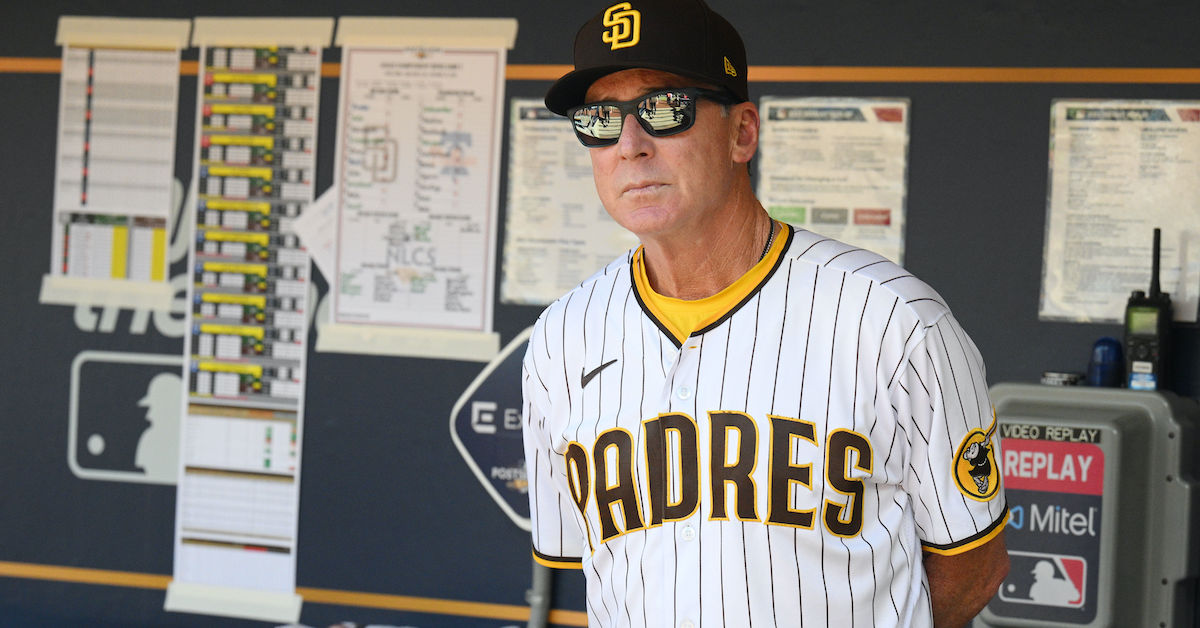 Before we begin, a quick apology from me: I haven't gotten to these managerial report cards as quickly as I'd like. They take a lot of work, believe it or not. I comb through every game log multiple times to capture the particulars of each situation, keeping an eye on pitcher and batter availability while doing so. I like to watch key moments, too, just in case something pops up that way. I still miss things — it's hard to get every last detail right, though I try to be thorough — but without poring over the details to get everything straight, I couldn't write these.
Between the general rigors of writing and compiling the annual top-50 free agent list, I just haven't had time to get these done. That's not a great excuse, and I'm sure these are less interesting to read than they would have been if they had come out directly after the relevant eliminations. But hey, they're here now! Well, this one is. More will follow in the coming week.
Bob Melvin, San Diego Padres
Batting/Lineups: B-
Melvin faced one central decision throughout the playoffs: who to play at first base. The lineup didn't offer much in the way of flexibility anywhere else; every slot had a clear starter. That left Josh Bell, Wil Myers, and Brandon Drury to share DH and first base between the two of them. Drury theoretically has positional versatility, but there was nowhere else to put him. Melvin used two general rules: play Bell against righties and sit Bell against lefties.
That meant that his main decision point was whether to use Drury or Myers against righties. He alternated between the two; Myers started four games against righties and Drury started three. There might have been a plan there — Drury got Jacob deGrom and Myers got Max Scherzer and Chris Bassitt, for example — but I think Melvin mostly just moved away from Myers later in the playoffs because he was struggling.
I don't really have much else to say. Melvin pinch-hit only three times throughout the playoffs. He brought in Bell twice, once each to replace Drury and Myers against a right-handed reliever. In the last game of the series, he used José Azocar as a pinch-runner for Bell, then pinch-hit for him with Myers. Is it weird to use pinch-hitters for your DH and first baseman? It sure is, but I sympathize with Melvin: I just don't think he had any other options.
Okay, fine, he had one other option: pinch-hit with his catchers. San Diego carried three catchers, which meant one could pinch-hit without any risk of ruin. But who would Melvin pinch-hit for? Luis Campusano and Jorge Alfaro aren't exactly offensive powerhouses. The only regular that either out-hit on the year was Trent Grisham, but he started off so hot in the postseason that Melvin let him play it out. I think he should have given some consideration to hitting for Grisham close and late, but only when behind; Grisham is a solid defender in center.
That basically means the best time to do it would have been in the final game of the NLCS, when Grisham bunted (?) with two on and one out in the ninth. I don't think Melvin called for a bunt, but that's not really the point. Managers shouldn't put players in a position where they think their best chance of positively affecting the game is by bunting. Grisham knew that was a terrible matchup for him. Why didn't Melvin?
With Ranger Suárez in relief, Grisham was a poor choice: lefty-lefty against a very good pitcher. I would have been happier with either backup catcher there. Given Melvin's overall lack of hitting decisions, that's enough for me to downgrade him for a B-. If you're only pulling a few levers all month, you should make damn sure they're the right levers.
Pitching: C-
Right out of the gate, Melvin displayed a strange mix of managing for the future and selling out to win the game at hand. In the Padres' first game against the Mets, they took an early 7–1 lead with Yu Darvish on the mound. Melvin let Darvish go seven innings, which makes perfect sense to me: he was cruising, there was little danger, and three straight days of games means a fresh bullpen is incredibly valuable. But when Darvish was done for the day, two high-leverage relievers closed it out, with Robert Suarez and Luis García pitching two uneventful innings.
The next day, the Padres found themselves in a 3–3 tie in the bottom of the seventh inning. Blake Snell had departed early — good decision there, Snell didn't have it — which put stress on the bullpen. As Melvin had used Suarez and García the day before, he went with a lower-leverage arm, as using them would probably burn them for the next game, and they might not be at full strength either. Adrian Morejon allowed four straight baserunners, all of whom scored, and that was that.
In Game 3, the Padres cruised to a 6–0 victory with Joe Musgrove going seven innings. Who pitched those last two low-leverage ones? Suarez and Josh Hader. They had an off day coming up, so I probably would have done the same thing, but it can't be a great plan to have Morejon throw the highest-leverage innings of a series while Hader, Suarez, and García play in garbage time.
In the NLDS, Melvin took a better tack. In Game 1, when Mike Clevinger imploded early, Melvin used the softer half of the bullpen to fill innings, an easy call in my opinion. When the Padres brought the game to within 5–3, he stepped up his urgency but never flipped over to the high-leverage arms. That makes sense to me. A two-run deficit isn't enough to run up the white flag, but you should hardly use your closer in that kind of game early in a series.
In Game 2, the Padres won a narrow game behind Darvish. Melvin gave Darvish some rope; he came out for the sixth inning with the heart of the order due up, leading 4–3. It didn't work out particularly well, as he surrendered two straight singles and departed, leaving Suarez in a pickle. He wriggled out of it with a strikeout and a double play, pitched another scoreless inning, and yielded to Nick Martinez and Hader to close out a 5–3 win.
Could Melvin have been more aggressive about removing Darvish? Likely, given that he had his best relievers rested and an off day coming up. I can't fault him too much, however; when things got messy, he immediately went to the reliever he trusts most in that situation. With a rotation like San Diego's — excellent top-end starters but a near-mandatory bullpen game mixed in — getting length from starters makes everything work much better. As long as you're willing change plans, starting with a "let's let Yu try this" plan seems fine to me.
The same plan was in evidence in Game 3. Snell threw five one-run innings, then came back out for the sixth with the bullpen warming. He gave up a hard-hit out to Will Smith, then a double to Max Muncy. I suspect that Snell was still in the game specifically to face Muncy; with that done, he yielded to Martinez. García, Suarez, and Hader followed in order to close out the game.
Game 4 showcased another way Melvin can switch gears when necessary. With the Dodgers cruising at 2–0 and a potential winner-take-all showdown the next day, he rode Musgrove for six innings before calling on Steven Wilson. Wilson is not bad by any means, but he was a low-leverage guy all year. He quickly loaded the bases, gave up a sacrifice fly, and yielded to Tim Hill, another perfectly solid arm that Melvin mostly used in lower-leverage spots.
When the Padres stormed back for five runs in the bottom of the inning, Melvin switched to his best relievers. That's an automatic move, but that doesn't make it wrong. Making the easy moves is a big part of managing in the playoffs; messing any of them up feels like a disaster. If I'm going to call Melvin out for ending up with Morejon in a big spot, I have to mention the times where he ends up with his best relievers there instead.
After no major bullpen decisions in Games 1 and 2 of the NLCS — a shutout loss and an 8–5 victory where Hader locked down the save — Game 3 was another decision point. Musgrove worked his way into trouble: runners on second and third with two outs in a tie game in the fourth inning. Melvin stuck with Musgrove, and I think I would have as well. Bringing in a stud reliever would be a better option if they were ready to go, but the rally developed suddenly and early. Musgrove had been mostly cruising until then.
Mathematically, could Melvin have increased his team's odds of winning by bringing in his best bullpen arm in that high-leverage spot, then figuring out a way to stitch together the rest of the game with other relievers? Probably. But I don't really think that was an option. I might not have given Musgrove quite as much rope as Melvin did — he allowed another run in the sixth on consecutive two-out doubles — but at that point the option was between Musgrove and lesser bullpen lights, so the decision is less egregious.
That brings us to the last game of the Padres' run, and the decision everyone will remember: letting Suarez face Bryce Harper with the game on the line. After Suarez pitched a scoreless seventh, he stayed on to face the heart of the order in the eighth. J.T. Realmuto led off with a single, which brought Harper to the plate. Suarez stayed in, and Harper crushed a massive home run to give the Phillies a lead they wouldn't relinquish. Should that have been Hader's inning?
If Hader were willing, absolutely yes. He is San Diego's best pitcher; having him face the opposition's best, particularly when that group includes a lefty, is an obvious choice. Sure, there were going to be two games in the next two days if the Padres kept winning, and the bullpen was going to be tested, but Hader was always going to be pitching in this game, and the bullpen was always going to be covering three innings in this game. Have Suarez cover the ninth against the bottom of Philadelphia's lineup if you must, but when the game is on the line against Bryce Harper, you want your best pitcher facing him.
As you can probably tell, I found Melvin's pitching management uneven. He managed quite well for the entirety of the NLDS but made some questionable decisions in the wild card round and then again in the NLCS. I'm particularly vexed by the choices in the bookending games: using the full force of his lockdown bullpen in a blowout, and leaving Hader on the bench in a one-run game against a lefty.
I just can't quite piece it together, to be honest. I think Melvin is a good manager overall, and I thought he managed the A's well in previous postseasons. The Hader decision is at least a tricky one, requiring using your bullpen out of order, though I think it was still straightforward. But that first Mets game… what the heck was that? It's a good reminder that managerial reputation isn't everything. I thought the Padres played a ton of exciting games throughout the playoffs. I wish their manager had better deployed his bullpen to give them the best chance of winning those games.