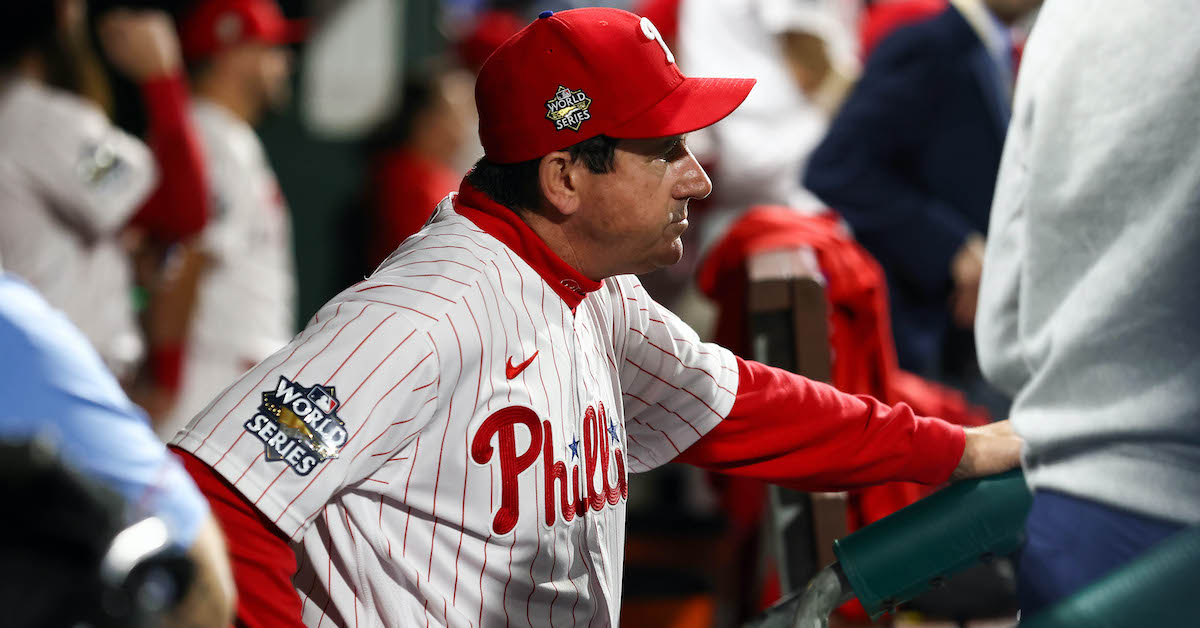 Rob Thomson is a folk hero in Philadelphia now. He brought the Phillies back from an early-season funk and eked into the playoffs, then charged to a World Series berth behind a barrage of home runs and an underrated bullpen. If the team had won two more games against the Astros, I might be talking about Thomson's unexpected ascent to King of Philadelphia. Instead, I'm grading his managerial decisions.
As usual, I'm focusing on in-game decisions only. That covers lineup and pinch-hitting decisions on the offensive side, as well as defensive replacements in the rare case where that comes up. It covers pitching usage, both starter length and bullpen deployment. It doesn't cover keeping your bench players involved in the game, or getting your relievers ready to enter in any given inning, or keeping team morale up when all seems lost. Those are all monumentally important, and also impossible to observe from my position. Let's get to those in-game decisions, shall we?
Rob Thomson, Philadelphia Phillies
Batting/Lineups: A
Thomson started the playoffs by playing Bryson Stott at shortstop against lefty José Quintana, something he'd generally avoided during the regular season. He brought in Edmundo Sosa, Stott's normal platoon partner, as a defensive replacement at third base, and went to Brandon Marsh to pinch-hit and then play center field. In Game 2 of the series, with a righty on the mound, Marsh played the whole way, and Sosa again finished the game playing third base.
When the Phillies drew Max Fried to start the next round, Thomson changed tack and gave Sosa the start at shortstop, again using Marsh as a defensive replacement. In Game 2, Marsh got the start but departed for a pinch-hitter instead of facing A.J. Minter. The Braves countered with a change of their own, bringing in Raisel Iglesias to face Matt Vierling, but I still liked Thomson's move there; I like Vierling against Iglesias more than Marsh against Minter, though it's close. That lineup spot never came up again, the Phillies didn't score any runs, and the decision was small potatoes in the end.
In fact, pretty much all of Thomson's lineup decisions were small potatoes. He had two levers to pull, more or less: swapping the Stott-Sosa and Marsh-Vierling pairings against lefties, and bringing in various defensive replacements. He did both regularly; Vierling played a ton of left field in relief of Kyle Schwarber, and Sosa fortified the infield defense at the end of every game where he started on the bench and the Phillies had the lead. Just because moves are obvious doesn't mean they're not right.
The fun mostly ended against the Astros, who were in the lead for a ton of the World Series, limiting Thomson's defensive flexibility. Still, I want to highlight a tiny and ultimately inconsequential move he made in the last game of the season that shows good thought process.
Vierling and Sosa started against Framber Valdez, batting eighth and ninth respectively. When the Astros went to righties out of the 'pen, Thomson swapped in Stott and Marsh, his preferred bats. But he didn't just one-for-one swap; he had Stott pinch-hit for Vierling first and then Marsh bat for Sosa. That set Stott up to get one extra plate appearance and also put the higher-OBP guy up first so that a bloop-and-blast situation would happen more often. It didn't work out that way — neither reached base, and the lineup never turned over — but I thought it was still a good decision.
For the most part, though, Thomson had no decisions to make, and thus made no mistakes. Maybe he could have given J.T. Realmuto, who caught every inning of every game this postseason, a bit more rest, but I doubt he was interested in coming out of the game anyway. Sometimes managing is about not doing too much, a concept Thomson clearly grasped.
Pitching: C
On the other side of the ball, the decisions weren't so straightforward. The tough choices started in the first game of the postseason, when Zack Wheeler held the Cardinals scoreless through the first six innings. Wheeler retired Nolan Arenado to start the seventh, and Thomson went to the bullpen. It seems to me that this was always the plan; the Cardinals had two lefties and a switch-hitter up next, and José Alvarado entered in Wheeler's stead.
I think this was a fine switch. The Cardinals don't offer many safe places for opposing lefties; they're chock full of good righty hitters. If you want to use a lefty against them, Brendan Donovan and Corey Dickerson are the natural targets. Wheeler wasn't faltering at all, and I would have been okay leaving him in given that the game was scoreless, but if Thomson wanted to use Alvarado at all in the game, this was the only obvious chance. The lefties might never come up again, and you can hardly use Alvarado against the top of the order.
The switch didn't work, thanks to pinch-hitter Juan Yepez's two-run homer, but I think the Phillies were okay with that matchup and simply didn't win it. They won the game anyway by putting up six runs in the ninth inning, which meant no other interesting pitching decisions.
In the second game of the series, the Cardinals replaced Carlson with Yepez, and Thomson didn't send Alvarado back into the buzzsaw. Aaron Nola started the seventh inning by retiring Donovan and Yepez before Dickerson singled. That brought Alvarado in again, and I must confess that I don't quite understand this one. If Thomson was going to use him again, why not for the left-handed Dickerson instead of righty Yadier Molina? I guess the idea is that switch-hitting Tommy Edman and lefty Lars Nootbaar were the next batters, but Edman is much better as a righty.
Naturally, Edman made an out and Nootbaar reached base. The margins in baseball are thin! Thomson then did the right thing and brought in Seranthony Domínguez, his best reliever, to deal with St. Louis' best hitters. Zach Eflin got the save, but Domínguez got the hard job, striking out both Paul Goldschmidt and Arenado.
Things didn't go so smoothly against Atlanta. Ranger Suárez allowed seven baserunners, including a home run, over the first three innings of Game 1 but somehow escaped with only one run allowed. After another third of an inning, Thomson had seen enough; he went to Andrew Bellatti and embarked on a bullpen adventure. The Phillies had done a lot of scoring while the Braves were failing to convert and already led 6–1 when Bellatti entered, and pushed it to 7–1 in the top of the fifth. That let Thomson manage with margin for error; he used Connor Brogdon and Brad Hand to manage the next inning. That didn't work perfectly; they allowed two runs, which narrowed the margin to 7–3.
Having had a day off to reset the bullpen, Thomson eschewed any of his various long relievers and went straight to the diesel: Domínguez for two innings, Alvarado for an inning, and then Eflin for the ninth. That order came down to matchups; Alvarado entered for the inning where Michael Harris II and Eddie Rosario were due up, and Domínguez got the top six hitters in the order. Eflin nearly coughed it up in the ninth by allowing a three-run homer, but the earlier runs proved decisive. Could Thomson have tried to lighten the load on his best guys there? Sure, but with Wheeler due to start the next day, I don't mind what he did, and it turned out that he needed every last run.
Wheeler's game was a 3–0 Braves win, with one key decision to make: He had two outs in the sixth inning when he hit Ronald Acuña Jr. and then walked Dansby Swanson to create a suddenly dangerous situation. If Thomson hadn't worked the bullpen so hard the day before, this might have been a good spot for Domínguez, but he wasn't available. I probably would have brought in Alvarado to face Matt Olson, but Thomson stuck with Wheeler, who allowed three consecutive singles to provide all the runs the Braves needed. Yet again, I don't mind Thomson's decision; I don't think it was obvious one way or the other, and given how aggressively he'd managed the day before, getting an extra inning or so out of Wheeler felt important.
There were no more hard decisions in the series. Philadelphia's offense came to life over the last two games, totaling 17 runs, which made Thomson's job easy: name some random pitcher, let them soak up innings, and then use your best relievers at the end of the clinching game for good measure. I'm pleased to say that every manager in the playoffs seems to be quite good at front-running these days. Get a comfortable lead, and they know what to do with it. Thomson is no exception.
After that praise, Thomson started the next series with a head scratcher. After Wheeler went a dominant seven innings, Thomson called Domínguez in to face the six through eight hitters in the Padres' lineup. He overmatched them, naturally — he's really good — which left Alvarado to face Austin Nola and then the top of the San Diego order.
I suppose the concept here is to give Alvarado some good matchups; Jurickson Profar is a better hitter as a lefty, and Juan Soto is Juan Soto. But Soto isn't really a great matchup for the sometimes-wild Alvarado, and both he and Profar reached base. That sent Manny Machado to the plate with the game on the line. Alvarado prevailed, but he did so despite a bad matchup. I would have stuck with Thomson's behavior from the previous series and reserved Domínguez for the opposition's best hitters, regardless of handedness.
Game 2 hinged on one pivotal inning. With the Padres trailing 4–2, Nola gave up three singles, bringing Soto to the plate with a one-run deficit. Thomson stuck with Nola — I would've too — who gave up a tying double to Soto. After striking out Machado, Nola was done. Hand entered to face Jake Cronenworth, and I can't say enough how much I disliked this decision. Hand is wild and was unreliable this year, to put it mildly; he'd played his way down four different teams' bullpen hierarchies in the last two years. Bringing him into the biggest spot all game made little sense to me. He promptly allowed all three baserunners he faced to reach, and that was that.
If you're being charitable, perhaps Domínguez and Alvarado weren't available. Even so, I would have preferred Eflin, or David Robertson, or Bellatti, or… well, you get the idea. There's no knowing what would've happened, but I was shocked to see Hand enter the game, and not nearly as shocked to see what happened.
After a paint-by-numbers Game 3 victory, Thomson got into deep waters and acquitted himself fairly well, other than the Brad Hand of it all. Bailey Falter didn't survive the first inning in Game 4, which put the Phillies into scramble mode. That meant Brogdon and Bellatti for nearly four innings as Thomson tried to line up a reasonable endgame without relying overly much on Domínguez, who had pitched two innings in the previous night's game.
Somehow his plan for the rest of the game involved Hand, who again got torched. The game was tied by this point; I get trying to use Hand as a lefty specialist, but somehow he got the top of the Padres' lineup in a tie game. Soto demolished a two-run homer, which again hardly felt surprising. Luckily for Thomson, Sean Manaea returned the favor and then some in the bottom of the inning. Next time around, Robertson drew the top of the order, a much better decision in my eyes, and the Phillies held on.
Thomson made a good decision in Game 5 by bringing in Domínguez in a tremendously high-leverage spot: a runner on first and no one out with a one-run lead in the seventh inning. It was pouring rain, and Domínguez uncorked three wild pitches en route to a two-run inning, so the result wasn't great, but I loved the thought process. Bryce Harper took the lead back with an eighth-inning homer, Alvarado pitched a scoreless eighth, and after Robertson looked shaky, Suárez came into the game in relief to get the last two outs. I loved what Thomson did here, even the decisions that didn't work out; he managed in a way that gave his team the best shot at winning the game at every turn and emptied out the bullpen knowing that there was a day off coming up either way.
That leads us to the World Series, and one of the strangest decisions of the playoffs for me. After Nola got into an early 5–0 hole in Game 1, Philadelphia's offense roared back to tie the game at five. That let Thomson get more aggressive with his bullpen, bringing in Alvarado for Yordan Alvarez and a parade of his best relievers after that.
The weird decision: one of those relievers was Suárez, this time used as a lefty specialist against Alvarez and Kyle Tucker. Suárez is a starter and a key part of Philadelphia's rotation. I get that every game counts, and that he had plenty of time to rest before his Game 3 start, but I'm generally not a fan of using starters as relievers that way when they're likely to make another start soon. It worked out, and Suárez didn't look any worse for the wear, so perhaps Thomson knew something I didn't, but it was certainly eye-catching. The rest of the game was easy enough: Domínguez and Robertson held the Astros scoreless long enough for Realmuto to end things with a homer. Hey, look on the bright side: the Phillies used a non-Alvarado lefty reliever, and Hand didn't allow multiple runs!
Game 2 was mostly a wash; Houston's offense pounced on Wheeler early, Philadelphia's offense couldn't get anything going, and Thomson used his mid-tier bullpen arms to save wear on the heavy hitters. The same was true in reverse in Game 3; after the team jumped out to a 7–0 lead, Thomson gave Kyle Gibson and Nick Nelson their only playing time all postseason to close out a no-drama victory.
If you're a Phillies fan, you no doubt wish the series ended here. It didn't. Game 4 was a force of nature kind of game; the Astros pitched a no-hitter, and Thomson had exactly one chance to affect the game, when Nola loaded the bases with no one out to start the fifth inning. With Alvarez at the plate, he yielded to Alvarado, who poured gasoline on the fire, plunking Alvarez to cough up the lead, then giving up a two-run double to Alex Bregman to open the floodgates. This might have been another situation for Domínguez, with the game on the line and no margin for error, but playing Alvarado and hoping for a strikeout against Alvarez and then a groundball against Bregman strikes me as an acceptable risk. The situation was bad either way; Thomson was just trying to make the best of it.
Thomson stayed true to character in a Game 5 bullpen game, doing the old "if one batter reaches I'll pull you" routine with Noah Syndergaard on the mound in a 1–1 tie. That batter was Jeremy Peña, who reached via home run and put the Astros ahead for good. A bevy of bullpen arms followed, again in an order I wouldn't have preferred — Domínguez got the bottom of the order in the seventh — but it probably didn't matter, because the Astros scraped a run together with two baserunners against him and an RBI groundout against Robertson in the eighth that provided the eventual winning margin.
In the decider, Thomson faced one last fateful decision, the same one he seemed to be making all month: stick with the starter or bring in a reliever against a lefty he'd game planned for. This time, it was Wheeler on the mound, Alvarado in the 'pen, and Alvarez due up. Again, it was a tough spot, and again I don't think there's much difference in expected value between leaving Wheeler in and going with Alvarado. Thomson went with Alvarado, Alvarez hit one to Hobby Airport, and that was that; the Astros won 4–1.
I thought Thomson did an acceptable job navigating the conundrum of when to transition from his top-flight starters to the best relievers in his bullpen. There's no one right answer; it all exists on a spectrum between slightly good and slightly bad decisions, and the fact that Wheeler was fatigued enough to need extra rest by the end of the playoffs suggests that more factors than individual game states were involved.
I'd say that his biggest mistakes were over-relying on planned lefty-lefty matchups. On more than one occasion, he steered the game towards his lefty pitcher against the opposing team's best lefty. That's fine in the abstract, but I think he sometimes ignored leverage and the surrounding batters, to his own detriment. I still think that Philadelphia's best reliever agianst opposing lefties is Domínguez; he's just the best, period. I think a lot of Philadelphia relievers are better than Hand against lefties. It's tempting to play the platoon game in the postseason, but Thomson overdid it and repeatedly paid the price.
Still, I'll give him an overall C, because he made a ton of decisions throughout the team's run, easily the most of any manager. He was bound to get a few wrong, and his instincts were mostly good: use your best relievers a lot, use Domínguez before the ninth inning if necessary, and know when to wave the white flag (rarely, and retaining the option to reverse course if the game state changes). That's enough to take your team to the World Series, and it could have been enough to win it, if it weren't for the unstoppable force the Phillies ran into at the end there.