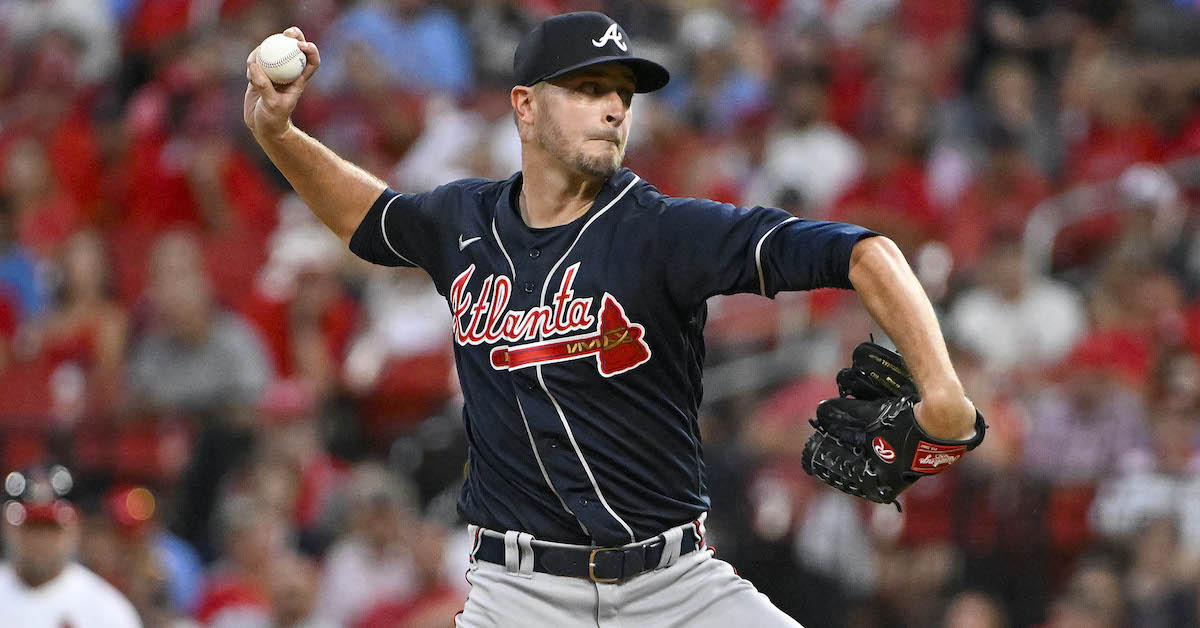 The Rangers spent more than half a billion dollars in new free-agent contracts last year — by far the largest outlay in baseball — and wound up losing 94 games anyway. But while it was not a successful year by any stretch of the imagination, many of those long-term deals set the foundation for the roster as Texas attempts to exit a long rebuilding cycle. And with a solid, if expensive, core to build the lineup around, it isn't hard to see where the major holes on the roster are: the pitching staff. Last year, the Rangers allowed 4.59 runs per game, 23rd in the majors, and their starters put up ERA- and FIP- marks of 119 and 111, respectively. With Jon Gray essentially the only established option written in pen for the rotation, they have a lot of work to do this offseason.
To that end, the Rangers acquired Jake Odorizzi from the Braves in exchange for Kolby Allard on Wednesday. Atlanta will be covering $10 million of Odorizzi's $12.5 million salary in 2023 after he exercised his player option prior to being dealt. The unique two-year deal that he signed with Houston in 2021 included a number of performance bonuses and escalating clauses that pushed his player option from a base of $6.5 million to the current $12.5 million salary the Rangers will pay. Those escalators also increased the size of the buyout on his option from $3.25 million to $6.25 million. By meeting all of the thresholds and maxing out his potential salary, his decision to exercise his option became an easy decision. To make things even sweeter, his player option for '23 also includes a number of performance bonuses that could increase his total salary to a maximum of $15.5 million.
Odorizzi will be joining his sixth organization in his 12th season as a big leaguer. Over the last two years, he's posted a league- and park-adjusted ERA (104) and FIP (107) just a hair over league average across 45 starts and 211 innings. These past couple of seasons have been a bit of a disappointment after what seemed like a breakout season back in 2019, when he put up career-bests in FIP, strikeout rate, and WAR. Unfortunately, a host of minor injuries cost him most of the shortened 2020 season and have prevented him from pitching a full season since then. Last season, with a healthy starting rotation full of better options, the Astros traded him straight up for Will Smith (the reliever) at the trade deadline.
After reaching a lofty 27.1% strikeout rate in '19, Odorizzi saw that mark drop to 19% in '22, the lowest it's been since 2013. That shouldn't come as a surprise after looking at his pitch arsenal, with his three most used pitches running nearly identical whiff rates: 22.2% on his four-seamer and splitter and 22.3% on his cutter. Nor have those whiff rates on his secondary offerings deviated much from the recent past. The big reason why his strikeout rate was so high in 2019 was because opposing batters swung and missed 30.5% of the time when swinging at his heater. Incidentally, his four-seamer averaged nearly 93 mph during his career year; it's been closer to 92 over the last two seasons.
Without a sudden spike in velocity, it's unlikely Odorizzi will be regaining the form he enjoyed in '19. Instead, he's turned himself into a capable contact manager:
Jake Odorizzi, Contact Management
| Year | Hard Hit% | Barrel% | FB + LD% | FB + LD Avg EV | HR/FB | wOBA | xwOBAcon |
| --- | --- | --- | --- | --- | --- | --- | --- |
| 2019 | 36.2% | 7.8% | 65.0% | 92.3 | 8.8% | 0.289 | 0.374 |
| 2021 | 39.3% | 9.3% | 64.8% | 93.7 | 11.6% | 0.316 | 0.384 |
| 2022 | 33.1% | 7.3% | 68.2% | 91.7 | 9.2% | 0.315 | 0.354 |
Armed with a prototypical modern fastball with tons of carry, Odorizzi has always been a fly ball pitcher, leading to a bit of a home run problem throughout his career. He didn't fully solve that issue last year, but he was able to limit the amount of hard contact allowed against him to a significant degree. His expected wOBA on contact was the lowest it's been in the Statcast era, and his barrel rate fell back to where it was during that breakout season, with his hard-hit rate falling even further. If giving up a few home runs is the price he has to pay to generate a ton of soft fly balls and pop ups, it's a pretty good tradeoff, all things considered.
The other big bugaboo in Odorizzi's profile is an inability to work deep into games; he's averaged less than five innings per start over the last two years. It certainly seems like the Astros and Braves tried to protect him from being exposed to a lineup more than two times, and with good reason: when facing batters for the third time in a game, his wOBA allowed jumps from .302 to .373. Rangers president of baseball operations Chris Young alluded to those struggles and the efforts his team will go to allay them in his comments after the trade was completed.
"I think that it's up to us to evaluate each pitcher and set each pitcher up for success. I think that in some ways, the way our bullpen has been constructed — with guys like Brock Burke and Taylor Hearn — we have the ability to shorten games that way. I think it is beneficial for each player to be put in positions that they will succeed. And I think with Jake [Odorizzi], we'll evaluate what's best for him, but it's an option, and I think it's a good way for us to try to build an entire pitching staff."
So while Odorizzi won't be able to eat the kinds of innings you'd expect from a veteran back-end starter, his consistency and newfound ability to manage contact makes him a valuable piece for the Rangers that didn't cost very much to get.
This move is a little harder to parse for the Braves. With an estimated payroll already pushing over $225 million in 2023, they have very little wiggle room to add or re-sign any players. Moving Odorizzi frees up at least $2.5 million and possibly more if he meets his performance bonuses. The amount of cash included in the trade is a bit surprising; if this move were a true salary dump, you'd expect Atlanta to take a hit on the player it got back in return. Instead, the team will pay the majority of Odorizzi's salary and receive only Allard.
That's not to say Allard is an uninteresting addition; he's a nice bit of depth for the Braves' pitching staff. It's a bit of a homecoming for him, too, as he was a first-round pick by Atlanta back in 2015 and made his major league debut with them in '18. Still only 25 years old, he has bounced between the rotation and the bullpen during his five-year major league career and has just 0.2 WAR to show for it. Pitching out of the 'pen full-time in 2022, both his ERA and FIP started with a seven in 21 innings pitched, and it certainly seemed like he had fallen out of favor in Texas after spending most of the summer in Triple-A.
Still, despite the ugly surface stats, some of his underlying metrics showed some promise. Each of his three most often used pitches ran career-high whiff rates this season in limited action. That didn't translate to a jump in strikeout rate, but there's at least something for the Braves to work with there. The biggest problem comes when batters put his pitches in play; nearly a third of the fly balls Allard allowed this year flew over the fence, and his barrel and hard-hit rates were both career worsts.
With four spots in their rotation locked in and a host of young pitchers lined up to battle for the fifth spot, the Braves can now add Allard to that pile. His ability to work out of the bullpen also gives him a bit of flexibility in case Atlanta needs a long reliever, and he has a minor league option remaining, which has some value as well. If the Braves' development team can identify why his whiff rates improved and help him translate that into actual results on the mound, he could be a useful piece of depth for them. If not, simply clearing Odorizzi's salary off the books was reason enough to make this move.