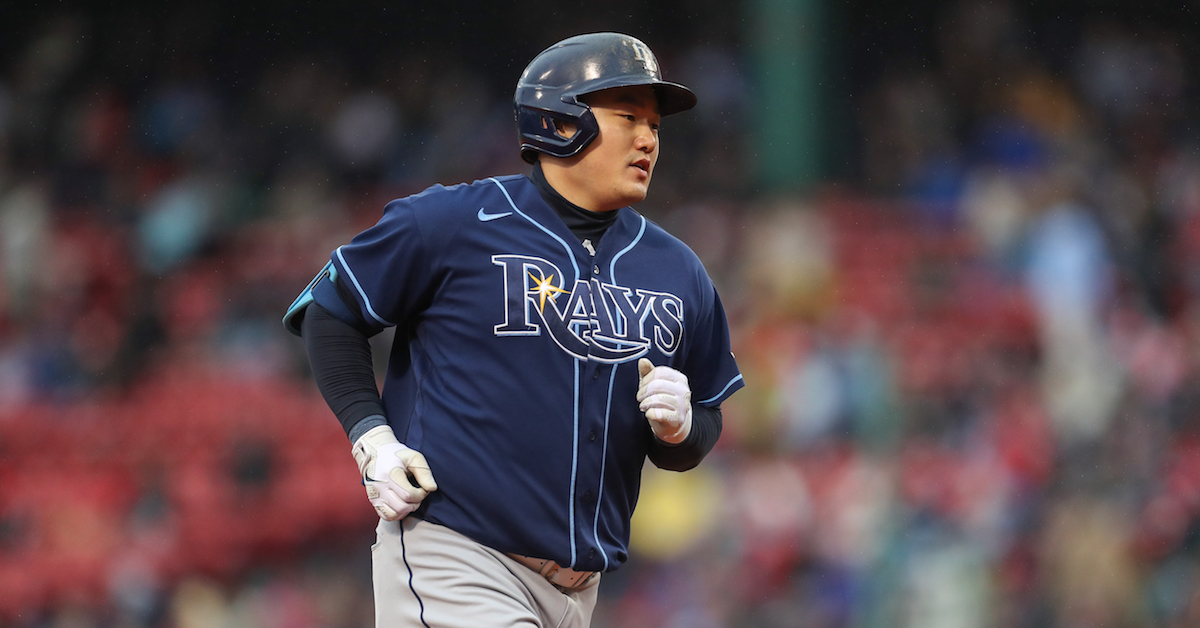 In a slightly unexpected but not at all shocking move, the Tampa Bay Rays sent first baseman Ji-Man Choi to the Pittsburgh Pirates last Thursday in exchange for low-minors pitching prospect Jack Hartman. The move was a little surprising, at least to those not familiar with Tampa Bay's 40-man picture. Choi is a talented, inexpensive player who played a clear role for the Rays. He established himself as a fan favorite at Tropicana Field over the past five years, and there was a brief time this offseason (for about four or five hours) when he was the longest-tenured position player in Tampa. He has no clear successor in the Rays organization. Even Choi himself seemed to be caught off guard by the move. The swap was rather unexpected from a Pirates perspective, too. I can't say I thought we'd see a rebuilding team send away a prospect for a veteran in one of the first noteworthy trades of the offseason.
Upon closer inspection, however, it's easy to see why both teams swung this deal. The Rays have a surplus of young players in the majors who need playing time and a surplus of young players in the minors who will be eligible for the Rule 5 Draft this December if they aren't added to the 40-man roster. Choi is a known quantity on the wrong side of 30 who doesn't offer much in the way of positional flexibility – aside from the occasional full split at first base, that is. This is more than a simple salary dump on Tampa's part; they have better ways to use Choi's roster spot, an unfortunate reality for fans who grew to love his joyful attitude and impassioned bat flips. As for Pittsburgh, they finished the 2022 season without a regular first baseman and needed to find someone to fill that hole. They may not be contenders, but they still have to play 162 games, and adding another good bat to the middle of the lineup will make those games far more watchable. As an added bonus, if everything goes right, the Pirates could find themselves sneaking into contention in a weak NL Central division. Adding Choi would look like a brilliant move in retrospect. More likely, the Pirates will fall out of contention by the trade deadline and flip Choi for a lottery ticket or two.
The deadline for teams to add Rule 5 eligible players to their 40-man roster is Tuesday at 6:00 PM EST. The Rays have a bevy of players they need to protect, including Taj Bradley and Curtis Mead, as well as four more of their top 10 prospects:
Tampa Bay Rays Rule 5 Eligible Top Prospects
It is all but a given the Rays will add Bradley and Mead to the 40-man, and they'd surely like to retain as many of their top prospects as possible. In order to do so, they need to free up some roster spots. Thus, trading a player like Choi was almost inevitable, and the Rays probably aren't done — expect more moves like this in the next 36 hours.
Choi is a good player, but he doesn't exactly offer much in the way of versatility. He's limited to first base and he's best used as a platoon bat. His career splits are extreme (insert another splits joke here). Against right-handed pitching, he has a career 125 wRC+; against left-handed pitching, his career wRC+ is just 71. To roster Choi, the Rays have needed to pair him with an additional first baseman. That wasn't a problem over the past four seasons, with guys like Nathaniel Lowe, Yandy Díaz, and Harold Ramírez seeing significant time at first base. But given the Rays' roster crunch, it makes sense that Choi would be one of the first names to go.
The Rays don't have a true first baseman waiting in the wings, but they have a few guys who should be able to handle the position in exchange for regular plate appearances. Infielders Jonathan Aranda and Isaac Paredes could make a serviceable platoon in 2023 as they both strive to develop their bats at the big league level. Neither profiles as a first baseman long-term, but with Brandon Lowe and Díaz getting the majority of the playing time at second and third, first base is where they'll have the best opportunity to prove themselves.
Choi, meanwhile, should fit in well with the Pirates. Ten different men suited up at first base for Pittsburgh last season. They combined for a 59 wRC+ and -3.0 WAR. That wRC+ is the worst total for a team's collective first basemen since the 1968 Boston Red Sox. Choi represents a huge improvement, even if he has to face more left-handed pitching than he did during his time with the Rays. The biggest skill Choi brings to the table is his ability to draw free passes. That should help a Pirates team that finished last in the National League in on-base percentage in 2022. Choi has walked at a 13% clip in each of the past four seasons, with his walk rate in that time ranking 13th among all major league hitters (min. 1000 PA). He has a great eye for seeing pitches outside the strike zone, and he has one of the lowest chase rates in baseball. Choi also has a bit of pop in his bat, although his power has declined over the years. The Pirates should be able to count on him for double-digit home runs and doubles:
Ji-Man Choi Power Numbers
| Year | XBH | HR | SLG | ISO |
| --- | --- | --- | --- | --- |
| 2018 | 25 | 10 | .505 | .242 |
| 2019 | 41 | 19 | .459 | .198 |
| 2020 | 16 | 3 | .410 | .180 |
| 2021 | 25 | 11 | .411 | .182 |
| 2022 | 33 | 11 | .388 | .154 |
Unfortunately, that plate discipline doesn't translate to a low strikeout rate. When Choi does swing, he misses a lot more than the average hitter. He struck out in nearly 30% of his plate appearances this past season. Thus, he won't hit for a high batting average – even with the new infield shift rules in place. Choi was one of the more shifted-upon bats in baseball this season, facing a shift in 83.9% of his plate appearances (per Baseball Savant). He also hit more groundballs this past season than usual, the majority of which were pulled to the right side. In theory, you'd expect him to benefit from the infield shift ban next season. However, in actuality, he did quite a great job beating the shift this past season, earning 10% of his hits on groundballs to the left side on the infield. He should still gain a few hits out of the new rule, but don't expect him to suddenly start batting any higher than .240 or so. Nevertheless, his on-base skills and average-to-above-average power are enough to make him a solid offensive contributor against right-handed pitching.
Finally, it's worth mentioning that Choi will undergo surgery on his right elbow sometime this offseason. The Pirates chose not to reveal much about Choi's surgery or the injury that caused it, but he did spend time on the IL in early May with loose bodies in his elbow. Regardless, if there was any serious cause for concern, the Pirates wouldn't have pulled the trigger on the trade. He is expected to make a full recovery in time for spring training. It has been suggested by some – including Pirates GM Ben Cherington – that Choi's elbow injury led him to slump in the later months of the 2022 season. It's possible, but it's hard to know if that's really the case. Choi did struggle in July and August, but he finished the year on a strong note with great numbers in September and October.
And speaking of elbow injuries, heading to the Rays is 24-year-old relief pitching prospect Jack Hartman, who returned from Tommy John surgery earlier this season. Hartman began his collegiate career as an infielder, but his cannon of a right arm eventually brought him to the mound. In two college seasons as a full-time reliever, he struggled with control issues, walking nearly seven batters per nine. The velocity was real, however – he was touching 97 mph with his fastball in his senior year. Shortly thereafter, the Pirates selected him in the fourth round of the 2020 Draft. Interestingly, scout Jerry Jordan, who is credited with signing Hartman, was also responsible for the Pirates drafting Austin Meadows – another player traded from Pittsburgh to Tampa Bay. After missing the 2021 season recovering from Tommy John, Hartman joined the Single-A Bradenton Marauders in mid-May. Despite missing so much time, he looked exactly like the pitcher he was when he was drafted, warts and all. He had life on his fastball and struck out 19 batters in 18.2 innings, but his control issues were as present as ever. Hartman walked 16 of the 93 batters he faced. He comes to Tampa Bay as a project, and the Rays have a year to figure things out before Hartman himself is Rule-5 eligible.
We often look to name a winner and a loser in a trade, but this one seems like a smart, low-risk move for both sides. In the worst-case scenario for the Pirates, they get to field a more competitive team for the first half of 2023. Plus, they can recoup the loss of Hartman by flipping Choi to a contender at the trade deadline. In the best-case scenario, Pittsburgh's competitive window opens a year early and Choi plays a key role in the middle of their lineup. The downside is a little more extreme for the Rays, who traded away a beloved player and one of their more consistent bats, but the upside is a whole lot higher too. Trading Choi allows them to protect an additional top prospect from the Rule 5 Draft and gives them more flexibility to move their young players around the diamond next season.