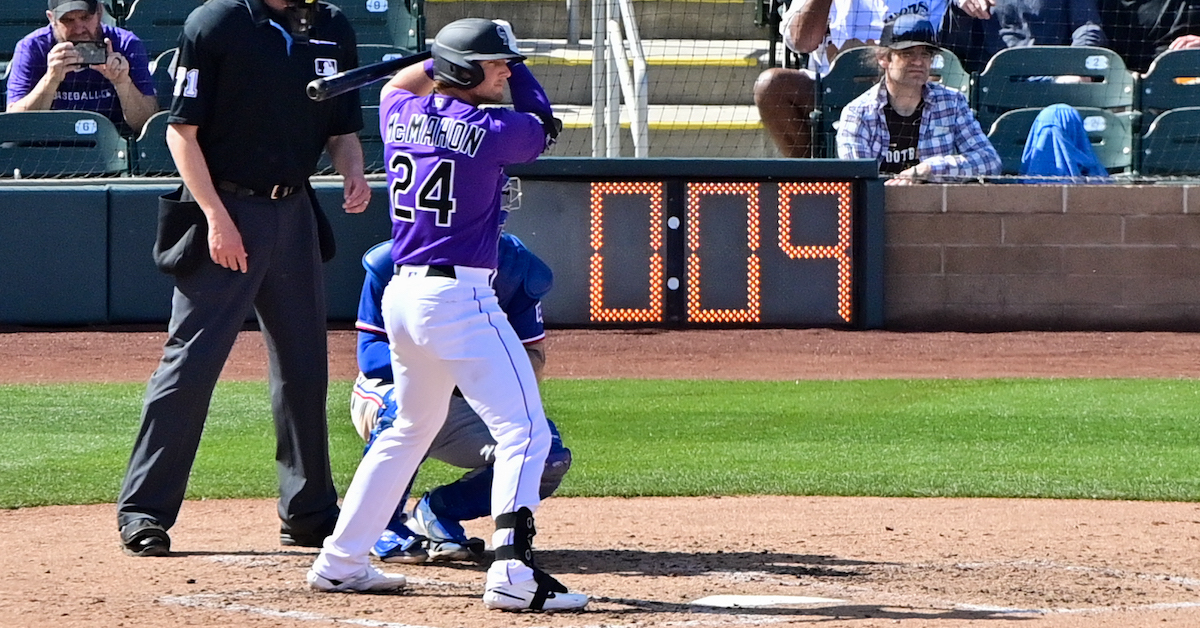 The baseball season is only one day old, so it's probably too early to draw any conclusions. The Reds will probably be bad. The Astros will probably be good. The Angels will probably snatch defeat from the jaws of victory and end up around .500 despite employing two of the best players on the planet. Other than those broad strokes, though, it'll take us a little while to know much for certain.
With that stipulated, let's make far too much of something that a player did, not even yesterday, but in spring training. That sounds like a fun way to start our year. Ryan McMahon is embarking on his seventh major league season (counting a cup of coffee in 2017). He's a defensive standout, heir to Nolan Arenado as an elite Rockies third baseman. He sports a career 89 wRC+. He also hit a ball tremendously hard in spring training, so now it's time to dream on him as a power threat, or at least an above-average offensive player.
The list of the hardest-hit balls in spring training is filled with hitters you'd expect to see. Giancarlo Stanton places both first and third. Oneil Cruz makes an appearance in the top 10. Jordan Walker, who ascended to the major leagues on the back of his raw power, is in the top five. Franmil Reyes and Franchy Cordero, both of whom have power to spare, place highly. Then there's McMahon, who smashed a grounder at a shocking 117.8 mph, the second-hardest-hit batted ball that Statcast recorded all spring.
I'll be honest: It doesn't make for the most impressive video. Here it is, in all its glory:
That's the only angle we have, and there are no replays, because it was a single in the first inning of a spring training game. It was absolutely singed, though. If you're looking for a fun time, just watch Brady Singer flinch after the ball is already past him on a loop. The ball didn't so much handcuff Nicky Lopez as disregard him; it was getting into center field one way or another, whether it had to go through or around him.
It might seem strange to care about this after my colleagues and I have spent most of March cautioning against reading too much into spring stats. It's true! Spring stats are overrated. They're tiny samples, and they're compiled against uneven competition. Why do I care about this one batted ball from a month ago, then? To explain why, I find it easiest to paraphrase Derek Zoolander. There's more to life than hitting the ball really, really, ridiculously hard, and one day I hope to find out what that is.
As I've written before, you can't fake hitting the ball hard. It's one of those things that you either do or don't, without much room for interpretation. Can you hit the ball 117 mph? Most players cannot. Ryan McMahon can. At some level, that's all you need to know.
Of course, we already knew McMahon had some pop. He's consistently in the top 15% or so when it comes to maximum exit velocity, and the same is true of his average exit velocity and hard-hit rate. There's a big difference between the top 15% and the top 1%, though, and McMahon's profile would look a lot better with great power than it does with merely plus power.
That profile is pretty straightforward: he has a decent idea of which pitches to swing at, but below-average contact skills. That results in an elevated strikeout rate, but a decent number of walks to go along with the strikeouts. To stand out offensively, he therefore has to make his batted balls count, particularly given the higher offensive baseline that comes with playing in Coors.
In the past two years, McMahon started to do just that. Earlier in his career, he'd been a groundball machine, but he started elevating more frequently in 2021 and backed it up last year. I'm not just talking about a great big pile of fly balls, though he hit more of those. He also started hitting line drives more frequently. The result was that his expected slugging percentage, based on how hard and at what angle he hit the ball, was nearly as high in offense-challenged 2022 as it was in the home run summer of 2019.
That kind of skill set needs extra power like fish need water. Take a look at the batting average, slugging percentage, and wOBA of balls hit in the air as their exit velocity ticks up:
In the Air, EV Is King
| EV (mph) | BA | SLG | wOBA |
| --- | --- | --- | --- |
| 95 | .302 | .497 | .333 |
| 96 | .333 | .591 | .384 |
| 97 | .372 | .682 | .438 |
| 98 | .434 | .858 | .536 |
| 99 | .470 | .962 | .593 |
| 100 | .527 | 1.104 | .676 |
| 101 | .583 | 1.311 | .786 |
| 102 | .638 | 1.503 | .886 |
| 103 | .662 | 1.630 | .955 |
| 104 | .711 | 1.790 | 1.036 |
| 105 | .744 | 1.917 | 1.110 |
| 106 | .788 | 2.017 | 1.169 |
| 107 | .811 | 2.131 | 1.230 |
| 108 | .838 | 2.171 | 1.256 |
| 109 | .848 | 2.135 | 1.246 |
| 110+ | .864 | 2.285 | 1.313 |
Oh yeah, that's what we're talking about. Pummel the ball and profit; hit it softly and fade away. Davy Andrews has been on the case this week, highlighting some players who increased their exit velocity this spring. He skipped over McMahon as too established, but I have no such qualms: I love it when a good defender turns out to be a good hitter too, which might be in play here.
Is it weird to look at just one batted ball? Of course it is. Maybe that's the hardest McMahon will ever hit a baseball. But even if you broaden your lens somewhat, he's been tearing the cover off the ball so far this year. His hard-hit rate is a preposterous 71% in tracked plate appearances this spring, and he's hit nearly half of his batted balls 100 mph or harder. Think that grounder was a fluke? His second-hardest-hit ball this spring was 113.2 mph, a mark he's only exceeded three times in his major league career, all in 2022. It wasn't a grounder, either – it was a towering, 425-foot home run off of Drew Smyly.
It's always tough to wrap your mind around the interplay between expected statistics and Coors Field, but I'll at least give it a try. Batted balls that were hit in the air and over 100 mph produced a .744 batting average with a 1.754 slugging percentage in Coors in 2022. Does that sound like something you might be interested in? Even in the league as a whole, those batted balls have produced a .692 average and 1.695 slugging percentage. Take McMahon's line last year, replace 5% of his random batted balls with ones hit in the air and over 100 mph, and he'd bump his batting average by 13 points, his OBP by 12 points, and his slugging percentage by 40 points.
That probably overstates things, because McMahon doesn't get to replace random batted balls with super-hard-hit ones, but I'm just trying to make a point: hitting the ball this hard carries real benefits. McMahon already does a lot of damage when he puts the ball in play, but becoming a truly fearsome slugger could catapult him from Coors creation to outright excellent.
Is this reading too much into a small sample? As Davy detailed in his look at exit velocities, kind of, but only kind of. Spring training exit velocities correlate to in-season exit velocities almost as well as last year's marks do to this year's marks; in other words, they're less predictive, but they're still somewhat predictive.
There are tons of caveats to this, but caveats are boring. I'm not here to tell you not to believe. McMahon was second only to Giancarlo Stanton — literally Giancarlo Stanton — in how hard he hit a baseball this spring. Let's give him some roses for that, even while we acknowledge that there's more to baseball than hitting the ball really, really, ridiculously hard. Sorry, Derek.