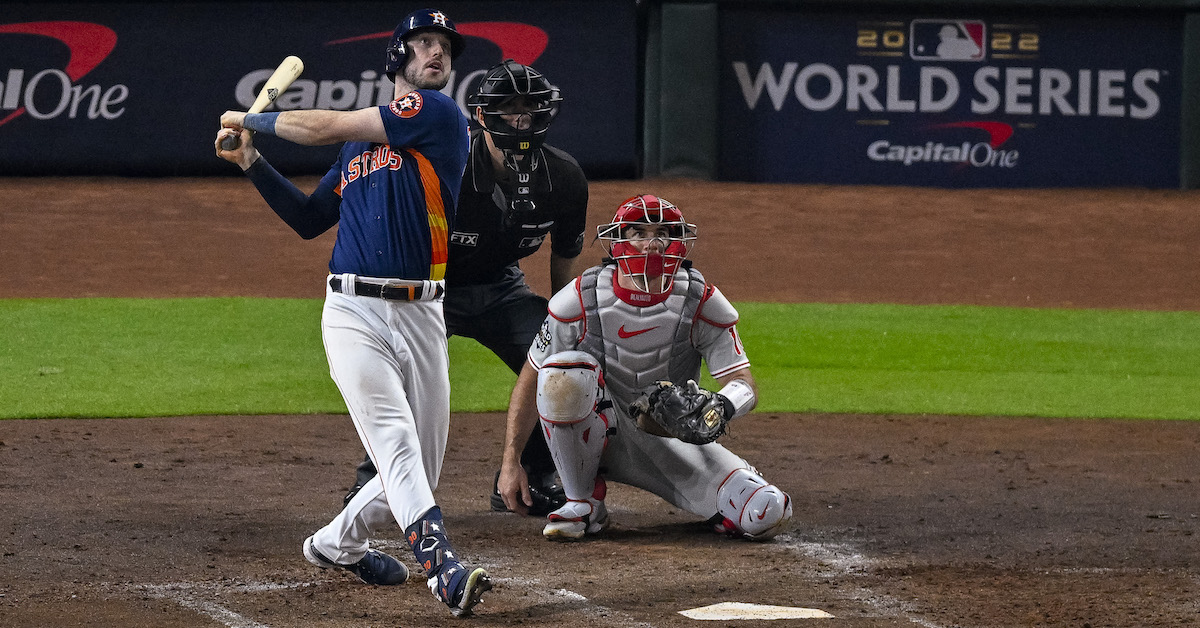 After coming up short in 2021, the Astros are back on top of the sport with their second championship in six years. Come playoff time, Houston consistently executed its gameplan better than any other team. This year, dominance came in the form of historically effective relief pitching and timely hitting. On the whole, the Astros' hitting wasn't strikingly better than any other team, but when given the chance to put up enough for their bullpen to hold it down, they did that with no problem.
That last part is what has lingered in my head for the past week or so. Over the last six years, it feels as if Houston's hitters have figured it out in big moments while other teams have stumbled. Even in this year's tournament, when there was dominant pitching across the board, Astros hitters made the most of mistakes. And Houston could rely on a large group of guys, including but not limited to Jeremy Peña, Alex Bregman, Yordan Alvarez, and Kyle Tucker. Compare that to teams like the Yankees and Phillies, who had to rely on just a few players throughout.
But why is that? How can Houston get timely production from any guy in the lineup while others can't overcome their holes? I still haven't gotten close to a definitive answer, but I think I'm making progress on a reason why.
Imagine you're a pitcher, and you're given the task to draw up a lineup you would love to face. I'd put together a lineup of similar hitters, and as a result, similar holes. For example, if I have a four-seamer with lots of ride and a filthy upper 80s slider, I'd want to face a ton of righties (or even lefties) who have bat paths that aren't always adaptable enough to cover my fastball at the top of the zone and slider diving off the plate or to the low corner. That's a very simple way of putting it, but it speaks to what I'm getting at.
On the flip side, if I could think of a lineup that wouldn't be an ideal matchup for me, it would be one with a combination of lefties and righties with varying swing paths. A righty with a flat swing, a righty with a loopy swing, a lefty with an in-between swing… I think you get the point. Facing a lineup with swing path diversity seems like a nightmare for even the best pitchers. You would have to execute varying game plans from at-bat to at-bat. If you don't have the stuff to do so, it might be a long (or short?) night.
Is this reminding you of any team in particular? It should! I'm talking, obviously, about the Astros. They offer a diverse group of hitters, and for any pitcher, that means having multiple game plans to get outs. Some pitchers can get through the lineup a couple of times without facing too much damage, but as you traverse through the game, you must continue to execute on all your player-specific game plans. What if you don't have your best stuff and can only confidently access two pitches? That might work against some hitters, but against others, they can make you pay.
So is there a way to measure that diversity? Luckily for us, there is (sort of)! Vertical bat angle (VBA) is the angle of a player's bat at impact; it's a simple descriptor of what their swing looks like. That data would at least give us an idea of how Astros hitters vary from one another and if they stand out relative to the rest of the league. And thanks to the folks at SwingGraphs, I have access to every player's VBA data from this year and a few years back. I've been playing around with the dataset for a few weeks now looking for any fun tidbits, but the most valuable piece of information that I've come up with thus far is calculating team by team VBA variance. Intuitively, I thought this could offer some explanation to this idea I've had in my head about the Astros lineup diversity.
Having a hunch about something like this is semi-intimidating. I don't necessarily expect to be right, but thankfully, I wasn't all the way wrong. The following table shows the top 15 team VBA variance from the past two seasons, separated by year:
Team VBA 2021-2022
| Team | Year | VBA Average | VBA Variance |
| --- | --- | --- | --- |
| HOU | 2022 | 33.11 | 25.26 |
| NYY | 2022 | 31.31 | 25.1 |
| HOU | 2021 | 32.87 | 20.18 |
| NYY | 2021 | 31.57 | 18.84 |
| CIN | 2021 | 32.14 | 18.5 |
| ARI | 2022 | 33.66 | 18.2 |
| LAD | 2022 | 34.8 | 17.96 |
| CLE | 2022 | 32.29 | 17.37 |
| COL | 2022 | 32.33 | 16.61 |
| SDP | 2022 | 31.41 | 16.12 |
| SFG | 2021 | 32.88 | 15.67 |
| SFG | 2022 | 33.35 | 15.59 |
| COL | 2021 | 32.44 | 15.11 |
| MIA | 2022 | 32.02 | 14.95 |
| KCR | 2021 | 30.5 | 14.86 |
I need to caveat a few things. The first is that I'm positive that some of this is noise. Realistically, how many of these teams are paying attention to this? I'm skeptical they are, and even if some are, that doesn't mean they have had the opportunity to implement the idea. The other caveat is that a team can have a ton of variance in swing types on its roster, but that is not always a good thing. What if you have a bunch of hitters who are indeed different from one another, but they aren't all that good? They can still end up near the top of this list; the Diamondbacks, Rockies, and Marlins immediately come to mind.
But I do think the top of this list means something. It feels like it's not a coincidence that the Yankees and Astros lineup of the past two seasons are here — specifically, their 2022 seasons are remarkably different from the field. You might be surprised by the Yankees appearing here, but it makes sense. Andrew Benintendi's and DJ LeMahieu's swings are on the flatter side; hitters like Aaron Judge, Matt Carpenter, and Gleyber Torres are more diagonal. This team was seriously hurt by not having the first two in the ALCS. It took away a piece of lineup diversity and made it easier on Astros pitching. On top of that, another hitter with an extremely flat swing, Josh Donaldson, was not productive. The lineup was much more one dimensional, and we could all feel and see it.
Back to the Astros. This year's team tops the list by having a myriad of diverse hitters, and this doesn't even consider the fact that Houston has diversity in batter handedness as well. Two of the Astros' best hitters are lefties, and each has a very different swing from one the other. Then there is the group of productive righties at every infield position.
To give you a better idea of what this looks like, here's each player's VBA from 2022 with available data:
Starting at the top, Chas McCormick and Tucker have similar angles at impact but from opposite sides. A little below them is Alvarez. After that, the swings become flatter through the group of righties including Jose Altuve, Bregman, and Yuli Gurriel. Other than a lefty with a super flat swing, the Astros are covering their bases. Some teams might have decent variance, but does that variance encompass All-Star hitters from each end of the spectrum? I highly doubt it.
It's not like I'm recreating the wheel here. A lot of what you hear in the discourse of lineup building is balance; you need a balanced attack of hitters to give pitchers different looks. And the Astros are incredible at executing that plan. In fact, it seems like they have intention in developing a wide range of hitters. Six of their top hitters were all homegrown or acquired while in the minors, and they all have different swing paths.
This is only the beginning of my adventure with VBA data. And while I don't think VBA is the secret sauce to hitting or anything like that, the more offense-focused data we have, the better we can be at drawing conclusions about hitters, or in this case, team lineups. Maybe this will be a focus of teams going forward, or perhaps the Astros will continue to lap everyone. For now, the latter seems the most likely.