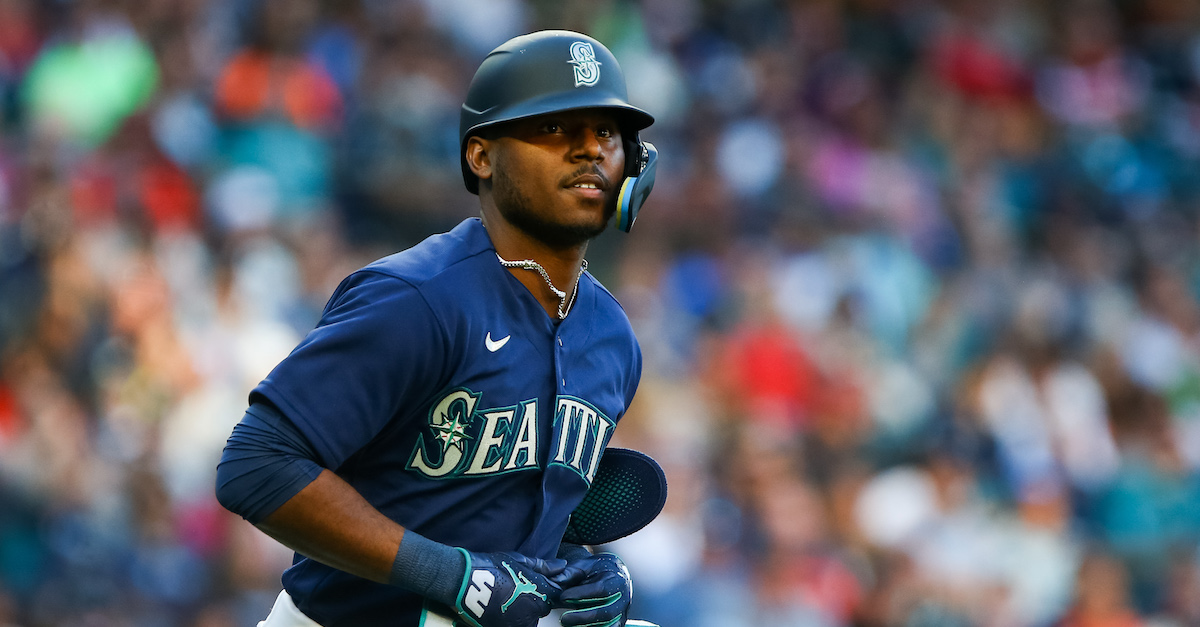 Mini trade alert! Yesterday, the Seattle Mariners sent outfielder Kyle Lewis to the Arizona Diamondbacks in exchange for outfielder/catcher Cooper Hummel. That's the entire exchange – no other players, no cash, just a one-for-one swap. It's not terribly exciting, but its simplicity makes it easier to break down. Shall we?
Two years ago isn't a lot, but considering all the ruckus that has occurred between then and now – and I'll spare you the loathsome, often non-baseball-related details – it might as well be forever. That's also when Lewis won American League Rookie of the Year. After a lengthy detour caused by persistent knee injuries, Lewis seemed on a sure path to becoming an integral part of an up-and-coming Mariners core. But the hardship continued into his sophomore season due to another tear to the same knee that had been bothering him for years; he played just 36 games in 2021. And if that wasn't enough, the already battered Lewis, who began his 2022 on the injured list, was hit by a pitch a mere week after being called up in May. He recovered, but struggled immensely at the plate. Eventually, the Mariners sent him back down to Triple-A Tacoma, where he wrapped up a grueling season.
Laid in front of us are four fragmented seasons, including a cup of coffee in 2019, from which to evaluate Lewis. The truth is, it's a tricky task. When samples are small and distant from one another, distinguishing the effects of injury from random variance and a possible decline in skill is about as productive as imagining "what could have been." But from a projection system's perspective, a short resume actually paints Lewis in a positive light. Steamer, for example, forecasts a .240/.323/.426 slashline and a 110 wRC+ for 2023, likely because of his recent minor league output and the fact that most of his major league experience comes from an award-winning rookie season. The ceiling of an everyday center fielder still exists, and a 116 wRC+ in Triple-A last season that wasn't BABIP-driven is reason for optimism.
The Mariners could have held on to Lewis, but their decision to part with him makes sense. So much time has passed since his debut that he came into the offseason arbitration-eligible. I'm not sure the cynicism involved in refusing to pay a player at least a million-plus factored into this trade, but that's how the industry often operates, so it's a potential explanation. In addition, Julio Rodríguez is locked up as Seattle's center fielder and Teoscar Hernández recently joined the team via trade. Jarred Kelenic, Jesse Winker, Sam Haggerty, Dylan Moore, and Taylor Trammell are all internal possibilities to man left field. If room for Lewis had been scarce before, it became virtually nonexistent in the last couple of months. The Mariners are no longer the type of team that needs to hang onto Lewis. It's bittersweet, but it's also a testament to how far they've come.
Not that the Diamondbacks are in dire need of an outfielder. As Kiley McDaniel recently pointed out on a highly stable social media website, Arizona now has a plethora of outfield options – options that might point to future moves. But Lewis looks like a player the team wants to keep, and unlike the Mariners, the Diamondbacks are precisely the type of club that can give him an opportunity. Lewis isn't young by baseball standards anymore, but his new team isn't after a hitter in his prime. The Diamondbacks presumably want to see if they can work out those chronic knee issues, and whether Lewis can find his footing once healthy. It's a gamble, though compared to signing a flame-throwing reliever with control issues, more like a round of theoretically optimal bingo. If you couldn't tell already, I like this for Arizona – it's the exact type of move a team in the middle stages of a rebuild should pursue.
In acquiring Lewis, the Diamondbacks parted ways with a player who's noteworthy in several aspects. Hummel is an outfielder who can (sort of) catch, and that unique positional versatility is a small yet real advantage. But novelty alone isn't worth a roster spot. What makes Hummel intriguing is his extensive minor league track record: As a switch-hitter, he's been productive on both sides of the plate, boasting good plate discipline and line drive rates that would constitute 60 grades. During his time in the Brewers' organization – he joined the Diamondbacks as part of the Eduardo Escobar deal – Hummel experienced a power surge, which he's maintained ever since. And though traditional scouting reports had him as a slightly below-average runner, Statcast has captured competitive running times from the 27-year-old catcher; his average sprint speed ranked in the 88th percentile last season, suggesting a certain degree of athleticism.
These are all positive traits – so why isn't Hummel a bigger deal? The short answer is a 65 wRC+ in 201 big league plate appearances. The longer, more in-depth answer starts with understanding that while Hummel has the qualities of a regular contributor, they never harmonized in his debut season. To wit: Upon contact, balls exited Hummel's bat at consistently medium-high speeds, but seldom at the optimal angles. He hit fastballs well, but Hummel drove breaking balls and offspeed pitches into the ground with alarming frequency. And what's exit velocity good for if supplied to a grounder? Pitchers are a smart bunch, and they caught on. Consider the relationship between the percentage of sliders Hummel saw and his rolling-average wOBA. It probably isn't coincidence: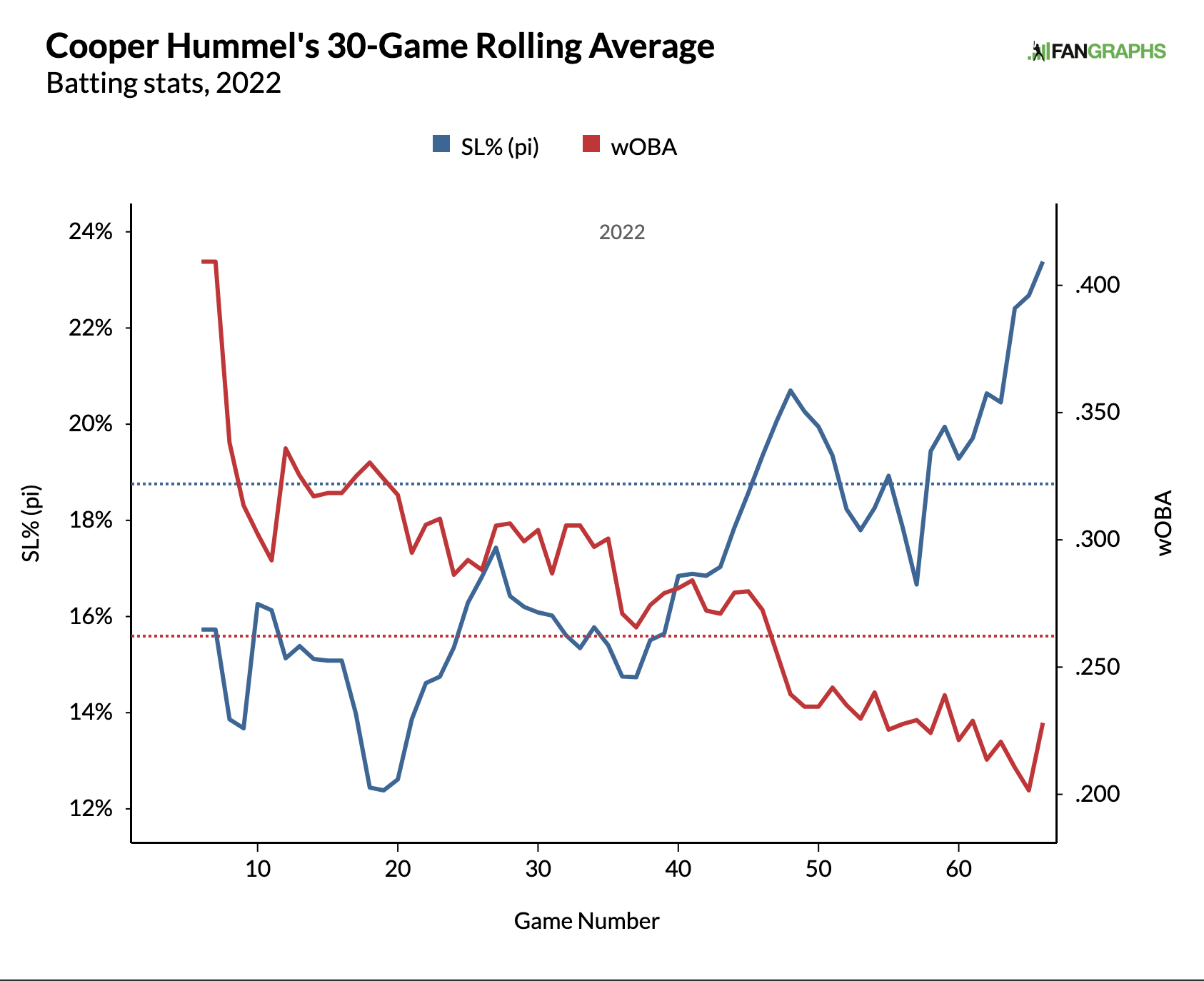 What's more, although Hummel recorded an impressive out-of-zone swing percentage, his in-the-zone whiffs lead to an inflated strikeout rate. Basically, he aced the difficult portion of a test but made silly mistakes on easier problems. The good news is that in-zone contact issues are easier to address than out-of-zone aggression, at least in theory. The bad news is that Hummel might not be as malleable as he was in, say, 2018. That discrepancy between his Triple-A numbers and his big league numbers so far evokes the image of a prototypical Quad-A hitter – someone who's too good for the upper minors, but not good enough for the show.
All told, Hummel is a loaded assignment for the Mariners, who, like the Diamondbacks, aimed for upside rather than organizational need. He has those aforementioned qualities, but will need improved timing versus non-fastballs. How far a team can take Hummel as a catcher also remains to be seen. Will the Mariners partner him with Cal Raleigh at some point, or will Hummel primarily roam the outfield grass? (Maybe he's left for good in Triple-A, but let's worry about that scenario later.)
A one-for-one trade implies balance. I'm not sure Hummel and Lewis are the same caliber of player, but they share a common vulnerability. To some, the two are washed-up outfielders who will extend their careers as organizational depth before calling it quits. Perhaps so. It'd be wrong to write them off completely, however. Derailed by a cascade of injuries, Lewis' career to date doesn't even amount to one full season; he's a talented player who deserves a fresh start. Hummel might have had a miserable big league debut, but that doesn't erase a strong hit tool and multiple seasons of statistical excellence. In spirit, Hummel-for-Lewis is equivalent. The Diamondbacks and Mariners looked to give from their surplus, then take whatever they could get. It turns out one player each sufficed.