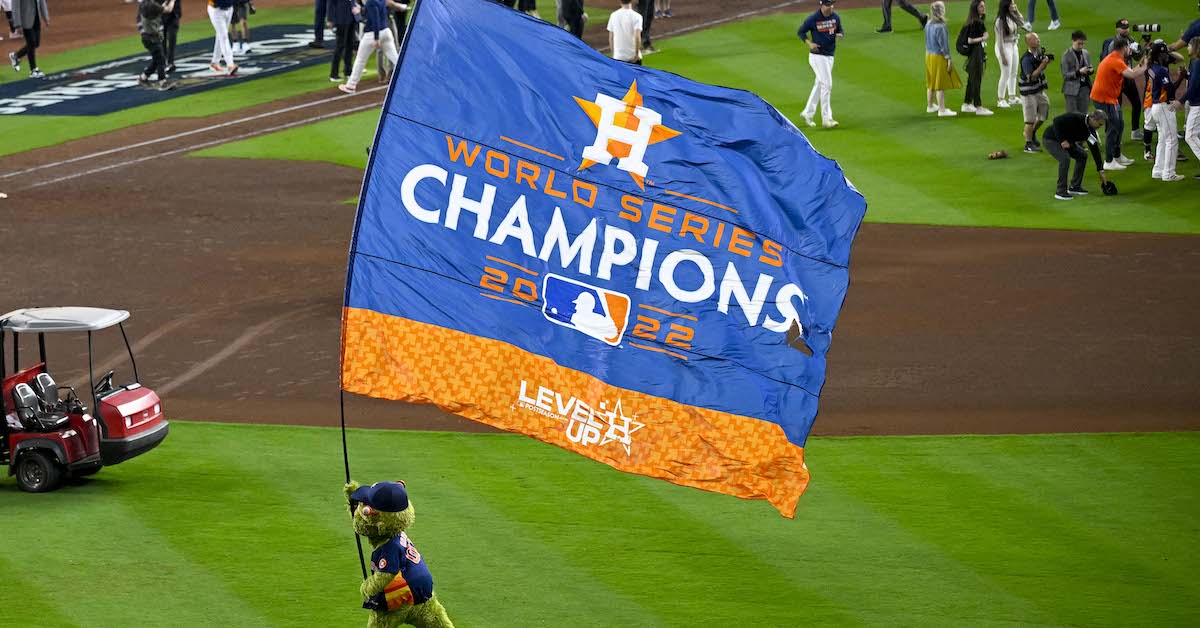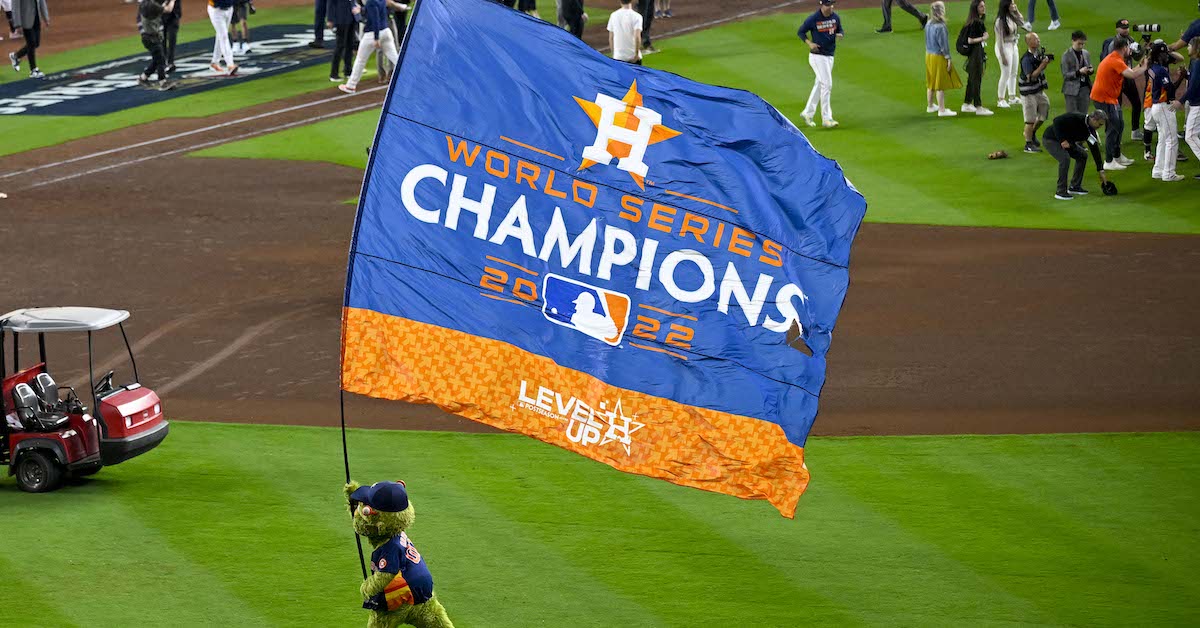 Let's start in the middle. In the bottom of the sixth inning, Yordan Alvarez hit a ball far. How far? Over-the-batter's-eye far: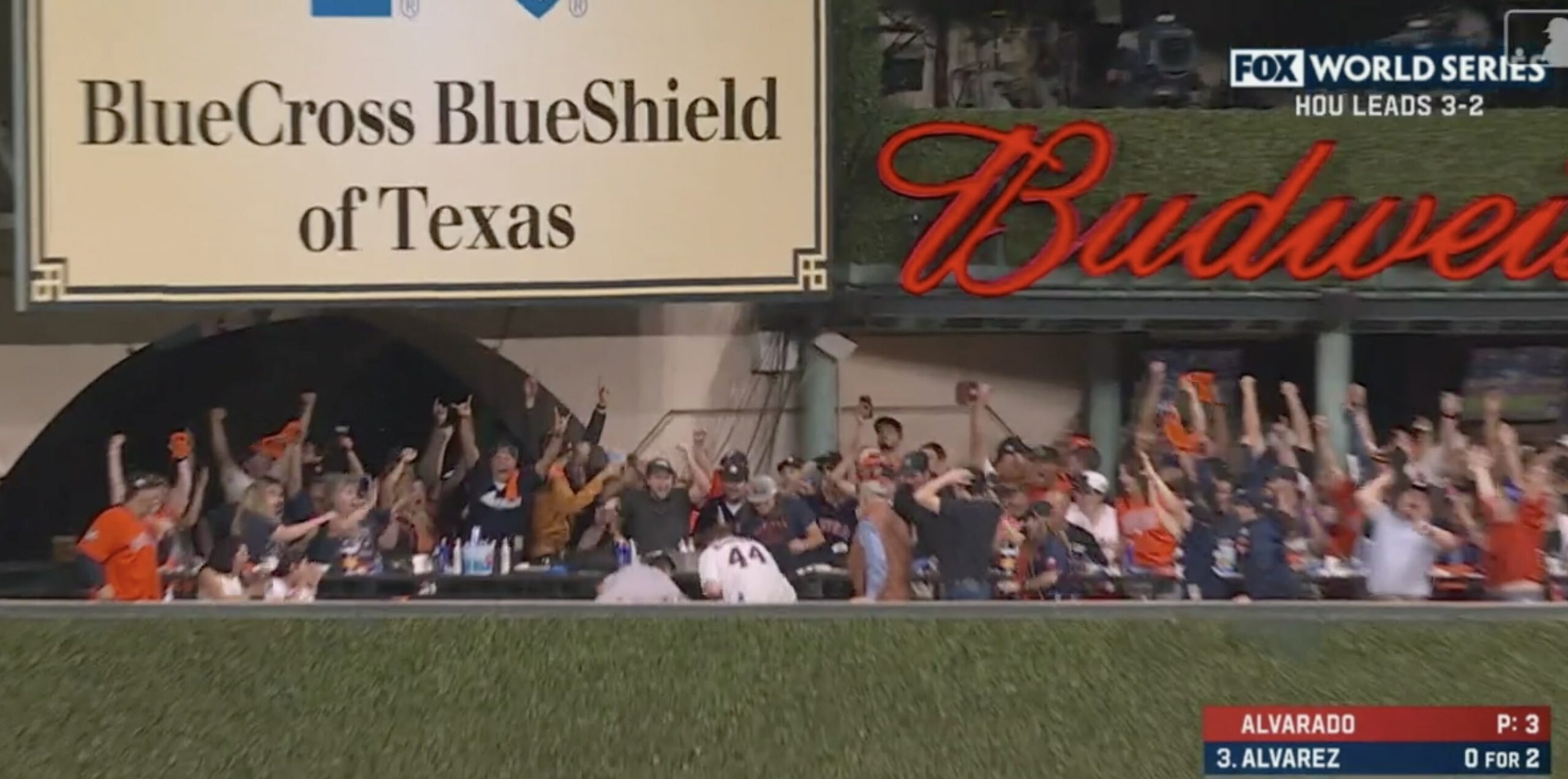 The titanic blast — 450 feet, 112.5 mph off the bat — put the Astros up 3–1 in Game 6 of the World Series, a lead they never relinquished. Houston now has its second championship in franchise history. It's a title made possible by so many contributors, both old and new, strong individually and unstoppable as a collective. From the beginning of the postseason, many called this Astros team flawless. It had no apparent weakness. In simulations, it would steamroll its opponents, and that's more or less what happened. Sometimes, dominance takes the form of an extended rally. Sometimes, it channels into a single swing.
José Alvarado routinely touches triple digits and throws a nightmare cutter. For the fourth time this series, he was asked to face Alvarez. In hindsight, letting Zack Wheeler stay in the game might have yielded a better outcome. Alvarado had been erratic his last few outings, and Wheeler didn't look fatigued, at least to the naked eye. But Phillies manager Rob Thompson had been aggressive throughout the postseason, and to great success. He stuck to his plan. The move backfired not because Thompson made an unacceptable mistake, but because Alvarez, and by extension the Astros, were simply better. In sports, a "choke" usually refers to self-inflicted asphyxiation. Not here. The Phillies fell victim to their opponents, not themselves.
But before Minute Maid Park fell into pandemonium, it was in a stasis. Hope existed for Phillies fans – Wheeler looked liked himself again, his velocity having rebounded. His sinkers, perfectly commanded, ran into Astros hitters and broke bat after bat. But his teammates couldn't capitalize on the parade of zeroes. For Framber Valdez stood on the mound for Houston, a towering figure the Phillies failed to fully comprehend. If not for a Kyle Schwarber solo homer in the sixth, they would have mustered no runs and just one additional hit. Valdez didn't bring his A-game – he threw his fair share of uncompetitive pitches, with a few down the pipe – but a competent version of the lefty sufficed. When the game turned in Houston's favor, it was Valdez who led the cheering brigade.
With a one-run lead, Wheeler started off against a meek opponent: Martín Maldonado. But the Silver Slugger candidate had one trick up his sleeve. In the postseason, the veteran backstop has a history of crowding the plate. Maldonado presumably knew Wheeler would try to attack inside. And when that happened, his preparation paid off – a sinker hit Maldonado on his elbow, right where it's protected by a pad. Call it disingenuous, call it devious, but it was deemed a legal hit-by-pitch. The Phillies challenged to no avail. The call on the field stood, and Houston had a baserunner to lead off the inning.
Replacing an All-Star shortstop with a rookie shouldn't be possible, but this season, the Astros did just that. If you'll recall, Jeremy Peña hit a go-ahead home run in the 18th inning of ALDS Game 3, a three-run home run in ALCS Game 4, and was hitting over .400 in the World Series. He has the poise of someone who not only frequents the rodeo but calls it home. Upon seeing a fastball, Peña promptly lined it up the middle. Runners stood at the corners. Thompson got up to relieve his ace, then hailed for Alvarado.
It's almost comical that the Astros received Alvarez in a throwaway trade. The tweet announcing its existence now lives in infamy, visited by taunting fans as part of a pilgrimage. It's also impressive how the organization nurtured him into the power-hitting threat he is now. Alvarez had been ice cold up to this point, making it easy to forget that he slashed .306/.406/.613 in the regular season. But in a series-defining moment, he reminded us of his status as one of the best hitters in the game. In one fell swoop, Alvarez came through.
The Astros weren't done yet. They took advantage of a distraught Alvarado, who walked Alex Bregman, then allowed him to advance to second on a wild pitch. Kyle Tucker struck out swinging for the second out, and in came Seranthony Domínguez. But you know it isn't your day when Christian Vázquez of all hitters notches an RBI single. Any insurance is good insurance – being up three runs rather than two feels enormous, especially in Game 6 of the World Series. The Phillies couldn't bridge that chasm, and they went out with a whimper, not a bang.
Innings seven, eight, and nine were examples of the gap between the Astros and Phillies. Granted, it's one thing to protect a three-run lead and another to chase a three-run deficit. But consider that behind the one-two punch of Alvarado-Domínguez, the Phillies had Zach Eflin, David Robertson, and if necessary, maybe Andrew Bellatti. The Astros went with Héctor Neris and Bryan Abreu, who aren't even their best relievers, in the seventh and eighth, then used Ryan Pressly to shut the door. Philadelphia received attention this year for constructing a lineup that prioritized offense over defense. Houston ran out a squad that hit for a similar amount of thump without sacrificing contact or run prevention. Fittingly, the Gold Glove-winning Tucker (whose 129 wRC+ this season would have been second-best on the Phillies) made a mad dash towards foul territory to secure the final out:
This is no criticism of the Phillies, who weren't supposed to make it all the way here. As the sixth seed in the National League, they had to topple the division-winning Cardinals, the red-hot Braves, and the like-minded Padres just to have a chance at World Series glory. Each confrontation contained a comeback, rally, or moment that seemed to defy all odds. The Phillies marched to the beat of their own drum against the Astros, too – upending a 5–0 deficit in Game 1, slamming five home runs off Lance McCullers Jr. in Game 3, relying on Nick Castellanos, defensive wizard. In the end, those bursts of magic couldn't stave off the Astros. But a deep postseason run is a good starting point for the Phillies, and with additions this offseason, they could find themselves in another championship chase.
As the Astros spilled out onto the field, much of the attention shifted to Dusty Baker. The 73-year-old legend has enjoyed a lengthy managerial career consisting of 25 seasons, 3,884 regular-season games, and three World Series appearances. But this marked the first time he'd won it all as manager, providing an exclamation point to his Cooperstown resume. Baker seldom strayed from his toothpick-savoring, at-times stubborn ways. He arguably left pitchers in too long on multiple occasions, missing opportune moments to extinguish the Phillies' flames. Nonetheless, the Astros prevailed. Perhaps they would have even without Baker, but to disregard any element of these Astros is to disregard them as a whole.
Not long ago, organizational turmoil threatened to close the door on the Astros. In the wake of the sign-stealing scandal, much of Houston's front office turned over, as did the big-league roster. For some, it's difficult to disassociate these two eras of Astros baseball from each other – the old one led by the ruthless Jeff Luhnow, and the latest one piloted by James Click, who oversaw the growth of players like Cristian Javier and the aforementioned Peña and Valdez, all of whom played an integral role in Houston's triumph. A clean victory doesn't wash away what happened in the past, but that doesn't mean we should discredit the new regime, either. The 106 games and championship won by the Astros this year are a testament to what an organization can accomplish when every part of it is in sync.
Meanwhile, the Phillies and their fans will head home, wondering what could have been. What if Edmundo Sosa's fly ball in the second inning had landed 15 feet to the left, resulting in a three-run home run? What if Wheeler had stayed in to pitch and retired Alvarez? What if Schwarber had swung away in the eighth, instead of awkwardly bunting against the shift? It's natural that these questions linger. But time has passed, rendering those questions unanswerable. The Phillies will have gone to sleep, and they will have woken up, the sunlight of a new day upon them. It's a day without baseball, a day with little reason to celebrate. Gradually, however, the ice will thaw. The sound of the bat will ring through batting cages, and balls will find themselves nestled in gloves, just where they belong. And the Phillies will gather once more, armed with the knowledge that it's the heartbreaks that define and motivate us.