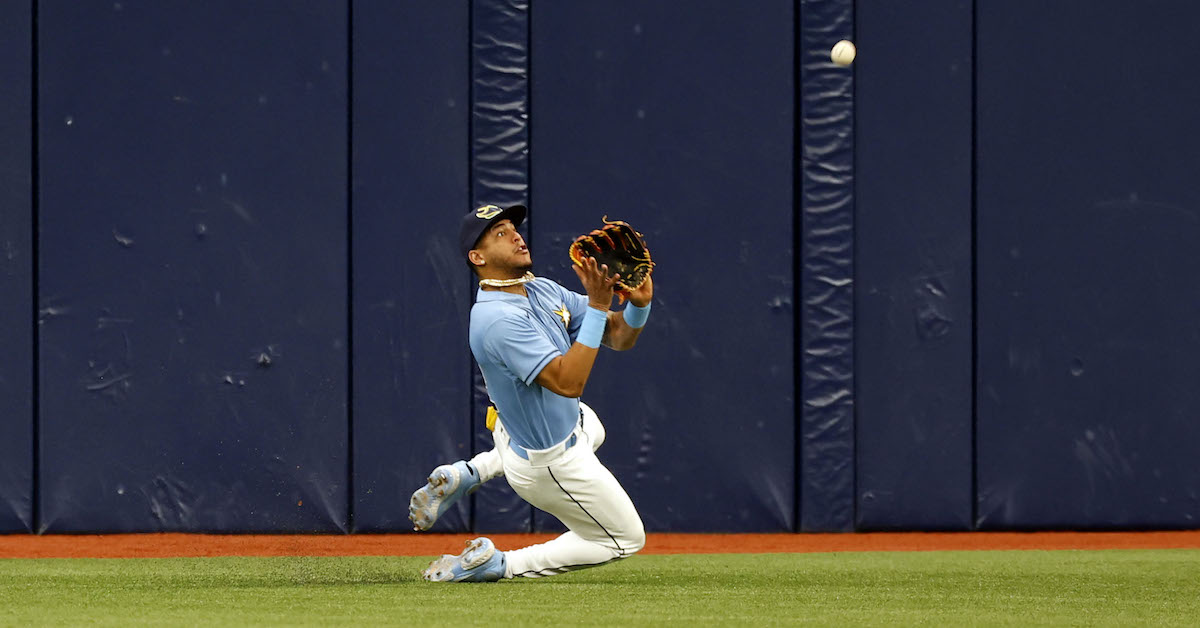 Today we're going to watch the most spectacular catches of the 2022 season. Not all of them, though; that would take too long. Instead, we're going to skip all the exciting ones to focus on the greatest, most boring plays of the year.
Last week, I wrote about right fielders Kyle Tucker and Nick Castellanos. The latter got a great deal of ink for making sliding catches on balls Tucker likely would have gotten to easily. In this article, we'll focus on the inverse: Players who made difficult plays look routine. The goal here is not to downplay cool diving catches, but to celebrate great plays that might have gone unappreciated.
Statcast assigns catch probability based on hang time and distance traveled. This year there were 2,140 five-star catch opportunities: balls with a catch probability between 0–25%. Ninety-three of those balls, or 4.3%, were actually caught. Here are the players who made the most five-star catches:
Five-Star Play Leaders – 2022
SOURCE: Baseball Savant
Nine players made two five-star catches, and 43 players made one. Some of those five-star plays are truly stirring. Do you want to see Jose Siri make an unbelievable diving catch? Sorry, friend. You're in the wrong place. Can I instead interest you in this seemingly pedestrian play with a 15% catch probability?
It wouldn't be hard to let your eyes slide right past that play without thinking twice, but that ball falls in for a hit nearly seven times out of eight. Watch Brooks Raley give a little hop on the mound as soon as the ball's hit. That's not the hop of someone who thinks he induced an easy out; it's the hop of someone who thinks he gave up a single on a tweener.
Siri was an unbelievable outfielder in 2022. He was third in outfield OAA despite playing just 786 innings and converted 33% of his five-star opportunities. The only other player above 20% was Daulton Varsho. Speaking of Varsho, here he is making a play with a 5% catch probability:
Again, that ball falls in for a hit 19 times out of 20. Varsho runs 104 feet to track it down and does so without leaving his feet or causing Steve Berthiaume to raise his voice.
At 3.7 feet above average, Varsho ranked fourth on Baseball Savant's Feet vs Avg metric, which measures progress along the direct path to the ball in the first three seconds. (Kyle Isbel was first with 4.8 feet per second.) On this play, Varsho's jump is more than 10 feet above average. He also conveniently timed it for the day before Sports Illustrated published a story about his defense detailing the work that he had put in to improve on plays that, just like this one, sent him back and to his right.
Here's Cedric Mullins making another ball with a 5% catch probability look downright easy:
This might be my favorite play of the bunch. Mullins gets a good jump and takes a great route, but he turns on the afterburners in those last 15 feet, getting up to 28.2 feet per second. His average sprint speed on the year was 28.5. Defensive plays aren't used to calculate a player's average sprint speed. Know why? Because people don't usually run that fast on defense! You can't just put your head down and dig. You have to track the ball. You have to adjust your route. You have to avoid running into walls and teammates. You have to get into position to make the catch and possibly a throw. You have to keep your head from bouncing all over the place so you can see enough to do all of the above. Mullins manages to do all of that with the pedal all the way to the floor, then makes a nonchalant spin and throw in to second base.
Here's Max Kepler making a play with a 10% catch probability, then being lightly mocked by his own team's play-by-play announcer for sliding after he'd already made the play:
I would argue that if you make a play that good, you should be allowed to run across the field and slide like a soccer player after a big goal. Let the kids play.
All four of the balls below have both a catch probability and an announcer excitement level of 20%:
All of those balls fall in for hits, most of them doubles, 80% of the time. It's no coincidence that three of the players who made them look so easy — Mullins again, Jackie Bradley Jr., and Michael A. Taylor — are among the very best in the game.
The last subset of plays in our purview is wall balls. Because they're so tricky, catch probability on wall balls is calculated separately. Here's a ball that has a 95% catch probability. Even after a bad jump, Juan Soto has plenty of time to get to it, but fear of the wall makes him settle for playing the carom.
All three of the balls below have a catch probability of 5%, and only one gets the crowd on its feet. Unlike the players we've discussed so far, the players who made those plays don't appear at the top of the defensive leaderboards; in fact, all of them posted an OAA of exactly 0. They don't have enough speed or get good enough jumps, but they do have enough experience to approach the wall with confidence and make a highly improbable play look unremarkable.
For all the fear that advanced metrics are taking the fun out of baseball, they also have the power to illuminate spectacular things that we might not have noticed at all. Whether it's a deceptively difficult catch or a crucial take on a pitch just a hair outside the regulation strike zone, understanding the game down to the inch gives us a chance to appreciate it more than we otherwise would have. Besides, it's still pretty fun to watch Jesse Winker do his best Superman impression on a ball with a 95% catch probability, even if we know Siri could have made the same play after a quick a detour to the pretzel stand.