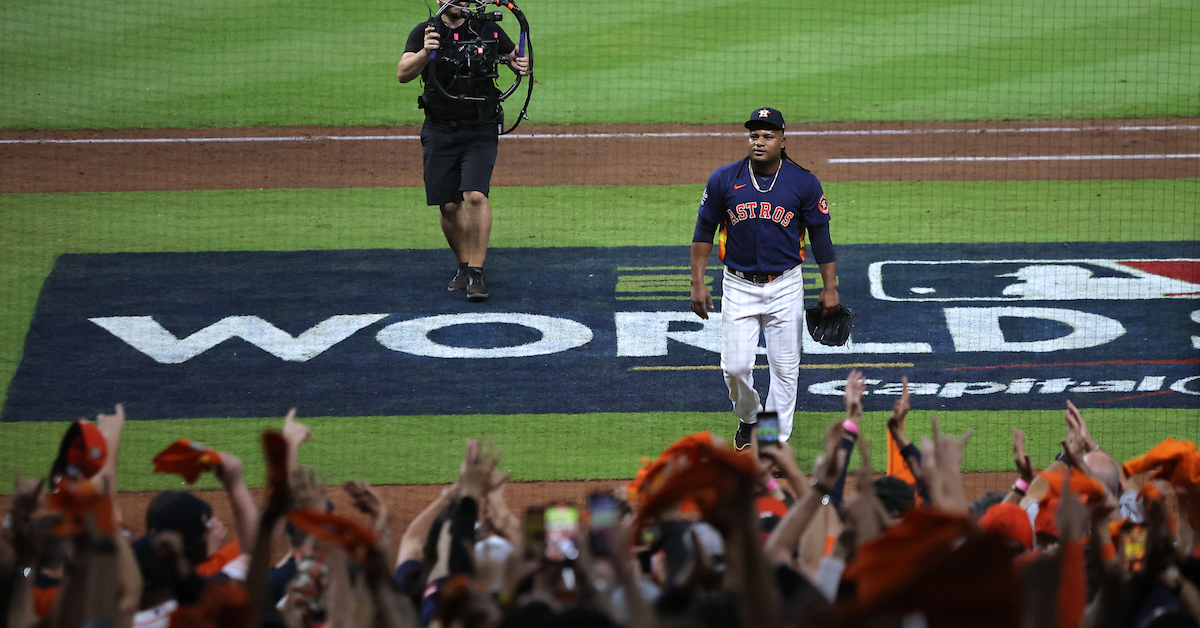 Framber Valdez isn't the marquee pitcher in this World Series. He's a solid fourth by reputation, with the top trio some of the brightest pitching lights of the last five years: Justin Verlander, Aaron Nola, and Zack Wheeler. Two games into the series, that top trio have been uniformly bad. Each has given up five runs, hardly the dominant performances they're known for. Valdez? He stands untouched and mostly unchallenged, allowing a solitary run over 6 1/3 innings to pace the Astros to a 5-2 victory in Game 2.
When Valdez is on his game – and he's always on his game, setting the major league record for most consecutive quality starts this year – he mixes a snapdragon curveball with a sinker that warps gravity, drawing the ball inexorably downward. He was in fine form Saturday night against a tough Philadelphia lineup. He got awkward swings seemingly at will, weak grounders whenever he needed them, and had a beautiful curveball in his back pocket whenever the opportunity for a strikeout presented itself.
The Phillies have been swinging early and often this postseason. That's a horrid plan against Valdez; his biggest weakness is an occasional lapse in command. Even tonight, in one of the best performances of his career, he walked three Phillies. If you can lay off his curveball – easier said than done – he'll sometimes spray a few sinkers and put you on base.
Kyle Schwarber understands that style of baseball implicitly. He worked three-ball counts each time he faced Valdez and reached base twice as a result. Alec Bohm drew a free pass of his own. Rhys Hoskins managed the trick in the first inning. Mostly, though, the Phillies were hunting smashable fastballs, and Valdez simply doesn't give you many of those. You can't elevate and celebrate if you can't elevate, and they only hit three balls at a launch angle of 10 degrees or higher against him. That's a low line drive, basically: they couldn't even manage that much. They did go 2-for-3 on those balls, but that's just not enough. The rare baserunners they got were twice erased by double plays, another benefit of all that groundball contact.
While Valdez was dealing, Wheeler was reeling. He'd been too much for the opposition this postseason, thanks in part to a bundle of first-pitch strikes. The Astros didn't wait around to get behind in the count; they swung at the first four pitches of the game and turned them into three doubles, all hard hit. By the time he escaped the inning, another run had scored via an error, and the Astros were comfortably in front for a second consecutive night.
Though Wheeler did his best to settle in, he couldn't keep the powerful Houston offense down. He doesn't operate like Valdez; he relies more on strikeouts than batted balls to produce his outs, normally featuring his four-seam fastball to both get ahead in counts and end at-bats. Perhaps rightfully fearing Houston's league-leading production against four-seamers, he went away from the pitch almost completely tonight, throwing it only 22% of the time (his season average was 42.4%).
Houston wasn't fooled. They struck out only three times and put a runner on base in every inning Wheeler pitched, including the leadoff batter four times. He was able to work around plenty of those baserunners, but without the benefit of his customary strikeout stuff, it was a slog. It was a dangerous slog, too: with one on and two outs in the fifth, Wheeler hung a slider to Alex Bregman, a 92 mph cement mixer down the heart of the plate. Bregman hit it to Galveston – or at least, off the facing of the left-center power alley, a projected 405 feet:
It was the last time the Astros scored, thanks to a workmanlike performance from the Philadelphia bullpen, but Houston had done enough damage off of Wheeler to last a whole game.
The Philies are no pushovers; they didn't go quietly into the night. The way their lineup works, any baserunner is a potential two-run shot, and Schwarber nearly proved that in the top of the eighth. With Bryson Stott aboard after a hard-earned walk, Schwarber unloaded on a Rafael Montero fastball. He tattooed the ball, 111 mph off of his bat, for a majestic 400-foot shot. Unfortunately for the Phillies, he was so all over it that he hooked it just foul. Montero came back with another fastball, unfazed by Schwarber's pop, and Schwarber nearly made him pay. He smacked another one to right, this one clearly fair. This time, though, he didn't have quite enough. Kyle Tucker caught it with his back against the wall, with no margin to spare:
Even then, the Phillies weren't done. A miscommunication between Jeremy Peña and Jose Altuve – Peña's only play on a grounder up the middle was a flip to second, but Altuve assumed he'd go to first and ducked instead of covering – put two Phillies aboard with Bryce Harper at the plate:
one of the funnier baseball slo-mos I've seen in a long time pic.twitter.com/HONljEwwBT

— Céspedes Family BBQ (@CespedesBBQ) October 30, 2022
Best hitter at the dish, only the second time all night they'd had two runners aboard; that's exactly how Philadelphia would draw it up. But Montero was up to the challenge; he pumped four straight four-seamers at him, and Harper lifted the fourth to right for a lazy fly out.
The Phillies have pulled off quite the magic trick this postseason. They've been so resilient, so proficient with their backs against the wall, that no lead feels safe, and no number of outs too few to allow a comeback. Even at 5-1 in the ninth, hope still flickered. Even when Nick Castellanos struck out to start the frame, the crowd didn't exhale. You have to get every out against the Phillies. Of course, you have to get every out against every team, but they feel particularly indefatigable at the moment, thanks to their charmed playoff run.
They didn't come all the way back from 5-1, naturally. It's impossibly hard, particularly against the opposing team's closer. But they made it exciting nonetheless. Bohm rapped a double off the wall to give them a baserunner. Brandon Marsh hit what could have been a game-ending grounder, but Yuli Gurriel booted it, scoring Bohm. Suddenly, Stott, the king of 12-pitch walks, was at the plate. If he reached, the tying run would bat. Could it be?
It couldn't. Again, it's impossibly hard. Stott hit a harmless grounder to second that closed things out. Houston held on 5-2, as they always seemed likely to do. In the end, those three first-inning runs, courtesy of three straight doubles by the first three batters of the game, proved decisive. It didn't feel like that, though, even as Valdez stood tall on the World Series stage and Bregman tacked on some insurance. Philadelphia's playoff run has been magical, win or lose. They've made doubters out of every team with a lead, right until the last out.