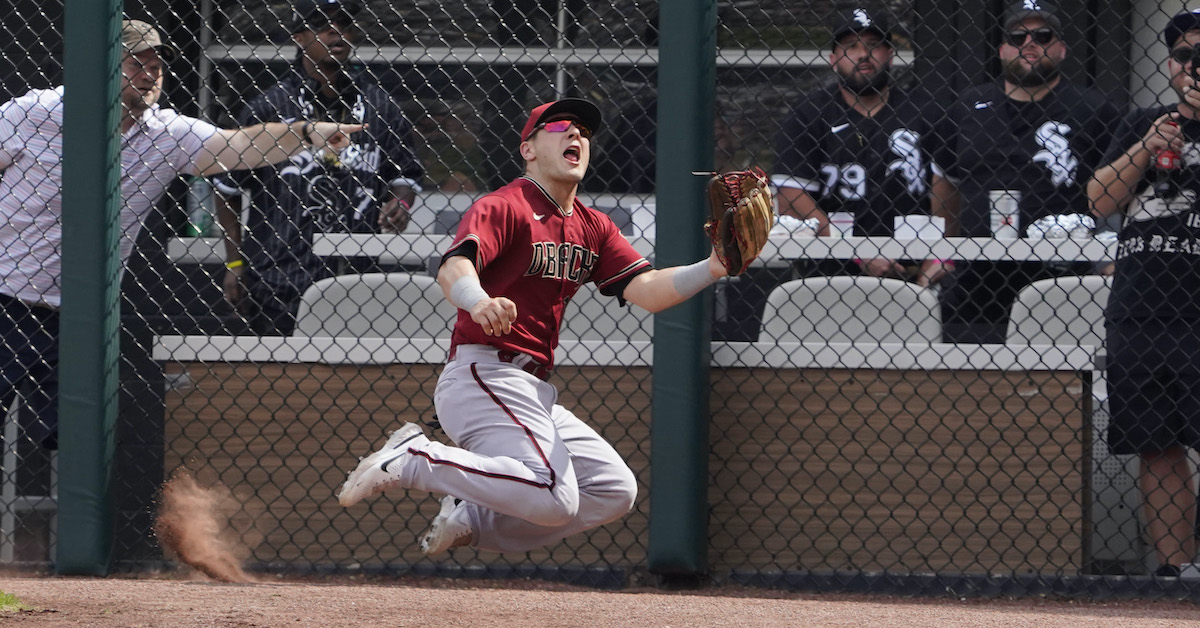 Two weeks ago, Rawlings and MLB announced this year's Gold Glove finalists. The inclusion of Juan Soto, who posted the worst OAA among qualified outfielders but ran a 145 wRC+, prompted me to examine the link between Gold Glove finalists and offense. I found that Soto's selection was likely due to the halo effect, a cognitive bias which may have led voters to extend a positive overall impression of him to his fielding.
Fast forward to this week, when Rawlings and MLB announced this year's Gold Glove winners. While Soto was not among the 20 victors, the 16 non-pitcher, non-utility winners out-hit the other 32 finalists 115 to 107 in wRC+. Last year, the winners out-hit the other finalists 114 to 107 (I excluded this year's utility finalists/winners to make the comparison). In my previous article on Gold Gloves, I also found that finalists out-hit other qualified fielders 109 to 103 in wRC+ last year and 110 to 102 this year.
Finalists also bested other qualifiers in DRS, UZR, and OAA, both this year and last. The winners out-defended other finalists across those three metrics as well, albeit by slightly lesser margins:
GG Winners, Finalists, and Non-Finalists
| Year | Metric | Winners | Other Finalists | Edge | Finalists Total | Non-Finalists | Edge |
| --- | --- | --- | --- | --- | --- | --- | --- |
| 2021 | DRS | 11.06 | 5.16 | 5.90 | 7.13 | -0.66 | 7.79 |
| 2021 | UZR | 5.27 | 2.13 | 3.14 | 3.18 | -0.35 | 3.53 |
| 2021 | OAA | 8.64 | 4.29 | 4.35 | 5.74 | -0.32 | 6.06 |
| 2022 | DRS | 14.63 | 6.63 | 8.00 | 9.29 | -1.18 | 10.47 |
| 2022 | UZR | 5.87 | 4.04 | 1.83 | 4.65 | -0.69 | 5.34 |
| 2022 | OAA | 9.07 | 4.89 | 4.18 | 6.29 | -0.61 | 6.90 |
But just because the winners topped the other finalists on average, that doesn't necessarily mean the best fielder won the award every time. This year, besides the halo effect and reputation, the new utility category might be to blame for that. Daulton Varsho, for example, was an absolute snub. In the right field category, he lost to Mookie Betts; in the utility category, Brendan Donovan took the cake.
In order to qualify for a Gold Glove, infielders and outfielders must have amassed a total of 698 innings in the field through their team's first 138 games. In lieu of custom date ranges, I considered qualified players those who played 698 total innings in the field on the season. Below are Varsho's defensive ranks among all qualified fielders (247 total), all qualified outfielders (85), and all qualified right fielders (24). The first column takes defense at every position played into account; the second, only defense at outfield positions; the third, only defense in right field.
Daulton Varsho Fielding Ranks
Metric
All Qualified
OF Qualified
RF Qualified
DRS
13*
T-1
2
UZR
1
1
1
OAA
T-4
1
2
*Only DRS takes catching into account
It's obvious why, at first glance, the utility category suited Varsho: the young Diamondback played 175 innings at catcher, 378.2 in center, and 541.2 in right. Given that the main defensive metrics are cumulative, considering him a utility player would give his defensive work the most justice. But if there were a general outfield category, Varsho would've been a no-brainer. He tied for first in DRS with Michael A. Taylor, lapped the field in UZR — his 5.6-point lead over second-place Myles Straw was larger than the distance between Straw and sixth-place Ian Happ — and stood alone in the lead for OAA as well. In the right field category, Varsho trailed Betts in DRS by 1 point but bested him in UZR by 2.3 and in OAA by 5 despite the latter's 600-plus innings advantage. Varsho's subpar numbers at catcher dragged him down in the utility category, but he still bested eventual-winner Donovan in all three metrics (in fact, Donovan actually had a negative OAA).
It is unclear how the winner in the utility category was decided; NBC Sports reported that Rawlings and SABR would cooperate on a process separate from the other Gold Gloves. A voting component, which the other awards include, wasn't mentioned. But the fact that Varsho didn't win in either category he was nominated for makes me think that if voting were involved, either voters couldn't select him twice or just wanted to spread the love. This would effectively split his vote, leaving him short for both of his nominations.
One alternative explanation is that Betts (144 wRC+) and Donovan (129) outpaced Varsho (106) due to the halo effect. Another, at least in the case of right field, is that reputation played a role: Betts' victory this year marked his sixth career Gold Glove, and Varsho has yet to receive one. But luckily for us, Tommy Edman was nominated alongside Varsho and Donovan; like Varsho, Edman was nominated at another position as well. If Edman proves to be more worthy than Donovan too, it will lend more credence to the split-vote theory.
Named a finalist at both second base and the utility category, Edman lost to a pair of Brendans in Rodgers and Donovan. Below are Edman's defensive ranks among all qualified fielders (247 total), all qualified middle infielders (63), and all qualified second basemen (31):
Tommy Edman Fielding Ranks
| Metric | All Qualified | MI Qualified | 2B Qualified |
| --- | --- | --- | --- |
| DRS | T-5 | 2 | 4 |
| UZR | 9 | 2 | 6 |
| OAA | T-2 | 3 | T-5 |
Edman divvied up his innings between shortstop (622), second base (614.2), third base (26), center (5), and right (3). If you're wondering why he was nominated at second base even though he played the most innings at shortstop, my guess is that at the time of the 138th game of the season, he had played more innings at second.
Like Varsho and the hypothetical general outfield category, Edman would have had the strongest case in a hypothetical middle infield category. Even though he didn't place first in any of the three defensive metrics, no player bested him across multiple. Unlike Varsho, Edman's case isn't as robust for his non-utility nomination, as Rodgers bested him in both DRS and UZR by sizeable margins (10 and 4.8). But he joins Varsho in trouncing Donovan across the board.
Edman (108) barely beat out Varsho in wRC+, so there is a possibility that the halo effect is in play here too. And because the criteria for the utility category are unclear, this could all be a misinterpretation on my part; Donovan played at least 50 innings everywhere but pitcher, catcher, and center field, and maybe playing just about everywhere is what won him the award. But DJ LeMahieu, who took home the Gold Glove for the category in the American League, topped the other finalists in DRS, UZR, and OAA, and played just three positions. The runners-up, Whit Merrifield and Luis Rengifo, each dabbled at a fourth and fifth spot (six for Merrifield if you count his pitching appearance).
Mystery of the utility category aside, reputation may have helped LeMahieu as well. With his win this year, the infielder put away his fourth Gold Glove. Among the 48 non-utility, non-pitcher finalists this year, 17 were previous Gold Glove winners. Of those 17, four went on to win. Last year, 22 of 48 finalists had won prior. Of those 22, six went on to win.
Are GG Finalists Largely Past Winners?
| Year | % of Finalists | % That Won |
| --- | --- | --- |
| 2021 Past Winners | 45.8 | 27.3 |
| 2021 Not PW | 54.2 | 38.5 |
| 2022 PW | 35.4 | 23.5 |
| 2022 Not PW | 64.6 | 38.7 |
I neglected to include pitchers because, since they have fewer fielding opportunities, I think reputation plays an outsized role. I also omitted utility players since they aren't in both years. The first column indicates the proportions of finalists who won previous Gold Gloves. Considering the small number of qualified players who have done so, past winners make up quite a large percentage of finalists. That said, once they get to the finals, a larger proportion of first-timers end up winning; the second column indicates that around a quarter of past winners who make the finals take home the gold, but around 38% of neophytes do.
Overall, I stand by the prominence of the halo effect among other selection biases; the differences in wRC+ among finalists and non-finalists are stark and show up consistently no matter how you slice it. Reputation does seem to play a role, though it may serve as more of a courtesy in allowing Gold Glove veterans into the finals but not providing them with the ultimate prize. And while we still need more data, the new utility category seems to have shaken things up. Til next year.