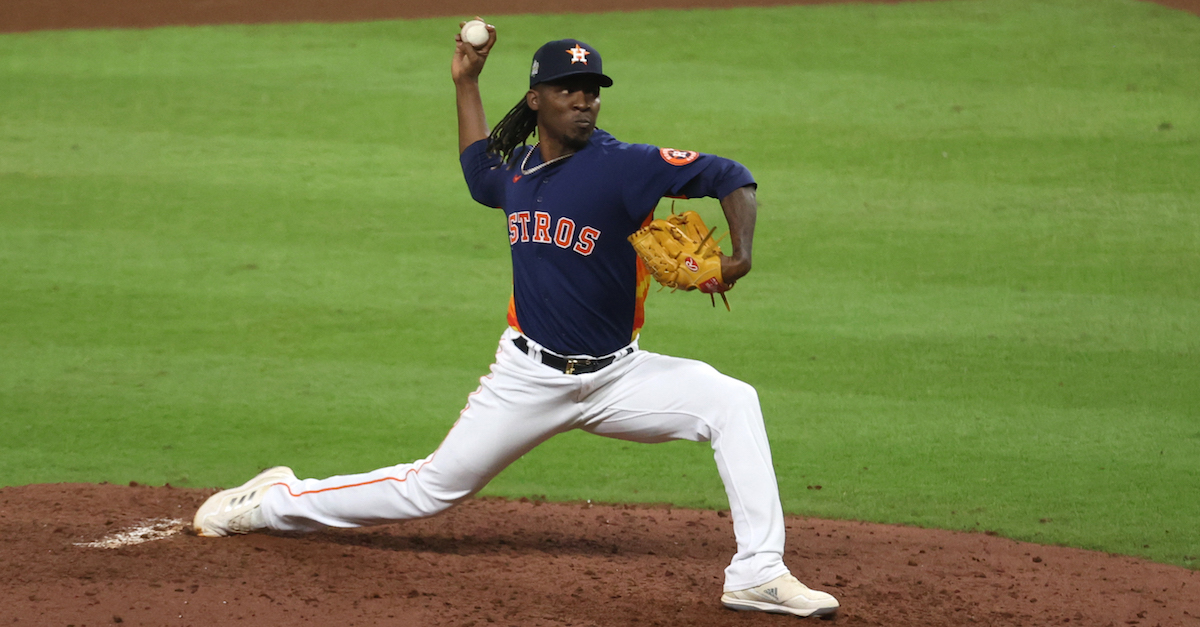 I'm not sure if you know this about me, but there are two things that I've always loved to do. First, I like to make things about me, even if the connection is tenuous. Second, I like to go over my own past decisions and see if there's anything I can learn from them, hopefully without being too self-serving. I have great news – well, for me at least. Two free agent signings last week – Robert Suarez to the Padres and Rafael Montero to the Astros – have given me an opportunity to do both.
Of course, I don't want to give either player short shrift. Both are excellent in their own right, late-inning relievers coming off of effective 2022 seasons and high-leverage postseason work. Egotistical as I am, I can't completely ignore them and only talk about myself. As a compromise, I'll start by profiling each player and their new contract. From there, we'll move on to discussing why neither was on my Top 50 Free Agents ranking, and what I think I did wrong in making the list.
Robert Suarez, San Diego Padres
Suarez is one of the coolest stories in baseball. He wasn't just a 31-year-old rookie this year; he was a 31-year-old making his affiliated ball debut after blossoming into a dominant reliever in NPB. He gave up three runs without recording an out in his major league debut, then pitched to a 1.70 ERA and 3.03 FIP the rest of the season, earning a setup role in front of Josh Hader in a solid San Diego bullpen.
Suarez relies most frequently on his four-seamer, and it's easy to see why. He pairs top-flight velocity – he averaged 98 mph last year – with solid movement, targeting the top of the zone for swings and misses. He mostly complements it with a changeup that approaches 90 mph, with a smattering of cutters (vs. righties) and curveballs. He also throws a sinker that's really more of a variation on his four-seamer; few sinkers in baseball fall less on their flight home, and the pitch is essentially a four-seamer that trades a few inches of vertical ride for horizontal movement.
That package is pretty close to the modern reliever starter kit, but with one key twist. He struck out 31.9% of the batters he faced in 2022, but had the same issues — home runs and walks, more or less — that most four-seam-dominant relievers do. The twist is that his sinker got a ton of grounders and didn't allow a single extra-base hit all year. I don't think that performance will repeat – he didn't throw a ton and probably won't allow a .167 BABIP on it again – but the extra wrinkle definitely helped. In the playoffs, he threw his sinker a third of the time, twice as frequently as his changeup.
His contract with the Padres establishes him as Hader's understudy next year, but it gives him room to grow into more in 2024. The top-level details undersell the deal. It's a "five-year, $46 million" deal, but it's actually a three-year, $30 million deal to start, with a player opt out before two more years at $8 million apiece. The deal can also grow by as much as $3 million per year based on how many games Suarez finishes; if he becomes the Padres' closer in 2024, it could be more like $36 million over three years, followed by another bite at the free agency apple.
That's top-flight reliever money. Our projections somewhat agree; Steamer gives him the 40th-best projection among relievers next year, behind Hader and Luis García when it comes to San Diego's bullpen. I'd go higher than the 3.52 ERA Steamer projects, as I'm worried about the likelihood of sustaining his sinker's effectiveness while keeping his strikeout rate high, but I think a mid-3.00's ERA is a reasonable guess as to his effectiveness. Quite simply, the guy can pitch, even if it took major league teams a long time to realize it.
Rafael Montero, Houston Astros
Montero went from being a throw-in attached to the Kendall Graveman trade in 2021 – the Mariners had designated him for assignment a few days prior, which meant they'd lose him to a waiver claim unless they traded him – to Dusty Baker's favored setup man this season. Despite some scary playoff moments – he walked 15% of the batters he faced – he continued his great form from the regular season and hit free agency after a career year. The Astros retained him on a three-year, $34.5 million deal.
Montero's pitch mix is strikingly similar to that of Suarez, at least superficially. He leans on a four-seamer and a changeup, particularly against lefties. Against righties, he goes away from the changeup and throws sinkers. He doesn't quite have Suarez's raw velocity, but he throws plenty hard – 96 mph on average. He also boasts a low release point that combines with his excellent vertical movement to create a shallow approach angle on his fastballs, which gives hitters fits. Unlike Suarez, he has a slider he likes to throw to righties, but for the most part, he's fastball/sinker/changeup.
If you're being charitable, you could say that Montero and the Astros worked together to bring out these traits, turning him into a completely new pitcher in 2022. If you're taking a slightly longer view, well, again, he pitched himself off the Mariners in 2021. He's had short stretches like 2022 before; he finally put it together for a whole season, which is impressive in its own right, and did it while pitching 68.1 innings.
Next year, he'll presumably have the same role as this year: nominal setup man in a bullpen made up of pitchers who could handle that role if Baker wanted to give it to them. The entire bullpen is returning, and getting players back from injury to boot. Bryan Abreu looks like the future star of the show; he'll push both Montero and Ryan Pressly for high-leverage appearances next year, though of course there are plenty to go around.
I take several lessons from these two signings. Let's start with Suarez. Quite frankly, I underestimated him in my initial cut of free agency rankings and never quite moved him up enough in subsequent reshuffles. He's the kind of player who's easy to miss in an initial pass; coming into September, he had a 3.96 FIP on the year over 34.1 innings, and had walked more than 11% of opposing batters. He didn't allow a run in his September or October regular season games and struck out nearly half of the batters he faced, but I started with him low on the list, and with so many free agents to sift through, my incremental adjustments weren't enough.
One solution? Instead of an incremental adjustment style, I could completely re-compile a new list of prospective free agents towards the end of the playoffs and compare it to my earlier work. Jason Martinez looked at the list the night before we published it, and not seeing Suarez immediately jumped out to him. It probably should have for me, but I was blinded by my previous work. I don't think I would have put him higher than 40th or so, because the short track record really does give me pause, but now I'd clearly prefer Suarez to, say, Craig Kimbrel or Mike Clevinger.
Another, related solution: trust the stuff over the results. With so many potential free agents to sort through, I relied on plenty of filters – 2022 statistics, projections, and so on – to guide my initial rankings before applying my own judgment to move things from there. For relievers in particular, I should focus on raw measurables too. Teams don't just look at players as they are today; they consider what they might become, which is particularly important for short-stint pitchers. Using projections helps somewhat with that, but that's not exactly what I mean. Teams increasingly look for pitchers who they can work with to bring out the best in them; rankings of free agents should as well.
In Montero's case, I think the lesson isn't as stark as Suarez's, but it's somewhat similar. For both players, I cared too much about the fact that 2022 stood alone in their track record. Montero is still more serviceable reliever than late-inning ace in my mind, despite his recent form. There are plenty of serviceable relievers available every year, but few late-inning relief aces. The difference is between being the 60th-most-desirable free agent – where I placed Montero in my final rankings – and signing a contract that would probably have ranked him around 35th.
I'll throw in two bonus observations, because I'm feeling particularly introspective today. First, it might be time to reconsider how we think about team behavior around relievers. The price of solid bullpen innings is going up; last winter, a ton of solid relievers signed deals in the $8 million AAV range. The same was true in the pre-COVID 2020 offseason. One of two things is likely true: all free agent contracts are going to be higher than we're used to this offseason, or teams are allocating more of their budgets to relief pitching. I think the second is more likely than the first.
Second, I don't think either of these contracts are amazing for the signing team. Suarez might be great – but I'm not completely bought in just yet. We just don't have a huge sample of him pitching in the majors to rely on, and the sample we do have is confusing. He strikes out a ton of batters and also walks a ton, which means he doesn't have much batted ball data to look at, and I don't really think his sinker will continue to allow a sub-.200 BABIP. I'm also not sold on him continuing his high strikeout clip without adding another wrinkle to his game; his fastball is an excellent pitch, but I don't think it's one of the best 10 fastballs in the game or anything like that. That puts a lot of weight on his changeup and his command. The Padres clearly think it will work out well, but I think there's more risk of failure here than meets the eye when looking at his 2022 rate statistics.
As for Montero, the Astros are really good at trading for guys like him and helping them excel. Their entire bullpen is made up of unheralded prospects or trade acquisitions who have turned into excellent relievers thanks to tireless hard work and careful thought about pitch design. Maybe this signing means they don't see many other places to upgrade the team and want to ensure the bullpen remains a strength next year. Similarly, maybe they're just expanding the budget meaningfully, and Montero will be the first of many free agents headed to Houston. It's hard to know exactly what approach a James Click-less front office will take to the offseason. If they're continuing to operate the way they have in the past, though, I would have preferred to look for catching help, outfield depth, or an extra mid-tier starter first.
At next season's end, both of these signings could look great. They could also both look terrible. That's how reliever seasons work; they're short and variance-filled, which means that external opinions of them fluctuate wildly. It wouldn't shock me to see either of these guys post a sub-2.00 ERA and look like the class of the league. It wouldn't shock me to see either post an ERA pushing 5.00 and lose high-leverage work. Relief pitching is hard to predict. Hopefully, though, I'll be better at predicting the contracts those relievers get going forward.